This slow cooker chicken chili is so quick and easy to make and everyone loves it! Dump everything in the slow cooker and come back to a great meal!
This slow cooker chicken chili is one of my favourite meals. I like it better than this traditional slow cooker chili recipe (although that one is great too!), both for the flavour and also because it's even easier to make.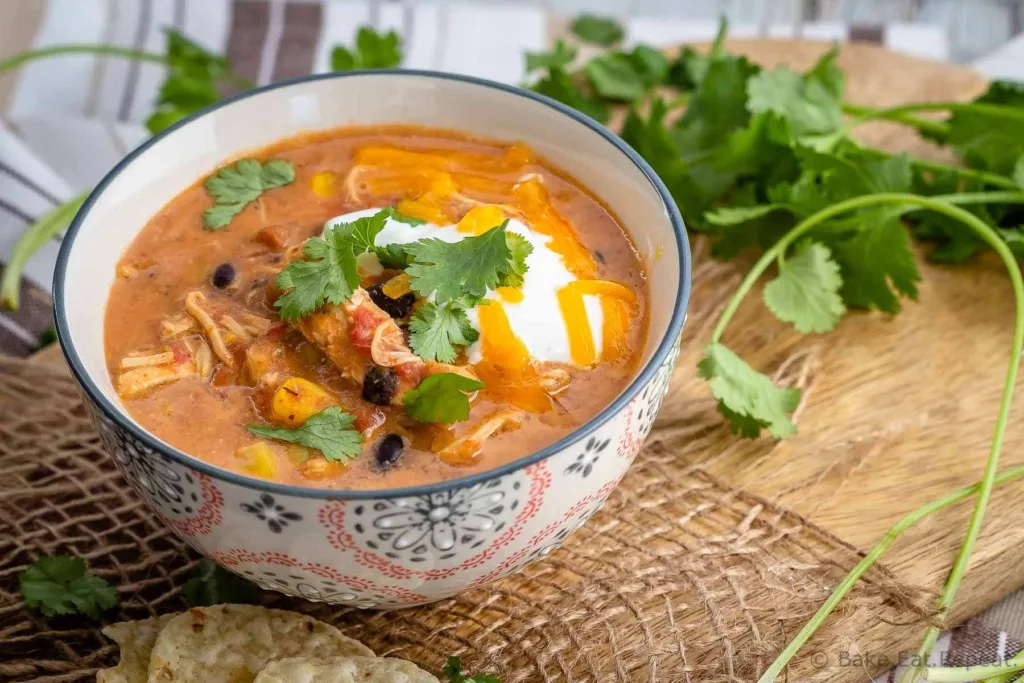 And, as with all chili recipes, the leftovers are delicious too. Chili tends to get better after a night in the fridge, as the flavours meld together as it sits, so make the whole recipe even if you're only cooking for two!
This slow cooker chicken chili also freezes well for up to six months so it won't go to waste.
Toss everything in the slow cooker in the morning and you will have a tasty meal waiting for you at the end of the day. This chicken chili is so easy and delicious!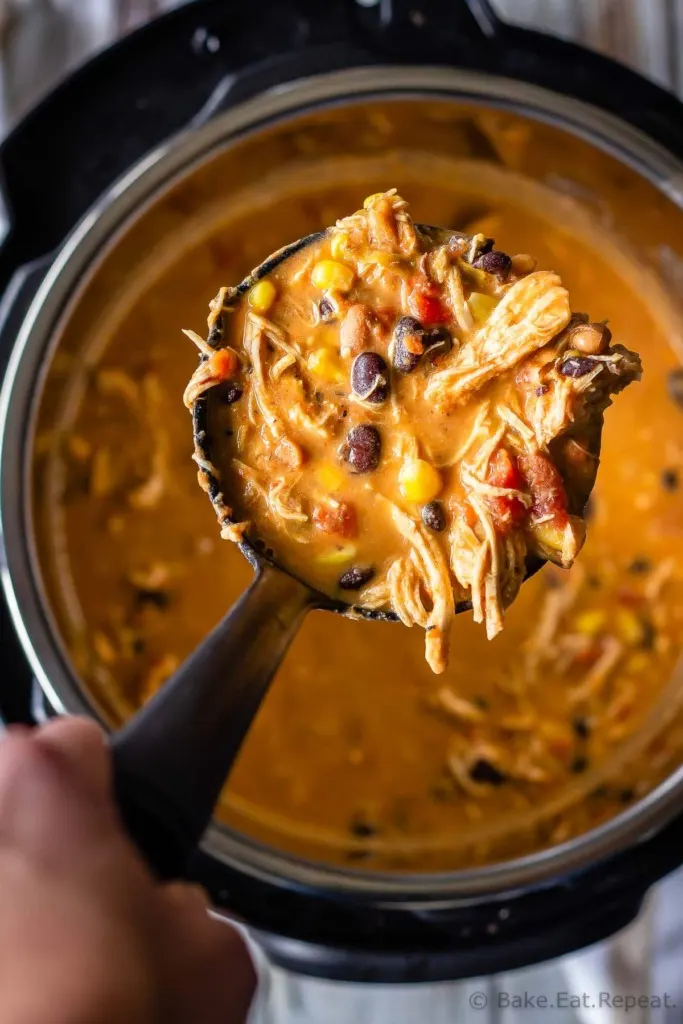 What can I serve with chicken chili?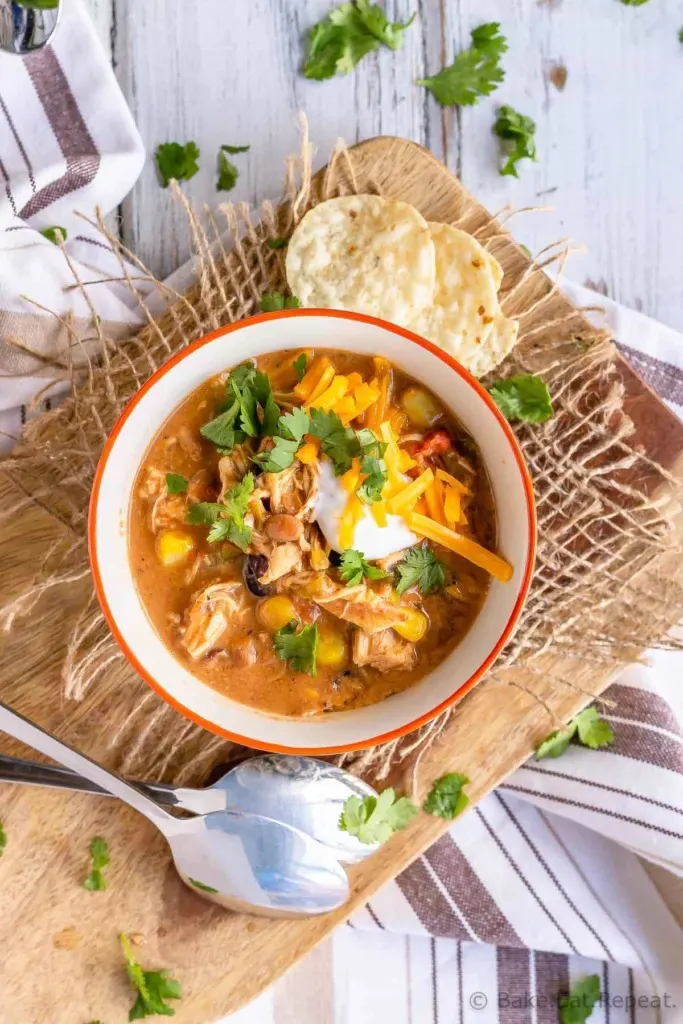 How do you make chicken chili in the slow cooker?
Chicken chili is super easy to make in the slow cooker. All you have to do is throw everything in and turn it on. Let it cook for 6-8 hours on low, or 3-4 hours on high, and that's basically it.
All you have to do at that point is shred the chicken, stir in some milk and cream cheese, and let it cook for another 30 minutes to thicken it a bit. This 30 minute cook time is perfect for getting together any toppings you would like with it.
Can you put frozen chicken in a slow cooker?
Cooking frozen chicken in the slow cooker isn't a great idea for food safety reasons. When the chicken is frozen, it takes too long to reach cooking temperature in a slow cooker, and increases your risk of food-borne illness.
You should always thaw chicken before cooking it in a slow cooker for this reason. A good way to defrost chicken quickly is to submerge it in cold water until it's defrosted, changing the water every 30 minutes. If the chicken breasts are frozen individually, it should defrost in about an hour this way. You can also defrost it in the fridge overnight.
If you want to make this chicken chili with frozen chicken breasts, use this recipe for Instant Pot Chicken Chili instead.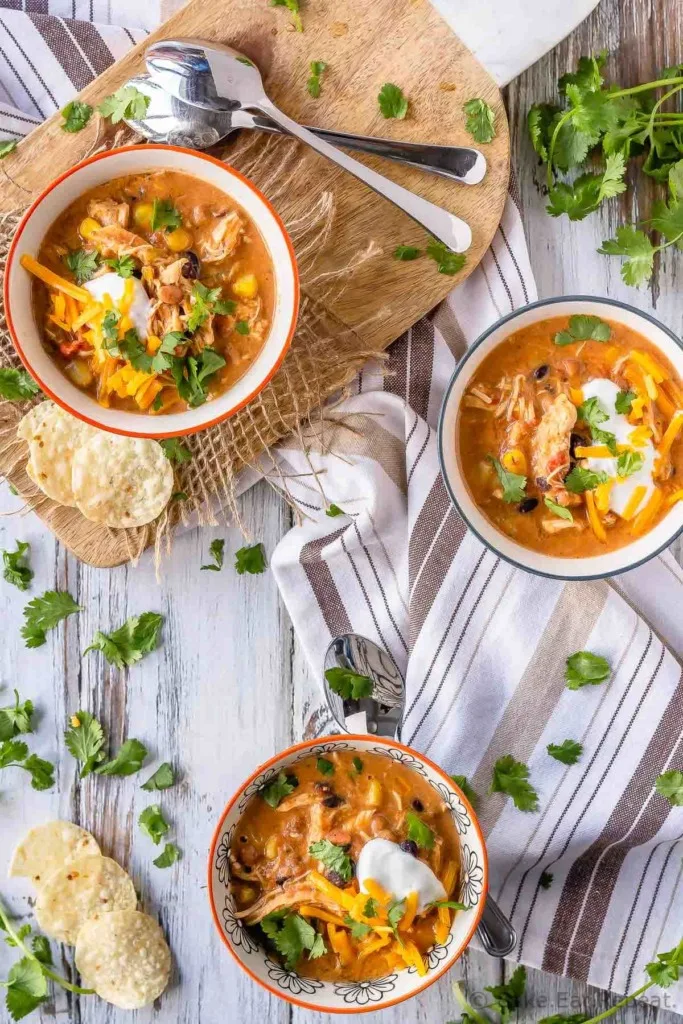 How to make Slow Cooker Chicken Chili:
This slow cooker chicken chili is full of flavour, but doesn't have a lot of heat. The canned green chilis give it a tiny bit of spice, but not much at all. If you prefer spicy chili, add some cayenne pepper while it's cooking, or add it to your bowl.
This makes a large amount of chili, but make the whole batch anyways, and if you don't need it all freeze some for later. Let it cool completely and then freeze it flat in a large ziplock freezer bag. Defrost it overnight in the fridge and reheat for a couple of hours on low in the slow cooker, or over low heat on the stove.
I have a 5 quart slow cooker and a single batch of this chili fits well in it, but I would not be able to make a double batch. If you want a double batch you will need a larger slow cooker for it to be able to fit.
I've had a few questions about the "brown beans in tomato sauce" and what that is. In Canada that's what the can says, but apparently in the States it's just "baked beans". It's the same thing!
You can also make this chicken chili in the Instant Pot if you prefer, or if you have frozen chicken and less time: Instant Pot Chicken Chili.
Here are some more great slow cooker recipes for you: