These homemade breadsticks are quick and easy to make, and can be ready in just 1 hour! Soft, buttery, garlicky breadsticks everyone will love!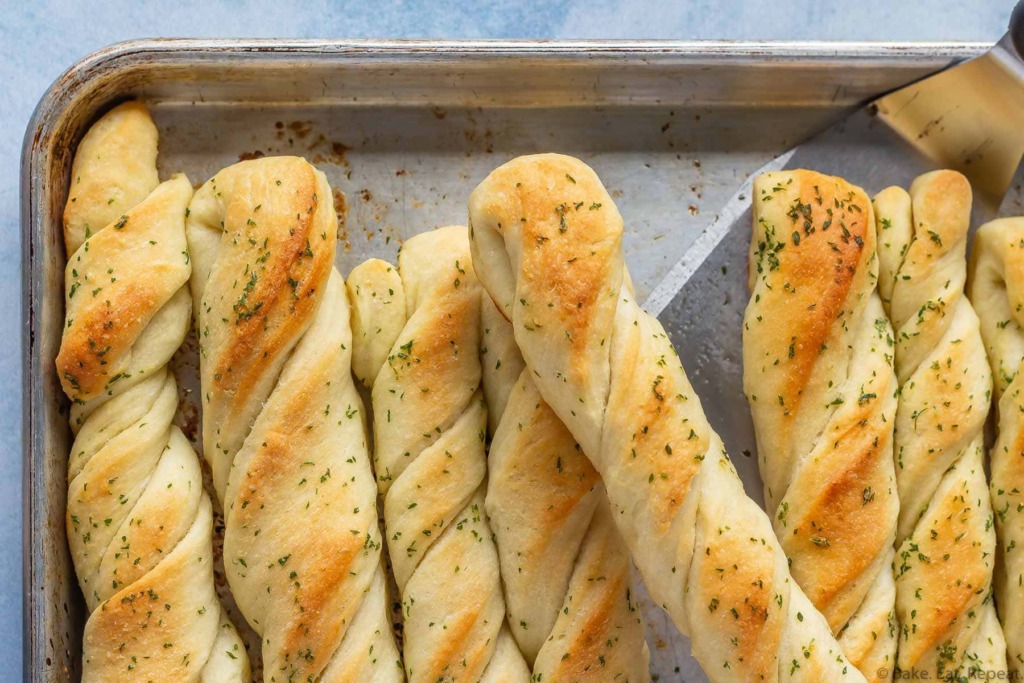 These buttery, garlicky, homemade breadsticks are just amazing. I make them pretty regularly, and we are not sick of them yet.
Basically whenever I need a carb-y side dish to go with a meal, these homemade breadsticks are what I turn to.
They are so tasty, everyone loves them, and they can be on the table in just one hour.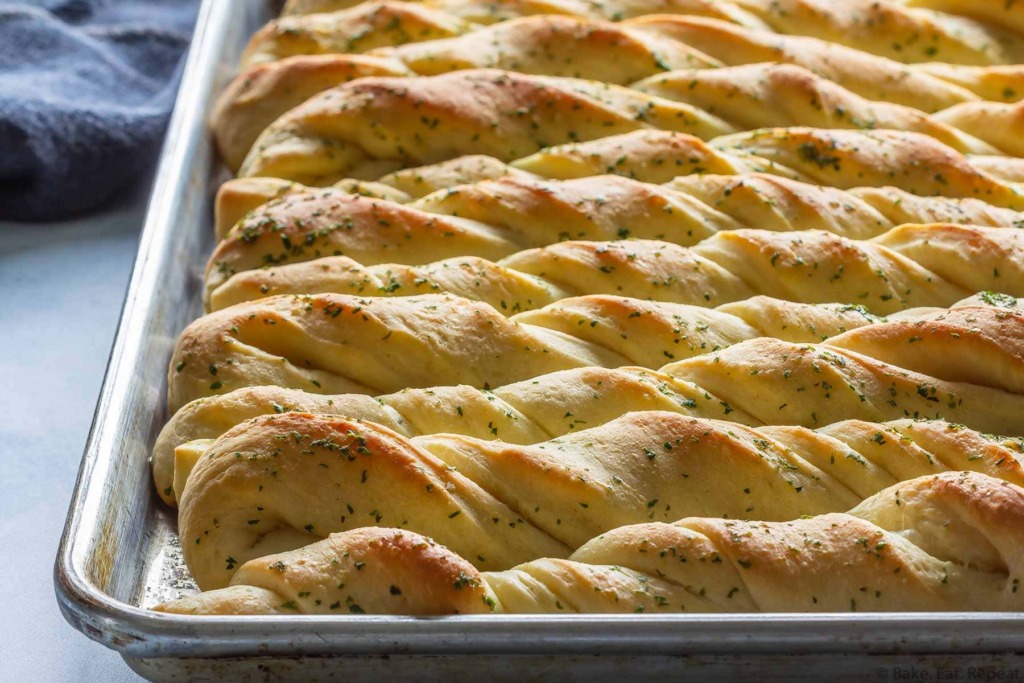 There are not a lot of bread recipes that can be made that quickly from scratch, so this is often the recipe I pull out when I want homemade bread quickly.
And if you want to make them even better, top them with some shredded cheese for some fantastic cheesy garlic breadsticks. You will love them!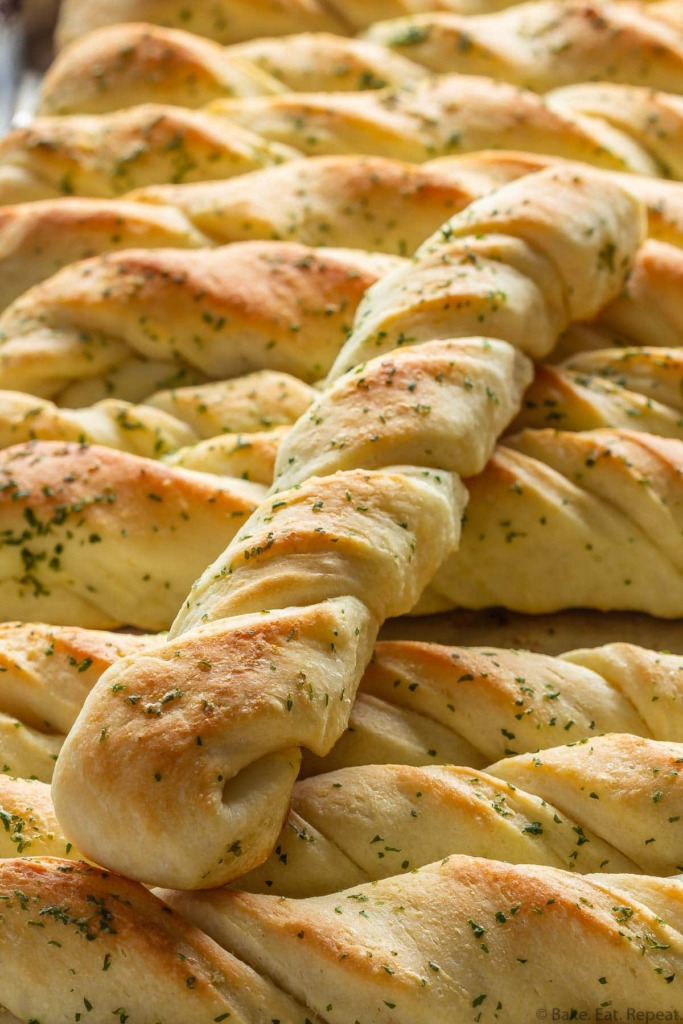 How do you make breadsticks from scratch?
Making breadsticks from scratch is really very easy. These homemade breadsticks can be ready in just 1 hour, so they make the perfect side dish.
The most important thing with yeast breads is to make sure not to use the amount of flour called for in the recipe as a hard and fast rule. Many things can affect how much flour is needed in a bread recipe, such as the humidity where you are, and it can change from day to day.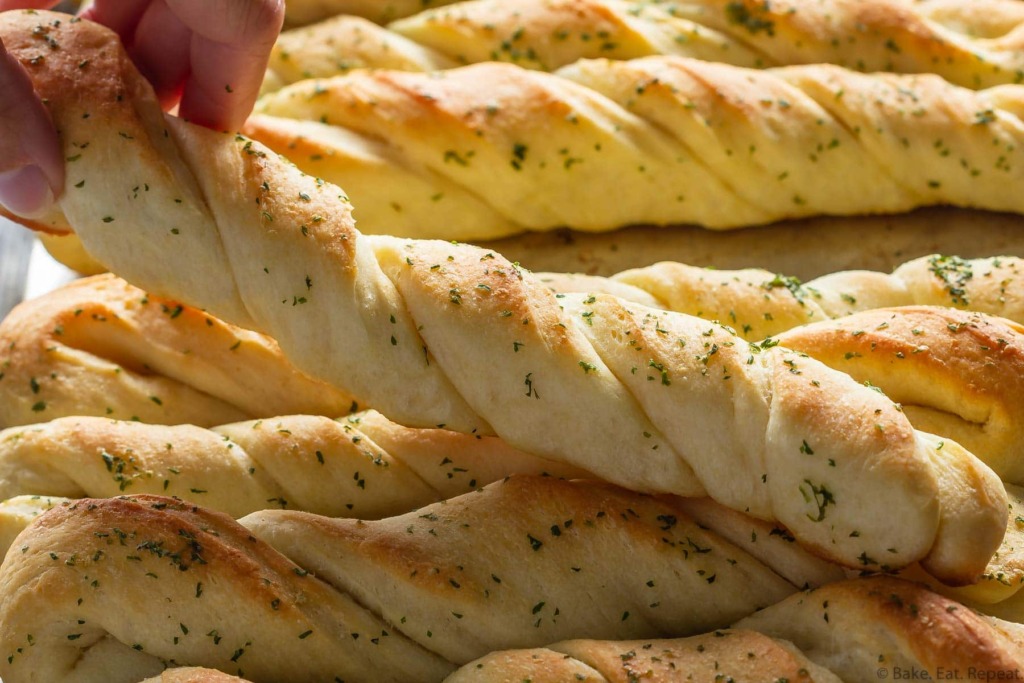 So go with how the dough looks, start with the lowest amount of flour called for (in this recipe it's 3 cups), and add more if you need to.
If you are unsure what the dough should look like, I have step by step photos on this How to Make Bread post. The same rules apply for this breadstick dough.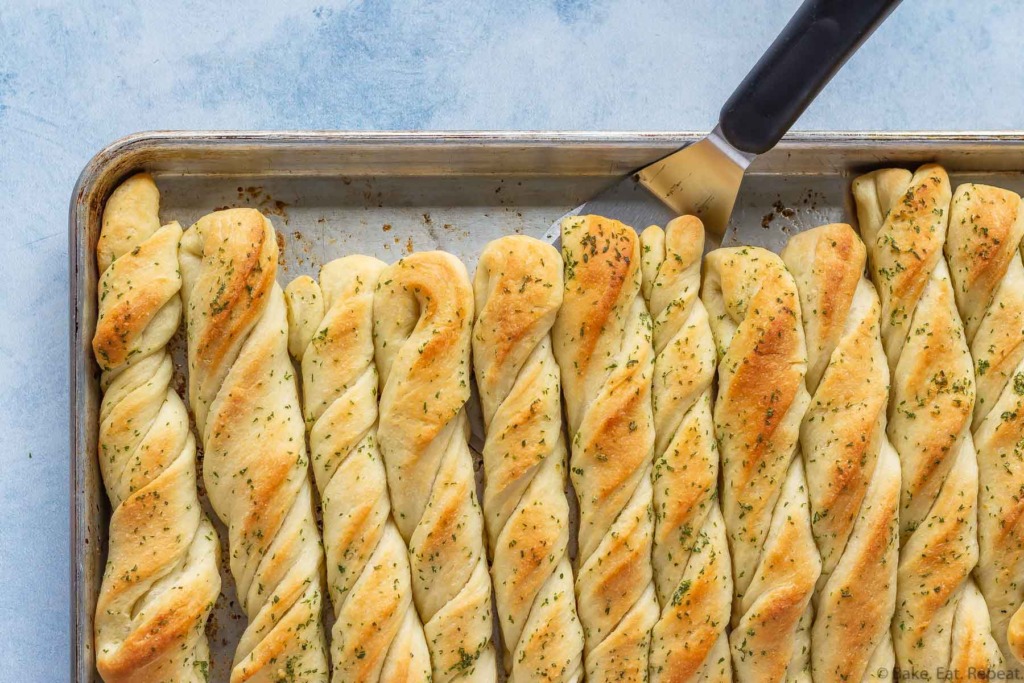 What do you eat breadsticks with?
My family will happily eat homemade breadsticks with pretty much anything, but they go very well with these Crispy Chicken Thighs, this 30 Minute Chicken Stew, or this Instant Pot Chicken Chili.
Breadsticks are also something we love with spaghetti, or just as a side dish when grilling with any of these 7 Chicken Marinades or 9 Pork Chop Marinades.
And the kids will fight over the leftovers the next day!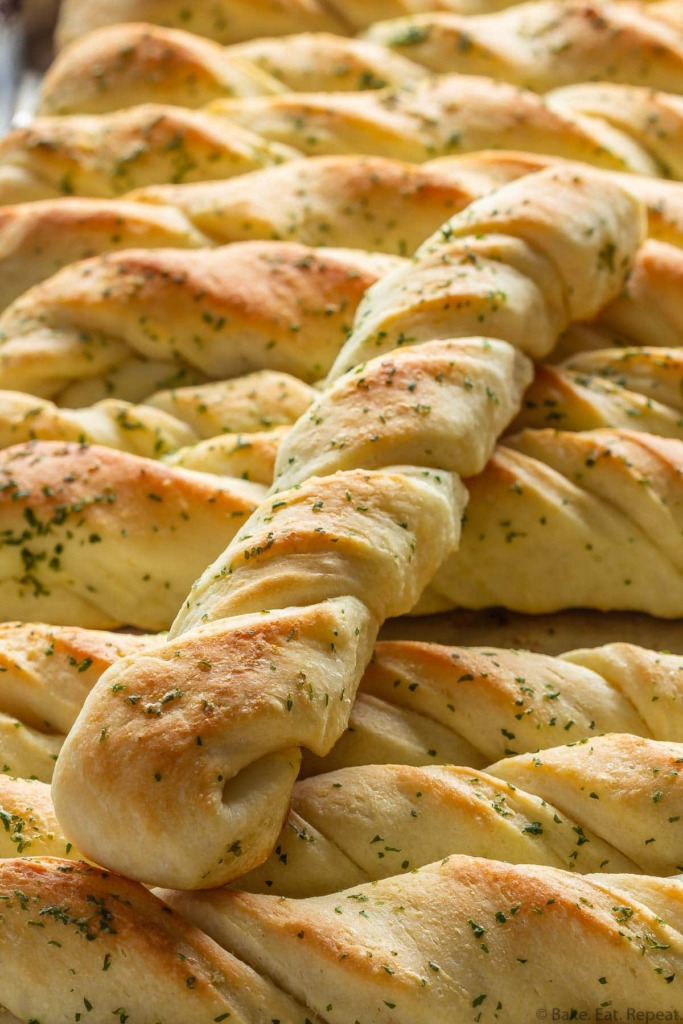 How to make Homemade Breadsticks:
If you have a stand mixer, this bread dough mixes up very quickly with just 5 minutes of kneading time in the mixer.
Without a stand mixer, used a wooden spoon to stir the dough together and then knead the dough by hand for 8-10 minutes.
If you are unsure what correctly floured bread dough should look like, refer to this post on How to Make Bread. It has step by step photos of the process of making bread so you can see what it should look like.

Here are some more great bread recipes for you:
Yield: 12 breadsticks
Homemade Breadsticks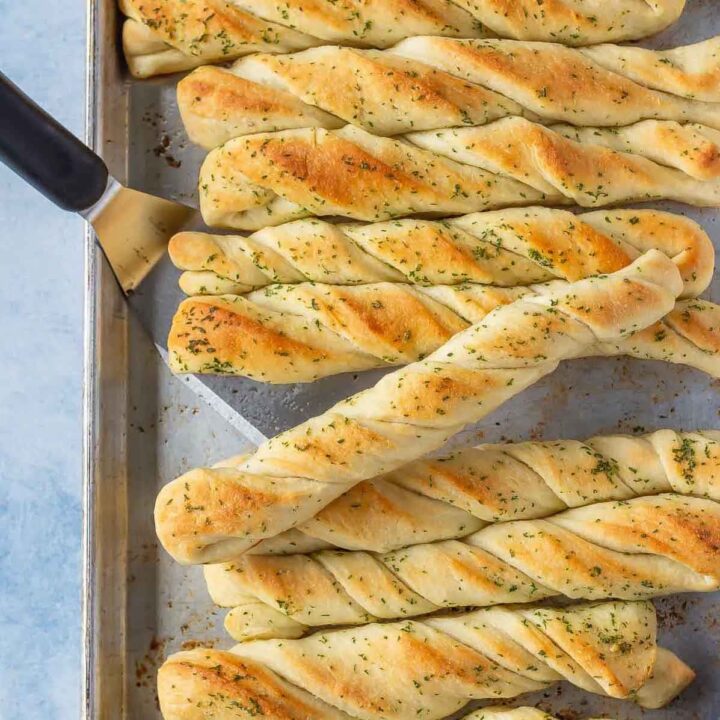 These homemade breadsticks are quick and easy to make, and can be ready in just 1 hour! Soft, buttery, garlicky breadsticks everyone will love!

Prep Time 10 minutes

Cook Time 20 minutes

Rising Time 30 minutes

Total Time 1 hour
Ingredients
1 1/2 cups warm water
3 to 3 1/2 cups all purpose flour
2 teaspoons instant yeast
1 tablespoon granulated sugar
1 teaspoon salt
1/3 cup butter, melted
1 teaspoon garlic salt
1 teaspoon dried parsley
Instructions
Preheat the oven to 375 degrees F.
In the bowl of a stand mixer, or in a large bowl with a wooden spoon, stir together the water, flour, yeast, sugar, and salt.
With the dough hook attachment, mix on low speed until the dough comes together into a ball and clears the sides and bottom of the bowl. If the dough is looking really dry, with bits of flour still visible, add more water, a tablespoon at a time, until it comes together and the flour is hydrated. If it looks really wet and isn't coming together into a ball and clearing the sides and bottom of the bowl, add a little more flour, a tablespoon at a time until it does. The dough should be soft and smooth, tacky to the touch, but not overly sticky. For detailed pictures on how the dough should look, refer to this How to Make Bread post.
Knead with the dough hook for 5 minutes, or by hand for 8-10 minutes.
Let the dough rest for 10 minutes.
Brush a rimmed baking sheet with 2 tablespoons of the melted butter.
On a lightly oiled surface, roll out the bread dough into a 1/2 inch thick rectangle, about 12x15 inches.
Slice this rectangle widthwise into 12 strips.
Pick up the strips, one at a time, stretching them to about twice their length, folding them in half, and then twisting them up before laying them on the prepared pan. Repeat with the remaining dough strips.
Cover the breadsticks loosely with plastic wrap and let rise for 20-30 minutes.
To the remaining melted butter, stir in the garlic salt and parsley. Brush the risen breadsticks generously with the butter mixture.
Bake for 20 minutes, or until golden brown. Serve immediately.
Store leftover breadsticks in a sealed container, or ziplock bag, at room temperature for up to 3 days.
Leftover breadsticks can be reheated at 350F for 5-10 minutes, wrapped tightly in aluminum foil.

Notes
These breadsticks are also fantastic with cheese. Follow the recipe as directed but top the breadsticks with 1 cup of shredded cheese (cheddar, parmesan, mozzarella, Monterey Jack, or a combination of cheeses) before baking.
Recommended Products
This post contains affiliate links. As an Amazon Associate, I may receive a small commission from qualifying purchases.
Nutrition Information:
Yield:
12
Serving Size:
1 breadstick
Amount Per Serving: Calories: 184Total Fat: 5.5gSaturated Fat: 3.3gTrans Fat: 0gCholesterol: 14mgSodium: 232mgCarbohydrates: 29.3gFiber: 1.1gSugar: 1.2gProtein: 4.1g

Nutrition Information is estimated based on ingredients used and may not be exact.