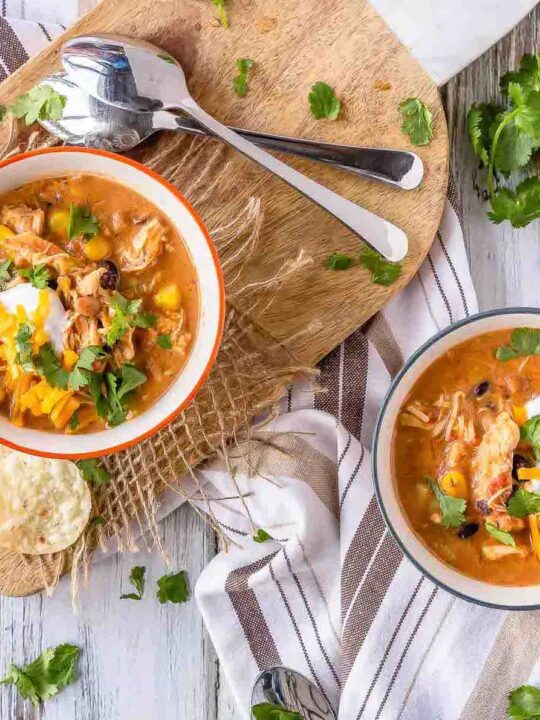 This Instant Pot chicken chili is one of the easiest meals to make and is the perfect warming meal for a cold night. You can also make it in the slow cooker!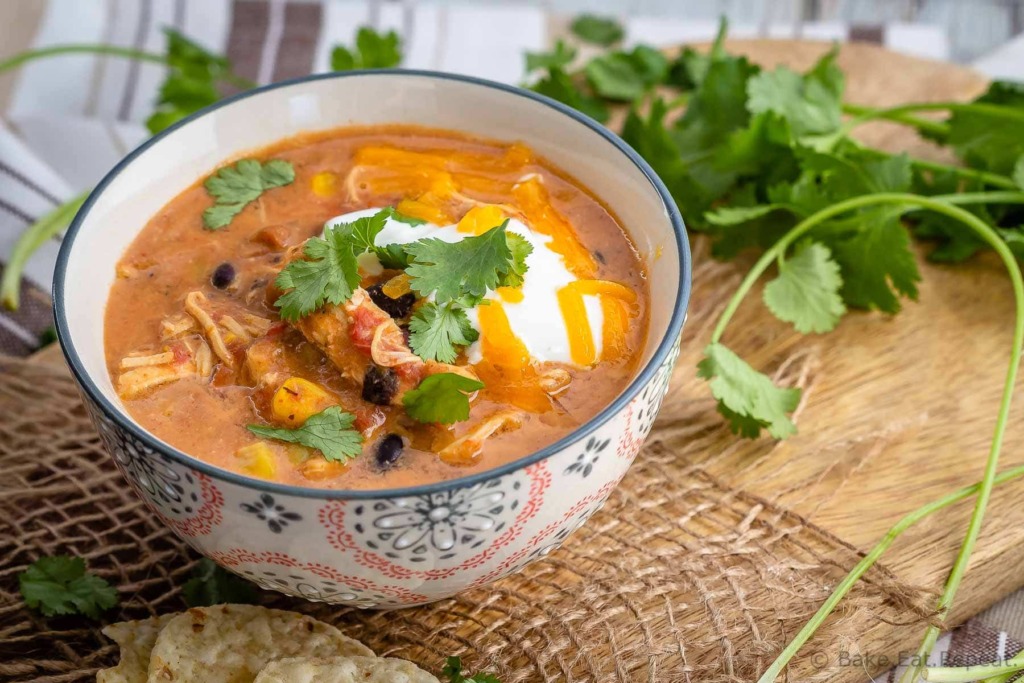 I have made this Instant Pot chicken chili so many times over the last 3 or 4 months. So many times.
It's so tasty. And so easy.
And it freezes well if you need a meal to bring to someone. Or if you just like having meals in the freezer for later.
Or if the enormous batch that easily feeds six people is too large for your family and you want to freeze half.
My family eats a lot, so the leftovers really aren't ridiculous around here when I make this Instant Pot chicken chili.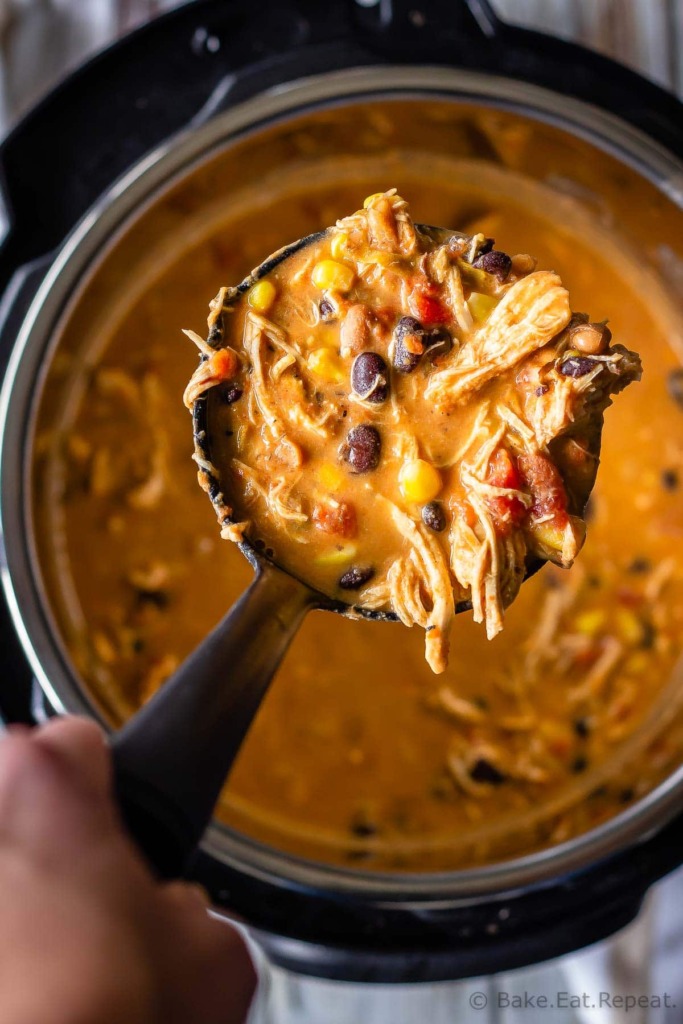 Although that does seem to depend on the day. I've made this recipe and it will be almost all gone. And I've made it and had half the chili left over.
My kids will sometimes eat as if they've never seen food before. And other days hardly touch it.
Must be something to do with how they're growing that week I guess.
At any rate, this Instant Pot chicken chili makes enough for my family, even on the "everyone is starving" kind of days.
Which means it's a winner in my books.
It also tastes amazing and is so incredibly easy to make. There's a reason I've been making it incessantly!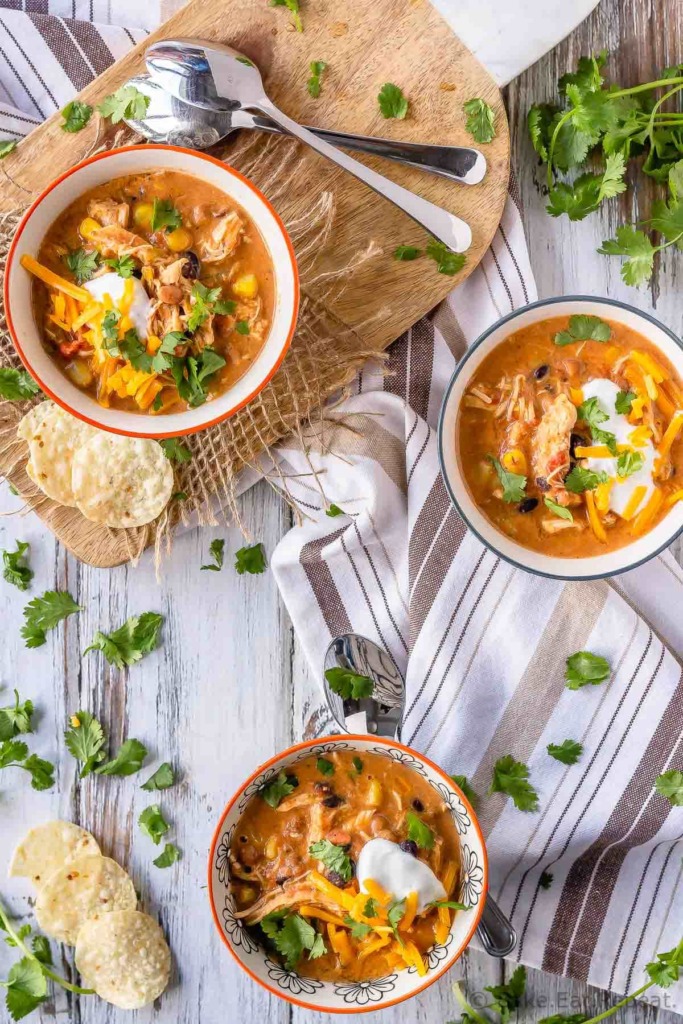 How do you make chicken chili in the Instant Pot?
Chicken chili is super easy to make in the Instant Pot.
You literally toss all the ingredients in, give it a quick stir, and push the chili button. Or manually set the pressure to high pressure for 18 minutes.
That's basically it.
All you have to do once the cook cycle is complete is shred the chicken and stir in some cream cheese and milk.
Dinner really doesn't get much easier then that.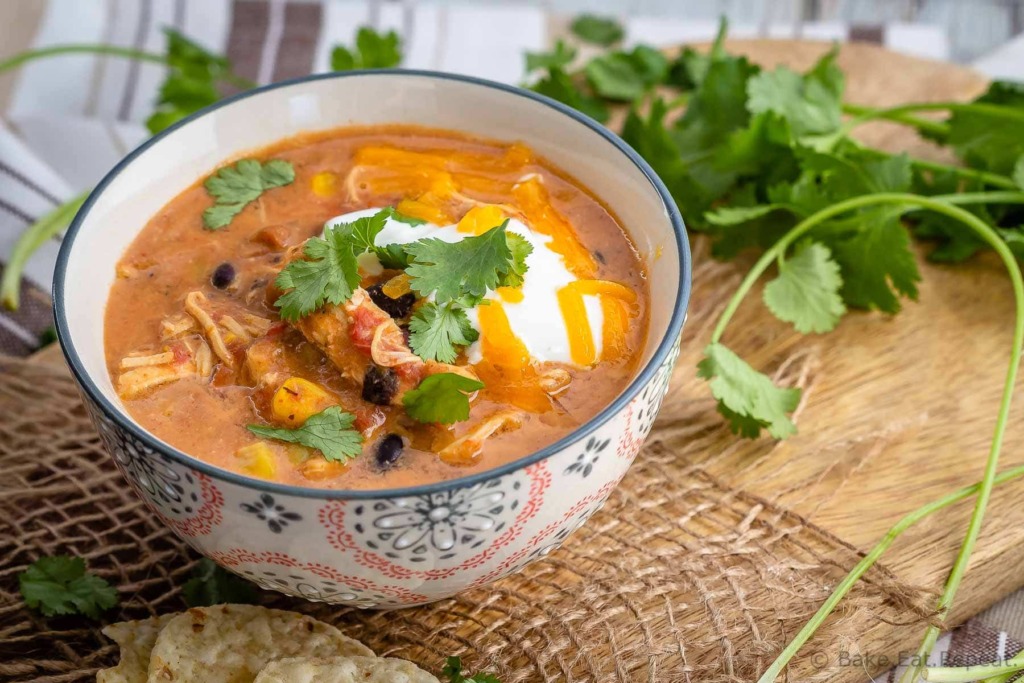 Can you cook frozen meat in an Instant Pot?
I cook frozen meat in my Instant Pot all the time.
Instant Pot shredded chicken takes 8 minutes to cook when it's fresh, and 12 minutes when it's frozen.
Since the chili takes 18 minutes, your chicken will be done at the end of the cook time, even if you put it in frozen.
I've made this chili both ways, with 18 minutes cook time, whether my chicken is fresh or frozen.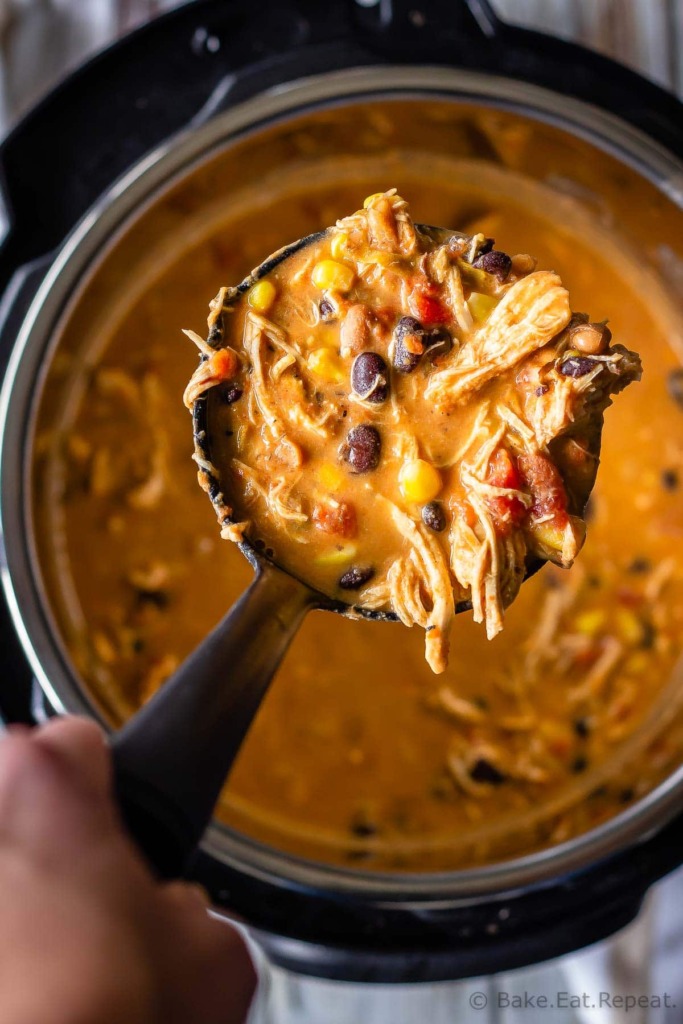 How do you make chicken chili in the slow cooker?
I've included directions for making this chicken chili in the slow cooker as well, if you want it to be ready for you when you get home.
It's just as easy in the slow cooker. Again, throw everything in and turn it on. That's really all you need to do for this chicken chili.
It needs to cook for 6-8 hours on low in the slow cooker.
You then need another 30 minutes on high after shredding the chicken and adding the milk and cream cheese, to thicken it a bit before serving.
The only real difference with the slow cooker is that you need your chicken to be thawed. Cooking frozen chicken in the slow cooker isn't a great idea for food safety reasons.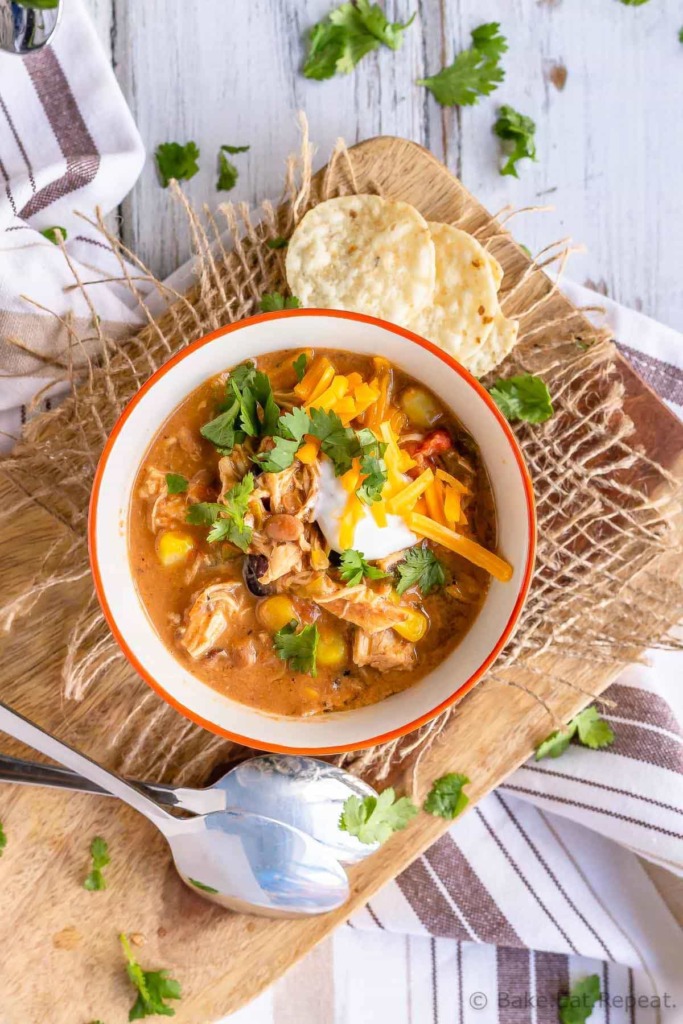 How to make Instant Pot Chicken Chili:
This Instant Pot chicken chili isn't spicy. It's full of flavour, but doesn't have a lot of heat. The green chilis give it a tiny bit, but not much at all. If you like your chili spicy, you might want to add some cayenne pepper to spice it up a bit.
This chicken chili freezes very well if you want to make a double batch and freeze half for later. Or if you are only cooking for 2-3 people and don't need the whole batch for one meal. Let it cool completely and then freeze it flat in a large ziplock freezer bag. Defrost it overnight in the fridge and reheat for a couple of hours on low in the slow cooker, or on low heat on the stove.
I have an 8 quart Duo Instant Pot, so I can just fit a double batch of this chicken chili in it. If your Instant Pot is smaller you likely can only make a single batch, so keep that in mind if you're considering making more to freeze. Make sure to only fill the pot to 2/3 full for pressure cooking.
I've had a few questions about the "brown beans in tomato sauce" and what that is. In Canada that's what the can says, but apparently in the States it's just "baked beans". It's the same thing!
Here are some more great warming meals for you: