This easy Bolognese sauce is a rich, meaty, pasta sauce, that is freezer friendly and tastes fantastic. Everyone will love this pasta sauce!
I have a lot of pasta sauce recipes that I make on a regular basis. And many of them are served with spaghetti, because my family really likes it.
But I don't like to make the exact same recipe every week, so in order to have spaghetti in the regular meal rotation without getting bored, I needed to have a number of different options available for spaghetti sauce.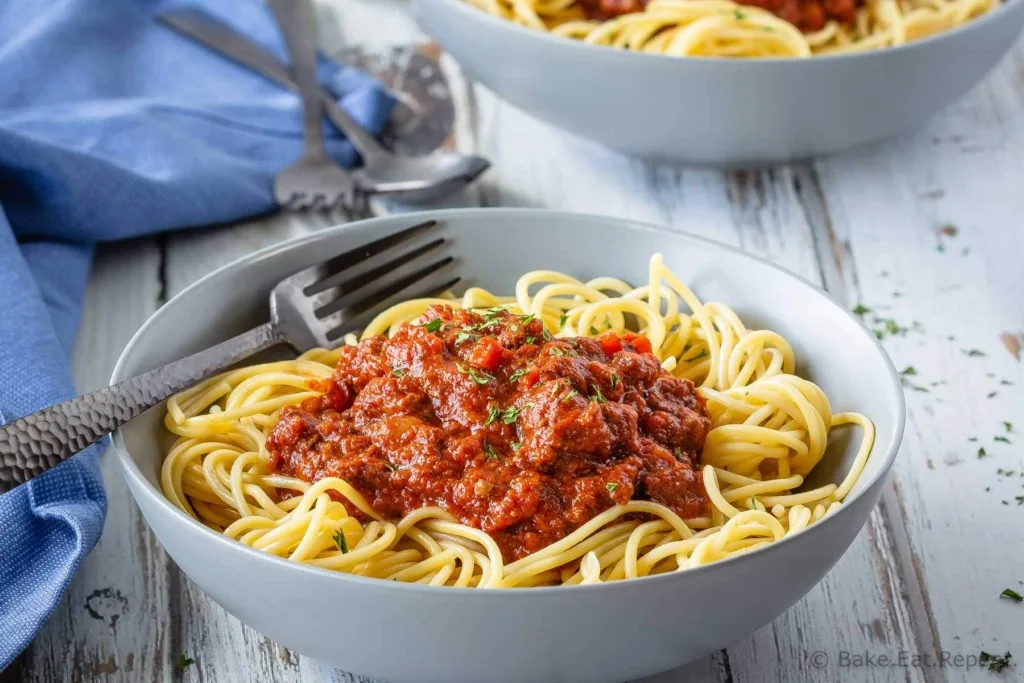 This easy Bolognese sauce is one of the recipes we like for serving over spaghetti noodles. It's easy, it's delicious, and while it's not quite as quick to make as some of the other pasta sauce recipes on this site, it's just as easy.
The main difference is that Bolognese sauce has some vegetables in it, so you need to spend a few minutes chopping those up.
Plus, Bolognese needs to simmer for at least an hour on the stove before serving it, so that it thickens into a rich meat sauce.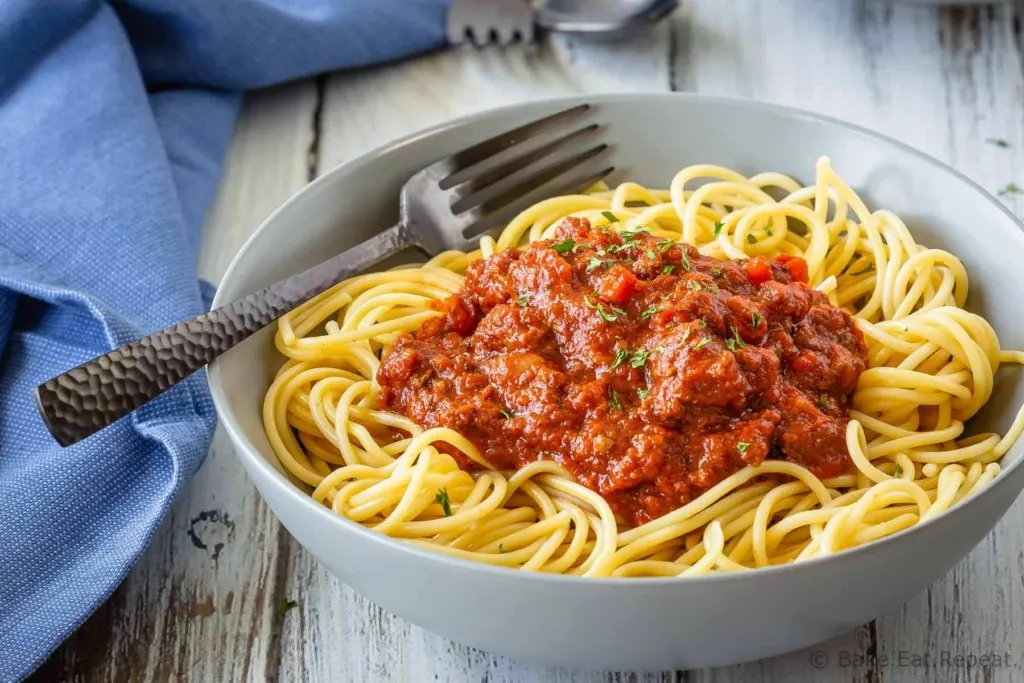 So while that takes some time, it is definitely still very easy. Leaving the pasta sauce to simmer for a long time is pretty hands off.
You just need to make sure to check on it every now and then and give it a stir so it doesn't burn.
Here are some more easy Spaghetti Sauce Recipes for you: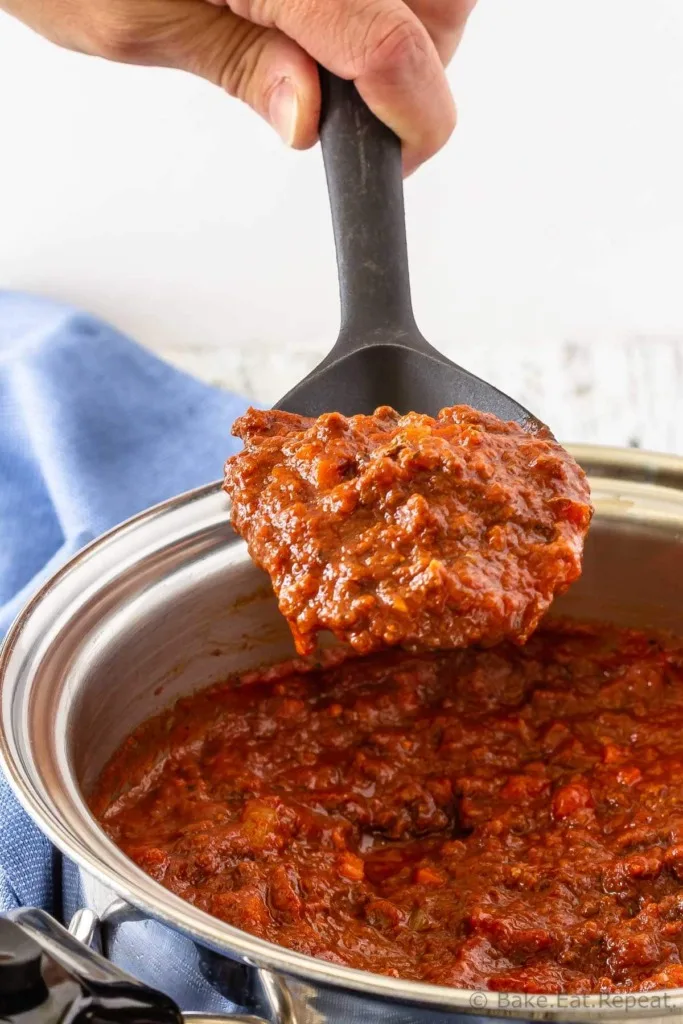 What is Bolognese sauce?
This pasta sauce is a rich, thick meat sauce, with tomatoes, red wine, and milk in it. It also contains carrots, celery, and bacon which differentiates it from spaghetti sauce.
The other difference between spaghetti sauce and Bolognese sauce is that Bolognese is simmered for a long time to get a nice thick meat sauce.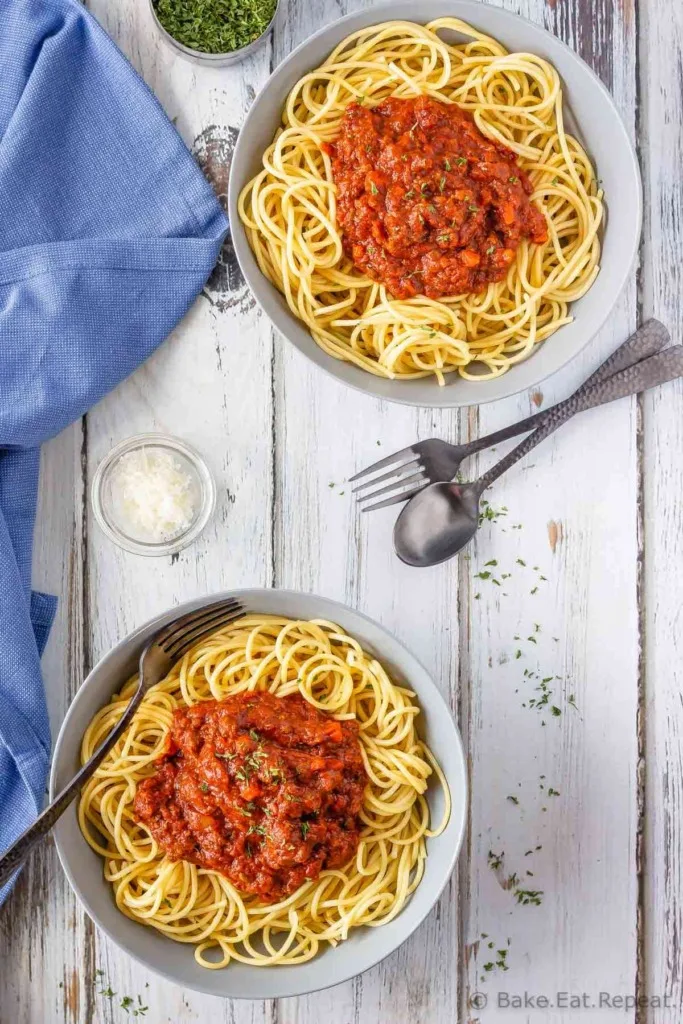 What does adding milk to Bolognese sauce do?
Milk is added to the sauce to add richness and to tenderize the meat.
It's added to the pasta sauce after cooking the meat and vegetables, along with the crushed tomatoes, tomato paste, and seasonings. It is then simmered for at least an hour on the stove, stirring occasionally, to allow the flavours to meld and the sauce to thicken.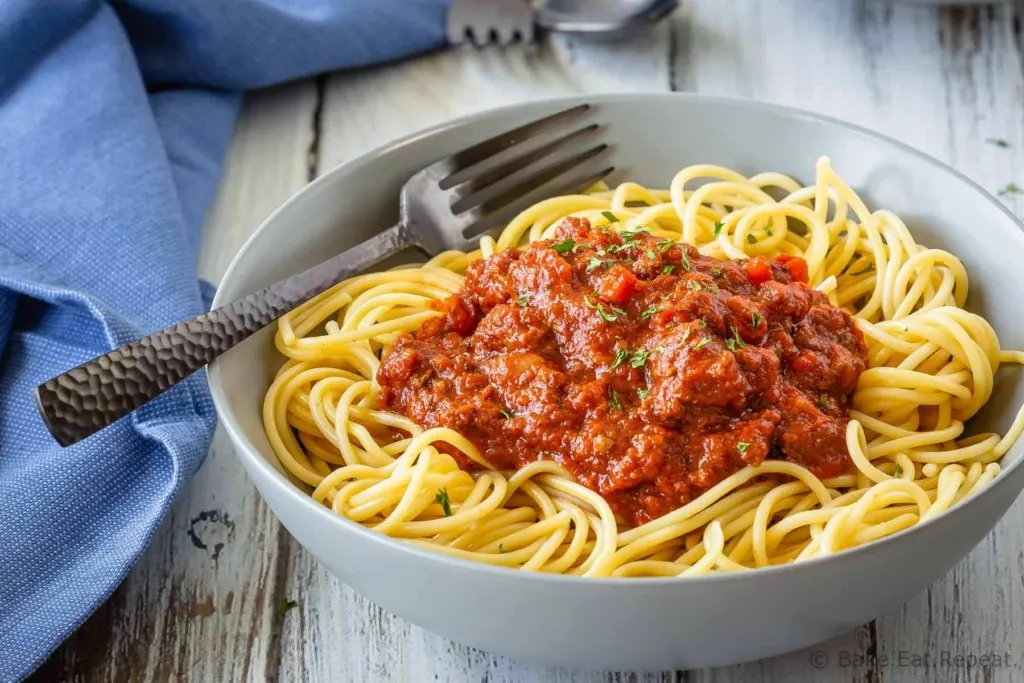 How to make Easy Bolognese Sauce:
This pasta sauce is easy to make but it does take a bit of time to chop all the vegetables and saute them, along with the meat and bacon. You then need to simmer the sauce for at least an hour on the stove, so plan accordingly.
You can use beef broth, instead of red wine, to deglaze the pan, if you prefer.
The red pepper flakes can be omitted if you like, although they don't make the sauce spicy, they just add flavour.
If you want to freeze this pasta sauce, let it cool completely, and then freeze it in a large freezer bag, laid flat so it thaws easily. Thaw it overnight in the fridge, and then reheat it over low heat.
I have a crockpot version of this sauce if you would like: Slow Cooker Bolognese Sauce.
You can find more great pasta sauces here: 12 Easy Pasta Sauce Recipes.
Here are some more great pasta sauces for you: