This slow cooker pulled pork is one of my family's favourite meals! Tender, shredded pork that is full of flavour makes the perfect easy dinner!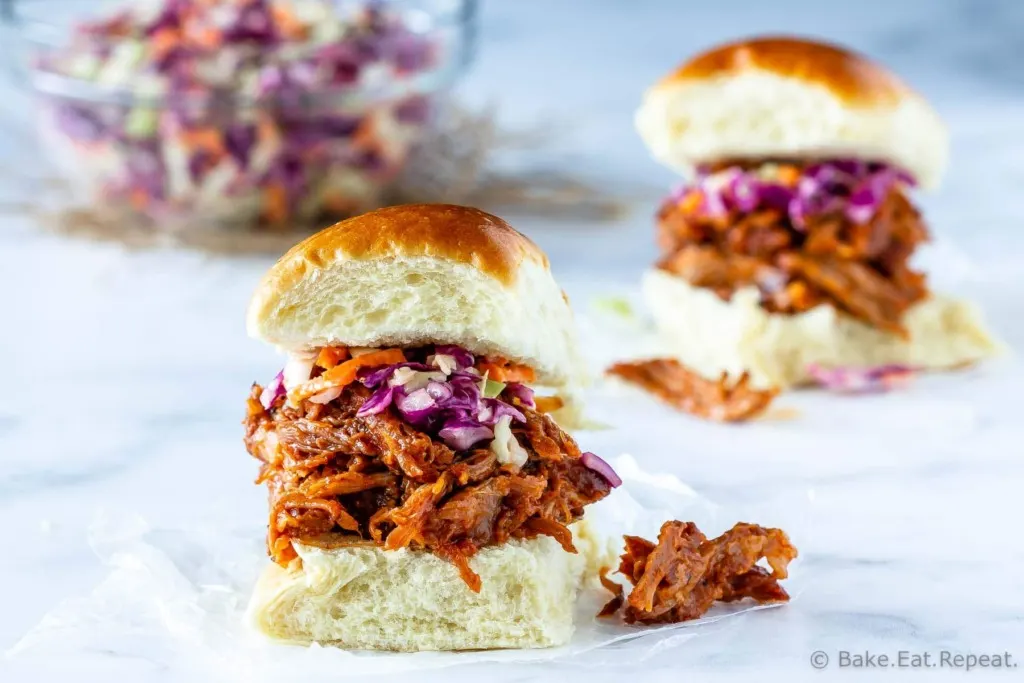 It's fall and I'm loving my slow cooker. Although really, I use my slow cooker all year long, but probably more often in the fall and winter months.
Those just tend to be our busiest months, and slow cooker meals are perfect on those crazy busy days.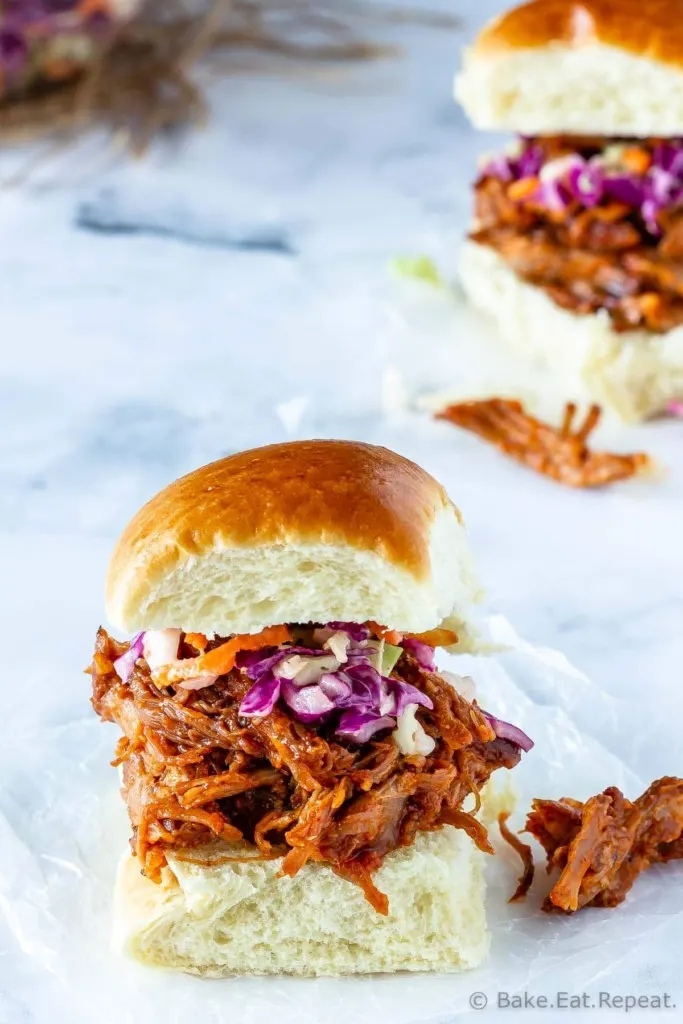 This slow cooker pulled pork is one of our favourites. The recipe even makes enough for leftovers for lunch.
In my house that really just means fighting over who gets to have them.
Everyone loves this slow cooker pulled pork recipe.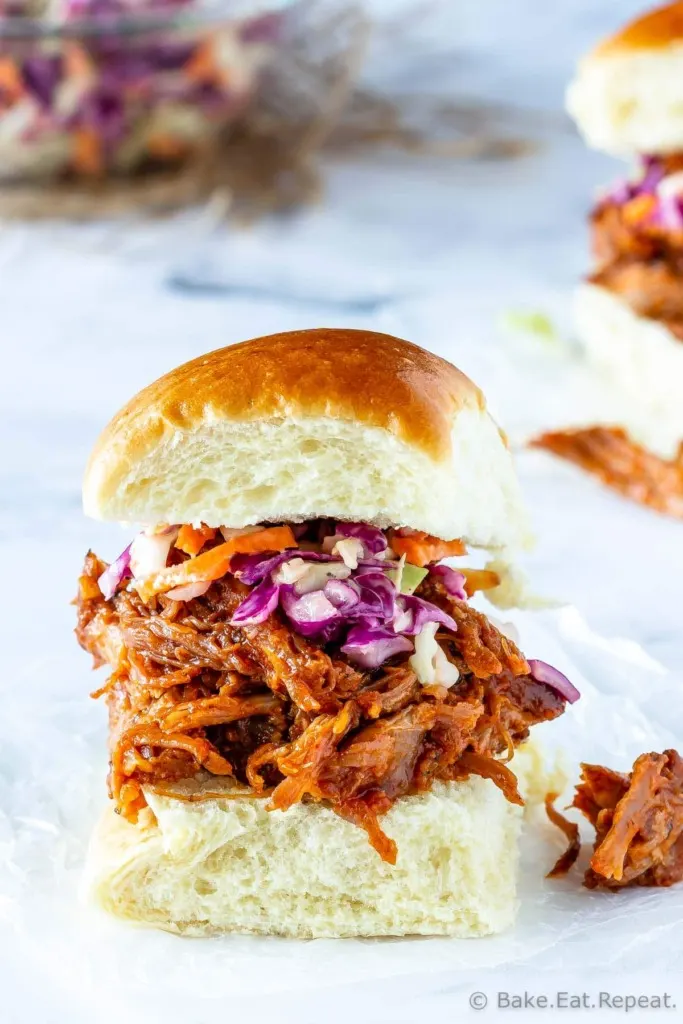 I love that it can be prepped ahead of time and thrown in the freezer, so when I want to cook it, all I have to do is defrost it and throw it in the slow cooker with the sauce.
Easiest meal ever.
Pick up some dinner rolls and throw together some coleslaw, and dinner is served.
That's my kind of meal.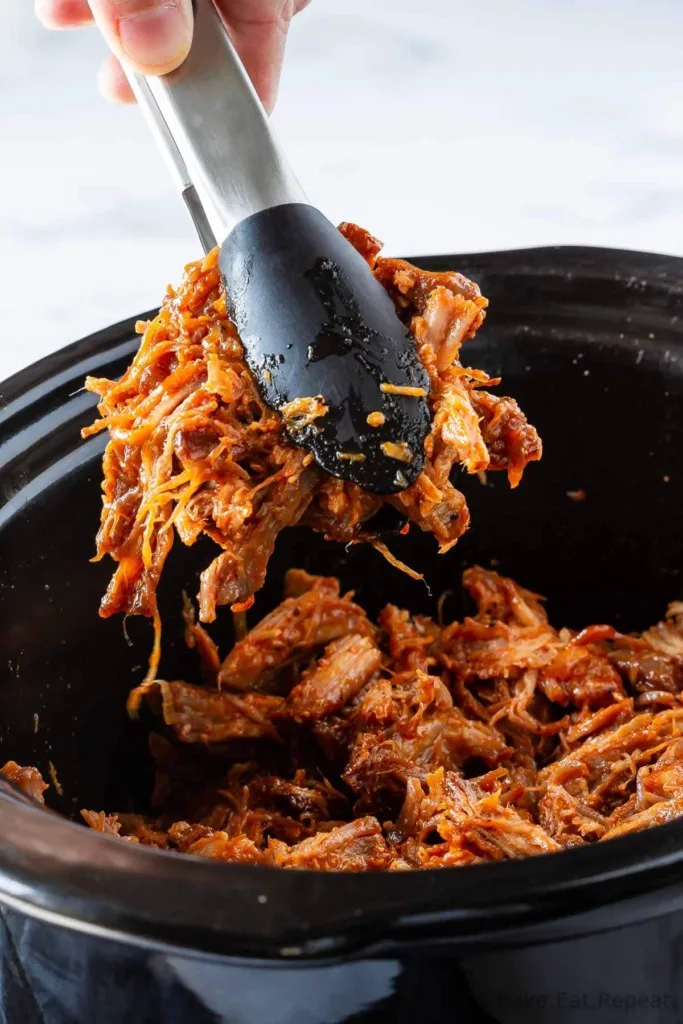 Can you freeze pulled pork?
Yes you can freeze pulled pork. I do this all the time.
Making a larger batch is no harder then a smaller one, so as long as your slow cooker is big enough you can double the recipe and freeze half for a future meal.
Or if you are only cooking for 1-2 people instead of 4-6, make the full recipe anyways and freeze half.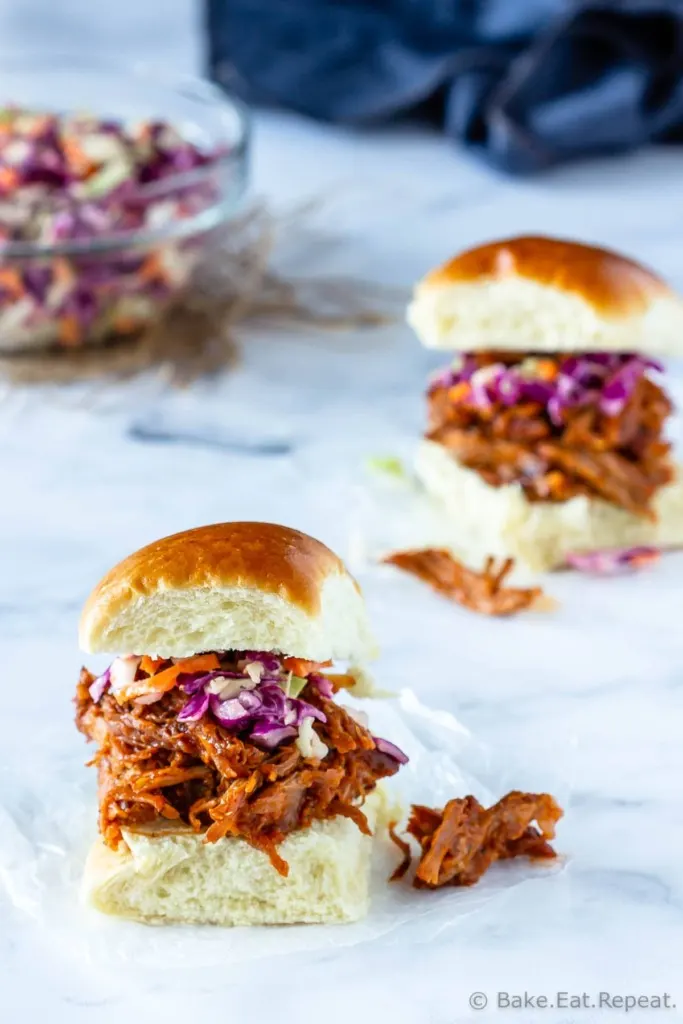 To freeze pulled pork, prepare the recipe as directed, let the meat cool completely, and then transfer it to a large freezer bag or an airtight container to freeze for up to 3 months.
To reheat it, thaw it overnight in the refrigerator and reheat on low in the slow cooker for 1-2 hours, or on low heat in the microwave.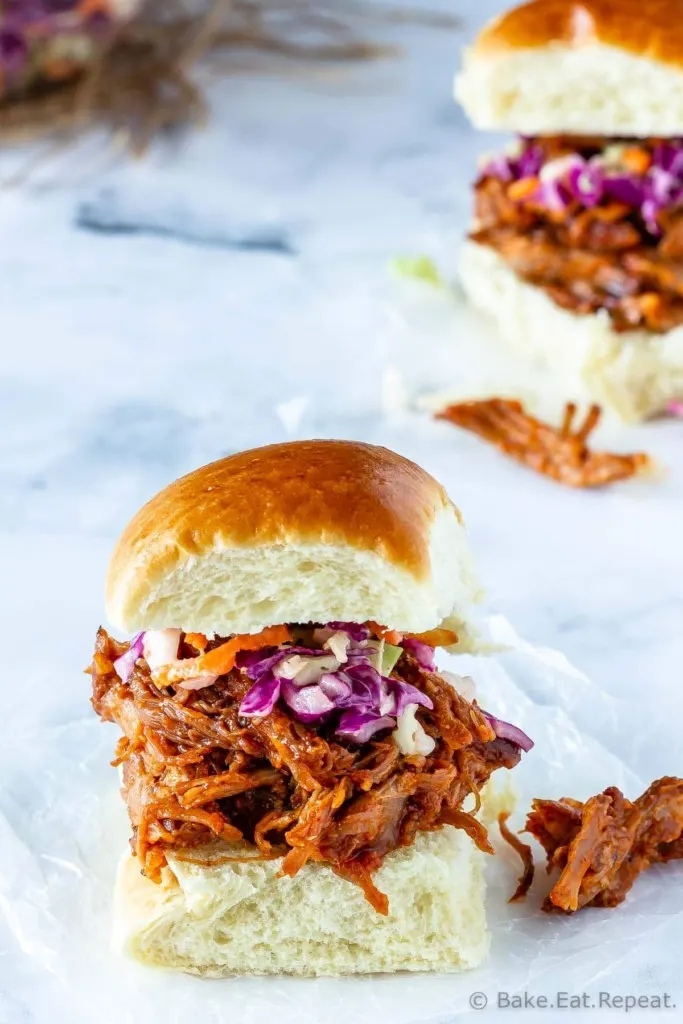 What is the best cut of meat for pulled pork?
A pork shoulder (also called pork butt) is the best cut of meat to use for making pulled pork.
I wouldn't recommend using a leaner cut of meat such as a pork loin roast, as the pulled pork won't be as tender, and will likely be a bit dry when cooked this way.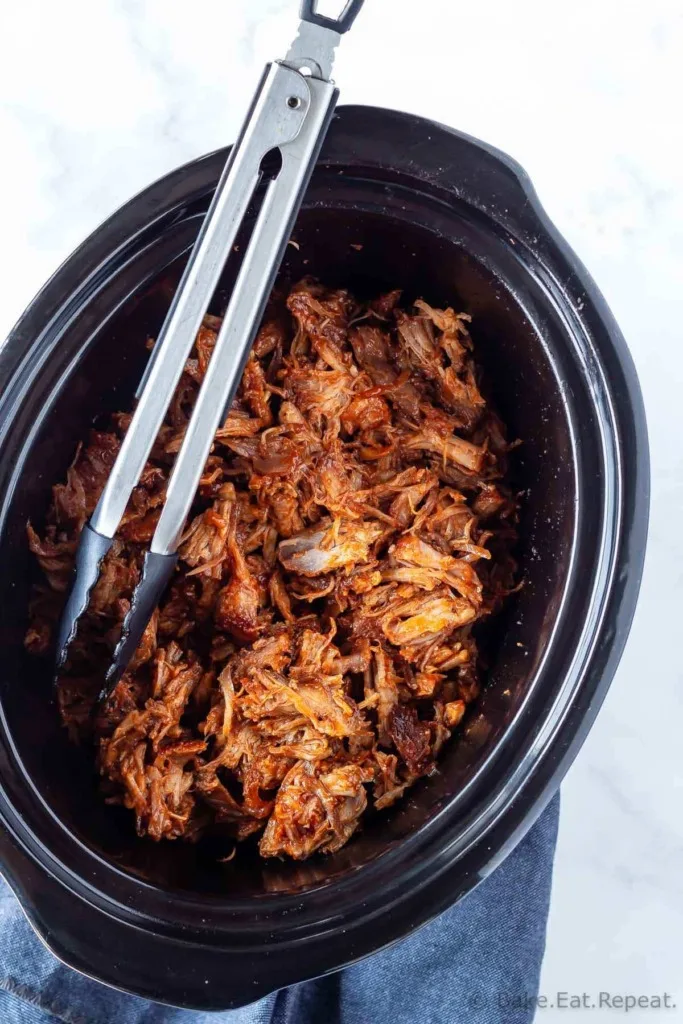 What is the best bottled BBQ sauce for pulled pork?
Use your favourite bottled BBQ sauce here!
We like PC's Gourmet BBQ sauce, but whatever sauce is your favourite, use that.
I've also tried this homemade BBQ sauce recipe and it's fantastic if you feel like making your own.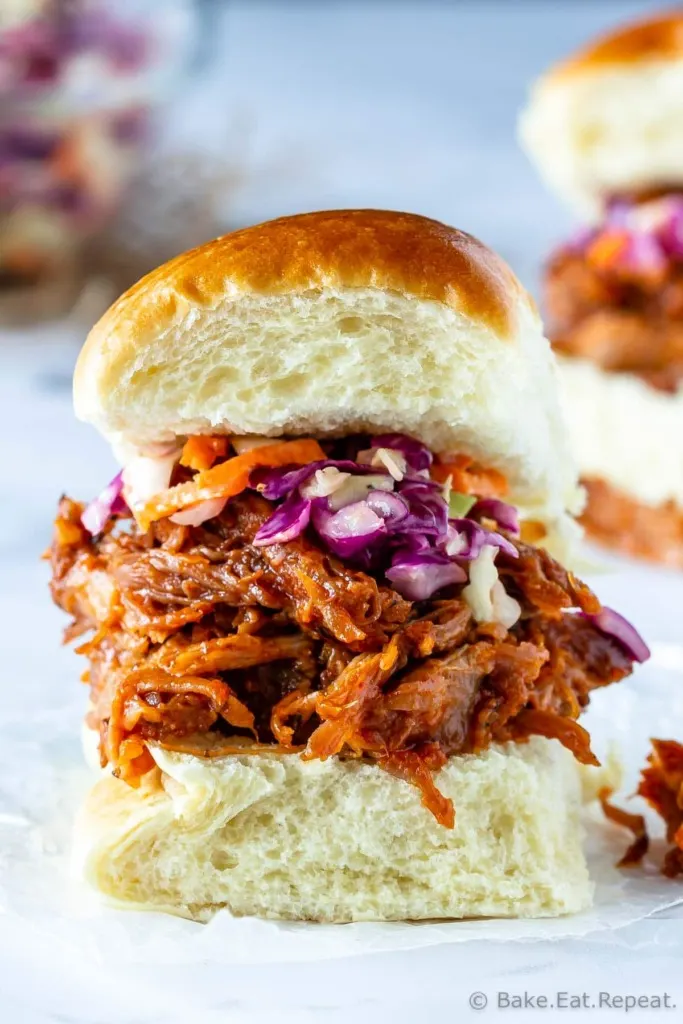 How to make Slow Cooker Pulled Pork:
You can prep this slow cooker pulled pork a little bit ahead. I like to buy the pack of two pork shoulder roasts at Costco, prepare both of them with the rub, and freeze one for later. This way the next time we feel like pulled pork, I can skip the first step and just thaw out the seasoned pork shoulder to cook the next day. If you want to cook it from frozen instead of defrosting first, use this Instant Pot Pulled Pork version of the recipe instead.
I use a 5 quart slow cooker for this recipe. If your slow cooker is bigger that's fine, but I think it would not fit very well in a smaller slow cooker.
We like this pulled pork served on dinner rolls with this homemade coleslaw.
The leftovers can be frozen for another night, or kept in the fridge for 4-5 days. They reheat very well on low in the microwave. My kids also like it as a cold sandwich for their lunch the next day.
Here are some more great slow cooker recipes for you: