These slow cooker hoisin chicken lettuce wraps are so easy to make and taste fantastic! They are so tasty – the whole family will love them!
This is one of the easiest dinner recipes ever. And one of the easiest slow cooker recipe ever.
Toss some chicken in the slow cooker, whisk together a couple ingredients for the sauce and pour it over top, and let it all cook.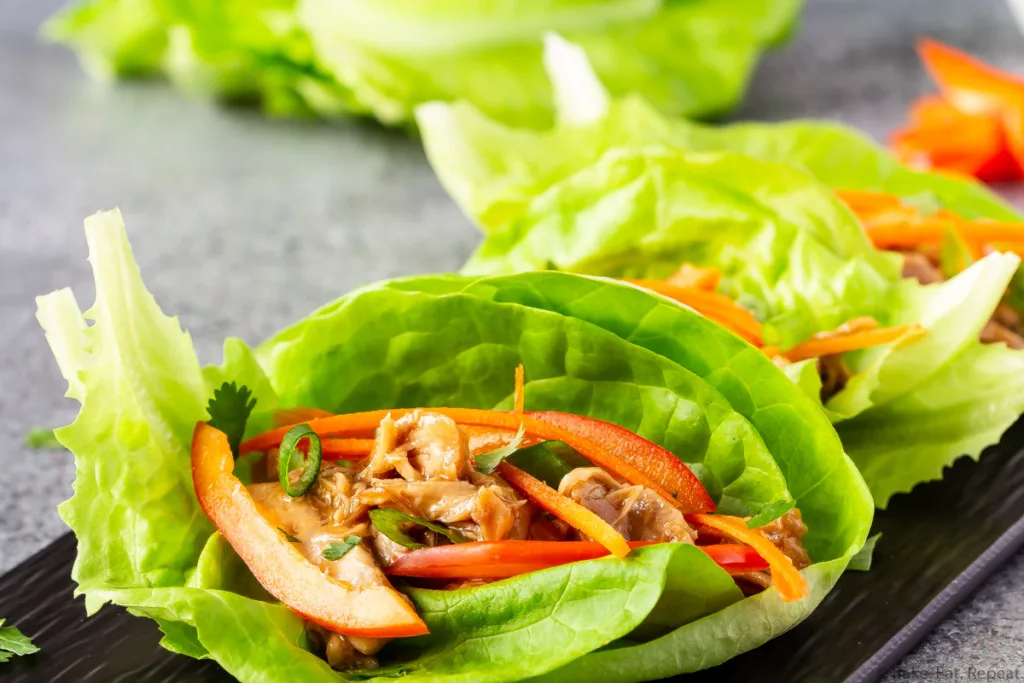 So easy.
All you need to do at dinner time is shred the chicken, thicken the sauce, and chop up a couple toppings for your lettuce wraps.
Easy and delicious.
We absolutely love the flavour of these slow cooker hoisin chicken lettuce wraps. They disappeared in no time at all!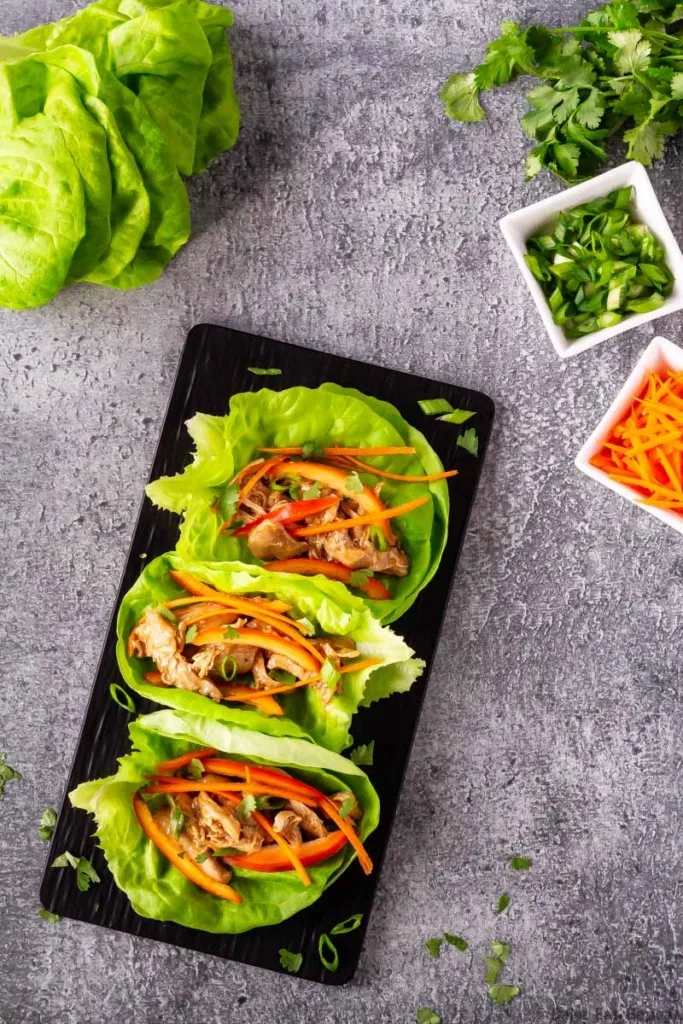 What type of lettuce should you use for lettuce wraps?
Butter lettuce is the best kind of lettuce to use for lettuce wraps, but leaf lettuce or iceberg lettuce will work too.
We like butter lettuce the best as the leaves are sturdy enough to wrap around the filling without tearing or falling apart as you eat it.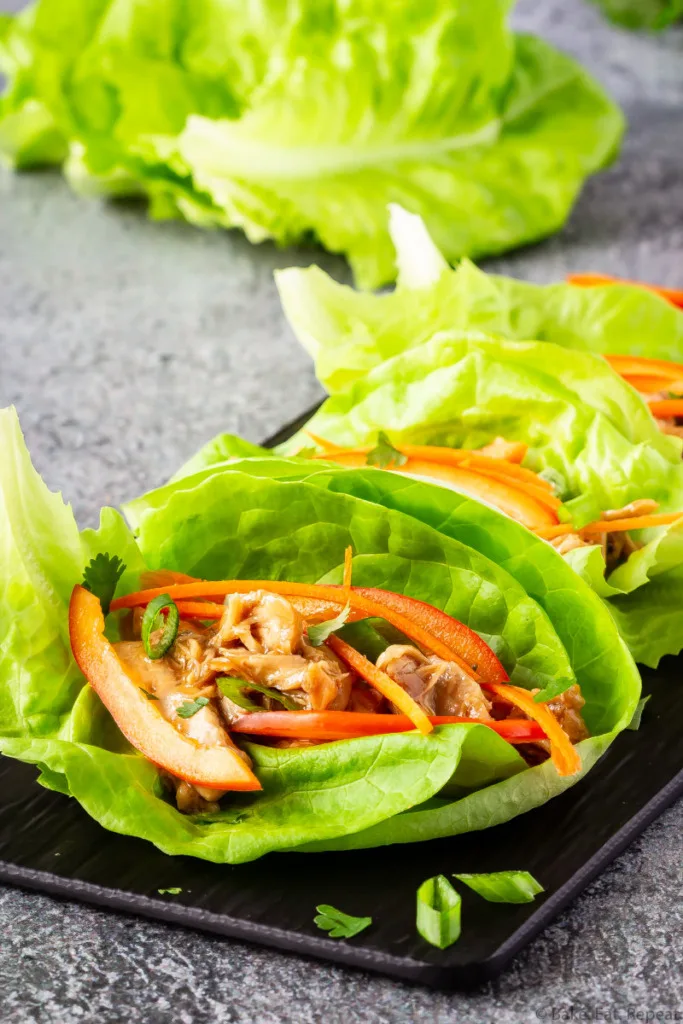 Leaf lettuce will work, but the leaves are much bigger, so you tend to add more filling and then the lettuce often tears as you're eating the wrap.
Iceberg lettuce is nice and sturdy, but the crispness of the leaves makes it more difficult to wrap around the filling. You end up more with lettuce cups than lettuce wraps with this type of lettuce.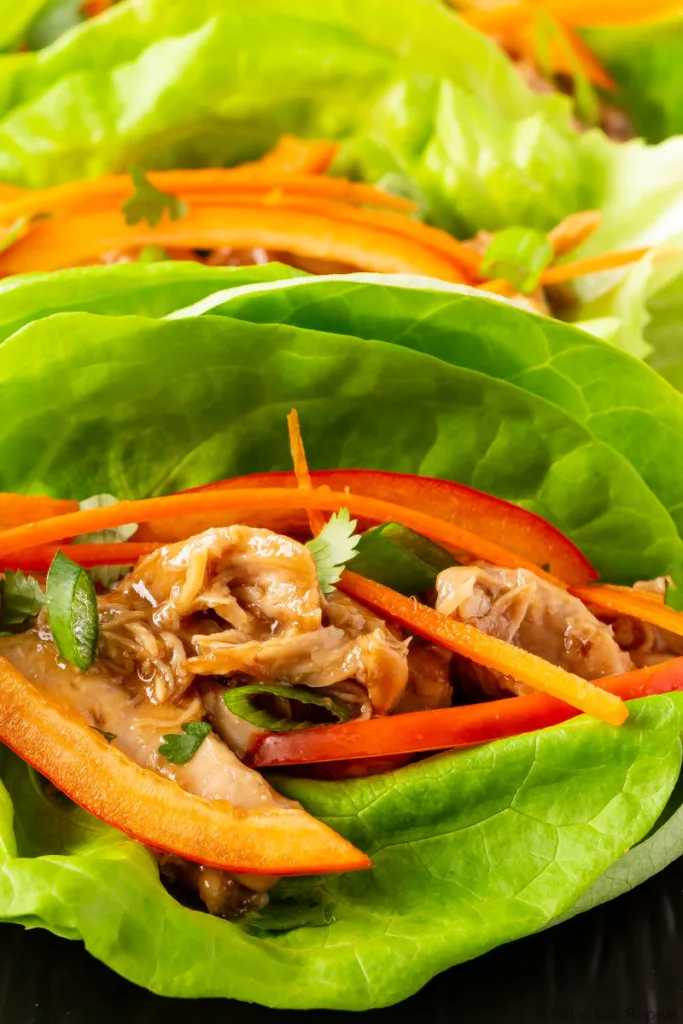 What can I serve with lettuce wraps?
We like this hoisin chicken in lettuce wraps along with toppings like sliced red pepper, shredded carrots, chopped green onions, and fresh cilantro.
My family likes to have rice served alongside lettuce wraps so make them a complete meal. The kids will often include the rice in their lettuce wraps too.
We've also enjoyed this hoisin chicken and all the toppings wrapped up in a tortilla, taco style with some lettuce, instead of using the lettuce as the wrap.
No matter how you serve them, though, they're delicious!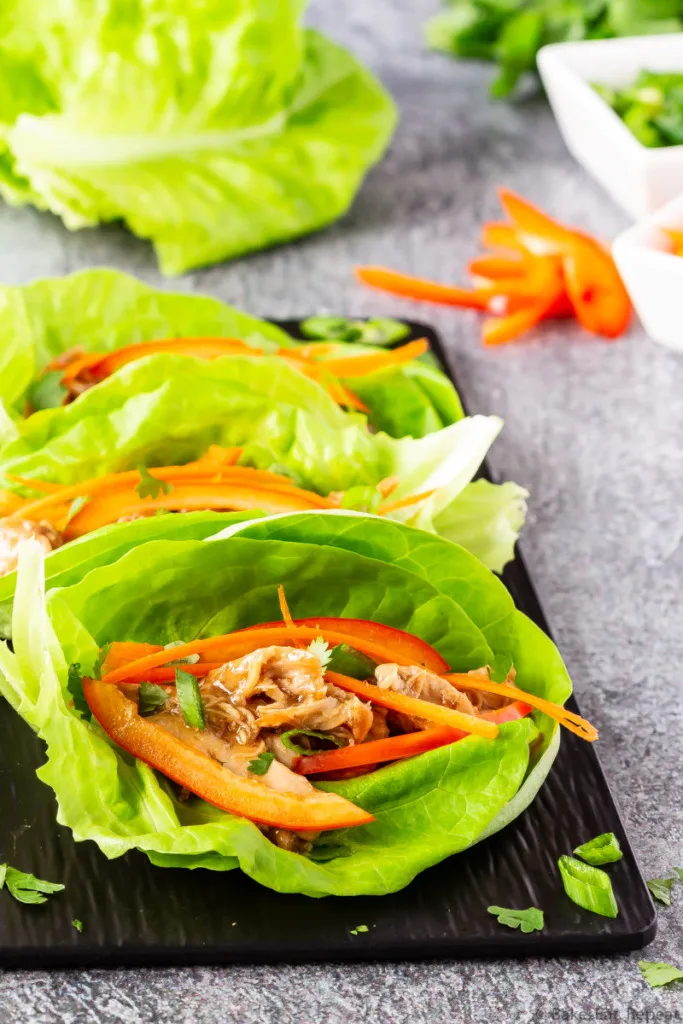 How to make Slow Cooker Hoisin Chicken Lettuce Wraps:
Start with fresh (or thawed) boneless, skinless chicken thighs as it's not a great idea to cook frozen chicken in a slow cooker, for food safety reasons.
I like to toss the chicken with the sauce after shredding it and thickening the sauce, but you can leave them separate and drizzle the sauce onto the individual wraps if you prefer.
Leftover hoisin chicken will keep well in a sealed container in the fridge for up to 5 days, and can be easily reheated in the microwave.
Here are some more great slow cooker recipes for you: