These easy buttermilk biscuits are light and flakey and so easy to make! They can be on the table in under a half hour, and everyone will love them!
We love homemade buttermilk biscuits around here. I make them at least once a month, and they would happily be eaten even more than that, but I try not to make them any more often!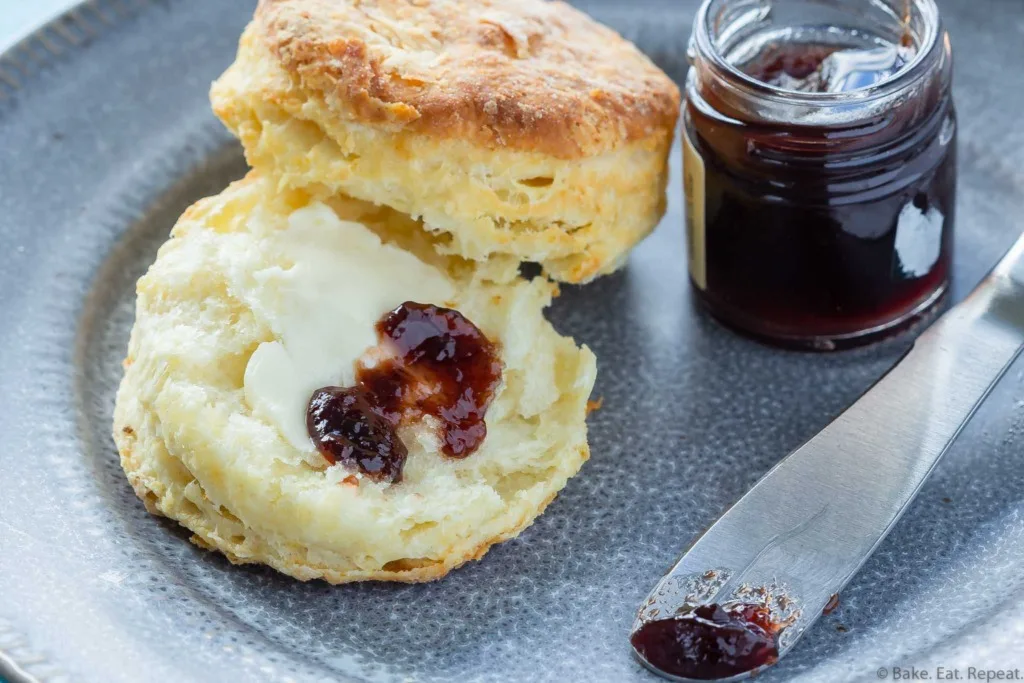 They're absolutely delicious, but not really the healthiest of dinner options!
I have made these easy buttermilk biscuits with half whole wheat flour as well, to make them slightly healthier though, and they are quite good that way, if you prefer. They are a bit lighter and fluffier with just all purpose flour though.
This recipe also doubles easily if you want to make a larger batch of biscuits. Also, they're shown here as circular biscuits, but I do usually make them into squares. This is because the scraps that are left after cutting out circles never rise as well once they're reformed into biscuits.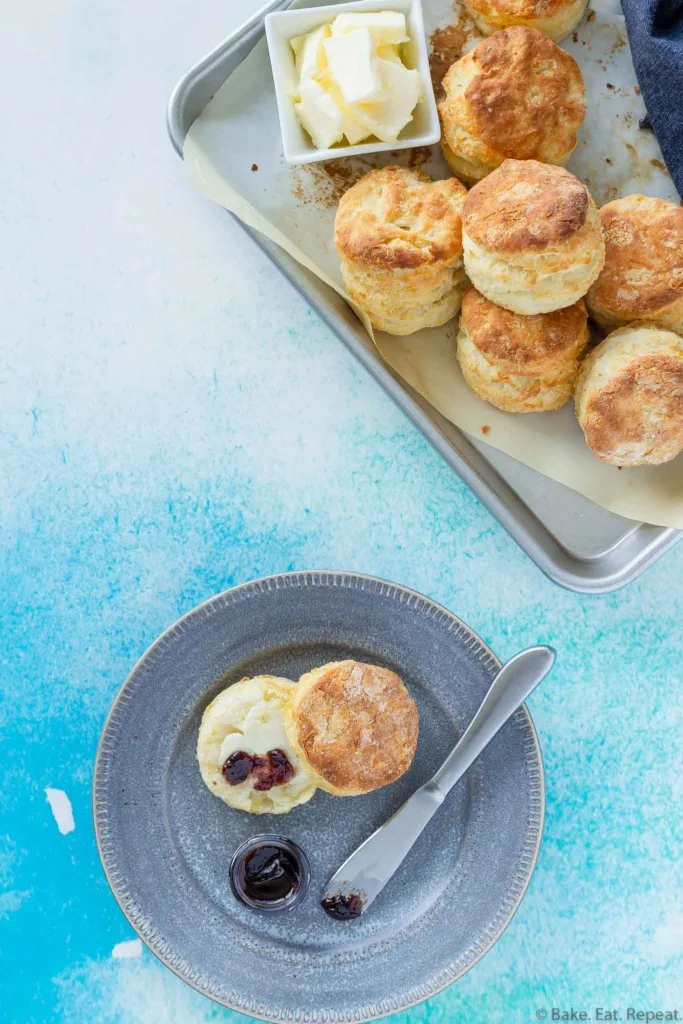 Typically I just press out the dough into a 1″ rectangle and cut it into square shaped biscuits with a knife. There are no scraps this way and all of the dough rises nicely in the oven.
Do make sure that however you decide to cut your biscuits, you're pressing the knife or biscuit cutter straight down, and not twisting it at all. Twisting the biscuit cutter will seal the edges of the biscuits and prevent them from rising well in the oven.
What is the best way to make buttermilk biscuits from scratch?
I like to grate very cold (even frozen) butter into the dry ingredients and then stir in cold buttermilk to make biscuits. Making sure your ingredients are cold and you're not over working the dough are the most important things when baking biscuits.
If you don't want to grate your butter, you can use a pastry blender to cut the butter into the dry ingredients. I find grating the butter is typically faster and easier though.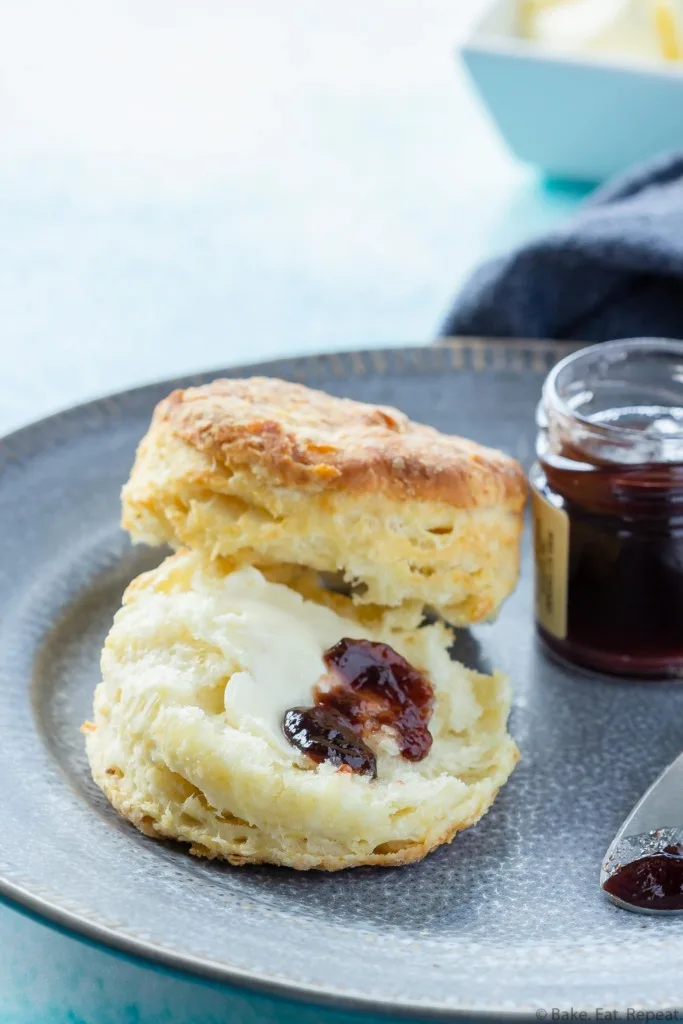 What does buttermilk do for biscuits?
Buttermilk tenderizes the biscuits, and reacts with the baking soda to help the biscuits rise in the oven. Substituting milk combined with vinegar will work well, but real buttermilk does make for flakier, more tender biscuits, so use the real thing if you can!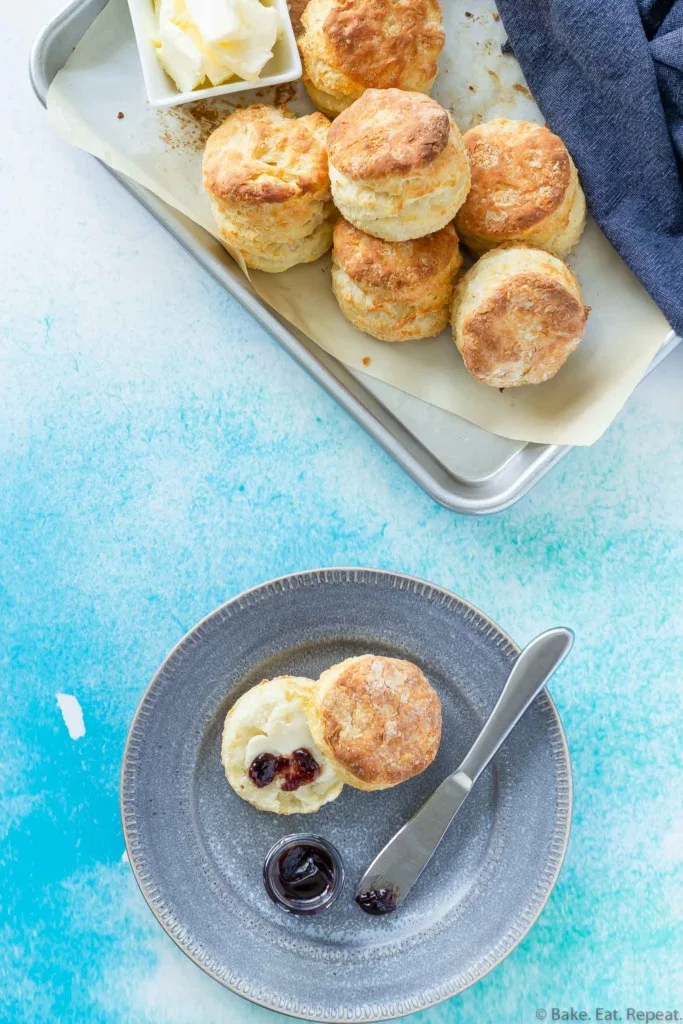 How do I make my biscuits fluffy?
For fluffy biscuits, the most important thing is to not over work the dough. If you knead it like a bread dough, you will start to develop gluten, and the biscuits will be tough and dense.
Don't worry about it if the dough is really shaggy and floury when you dump it onto the baking sheet, it should be a floury mess. It comes together as you press it out into a rectangle, fold it over, turn it, and repeat.
Using this press and fold technique with the biscuit dough will bring it together after about 5-6 turns, it will give you nice flakey layers, and it will keep your biscuits light and fluffy since the dough doesn't get kneaded and over worked.
You also want to make sure your butter and buttermilk are very cold. The butter should stay in small pieces within the dough, if it's melting, chill the dough for 10-15 minutes before baking the biscuits. You want the butter to melt in the oven to create those lovely flakey layers.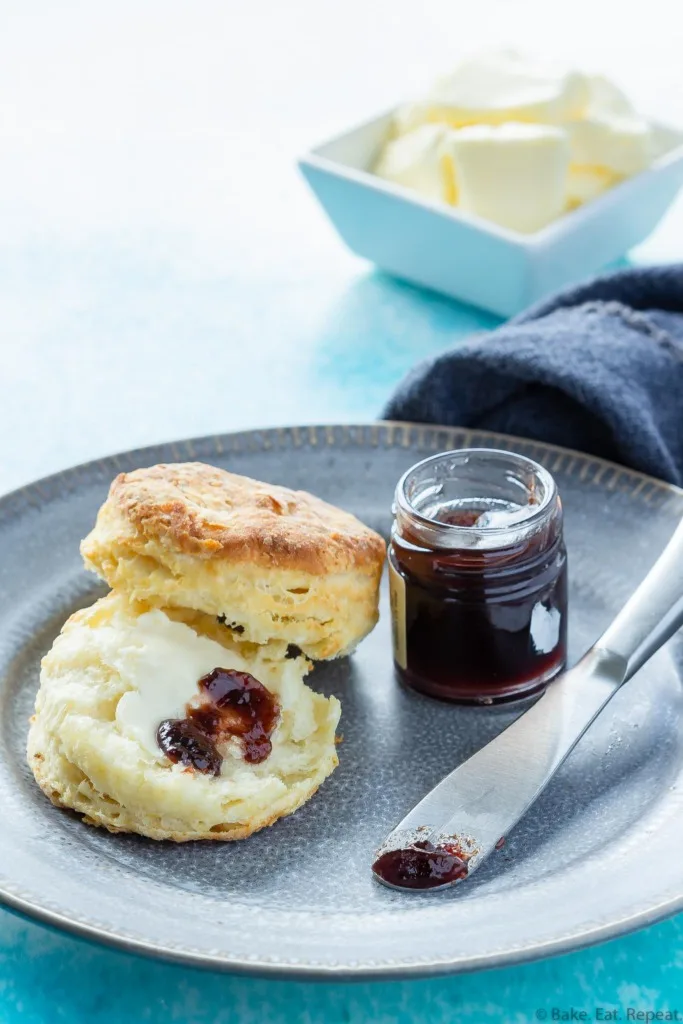 How to make Easy Buttermilk Biscuits:
Make sure not to over work the biscuit dough. If you knead it, it will start to develop gluten and the biscuits won't be a soft and fluffy. Having some dry floury bits and visible pieces of butter is fine.
The folding technique used to shape the biscuits helps to bring the dough together (instead of kneading it) and also helps give the biscuits their flakey layers, so don't skip it.
When you cut the biscuits, make sure not to twist the biscuit cutter or knife. Twisting the cutter will seal the edges and the biscuits won't rise as much in the oven. Cut straight down.
If you want circular biscuits, be aware that the ones made from the scraps won't rise as well as the first ones you cut. For this reason, I usually just cut my biscuits into squares so there aren't any scraps to use up.
Here are some more great biscuit recipes for you: