This Instant Pot chicken stew is perfect for those cold winter days. And it can be ready in just 30 minutes when made in the Instant Pot!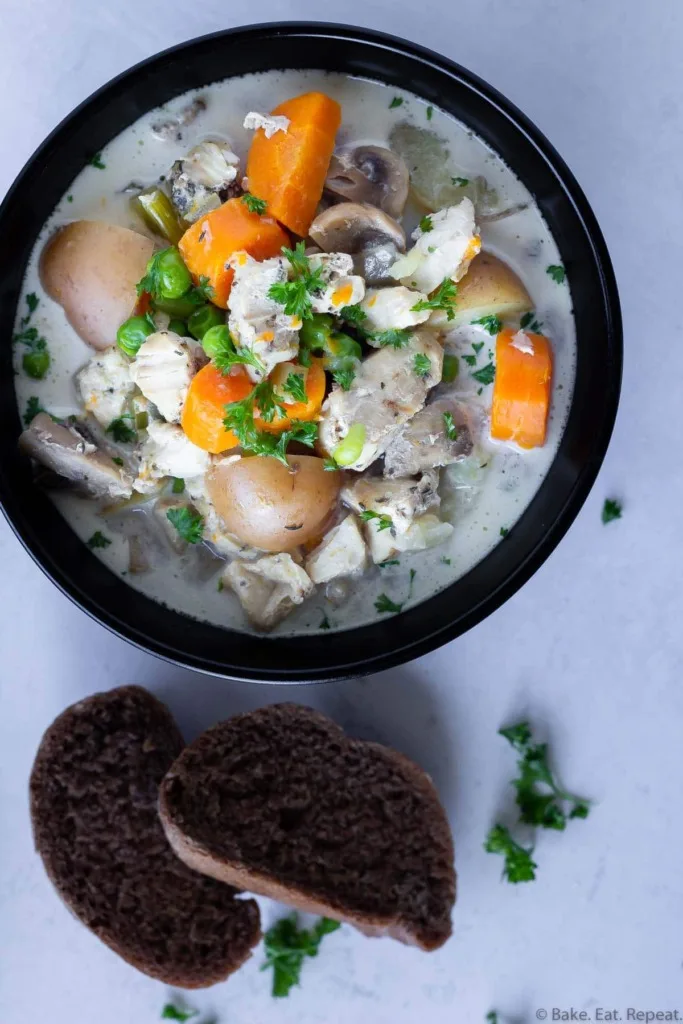 Stew is such a perfect meal when it starts getting cold out. And even though I make it all year long, fall and winter are when it really hits the spot.
This Instant Pot chicken stew is on the meal rotation now that it's getting cold and snowy again here. And I'm not sad about that.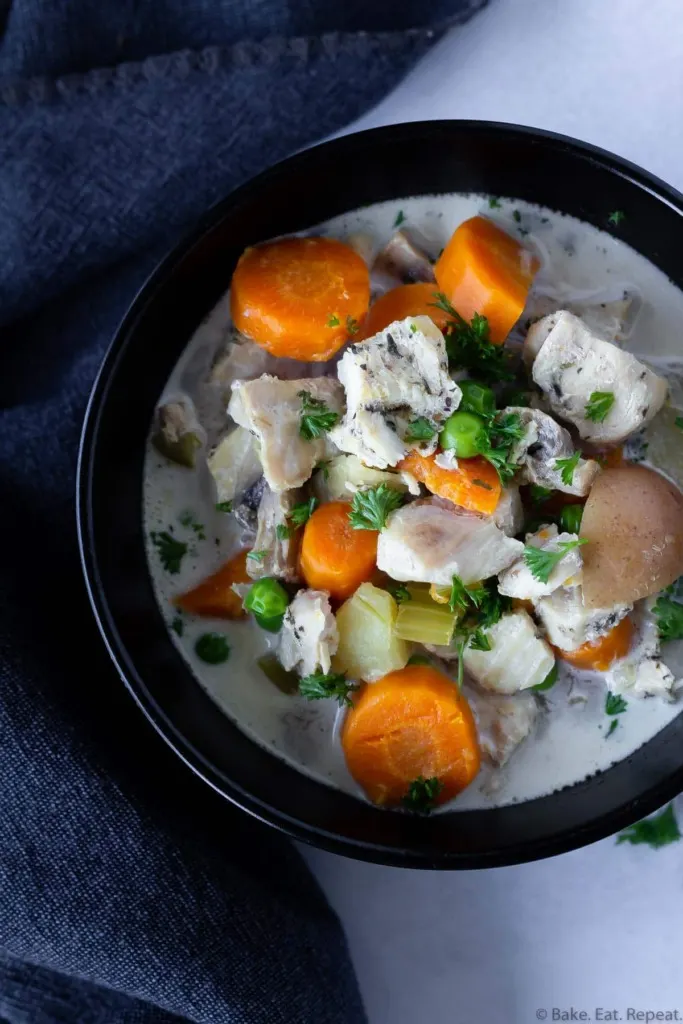 It takes just 10 minutes of prep time to get everything chopped up, and then 8 minutes to cook in the Instant Pot. Spend another 2-3 minutes thickening the stew and it's ready to serve.
Chicken stew that takes less than 30 minutes. It's the perfect weeknight meal!
How do you make chicken stew from scratch?
This chicken stew is very easy to make from scratch.
You literally throw everything in the Instant Pot and hit go. And thickening it is as easy as stirring in some milk and flour and cooking for a few more minutes.
It is so easy to make and tastes delicious.
What goes with chicken stew?
I usually serve chicken stew with bread of some sort. Basically whatever I happen to have on hand or can make quickly!
These buttermilk biscuits are quick and easy to make, as are these homemade cream biscuits.
Or drop biscuits. Or these dinner rolls if you've planned ahead a little and made them earlier in the day.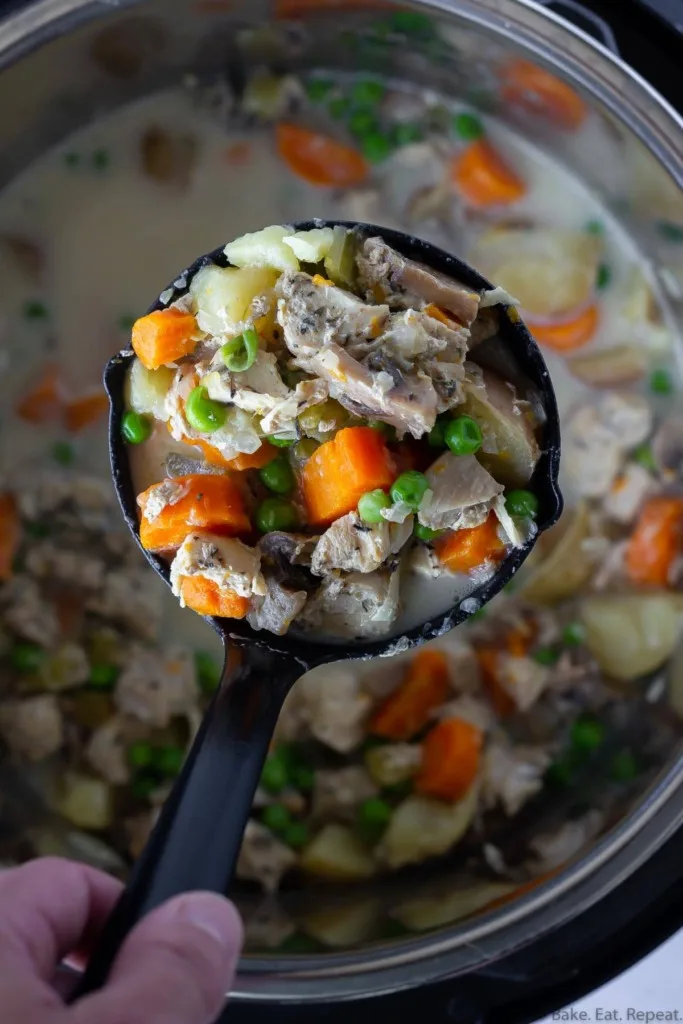 How do you thicken stew?
This Instant Pot chicken stew is thickened after cooking.
Once the pressure cooking cycle is complete, simply stir in some milk and flour and use the saute feature on the Instant Pot to cook it for 2-3 minutes until it thickens a bit.
I don't thicken it a lot as we like it with a bit thinner consistency, but if you want it thicker you can cook it down a little more with the saute function and it will get thicker.
Keep in mind that it does thicken more as it cools so don't overdo it.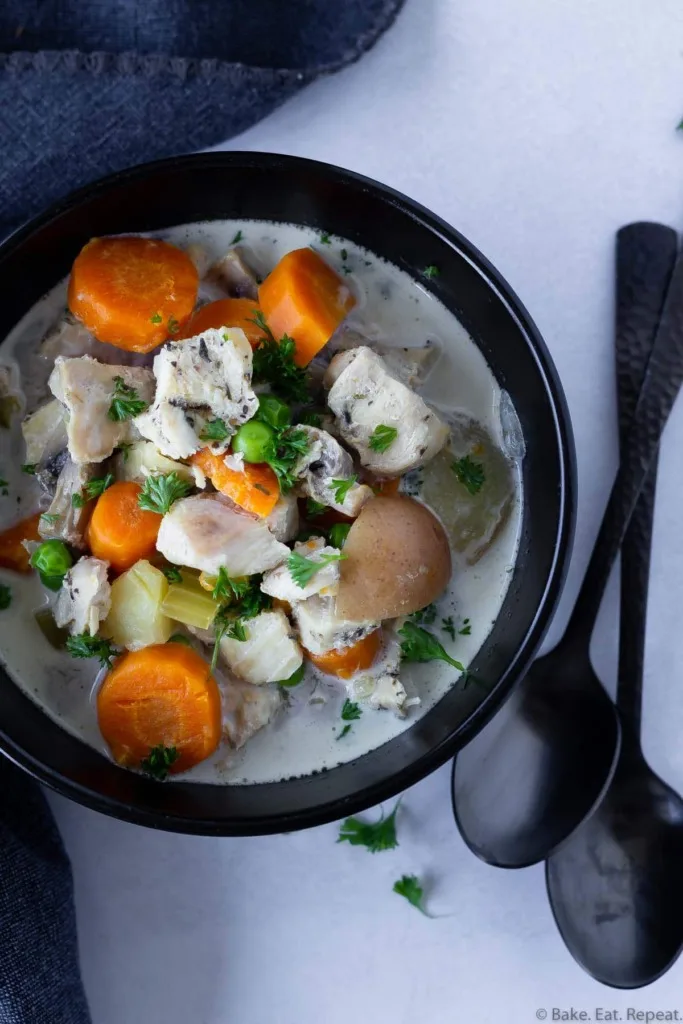 How to make Instant Pot Chicken Stew:
Make sure not to cut the vegetables too small as they will overcook in the Instant Pot if you do.
I don't usually bother to peel the potatoes, but you can if you like (unless you're using baby potatoes, that definitely wouldn't be worth it!).
If you prefer, you can replace the chicken breasts with 6-8 boneless, skinless chicken thighs.
This chicken stew reheats well if you have leftovers. Store it in an airtight container in the fridge for up to 5 days.
Here are some more great Instant Pot recipes for you for those cold days: