This chicken pot pie soup is thick and creamy (without any cream!) and ready to eat in 30 minutes – a great way to use up chicken (or turkey) leftovers!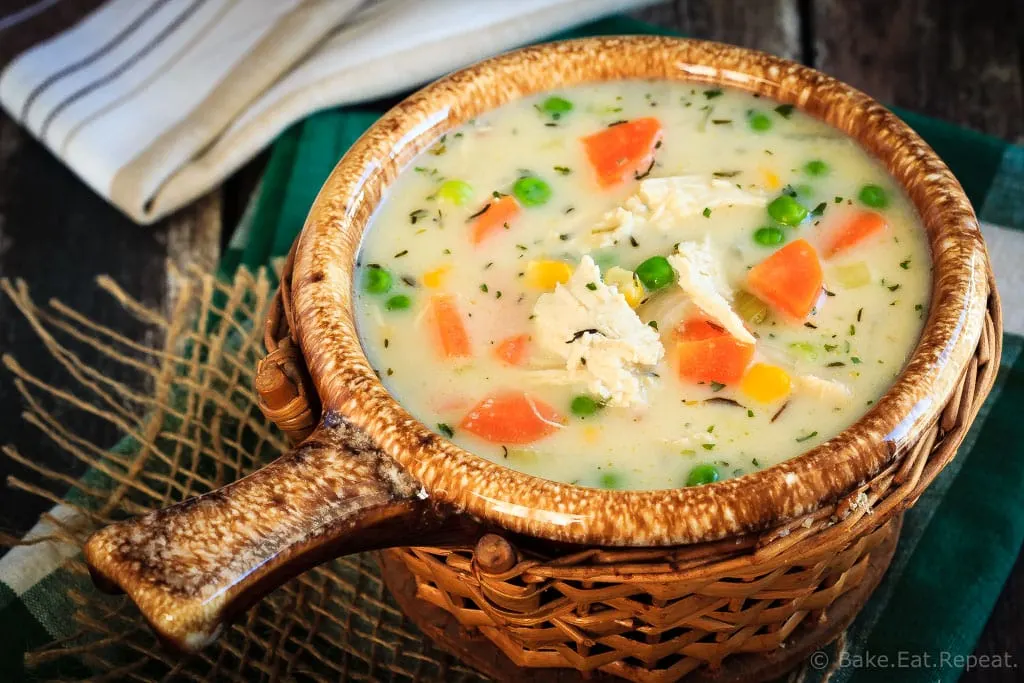 It's soup season – and I'm really happy about that! Anyone else?
Now I'm not saying that I love the snow and cold, because as much as I enjoy skiing and skating and all those winter sports, I also like being warm. So I'm happiest in the winter when we have snow so it's pretty and fun, but it's not crazy cold outside.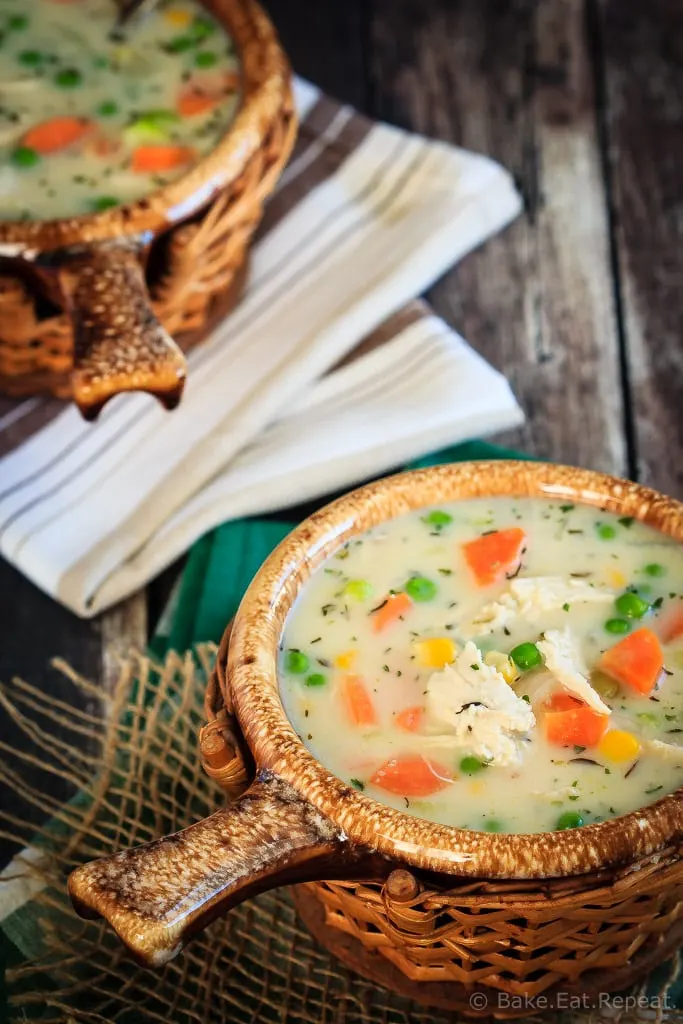 However, I do enjoy a good bowl of soup on a cold winter night. Actually, I'll eat soup pretty much anytime, but it just doesn't hit the spot in quite the same way when it's a warm and sunny summer day. Then we want something hot off the grill for dinner, not a bowl of chicken pot pie soup!
As far as cold winter nights and good bowls of soup go, this chicken pot pie soup that is ready in 30 minutes is definitely one of our favourites. I've made it at least 5 times in the last couple of months and I'm not slowing down anytime soon. It's only November, we've got like 5 months of winter left.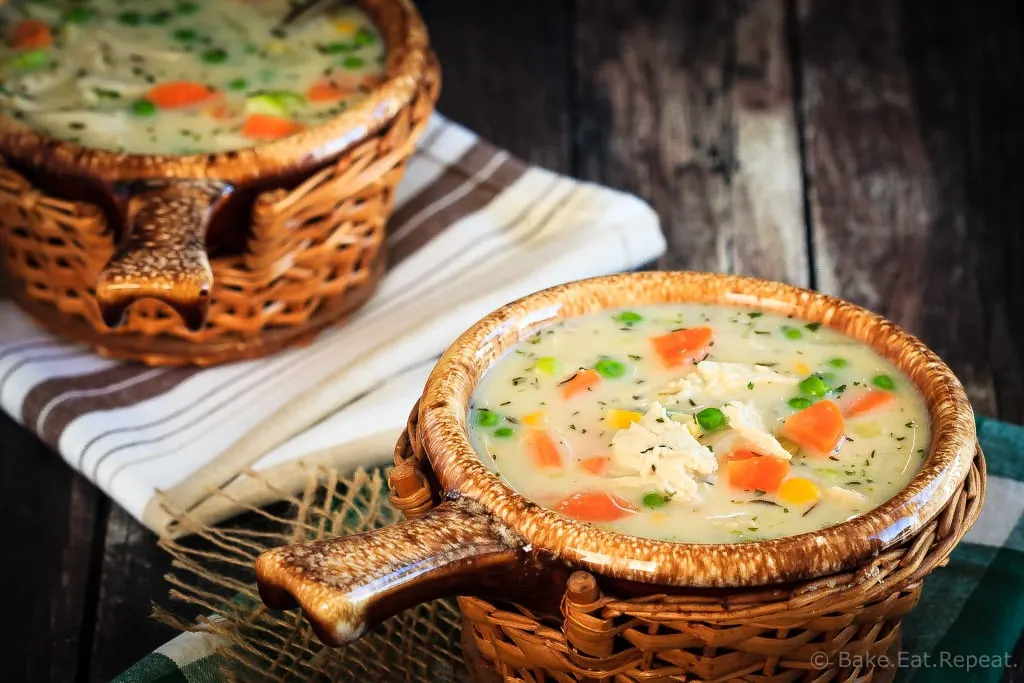 Sadly, that's not even an exaggeration. I thought I was exaggerating, and then I counted the months and yeah, it's probably about five months until all the snow is gone and we can say it's spring for real! Oh well. Lots of tasty soup like this one will get us through it.
This soup is fast and easy to make, using leftover cooked chicken or turkey so it's ready in just 30 minutes. Thick, creamy, warming chicken pot pie soup – all the flavours of chicken pot pie, but in a delicious and healthy soup!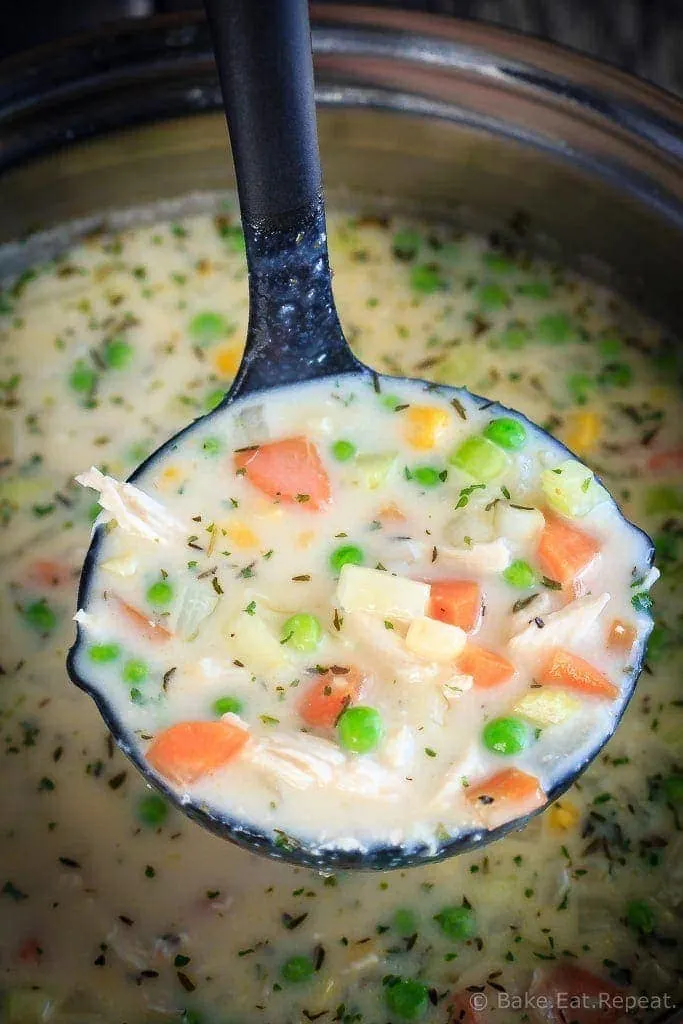 How to make Chicken Pot Pie Soup:
this soup uses cooked chicken or turkey so plan ahead – if you don't have any on hand this Slow Cooker Shredded Chicken can be made earlier in the day so you have chicken ready for your soup in the evening
if you don't have carrots and celery on hand, you can replace the carrots, celery, peas and corn with 3 cups of mixed frozen vegetables – just stir them in at the end (where the recipe says to stir in the peas and corn)
I use low sodium chicken broth, or my homemade chicken stock in this soup – if you aren't using low sodium broth you might want to taste the soup before adding more salt as different brands have different amounts of salt in them
if you're in the market for a good garlic press – this is the one I have and I love it – you don't even need to peel the garlic before pressing it and it works great
here are a few more great soup recipes for you: 30 Minute Chicken Noodle Soup, Slow Cooker Chicken Taco Soup, and Philly Cheesesteak Soup