Roasted garlic is fantastic in so many recipes. Today I'm sharing how to roast garlic in the oven, either as a whole head, or individual cloves!
Have you ever roasted garlic yourself? It's absolutely delicious, and can be used in so many recipes that call for raw garlic.
We love garlic here, and have no problem with raw garlic. But if raw garlic isn't your thing, roasted garlic is the way to go. Then you can still enjoy the flavour of garlic.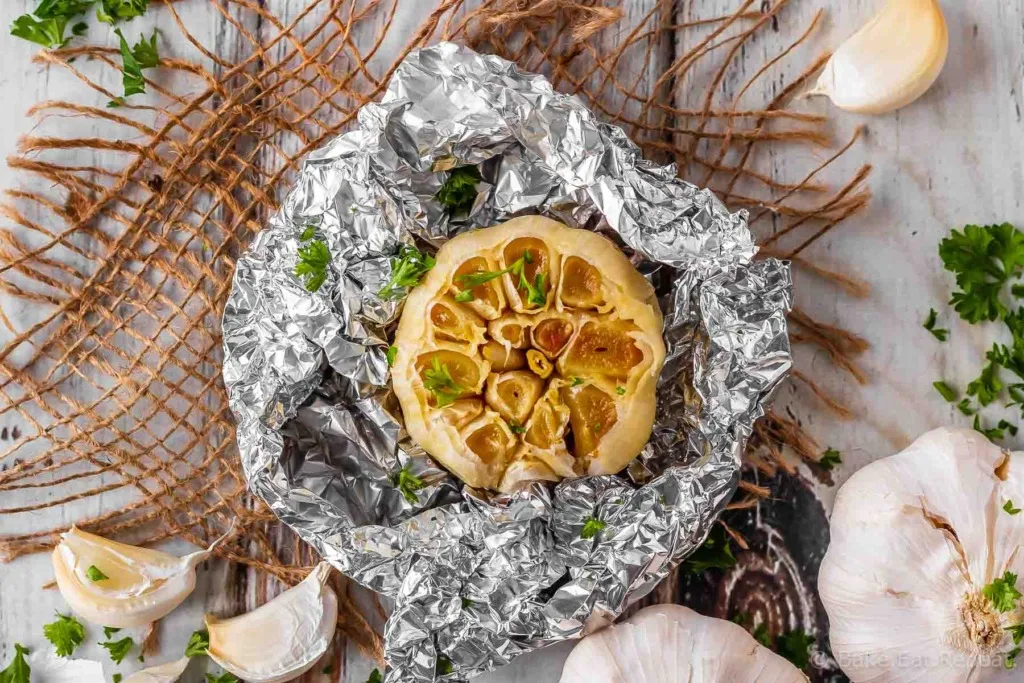 Roasting garlic mellows its flavour. Instead of the sharp bite that raw garlic has, roasted garlic has a smooth, mellow taste.
It's absolutely fantastic in so many things. Our favourite way to use it is in roasted garlic butter (recipe coming soon!) either spread on warm bread or on garlic toast.
If you've never tried making it, you need to. Read on to learn how to roast garlic so you can use it in all sorts of recipes!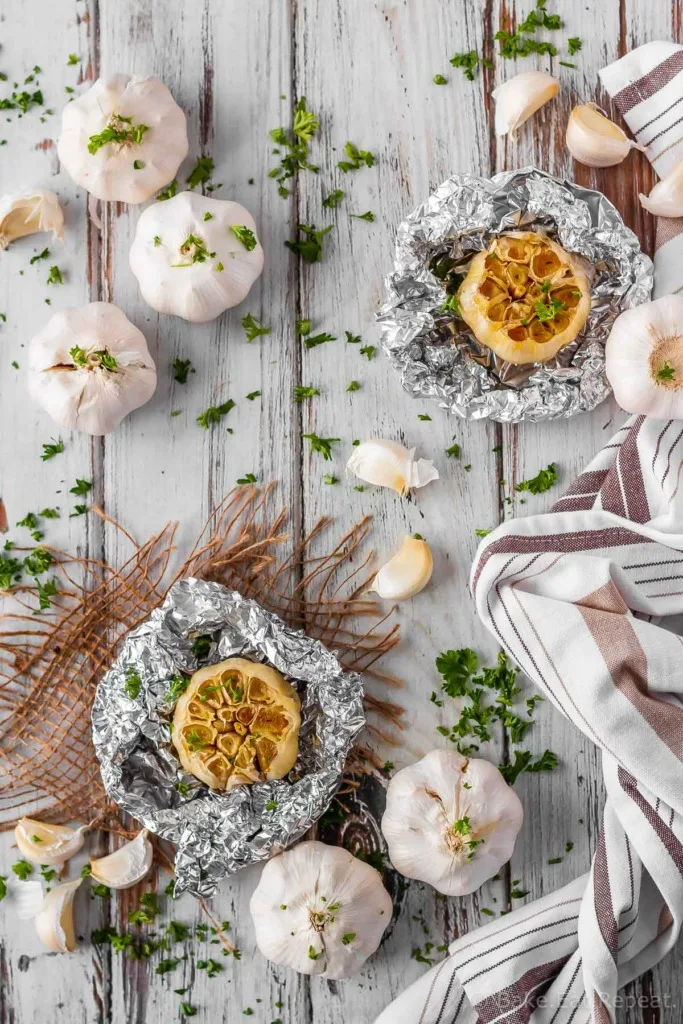 How to roast garlic:
It is so simple to roast a whole head of garlic. Simply slice off the top quarter inch or so of the head of garlic (not the root end, the pointy end) to expose the cloves. Drizzle about 2 teaspoons of olive oil on top and sprinkle with salt (sometimes I add some pepper too). Wrap the head tightly in aluminum foil and roast at 375 degrees F for 40-45 minutes, or until the garlic is tender.
Do you peel garlic before roasting?
No, you don't peel garlic before roasting it. Roast the garlic right in the skin and after it cools down it comes out of the skin very easily.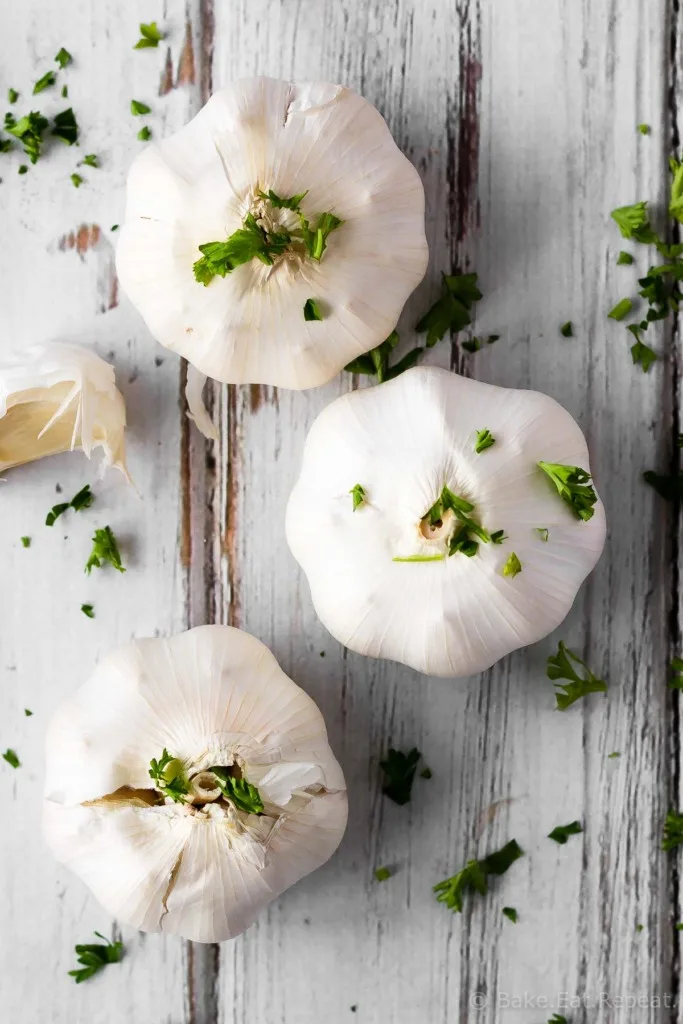 How do you roast individual garlic cloves?
You can also roast individual garlic cloves instead of a whole head of garlic. Simply break the head of garlic apart into individual cloves, while leaving the skin on each of them. Spread the cloves out on a baking sheet and toss them with a tablespoon of olive oil. Sprinkle with salt and roast at 375 degrees F for 20-30 minutes, or until they are tender.
How long can you keep roasted garlic in the refrigerator?
Roasted garlic keeps in a sealed container in the refrigerator for about one week. If you want to freeze it to use later, freeze the cloves individually on a baking sheet, and then store them in a sealed container or plastic bag after they're frozen. You can also mash the roasted garlic and freeze it in teaspoon or tablespoon portions for later use.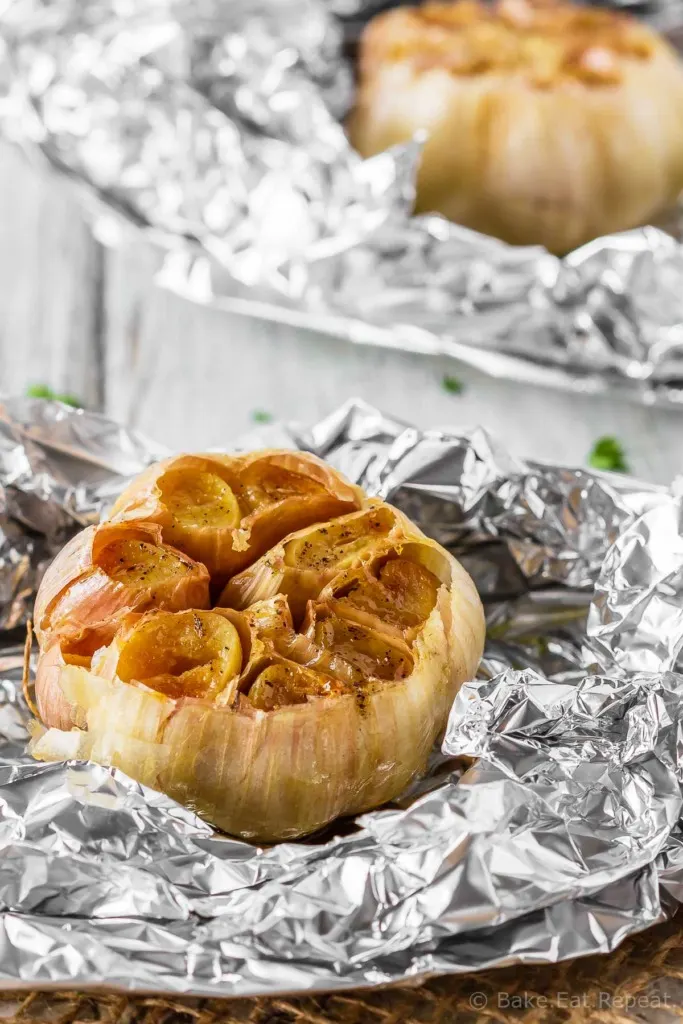 Here are a few ways to use roasted garlic:
Whip the garlic with some butter to use on garlic toast.
You can actually spread soft roasted garlic straight onto bread (or these dinner rolls) in place of butter (although I prefer it mixed with some butter, my husband loves it like this).
Mix it with mashed potatoes for amazing roasted garlic mashed potatoes.
Use it in hummus in place of raw garlic for a milder flavour.
Combine roasted garlic with mayo for a great sandwich spread.
Saute chopped roasted garlic with vegetables and some olive oil for an easy and delicious side dish.
Use roasted garlic instead of raw garlic in this spinach pesto for a milder flavour.
Use roasted garlic in any recipe that calls for raw garlic for a milder flavour – such as salsas, dips, sauces, etc.