This Instant Pot turkey chili, that can also be made in the slow cooker, is fast and easy to make and is full of flavour. Plus, it's freezer friendly!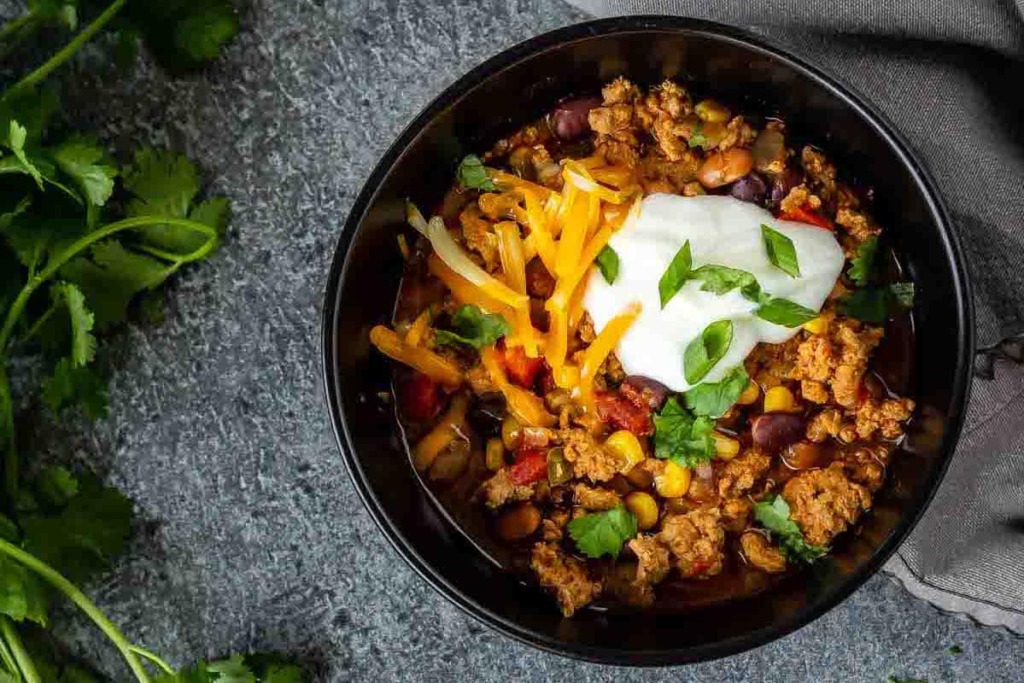 Chili is such a great meal.
It's easy to make. It's nice and filling and warms you up on a cold day. It freezes beautifully. And pretty much everyone likes it.
This Instant Pot turkey chili only takes about 15-20 minutes of prep time before starting the pressure cooking cycle. It then needs to pressure cook for 18 minutes, plus the time to come to pressure, so it will be about 30-35 minutes total for pressure cooking.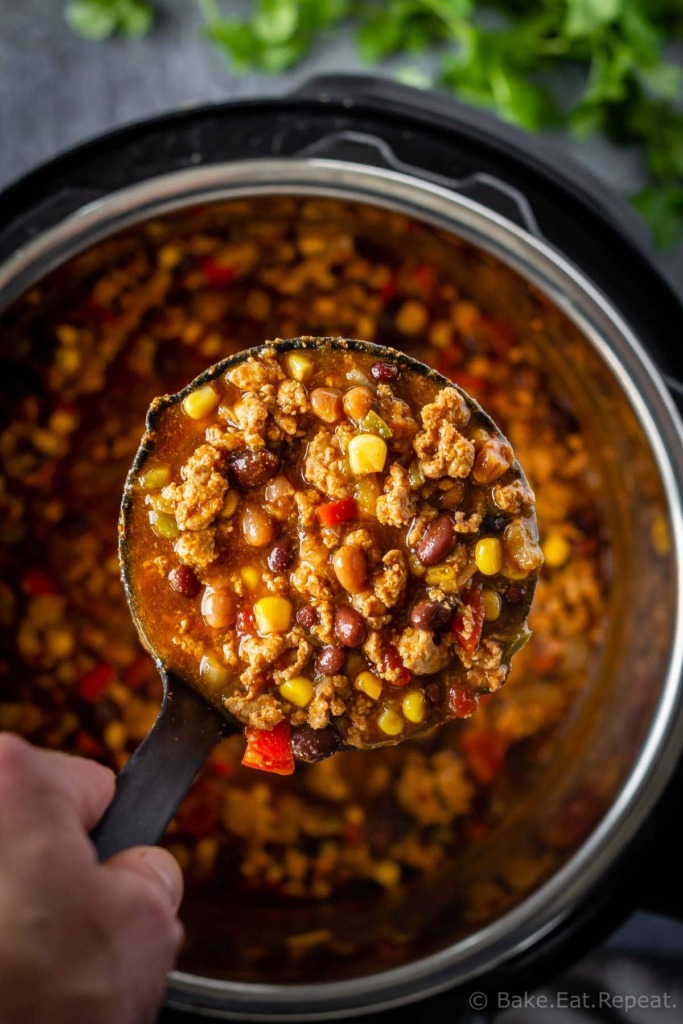 But that's only about 15 minutes of actual hands on time for this recipe, which makes it a great option for an easy weeknight meal.
Plus, it makes a fairly large batch of chili, so you will likely have leftovers to freeze, depending on how many people you're feeding.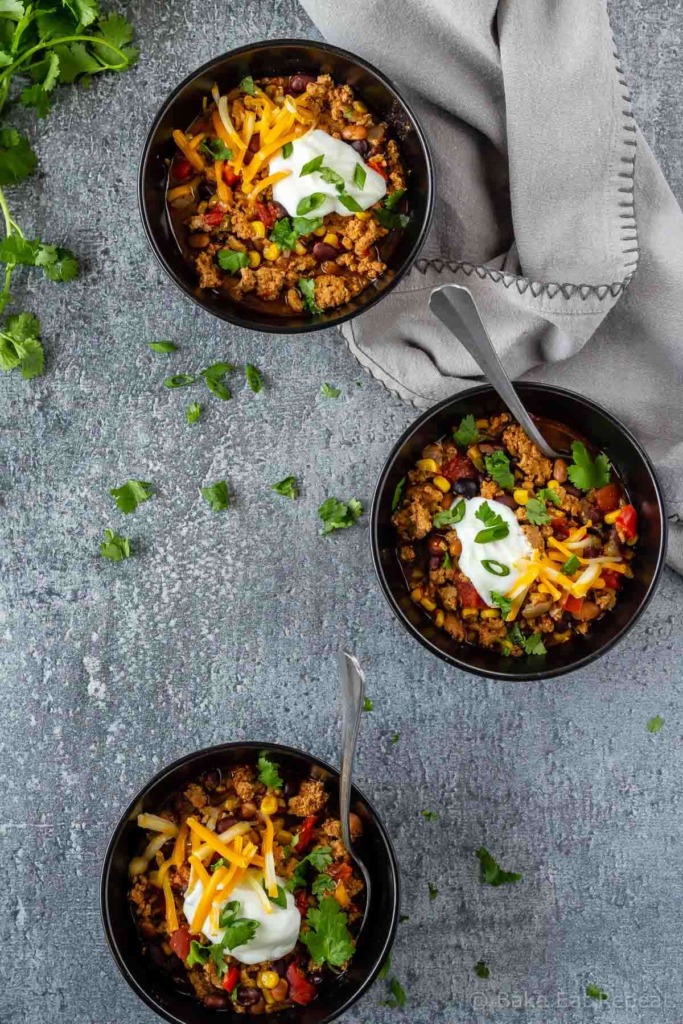 For my family of five, this makes enough for two meals. But two of my kids don't eat very large helpings of it, as they are not the biggest fans of anything involving beans.
While it's cooking, you can even whip up a batch of these homemade cream biscuits, or these drop biscuits to have with it. They will be coming out of the oven about the same time the chili is finished cooking if you start making them once the chili is cooking.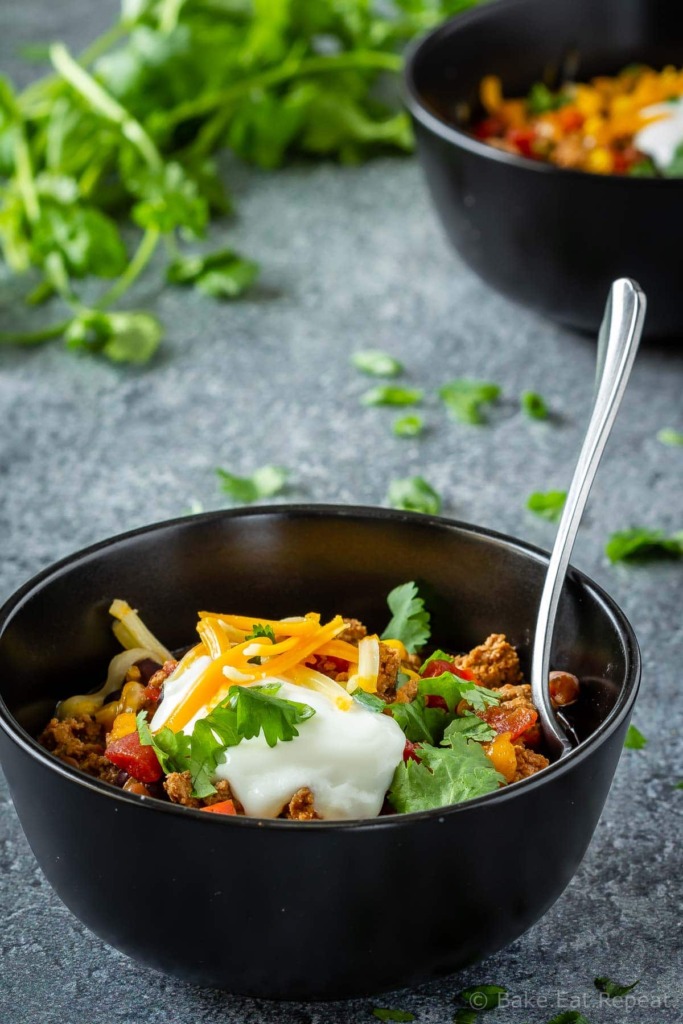 Looking for more chili recipes? Here are a couple more for you: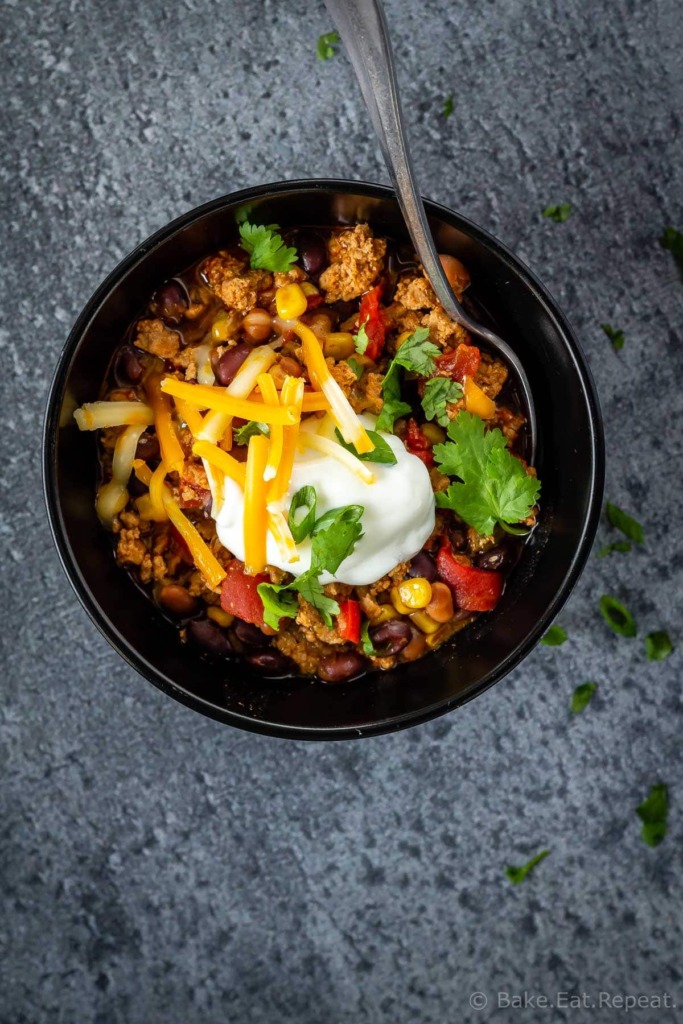 Why did my chili burn in the Instant Pot?
It's quite easy to get the "burn" warning when making chili in the Instant Pot. I've found that this can be due to one of two things.
Either there isn't enough liquid in the Instant Pot, or there is food cooked onto the bottom of the pot before pressure cooking begins.
I've made this turkey chili recipe at least 6 times in the last month in my Instant Pot, and haven't received the "burn" warning, so there is enough liquid in this chili recipe.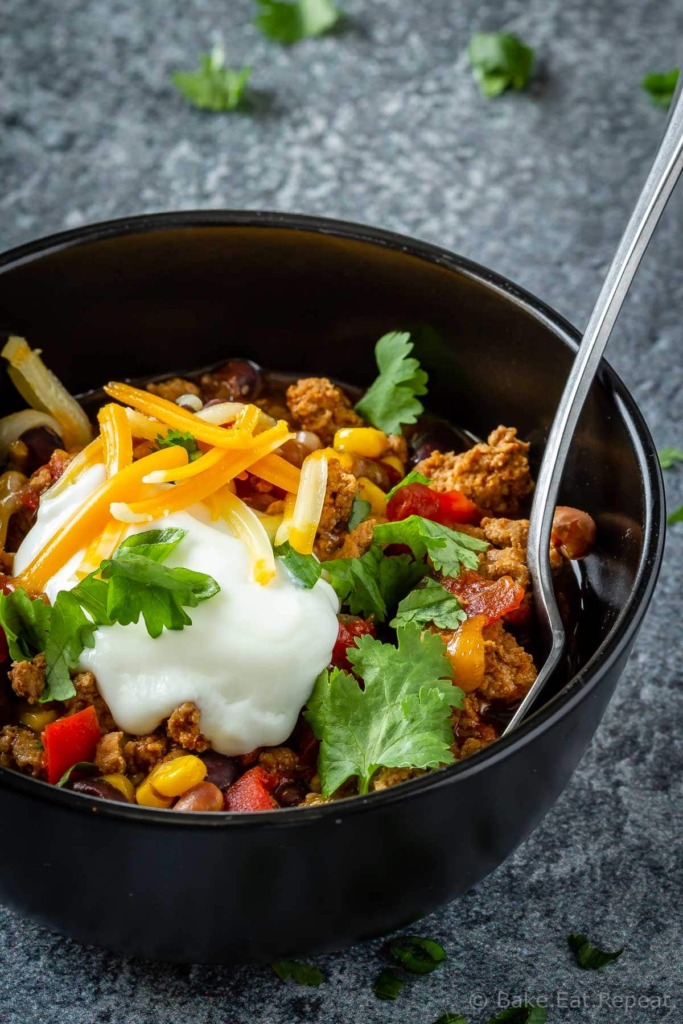 But you will get the "burn" warning if you're not very careful to scrape up every little bit of cooked on food after sautéing the turkey and veggies at the beginning of the recipe. If you skip that step, add everything else, and start pressure cooking, you will have burnt chili.
So make sure to scrape the bottom really, really well before you start the pressure cooking cycle!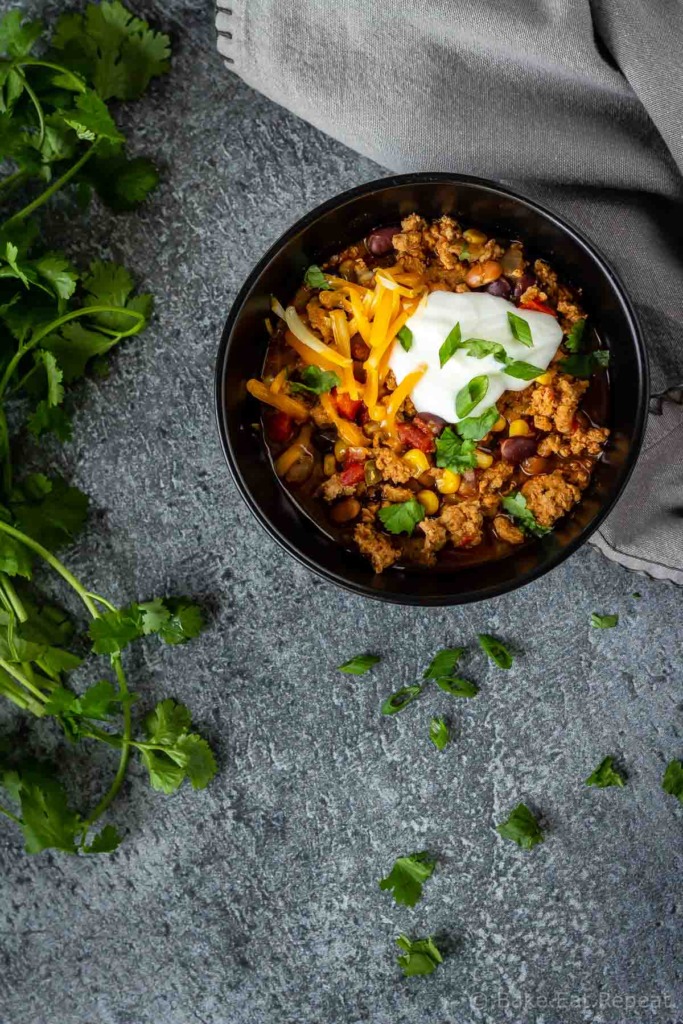 How do you freeze turkey chili?
Turkey chili is very freezer friendly, and I tend to freeze some of it almost every time I make it.
My two boys don't eat a lot of chili, as they don't love beans, so there's only 3 of us here eating a full serving when I make it. So I usually end up freezing about half of the batch when I make this recipe.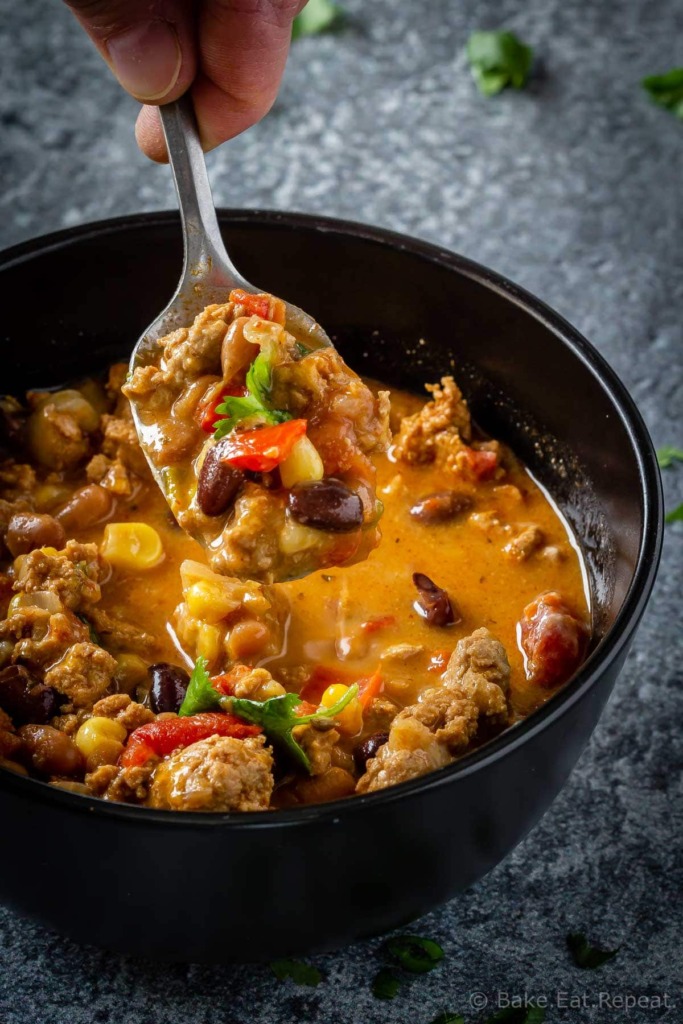 It freezes very well. Just let it cool down after cooking it, then freeze it in an airtight container or a large ziplock bag, laid flat so that it defrosts easier.
Let it defrost overnight in the fridge, and reheat it in the microwave, on low heat on the stove, or on low heat in the slow cooker.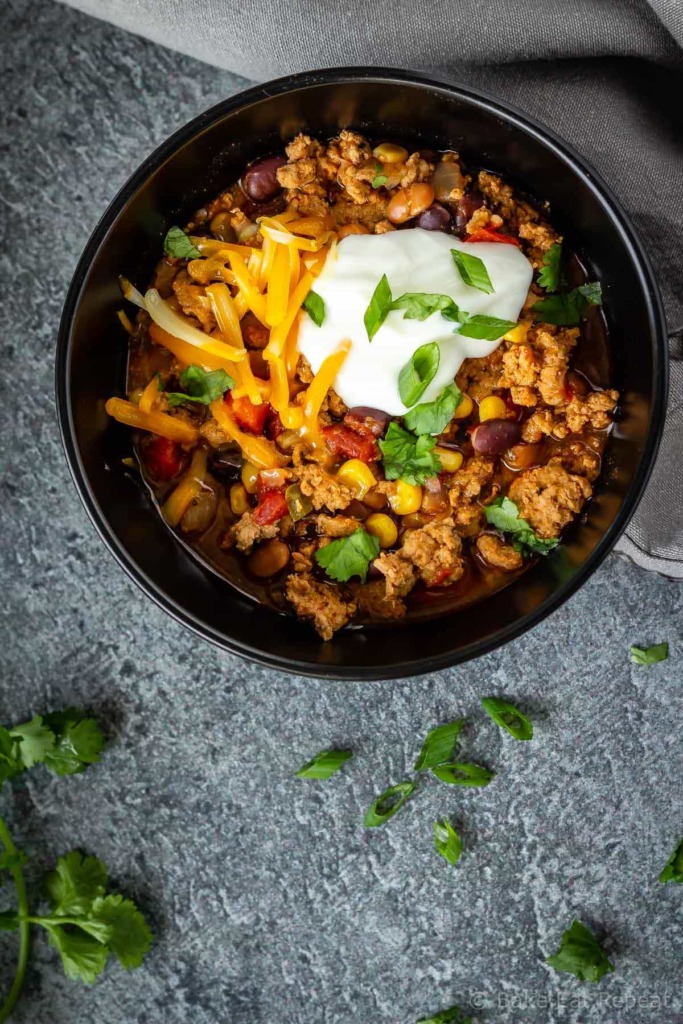 How do you thicken chili in the Instant Pot?
To thicken chili in the Instant pot, simply use the "saute" function after the cook time is finished, for about 10-15 minutes.
With the lid off, stirring often to prevent burning on the bottom, cook the chili until enough liquid evaporates that the chili is as thick as you like.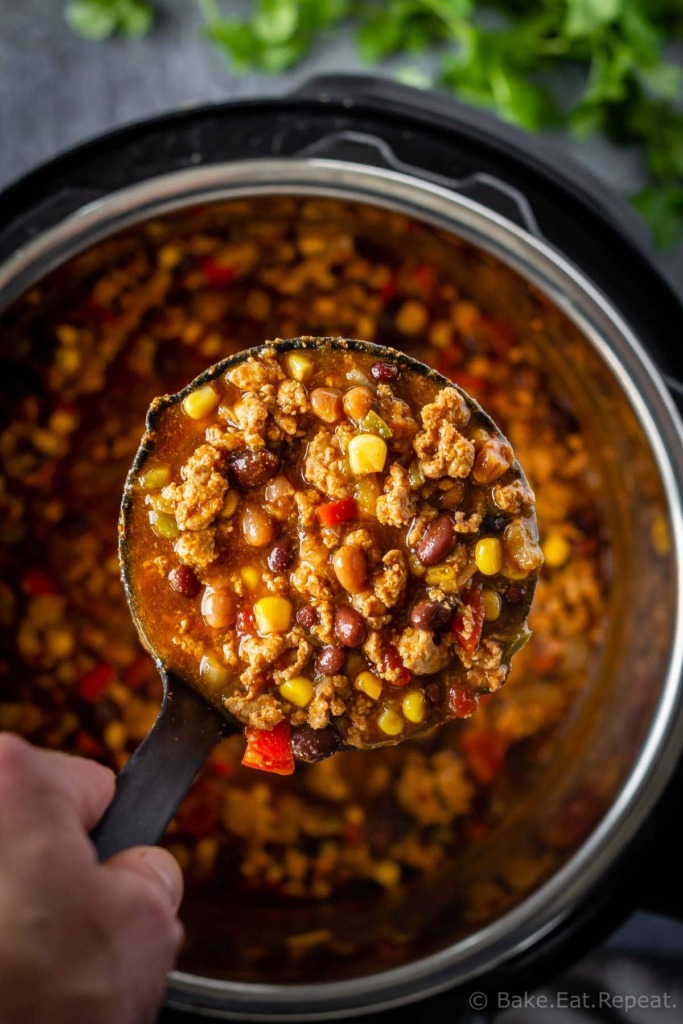 How to make Instant Pot Turkey Chili:
Make sure to scrape the bottom of the pot well after sautéing the turkey and veggies. If there is food left on the bottom of the pot, you will get the "burn" warning when you start the pressure cooking cycle.
You can also make this turkey chili in the slow cooker. I've included slow cooker directions as well.
This turkey chili is not spicy as written. If you'd like it to have some heat, leave the seeds in the jalapeño pepper, or add a bit of cayenne pepper.
I've had a few questions about the "brown beans in tomato sauce" and what that is. In Canada that's what the can says, but apparently in the States it's just "baked beans". It's the same thing!

Here are some more great warming meals for you: