This creamy chicken stew is filled with veggies and is simple to make. Easily on the table in 30 minutes, it's the perfect healthy meal for this month's 30 minute Thursday!
It's February already. Can someone please explain to me how on earth that happened?
I feel like it was just Christmas and I haven't even really gotten back into the swing of things after the holidays, and yet here we are in February.
The last month actually went so fast that we never even thought about what to do for my older son's birthday party until about a week after his birthday. How awful is that? He was probably starting to think that we weren't even going to have a party with his friends, it took me so long to plan it! Luckily the one evening we had free in three weeks actually worked out with his friends so it didn't take too long to sort out.
His birthday at the beginning of January always kind of throws me though. It's too close to Christmas. We just finish all the holiday excitement and get the kids back to school and all of a sudden it's his birthday. It sneaks up on me every single year. I don't know how people with kids birthdays right around Christmas ever manage to do anything!
Anyhow. You're here for the recipe.
The good thing about it being February already? It's 30 Minute Thursday again! I missed it last month since we were away, and it made me kind of sad. I really like these 30 Minute Thursday posts – so many great, fast recipes to try – and I'm always looking for more of those!
Today I have a 30 minute chicken stew recipe for you that is really fantastic. Healthy comfort food is really what this is. Loaded with vegetables, this creamy chicken stew is full of flavour, and on the table in 30 minutes. Serve it over rice or quinoa, or just with some crusty bread to soak up the sauce. It's amazing either way.
Plus you probably have all the ingredients in your kitchen already. Switch up the veggies for whatever you have on hand, and you have a quick and easy meal for tonight!
Scroll down to below the recipe for more 30 minute meals from my friends!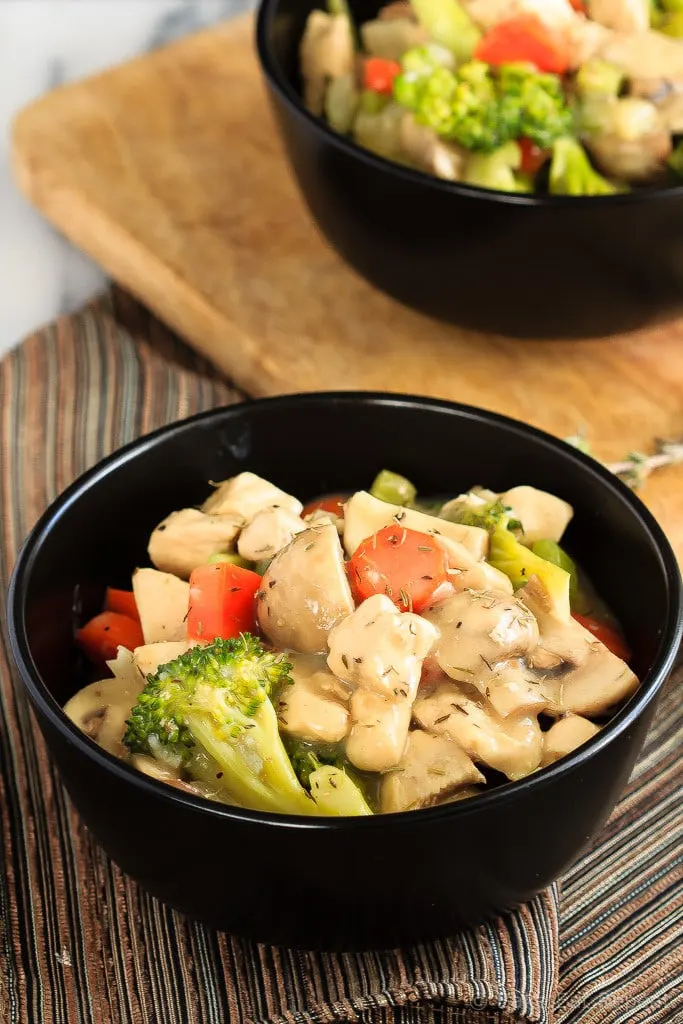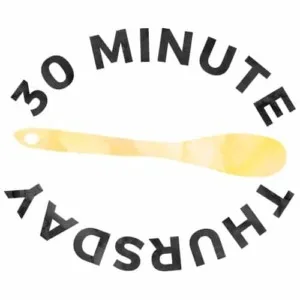 One Pot 30-Minute Pasta e Fagioli from Flavor the Moments
Baked Chicken Parmesan Meatballs with Creamy Polenta from Floating Kitchen
Tuna Casserole from My Kitchen Craze
Easy Chicken Pad Thai from Life Made Sweeter
One Pot Black Bean Fajita Pasta (Make Ahead) from Sweet Peas & Saffron
Italian Chicken Tortellini Skillet from The Recipe Rebel
Lightened Up Baked Chicken Parmesan from Kristine's Kitchen
Healthy Taco Chickpea Lettuce Wraps from She Likes Food
Garlic Parmesan Gnocchi with Mushrooms from Pumpkin 'N Spice