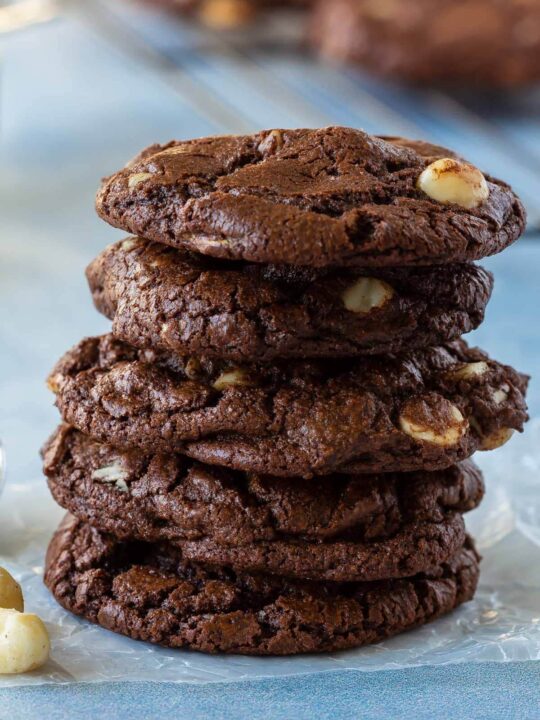 These chewy, triple chocolate macadamia nut cookies are super easy to make. They will definitely disappear in no time!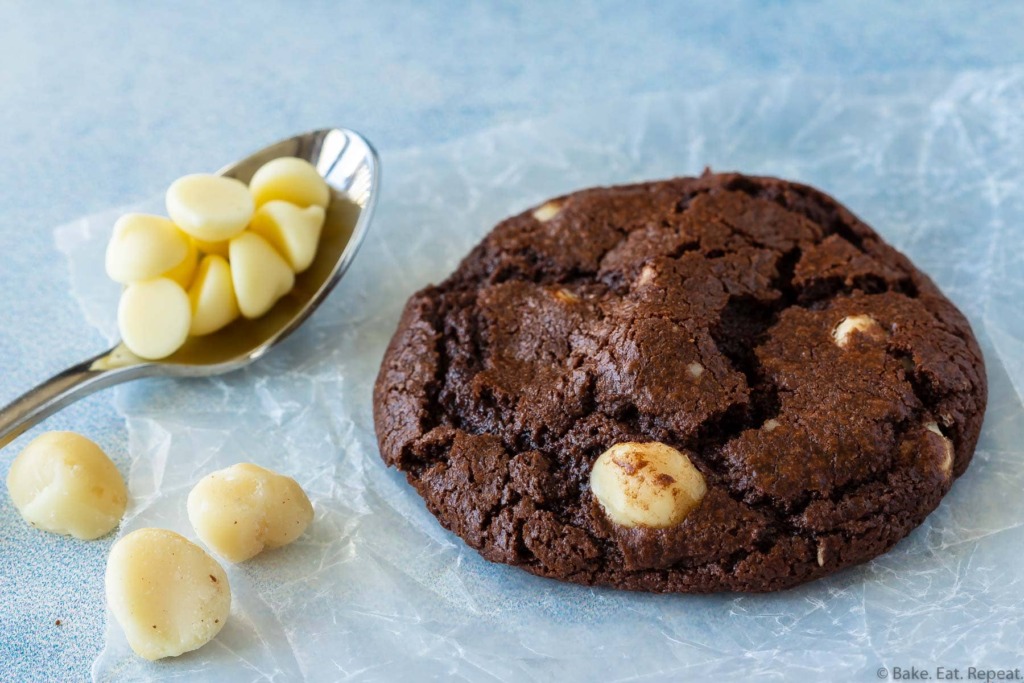 These triple chocolate macadamia nut cookies were a huge hit at my house. I think the entire batch disappeared in about 2 days.
Which is saying something since the recipe makes between 2 and 3 dozen cookies. And they can't even be packed in the kids school lunches since they have nuts.
So my family enjoyed these.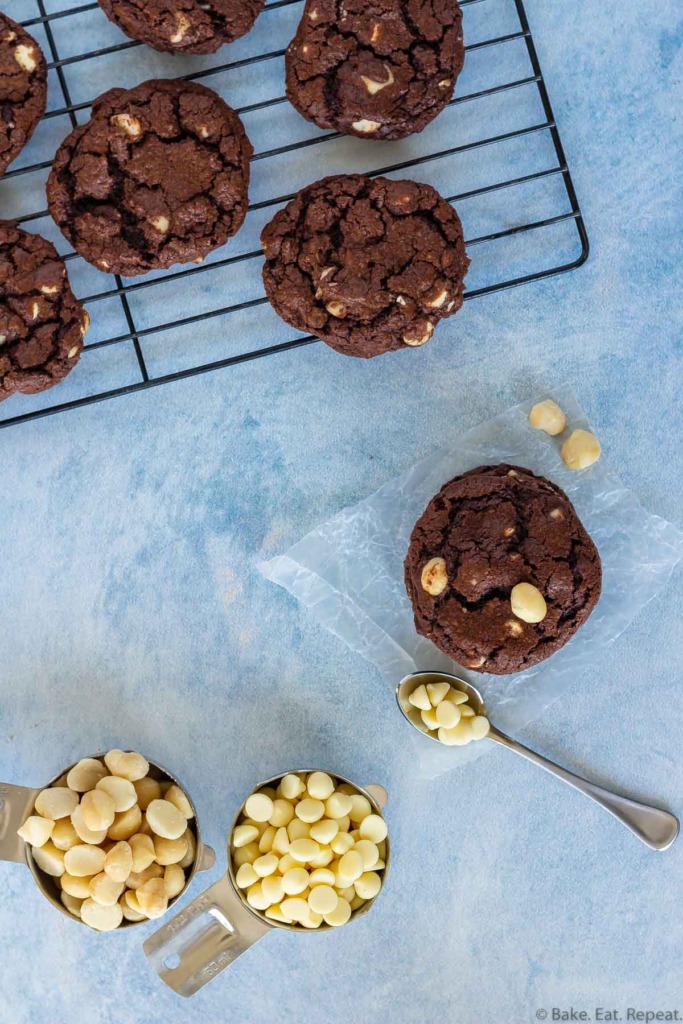 Hard not to. Soft, chewy, chocolatey cookies loaded with macadamia nuts and more chocolate. They are so tasty.
Plus they're easy to make, and don't even require any chilling time. Basically it's the perfect cookie!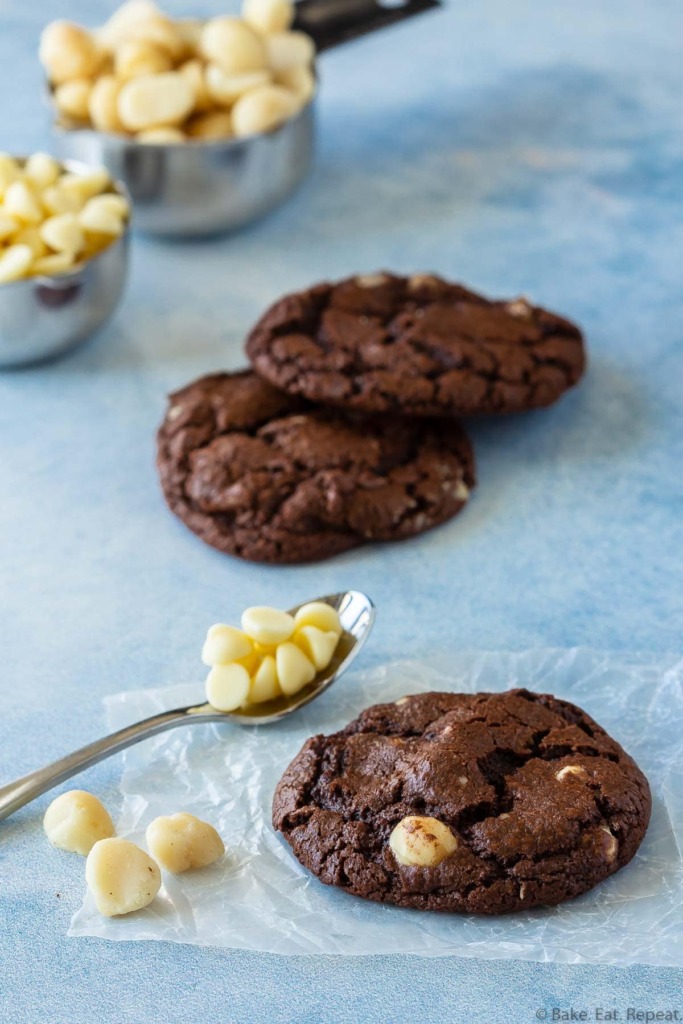 Does chilling the cookie dough make a difference?
Chilling cookie dough is definitely important for a lot of cookies, but I didn't find it made much of a difference in these triple chocolate macadamia nut cookies.
This cookie dough is very soft, so if you find it too soft to scoop out and drop onto the baking sheet easily, then chill it for 30-60 minutes first.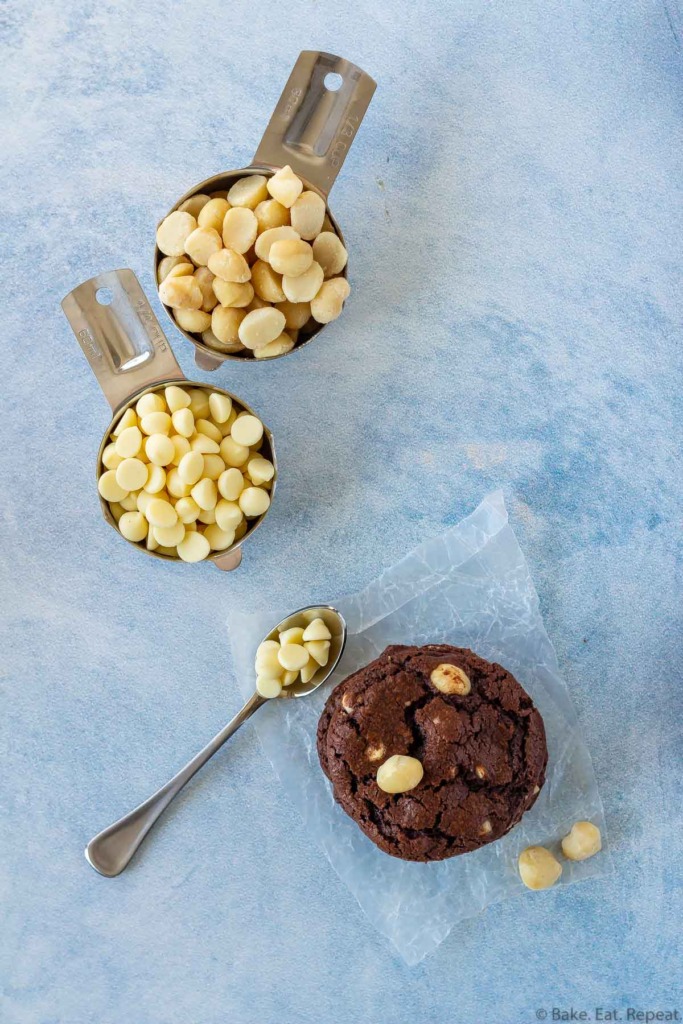 With most cookie dough, the chilling step is meant to cool the fat in the dough, and prevent the cookies from spreading too much.
These cookies don't spread that much anyways, and I did not see a noticeable difference between the cookies that were baked immediately, and the ones where I chilled the dough first.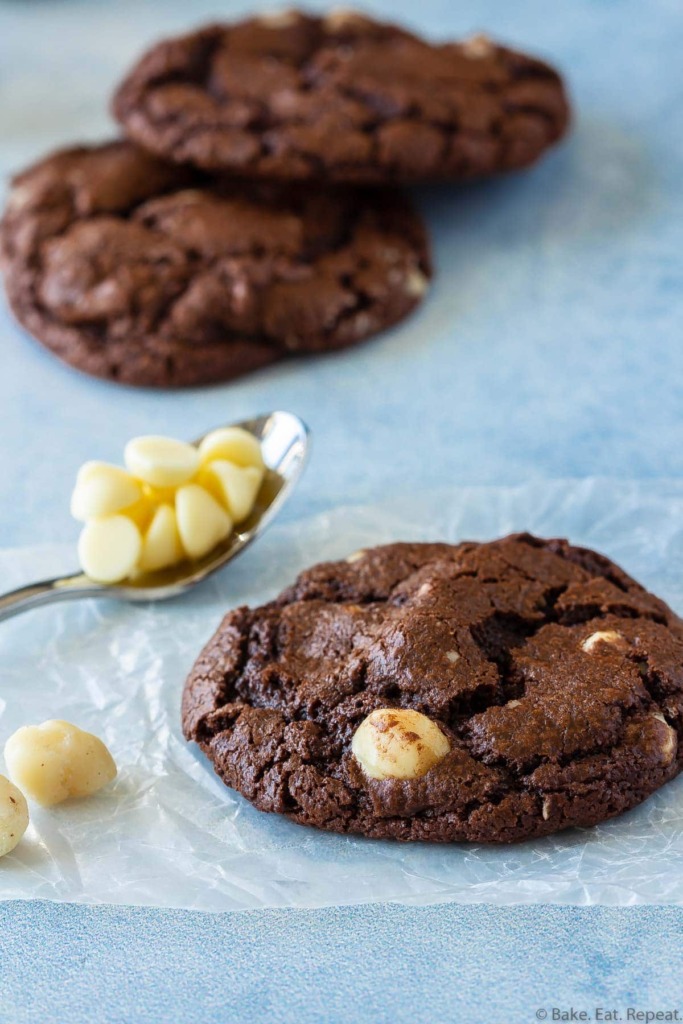 How do you cut macadamia nuts for cookies?
For these cookies, I chopped the macadamia nuts quite coarsely. You don't need to be super picky about it, chopping each nut individually, or anything like that.
Simply toss them on a cutting board and chop across the pile of nuts a couple of times.
Basically you just want to make sure you don't have full size nuts in your cookies as they're a little big to leave whole.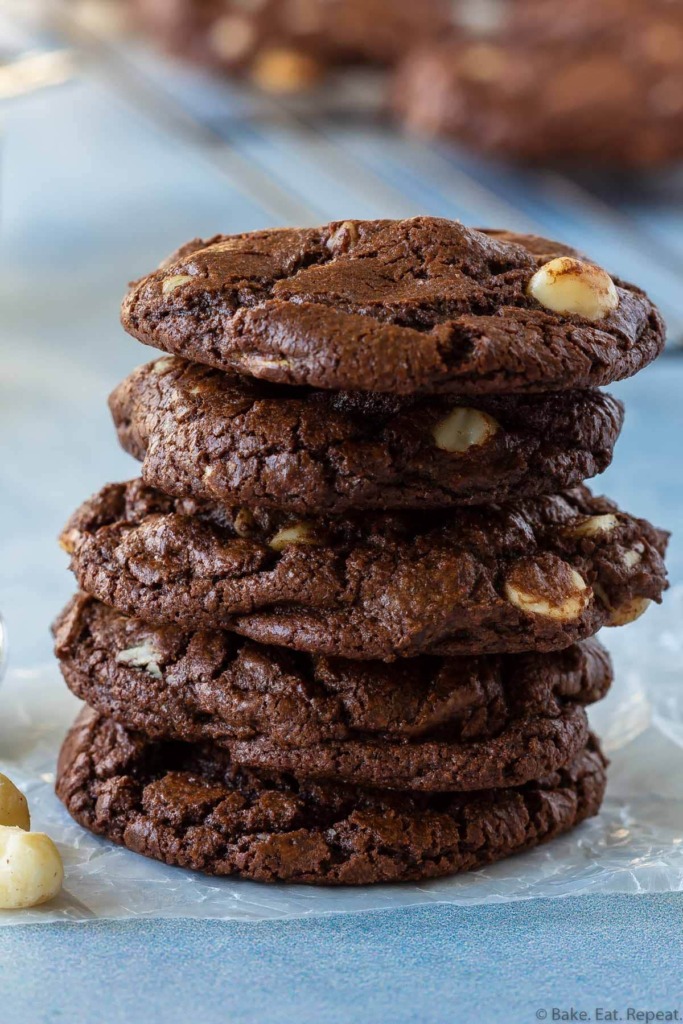 How to make Triple Chocolate Macadamia Nut Cookies:
I've made these cookies with both dark chocolate chip and semi-sweet chocolate chips and they are both great, so use whichever you like.
I always use Dutch process cocoa powder in these cookies, and have not tried it with natural cocoa powder. Since there is baking soda in the recipe, I think natural cocoa powder could be substituted, but the cookies will likely be lighter in colour and have a less intense chocolate flavour.
I use a 1.5 tablespoon cookie scoop to portion out these cookies. If you don't have a cookie scoop, simply use two spoons to scoop and drop the cookie dough onto the baking sheet. They will be a little less uniform in size but it will work just fine.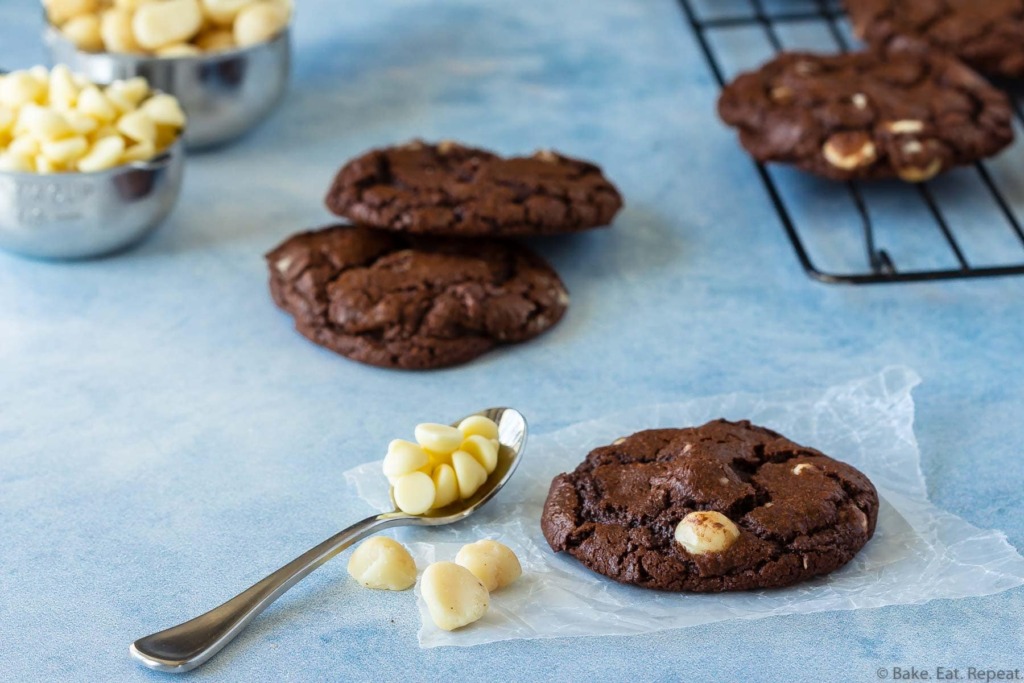 Here are some more great cookie recipes for you: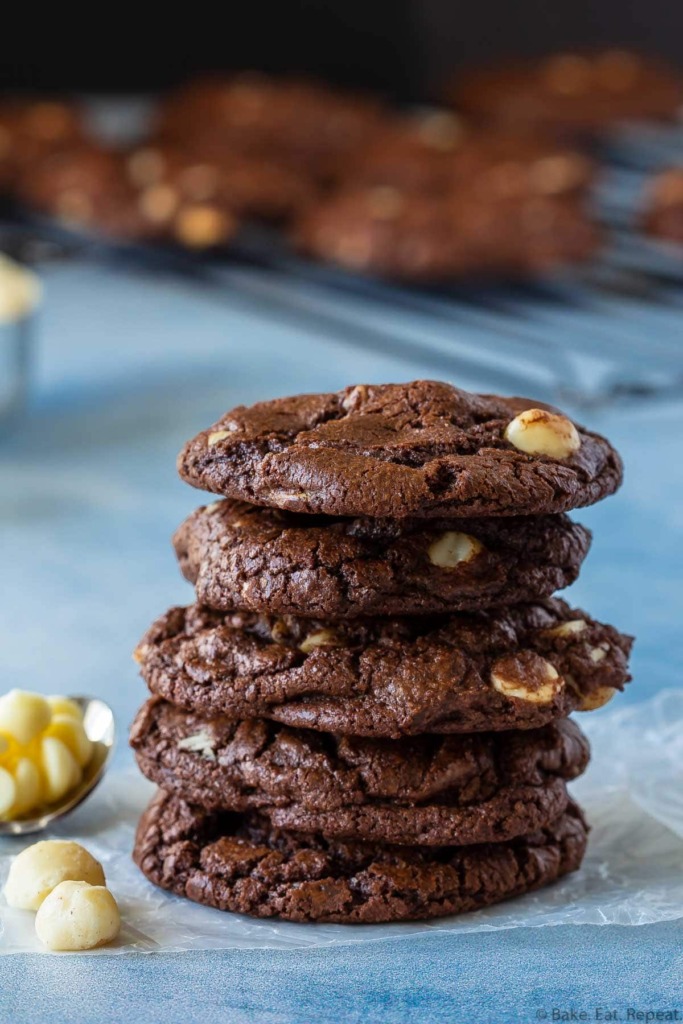 Yield: 36 cookies
Triple Chocolate Macadamia Nut Cookies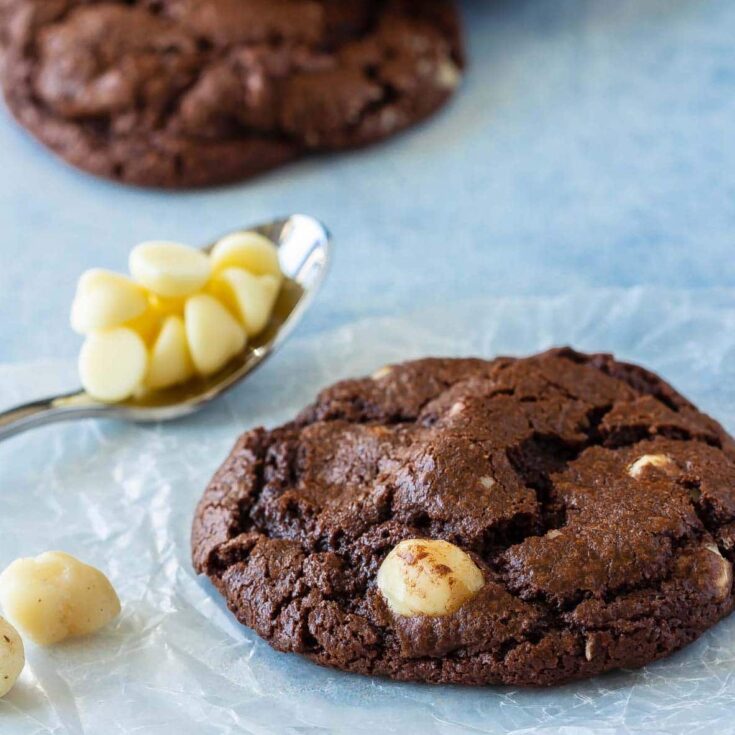 These chewy, triple chocolate macadamia nut cookies are super easy to make. They will definitely disappear in no time!
Ingredients
1 cup all-purpose flour
1/2 cup unsweetened cocoa powder (Dutch process)
1/2 teaspoon baking soda
1/2 teaspoon baking powder
1/2 teaspoon salt
4 ounces semisweet baking chocolate, chopped
1/2 cup unsalted butter, cut into pieces
1/2 cup sugar
1 cup brown sugar, lightly packed
2 large eggs
1 teaspoon vanilla
1/2 cup dark chocolate chips (or semi-sweet chocolate chips)
1/2 cup white chocolate chips
1/2 cup macadamia nuts, chopped coarsely
Instructions
Preheat the oven to 325 degrees F.
Put the chopped chocolate and the butter into a microwave safe bowl or large measuring cup, and microwave at 50% power for 30 second increments. Stir after each 30 seconds, making sure to only microwave until just melted.
In another bowl, whisk together the flour, cocoa powder, baking soda, and salt until well combined.
In a large bowl or the bowl of an electric mixer, mix the chocolate mixture with the sugar, brown sugar, eggs, and vanilla until combined.
Add the dry ingredients slowly, mixing after each addition.
Stir in the dark chocolate chips, white chocolate chips, and macadamia nuts.
Line two baking sheets with parchment paper, and drop the cookie dough onto the baking sheets by the tablespoonful (I used a 1.5 tablespoon cookie scoop), spacing 1-2 inches apart.
Bake for 13-14 minutes until they have some cracks on the surface. Don't overbake!
Allow to cool on the cookie sheets for 4-5 minutes before moving to a wire rack to cool completely.
Notes
This is a very soft cookie dough. I don't bother to chill the dough, as it doesn't make a huge difference to how much these cookies spread. But if you find the dough is too soft to scoop, you can add a chilling time after making the dough of 30-60 minutes and then it will be much firmer. The cookies are a bit puffier if you chill the dough, so if you want a slightly thicker cookie add the chilling time in.
Source: Adapted from my Salted Double Chocolate Cookies.
Recommended Products
This post contains affiliate links. As an Amazon Associate, I may receive a small commission from qualifying purchases.
Nutrition Information:
Yield:
36
Serving Size:
1 cookie
Amount Per Serving:
Calories:

133
Total Fat:

8g
Saturated Fat:

4g
Trans Fat:

0g
Unsaturated Fat:

3g
Cholesterol:

18mg
Sodium:

63mg
Carbohydrates:

15g
Fiber:

1g
Sugar:

10g
Protein:

2g
Nutrition Information is estimated based on ingredients used and may not be exact.