This white bread recipe makes two loaves of perfectly soft and fluffy homemade white bread. It's an easy bread recipe you will make again and again!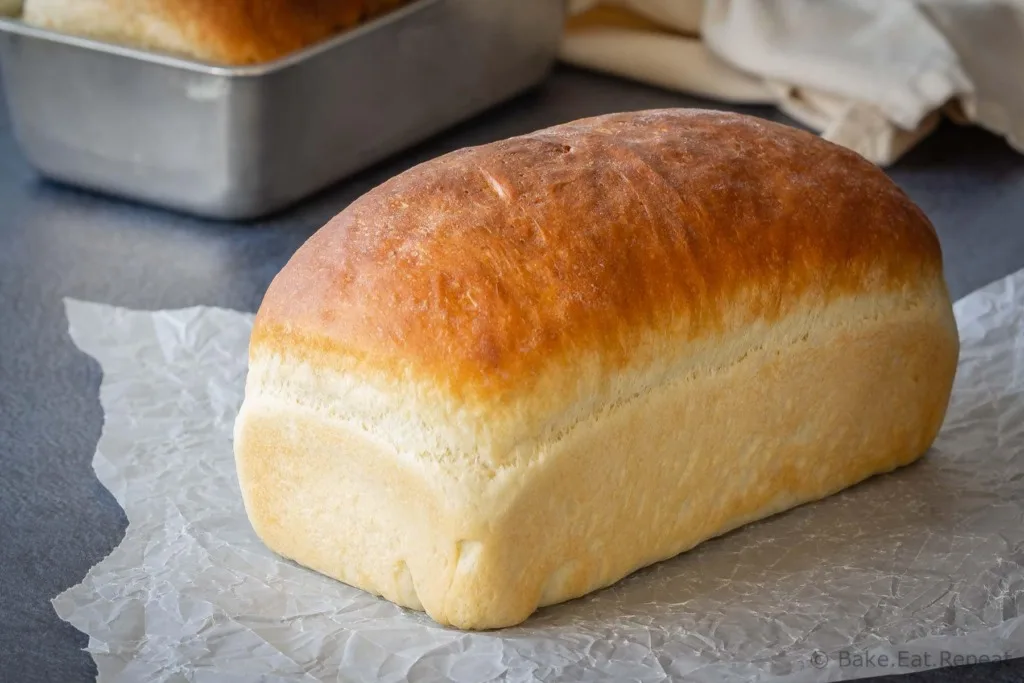 I love making homemade bread. There is something so very satisfying about watching those loaves of bread rise, or slicing up a loaf of bread fresh from the oven.
Plus it makes the house smell amazing.
And it really is so much better when it's homemade.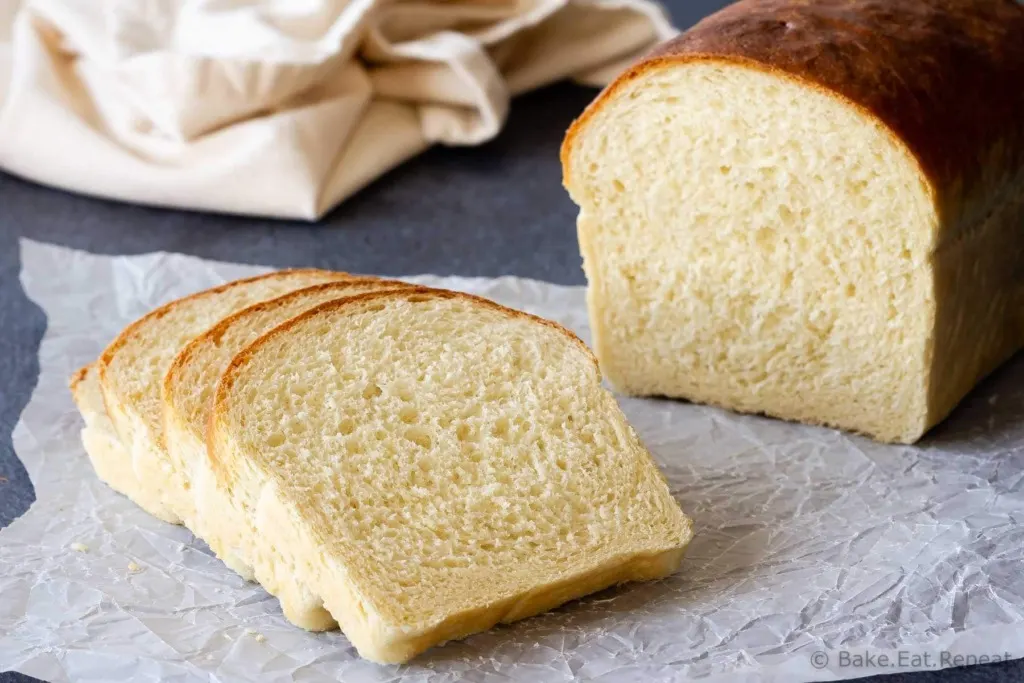 If homemade bread is not something you have tried before, I highly recommend it.
It's not as hard as you may think it is, and even if your loaves don't look perfect, they will taste amazing.
If you'd like some step by step direction you can find that on my How to Make Bread post.
This white bread recipe is my current favourite.
I've tried a number of different white bread recipes over the years, and this one is going to be sticking around as the favourite for a while.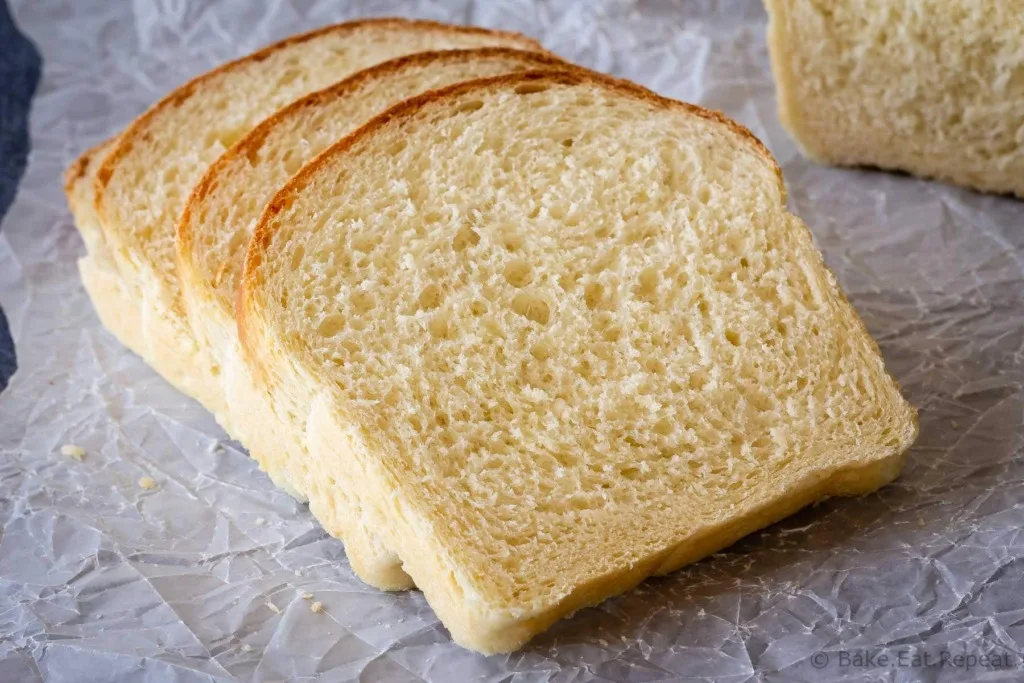 It makes two loaves of perfectly soft and fluffy white bread, and the recipe can easily be doubled to make four loaves if you want.
The dough mixes up easily in a stand mixer, it's very easy to shape into loaves, and there isn't an excessive amount of rising time.
This recipe can be made, start to finish, in about 2 1/2 hours, but only about 10-15 minutes of that is actual hands on time.
This white bread recipe is amazing.
If you haven't tried your hand at making homemade bread yet, you need to start with this recipe!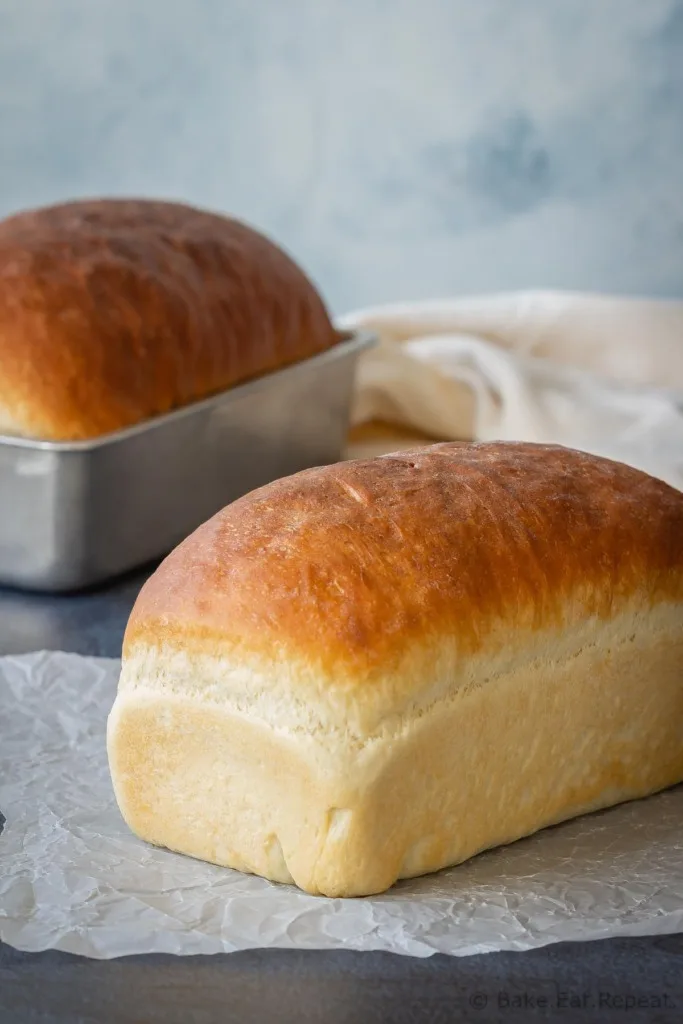 How do you make white bread from scratch?
Making white bread from scratch is very easy, so don't be intimidated by making bread! It is definitely something that everyone can learn to do.
The toughest part is learning how to shape the loaves properly.
But really, if you don't shape them well, the worst that can happen is there will be some holes in your bread.
They'll still taste fantastic, so it really doesn't matter that much.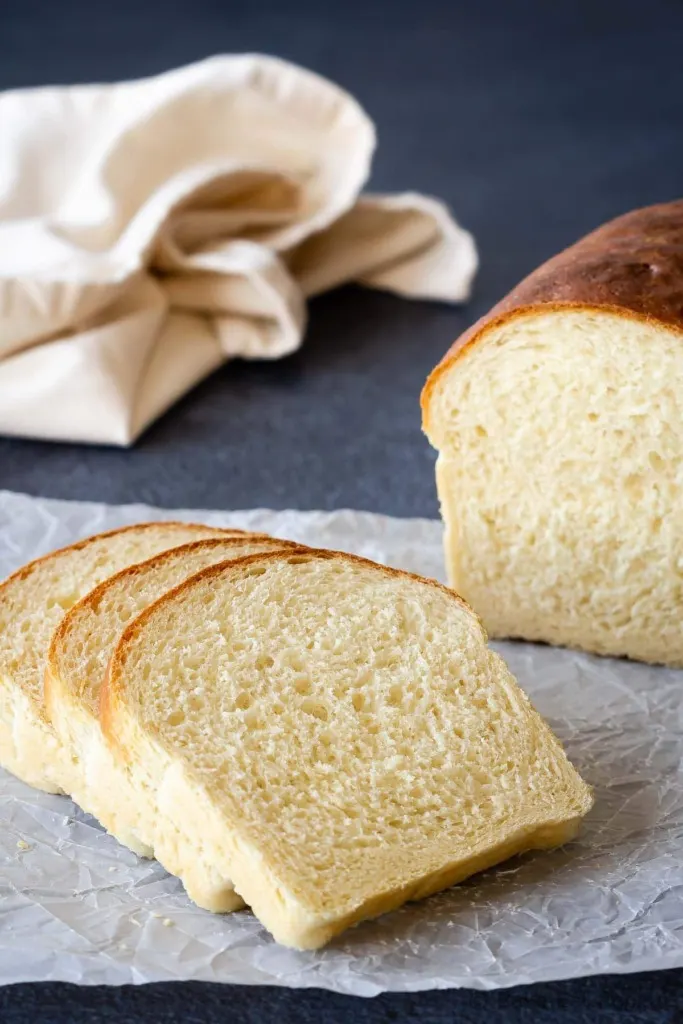 All you need to do to make homemade bread is mix everything together, let the dough knead in a stand mixer for 5 minutes, and let it rise.
Shape the loaves, let it rise again, and bake. That's it.
It's really very easy to make, and you will feel like a bit of an all-star when your family raves about the amazing bread that you just made from scratch!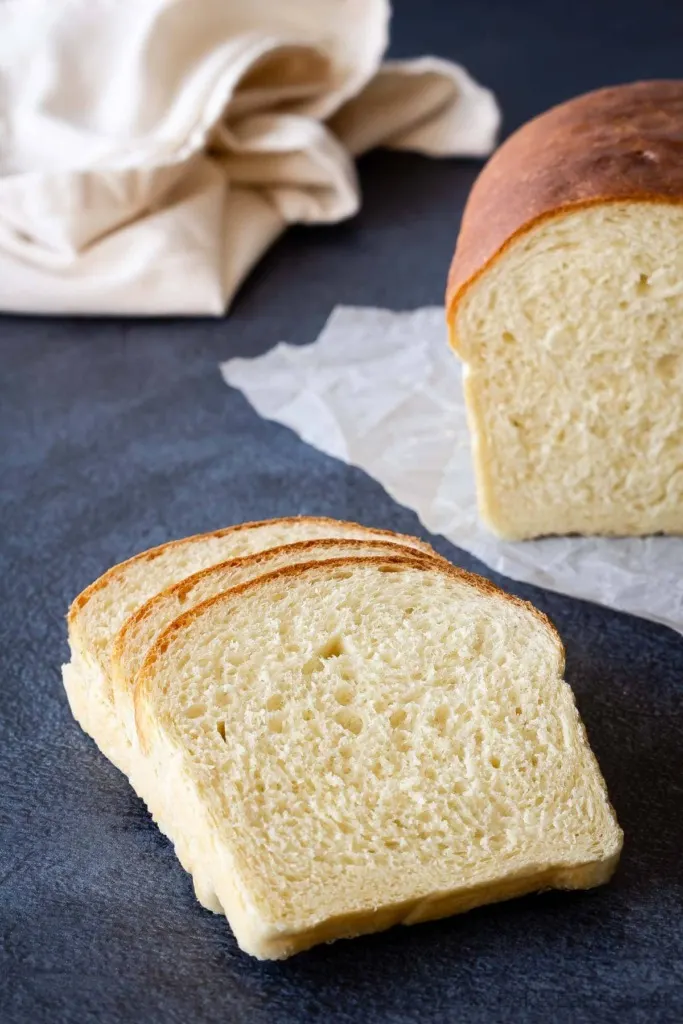 Why is my homemade bread so dense?
Homemade bread can end up dense for a few different reasons.
If you don't knead your bread dough for long enough, it won't develop enough gluten to give it the light and airy texture that we all love.
Developing gluten in the dough is important as this is what gives the bread it's structure. If there isn't enough gluten developed, the bread will have a dense structure.
So make sure to knead the dough for the full time listed in the recipe, as cutting it short will prevent the gluten from developing properly.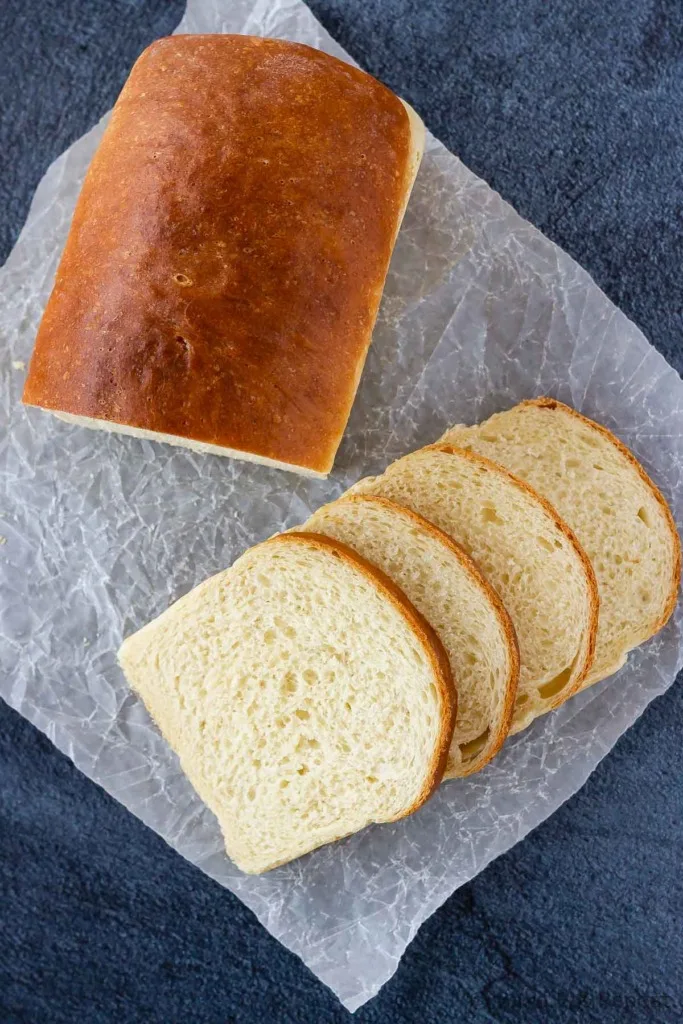 Another cause of dense bread is over flouring the bread dough. The amount of flour in a bread recipe is not a strict amount, but more of a guideline.
This white bread recipe calls for 5 cups of flour, because that is typically what I need.
But the amount of flour that is actually needed will vary day to day based on a number of factors, such as how you measure flour, or the humidity that day.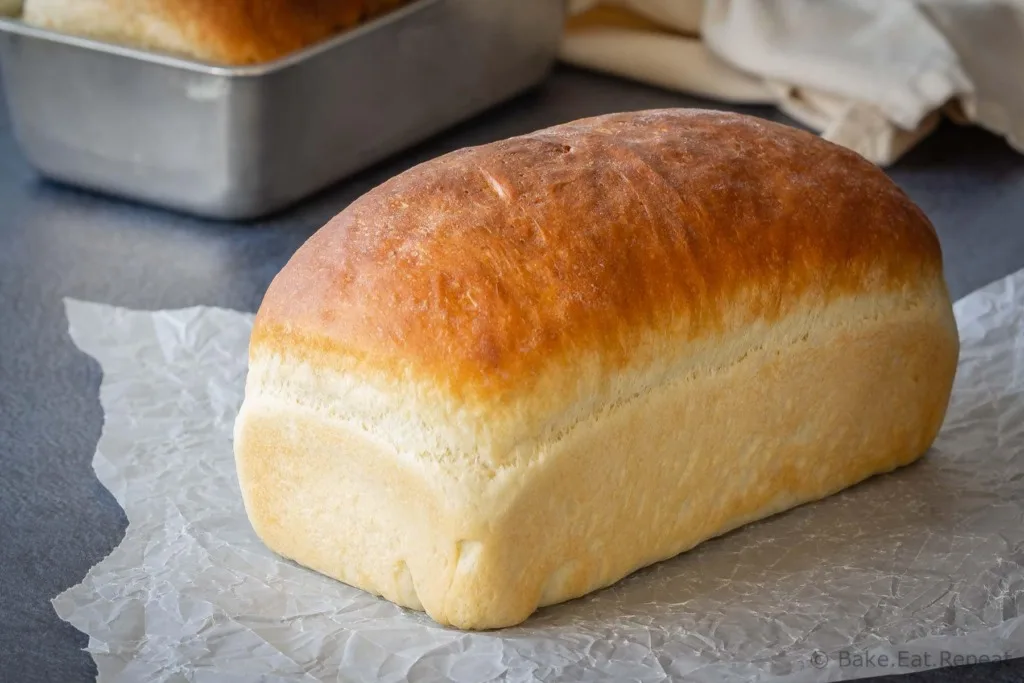 If you over flour the dough, you will end up with dense bread.
If you under flour it, it will be next to impossible to shape your loaves as the dough will be too sticky to shape properly.
Correctly floured bread dough will be soft, smooth, and slightly tacky, but not overly sticky.
You should be able to pinch off a piece of dough and roll it between your hands into a smooth ball, without getting a whole bunch of dough stuck to your hands.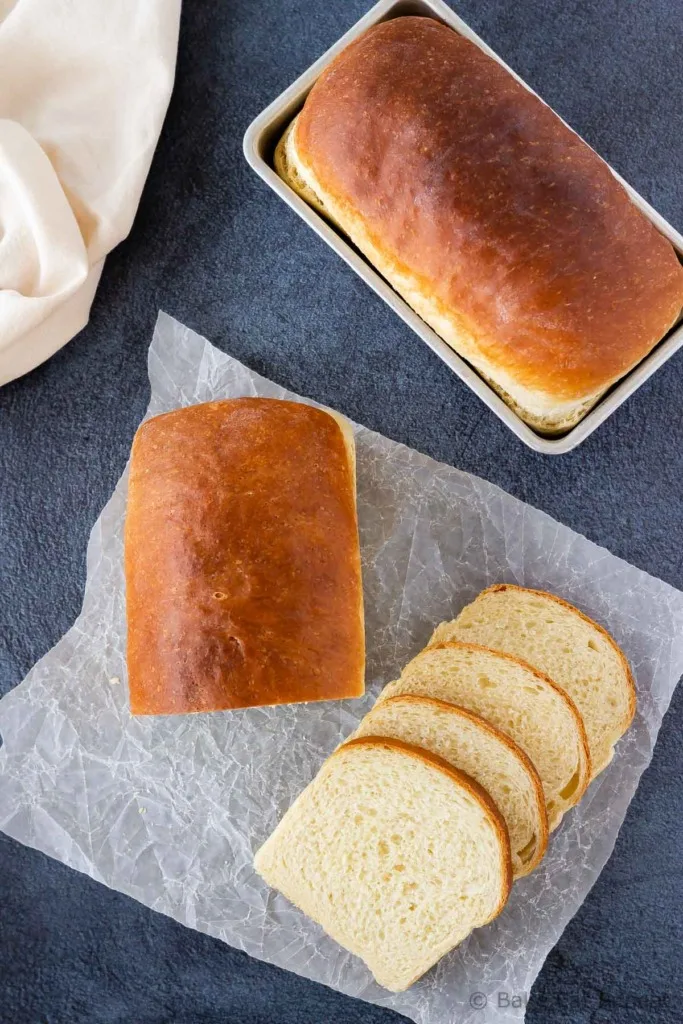 Can you use all purpose flour to make bread?
I always use all purpose flour to make bread. All purpose flour is something that I keep on hand all the time, so that is what I use to make bread.
I have never used bread flour, and don't find that it's necessary for great homemade bread.
Bread flour has a higher gluten content than all purpose flour, which means that it needs more liquid to hydrate the flour than all purpose flour does.
You can use bread flour for this recipe if you prefer, but if doing so, start with 4 to 4 1/2 cups of flour, and then add more if needed.
How to make White Bread:
You can find step by step photos and instructions on my How to Make Bread post.
The most important thing with bread making is to not take the amount of flour listed as a hard and fast rule. It's a guideline. Start with 4 1/2 cups of flour, mix everything for about 30 seconds, and then look at the dough to decide if you need more flour. If the dough is a loose, batter like mixture, add more flour, a few tablespoons at a time until it comes together into a smooth ball that clears the sides and bottom of the bowl. If it's really dry to the touch, and not tacky at all, add a bit more water, a tablespoon at a time, until it is soft and smooth to the touch.
Make sure to grease your bread pans before putting the bread dough in them, or the loaves will stick to the pans.
Turn the bread out onto a wire rack to cool immediately after taking it out of the oven. If you leave it in the bread pans to cool, the crust will get soggy from the steam.
I usually rub the tops of my loaves with butter after taking them from the oven. This is optional, but it makes the crust a bit softer, and it just tastes good!
Here are some more great bread recipes for you: