This slow cooker Bolognese sauce is easy to make, freezer friendly, and tastes fantastic. A rich, meaty, pasta sauce that the whole family will love!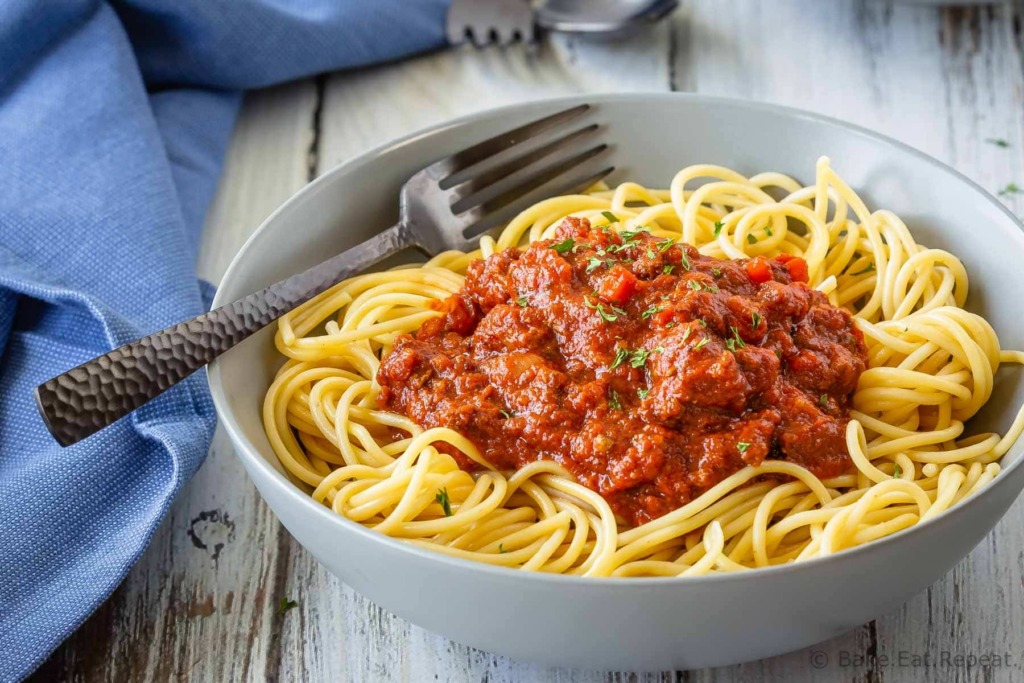 I make a lot of spaghetti. Everyone at my house loves it, so I make it on a pretty regular basis.
But I actually hadn't made Bolognese sauce until about a year ago. I had my tried and true homemade spaghetti sauce recipe that everyone loved so that's what I would always make.
And then I saw a recipe for slow cooker Bolognese sauce and decided that we definitely needed to try it.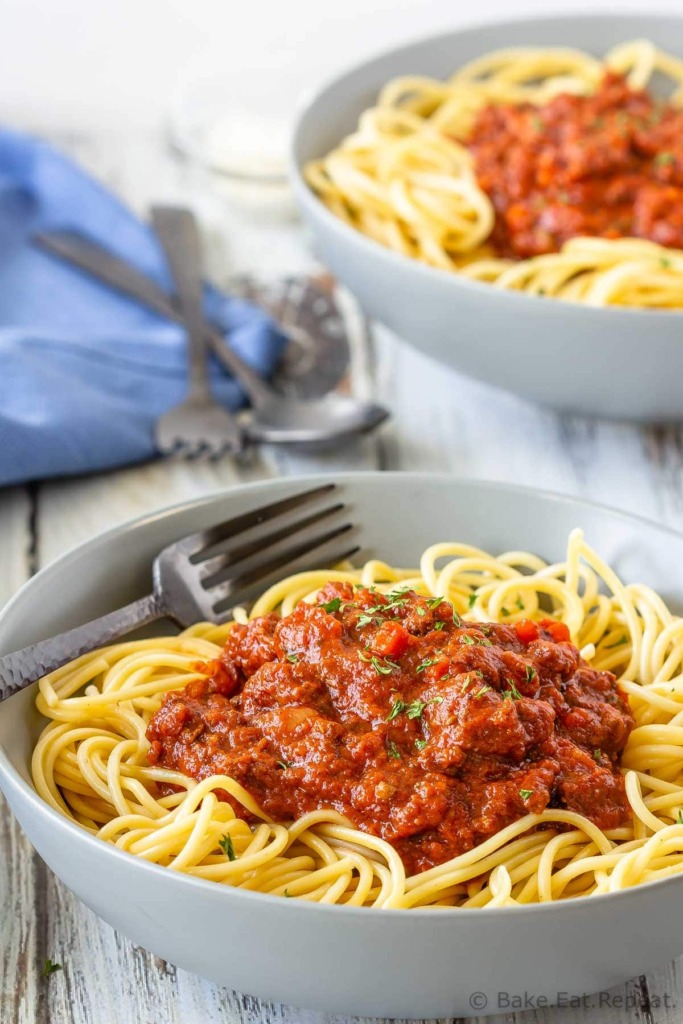 It takes a little more time then spaghetti sauce. A few more vegetables to chop, and a longer simmering time if you make it on the stove. But it doesn't take so much more time that it isn't worth making occasionally for a change from the usual spaghetti dinner.
Making it in the slow cooker just makes the simmering time a bit more hands off.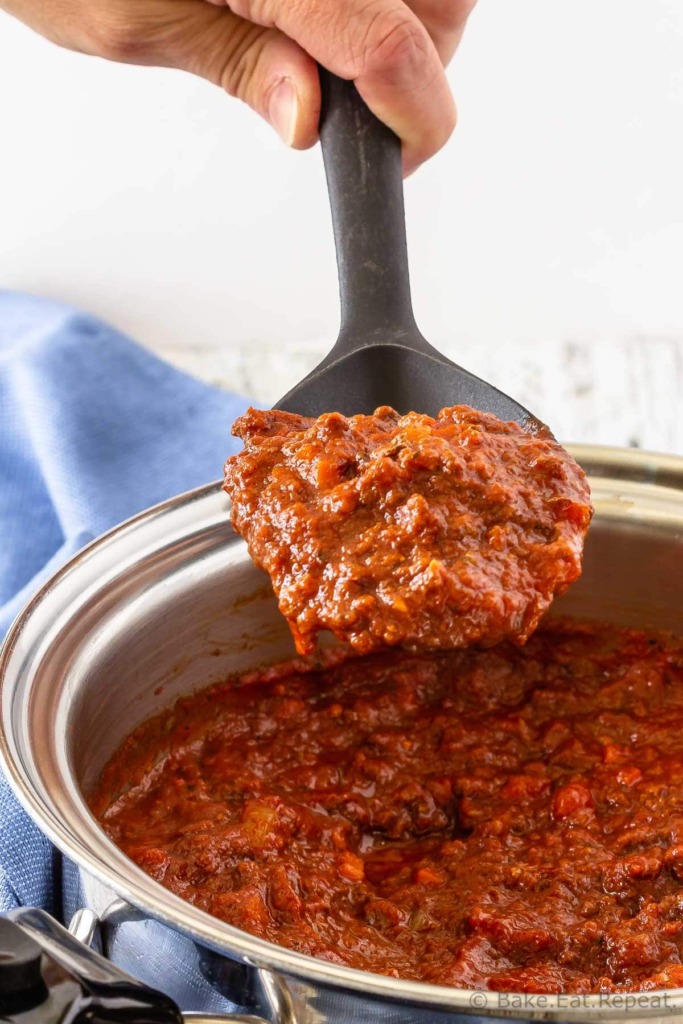 You don't have to check every now and then to make sure it isn't burning and give it a stir.
Not that that's hard, but turning the slow cooker on and coming back 8-9 hours later is undeniably easier.
If you haven't tried making Bolognese sauce yet either, I highly recommend this slow cooker version!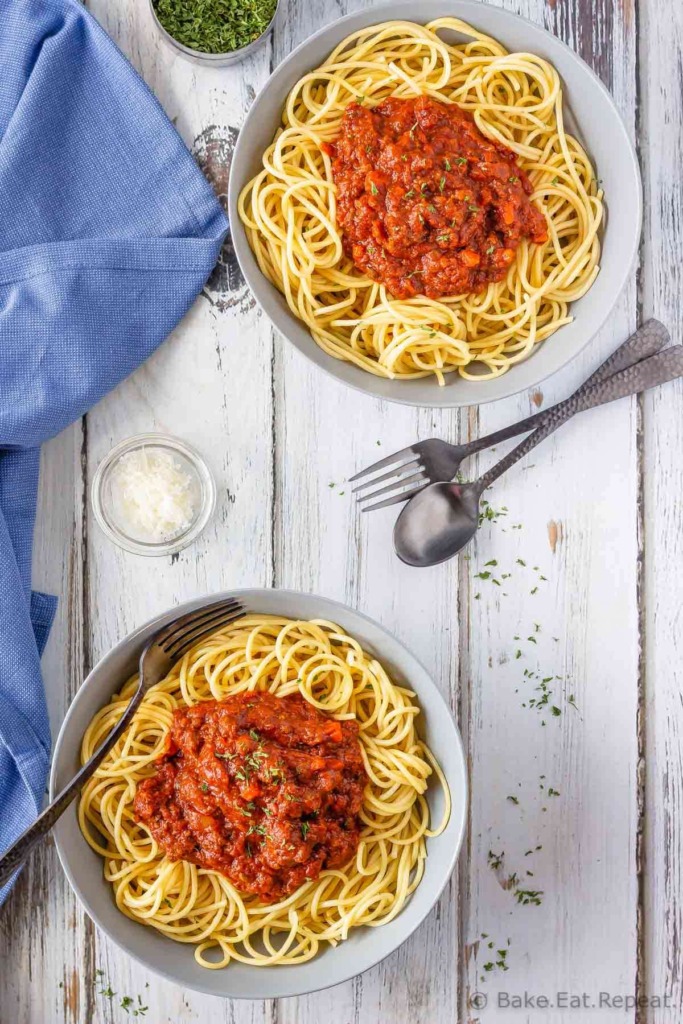 What is the difference between Bolognese sauce and spaghetti sauce?
Bolognese sauce is a thick meat sauce, with some tomato for flavour. The other liquids in it are usually red wine and milk.
Spaghetti sauce can be either a marinara sauce or a meat sauce, but bolognese has carrots, celery, and bacon in it, as well as milk, which makes it different.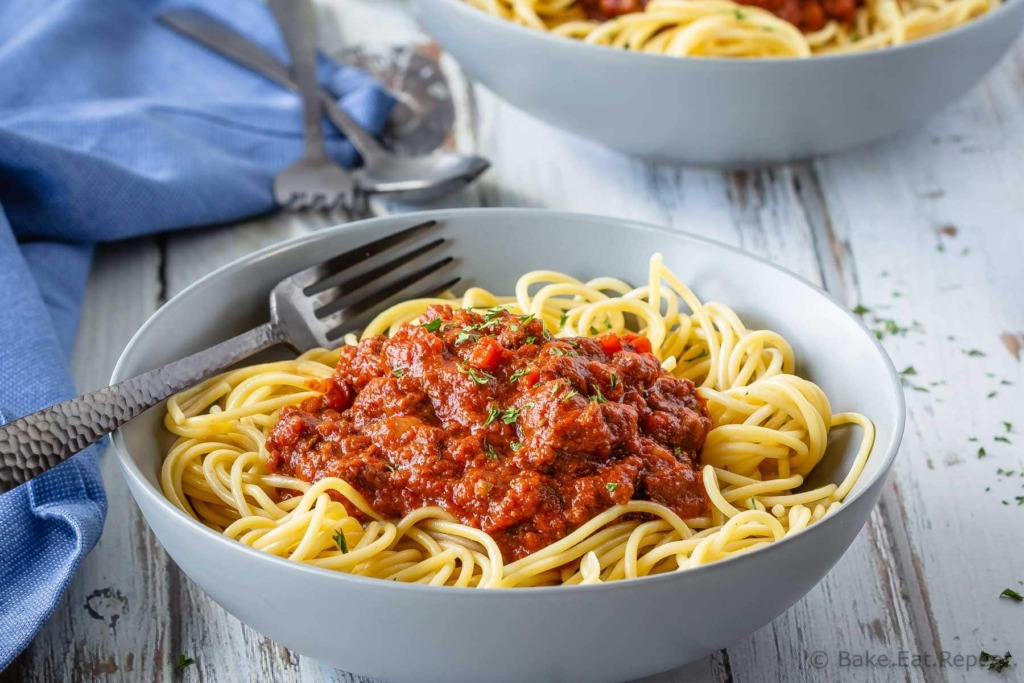 Is Bolognese sauce supposed to be thick?
Yes, Bolognese sauce is a rich, thick, meat sauce because it cooks for a long time. In this recipe the cooking time is in the slow cooker, but you can also simmer it on the stove for at least an hour to get that thick, meaty sauce.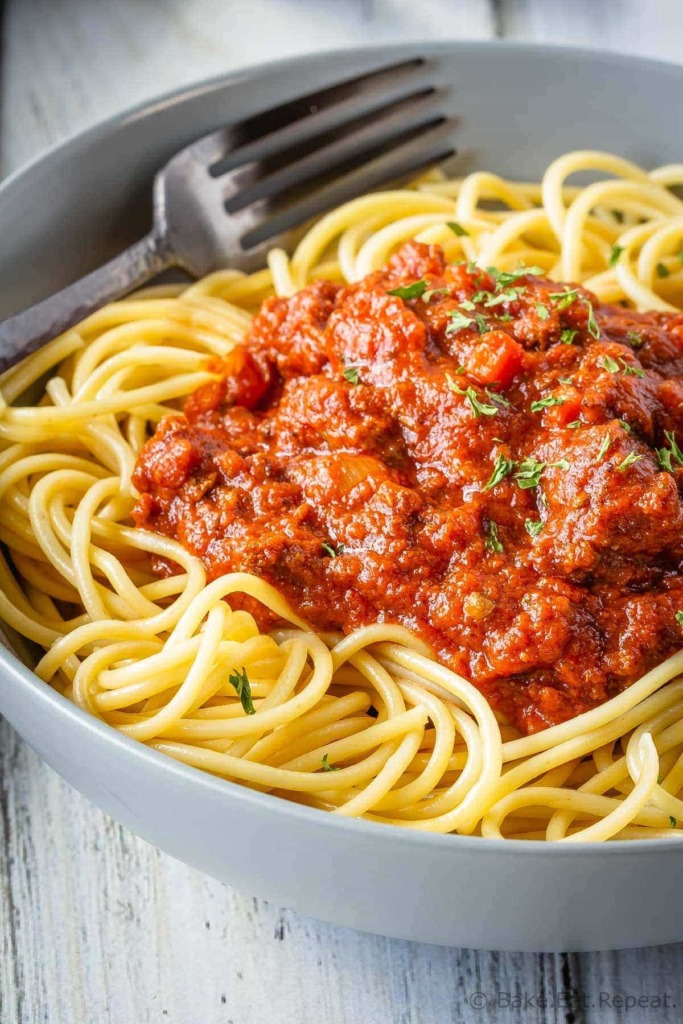 How to make Slow Cooker Bolognese Sauce:
For this Bolognese sauce, you need to cook the bacon, vegetables, and meat on the stovetop first before combining everything in the slow cooker to simmer all day. This doesn't take very long, and can even be done the night before and refrigerated so you can just turn the slow cooker on in the morning.
If you prefer not to use red wine to deglaze the pan, you can substitute beef broth for it.
The red pepper flakes don't make the sauce spicy, there's not enough of them, but you can omit them if you prefer.
This Bolognese sauce freezes very well. The recipe makes a lot of pasta sauce, but make the whole recipe even if you don't need that much, and freeze half for a later meal. Let the sauce cool completely, then freeze it in a large freezer ziplock bag, laid flat so it thaws easily. Reheat it over low heat on the stove, or on low in the slow cooker for 2-3 hours.
If you're looking for more great pasta sauce recipes, I have 12 Easy Pasta Sauce Recipes here that are all fantastic!

Here are some more great pasta sauces for you: