This easy mushroom pasta sauce is thick and creamy and makes the perfect weeknight meal. It's on the table in 30 minutes, and everyone will love it!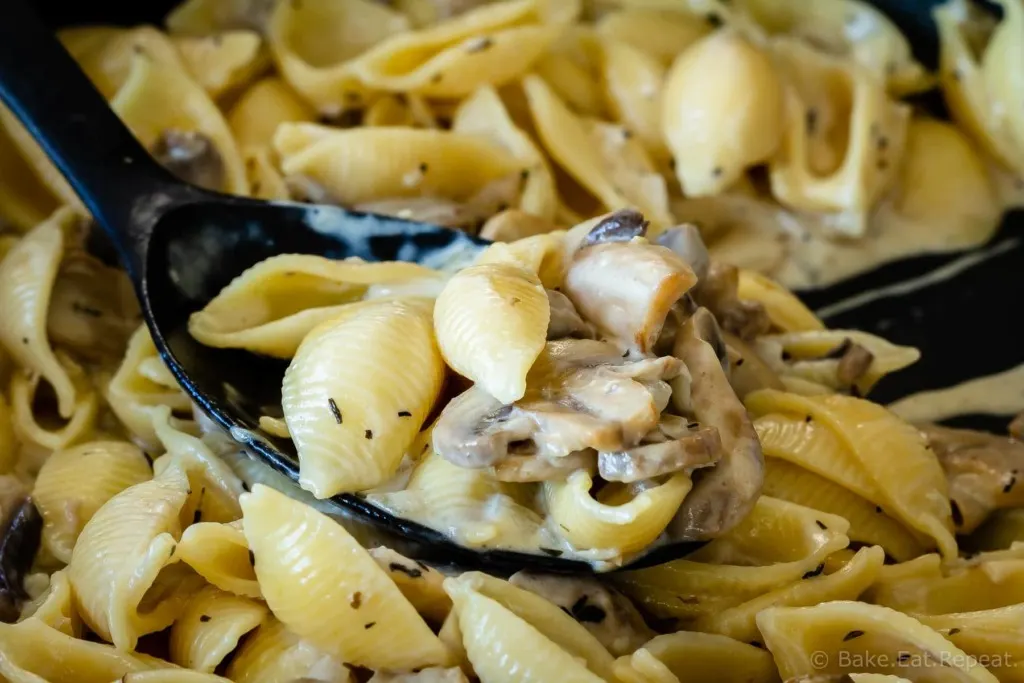 This creamy mushroom pasta sauce is one of my favourite sauces to serve with pasta.
It's super easy to make, it's full of flavour, and the whole family loves it.
The great thing about mushroom pasta sauce is that it's great all on it's own over hot pasta.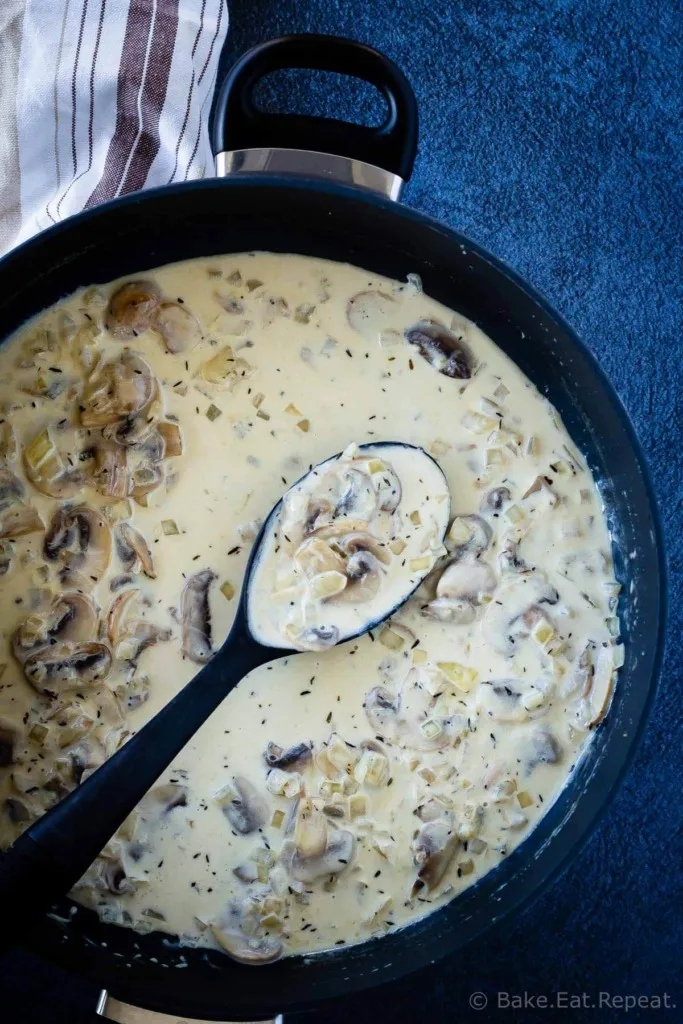 With all the mushrooms in the sauce, it's nice and filling, and makes a great vegetarian meal.
But it also goes very well with chicken if you want to add some meat to it.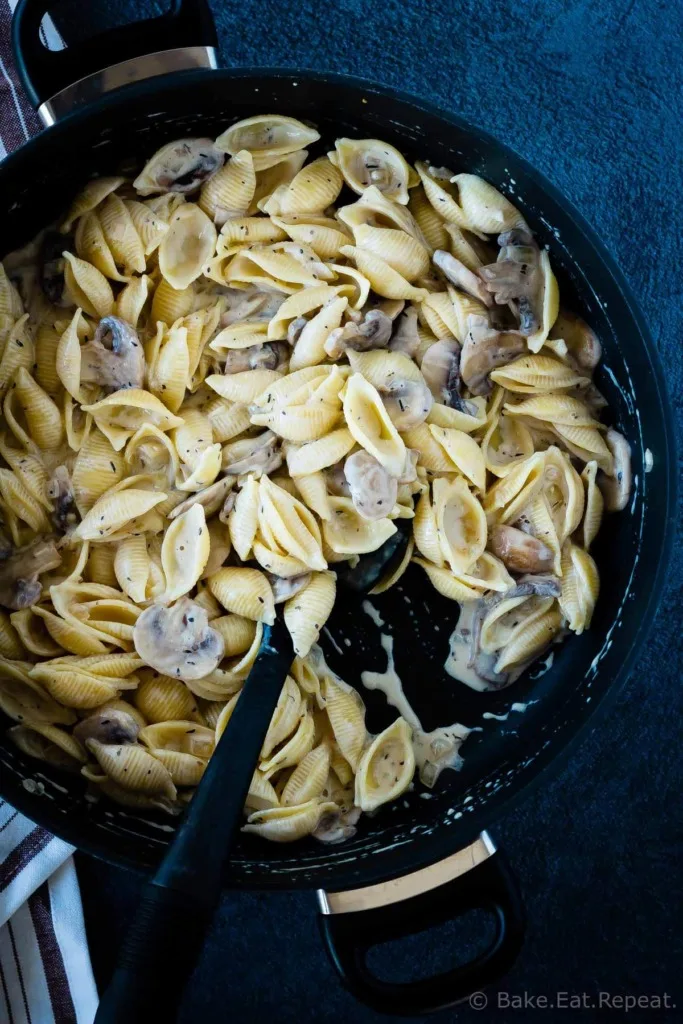 Either way, it's absolutely delicious.
Make this creamy mushroom pasta sauce for a quick weeknight meal.
The whole family will love it!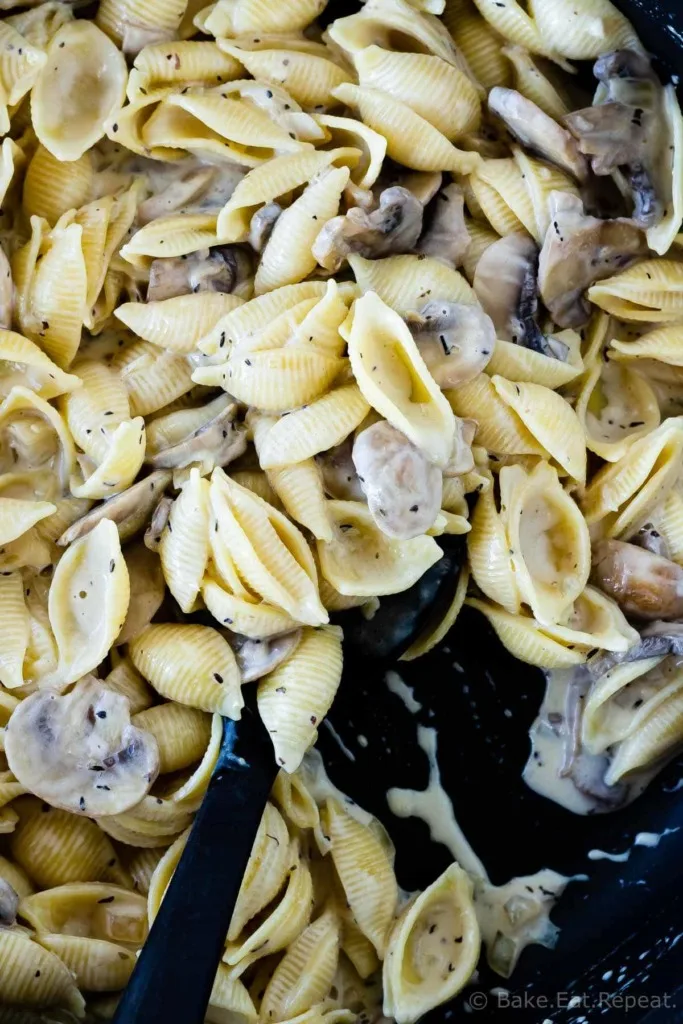 How do you make creamy pasta sauce from scratch?
This creamy mushroom pasta sauce is a very easy creamy pasta sauce to make from scratch.
For this pasta sauce, simply saute the vegetables until they are softened, add the seasoning, stir in some white wine and broth, and cook until they have been reduced.
Add the cream and cook the pasta sauce at a high simmer (bubbling a bit around the edges) until it starts to thicken a bit. This takes about 10 minutes.
And that's it. Super easy to make and it tastes fantastic.
It's one of my favourite pasta sauces to make!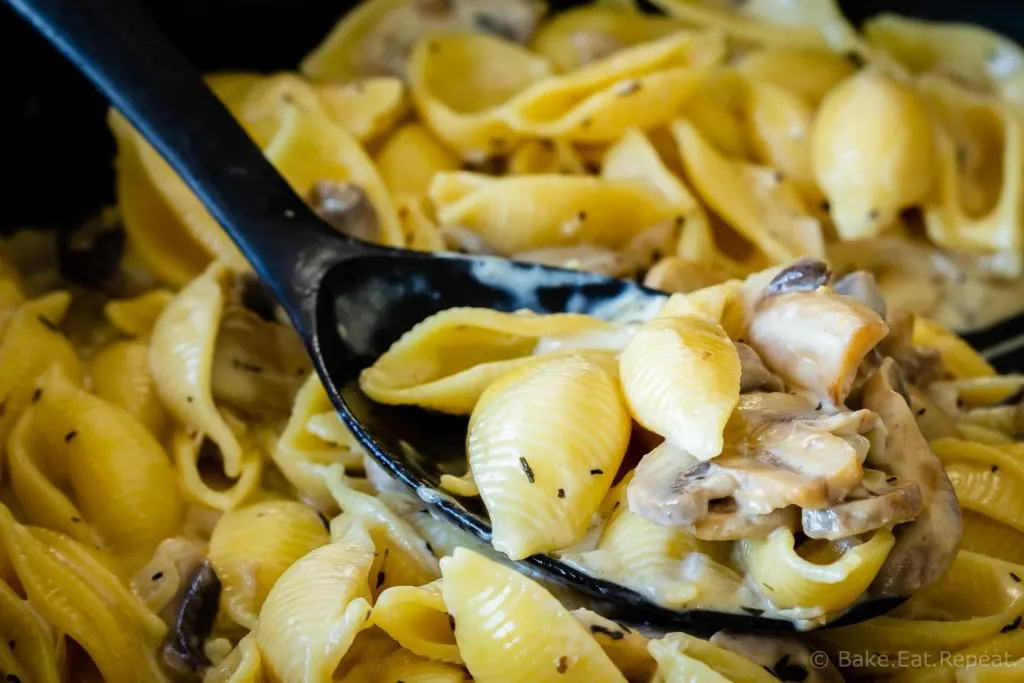 Are whipping cream and heavy cream the same?
Whipping cream and heavy cream are the same thing. The heavy cream I buy is labelled "whipping cream, 35%".
For this recipe I would recommend looking for cream that is 35% milk fat, as you will need to keep it at a high simmer for about 10 minutes to thicken the sauce. This works best with a higher fat cream.
If you can only find 18% (half and half) I think that would work as well, but I haven't tried it myself.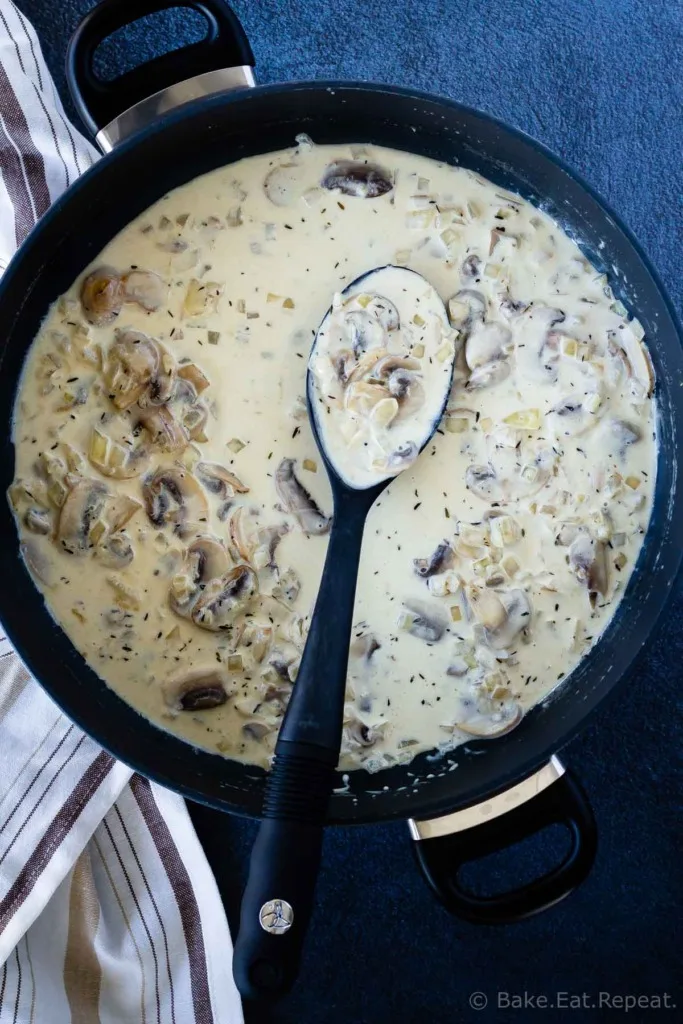 How do you thicken creamy pasta sauce?
Creamy pasta sauce can be thickened a couple different ways.
Some, like this light Alfredo sauce, are thickened with flour, since it uses milk instead of heavy cream.
This creamy mushroom pasta sauce is thickened by keeping it at a high simmer for about 10 minutes, until it thickens.
It doesn't need a thickening agent such as flour or corn starch since it uses heavy cream instead of milk.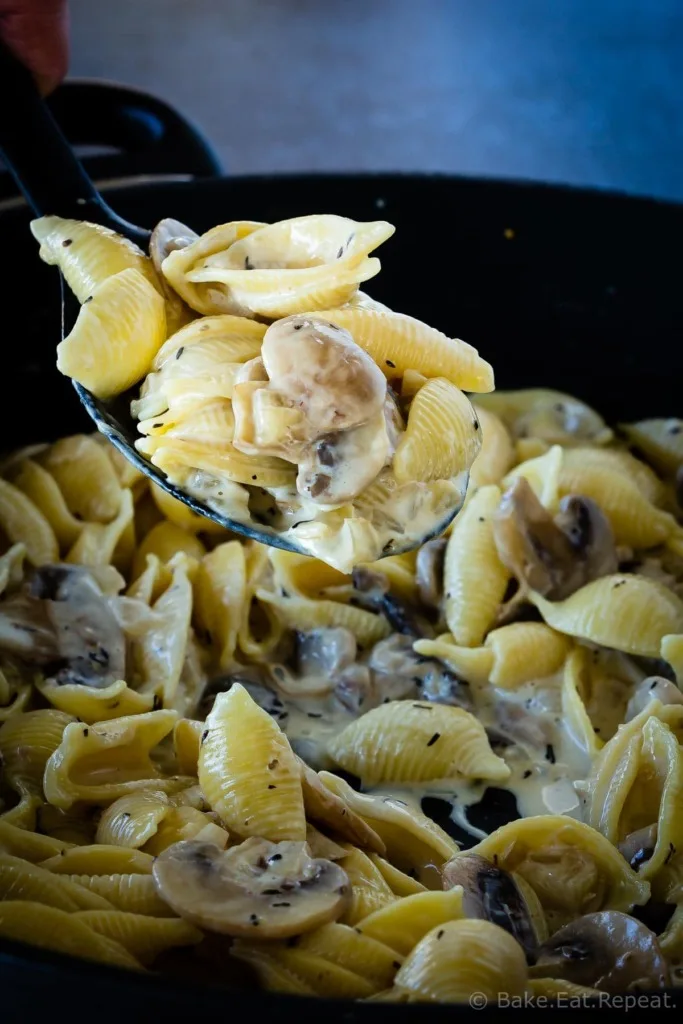 It will thicken slightly after simmering it, and then continues to thicken as it cools down.
If it ends up thickening more than you would like, you can thin it a bit with some of the water from boiling the pasta.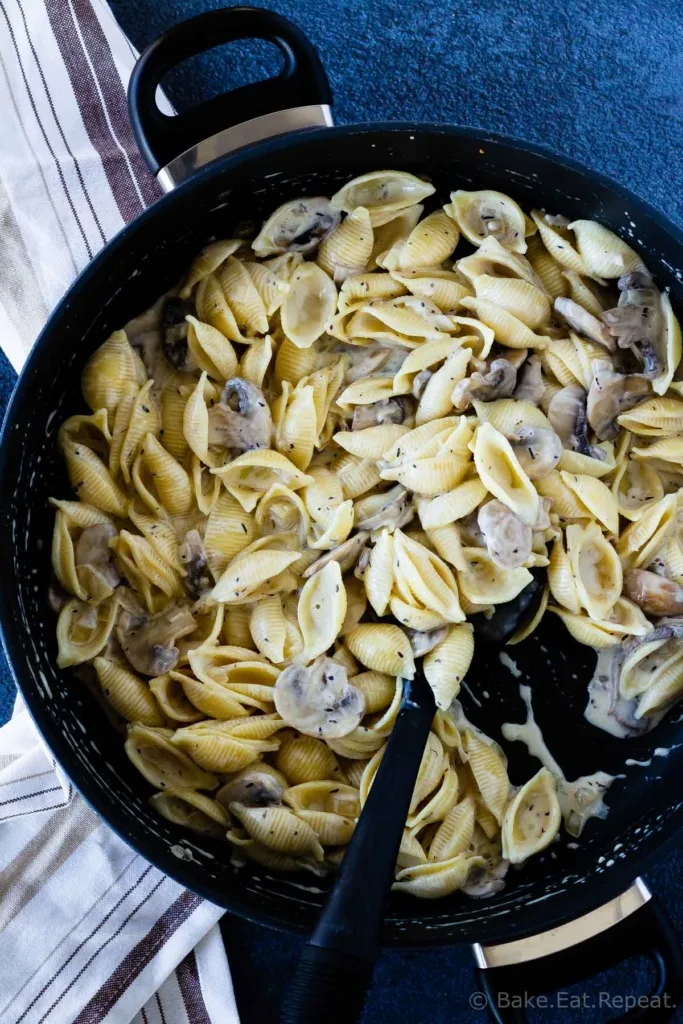 How to make Mushroom Pasta Sauce:
This pasta sauce uses heavy cream to both make it creamy and to thicken it. I don't recommend replacing it with milk for this recipe as you need to keep the sauce as a high simmer to thicken it, and milk does not stand up well to that and will likely separate on you. Half and half cream may work for this sauce instead, but I haven't tried that myself.
If you prefer not to use wine in your cooking, you can omit the white wine from the recipe. It's for flavour, and is cooked off completely, so you don't need to replace it with anything.
This pasta sauce works well as a freezer meal if you would like. Toss the finished sauce with cooked pasta and transfer it all to a casserole dish. Top with grated mozzarella cheese, cover tightly, and freeze. When you are ready to use it, let it defrost overnight in the fridge, and then bake it at 350F for 20-30 minutes, or until the cheese is melted and the sauce is bubbling.
If you're looking for more great pasta sauce recipes, I have 12 Easy Pasta Sauce Recipes here that are all fantastic!
Here are some more great pasta recipes for you: