This pesto sauce is quick and easy to make and is great with so many things. For an easy meal, thin it with some cream for an amazing pesto pasta sauce!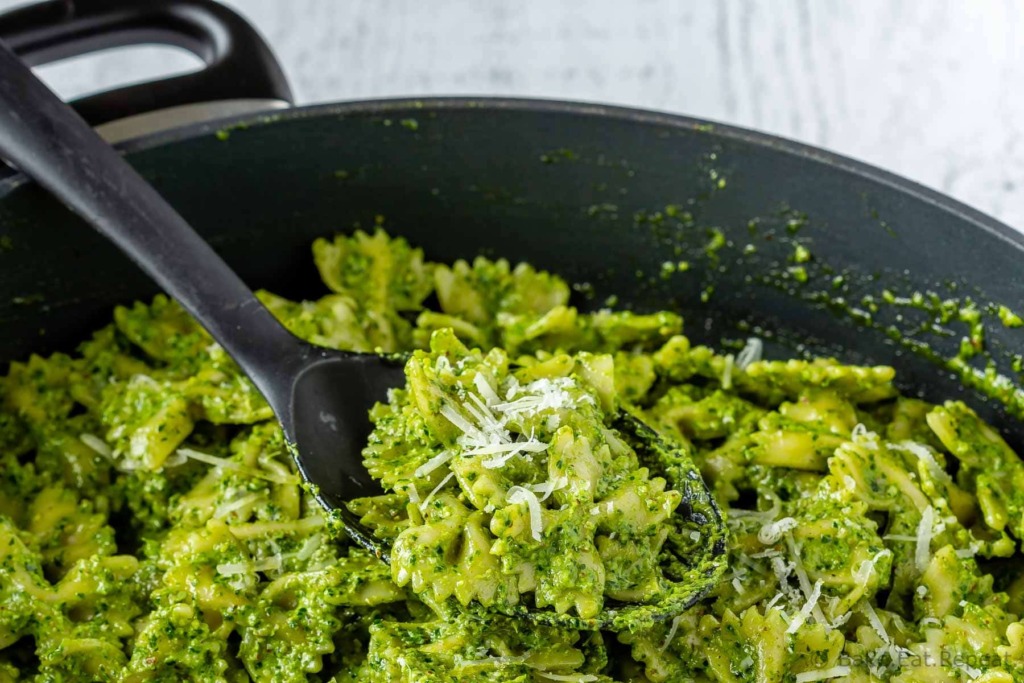 My entire family loves pesto sauce.
Even the kid that hates most sauces of any kind, loves pesto sauce.
He even puts it on his sandwiches, which for the kid that has always refused to have anything but meat and lettuce on a sandwich, is pretty crazy.
Pesto sauce is pretty amazing though, so I'm not really surprised that he decided it was a good thing.
This pesto pasta sauce was super popular here. It disappeared in no time at dinner, and everyone was asking me to make it again soon.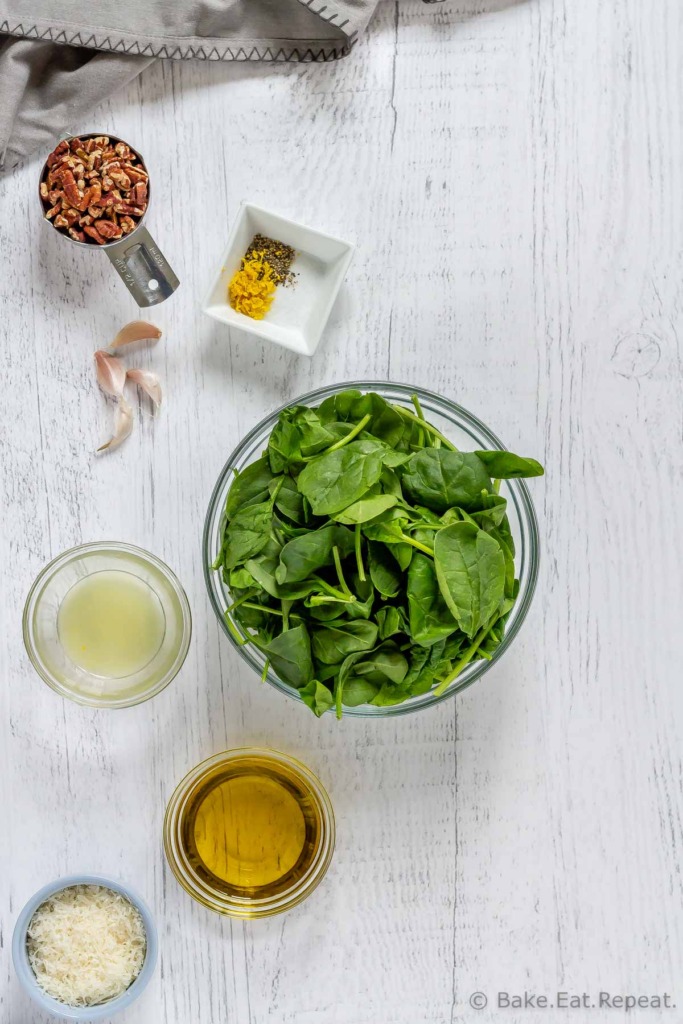 So good.
And easy! Which really just makes it better, in my mind.
I'm probably not alone on that.
Definitely needs to be dinner again soon!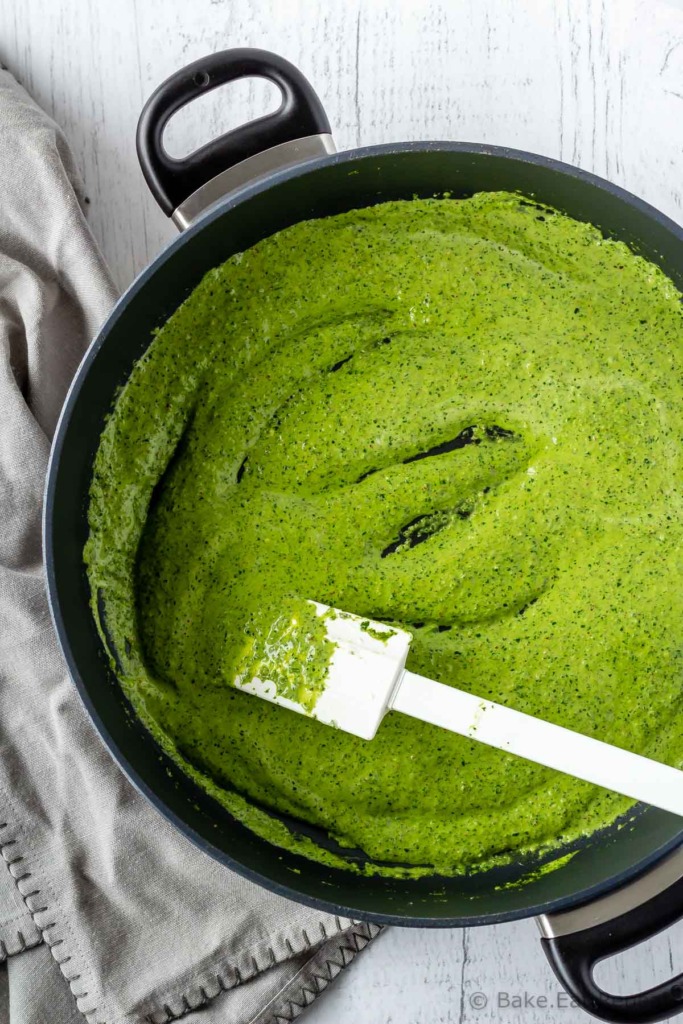 What's pesto sauce made of?
Pesto sauce is typically made with fresh basil, pine nuts, olive oil, lemon juice, parmesan, and garlic.
I have definitely bought basil pesto, but I've never made it with basil. Mostly because it costs more to buy fresh basil and pine nuts then it does to buy a jar of pesto.
One of these years I'll manage to grow basil in the summer and then I'll make it – but so far, no luck there. I usually get one sad little leaf.
So my pesto sauce uses fresh spinach, pecans, parmesan, lemon juice, lemon zest, garlic, and olive oil. Spinach is much easier to find, cheaper, and the pesto made with it tastes fantastic.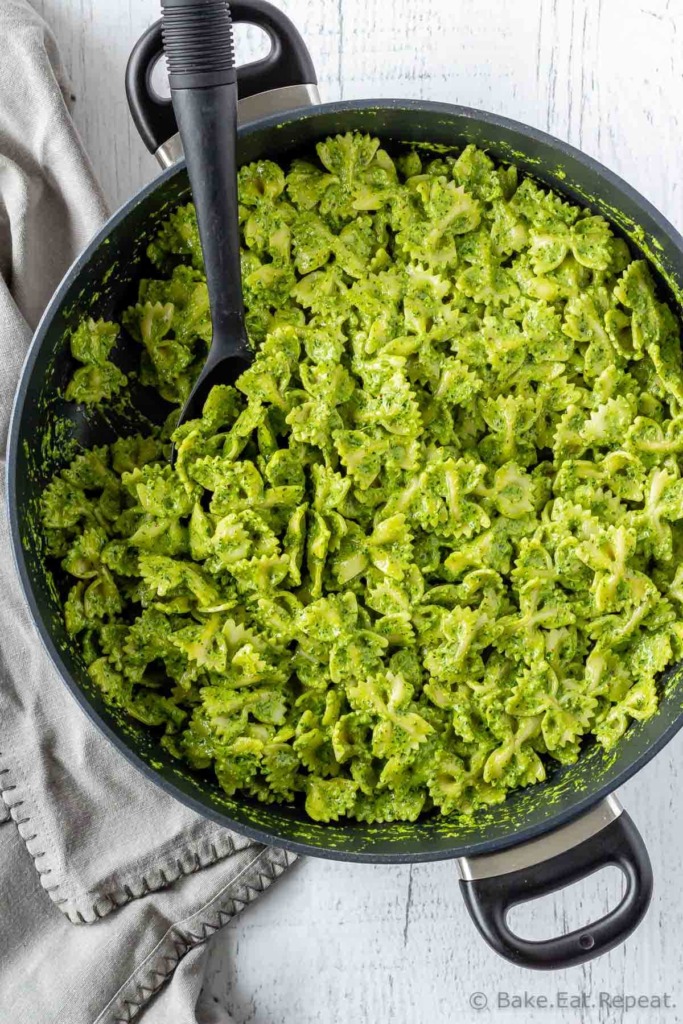 How long does homemade pesto last?
I've kept homemade pesto for up to two weeks in the fridge, although it usually doesn't last that long for us because everyone loves it.
If you're using it as a pasta sauce, like in this recipe, it will make one meal (serving 4) with the whole batch.
Homemade pesto also freezes well for up to 3 months if you want to make a big batch.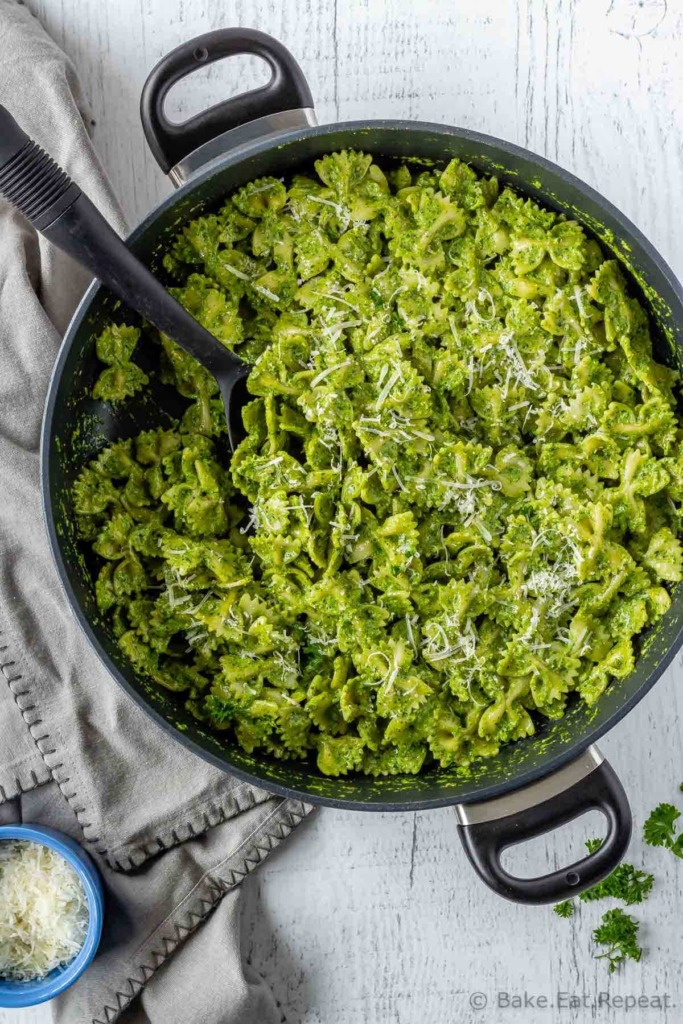 What pasta is best with pesto?
You can really use any pasta shape you like with pesto sauce.
I typically choose a smaller shape like farfalle, penne, or fusilli, but use whatever you happen to have on hand.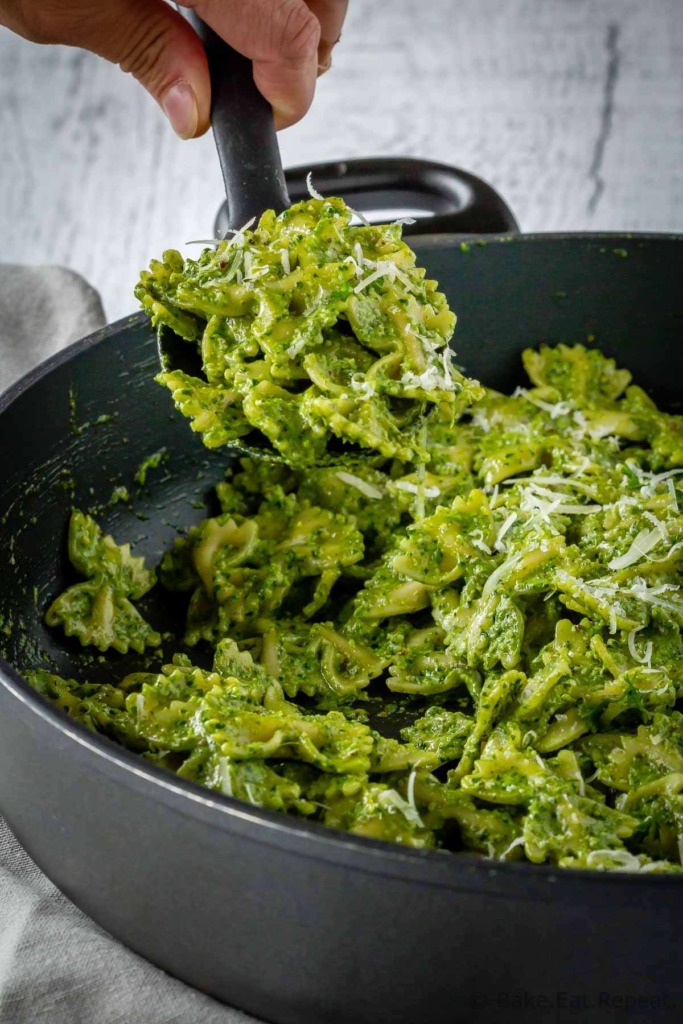 How to make Pesto Sauce:
This pesto sauce is easiest to make in a food processor, but a blender would work well too if you prefer.
It works best if you process everything for the sauce, except for 4 tablespoons of the olive oil, until all the ingredients are finely chopped. Then add the rest of the olive oil while the food processor is running, processing until the pesto is smooth.
You can make the pesto ahead of time and refrigerate it. When you want to use it as a pasta sauce, cook your pasta, then heat the pesto in a large skillet, add some cream, milk, or pasta cooking water to thin it, and stir in the cooked pasta.
This pesto pasta sauce freezes well, before or after mixing the pasta into it.

If you want to freeze it with the pasta, prepare it as directed, then freeze it in a foil lined 9"x13" baking dish. You can sprinkle shredded mozzarella cheese on top for baked pasta when you thaw it. Once it's frozen, you can pop the foil out of the baking dish so your dish doesn't have to stay in the freezer, and wrap the pasta tightly. Put it back in the baking dish to thaw overnight in the fridge, and bake at 350F for about 30 minutes, or until the pasta is heated through.
If you're looking for more great pasta sauce recipes, I have 12 Easy Pasta Sauce Recipes here that are all fantastic!

Here are some more great recipes with pesto sauce for you:

Here are some more great pasta sauce recipes for you: