This light Alfredo sauce is full of flavour, ready in 20 minutes, and much lighter then the real thing. It's so good you'll never miss the cream and cheese!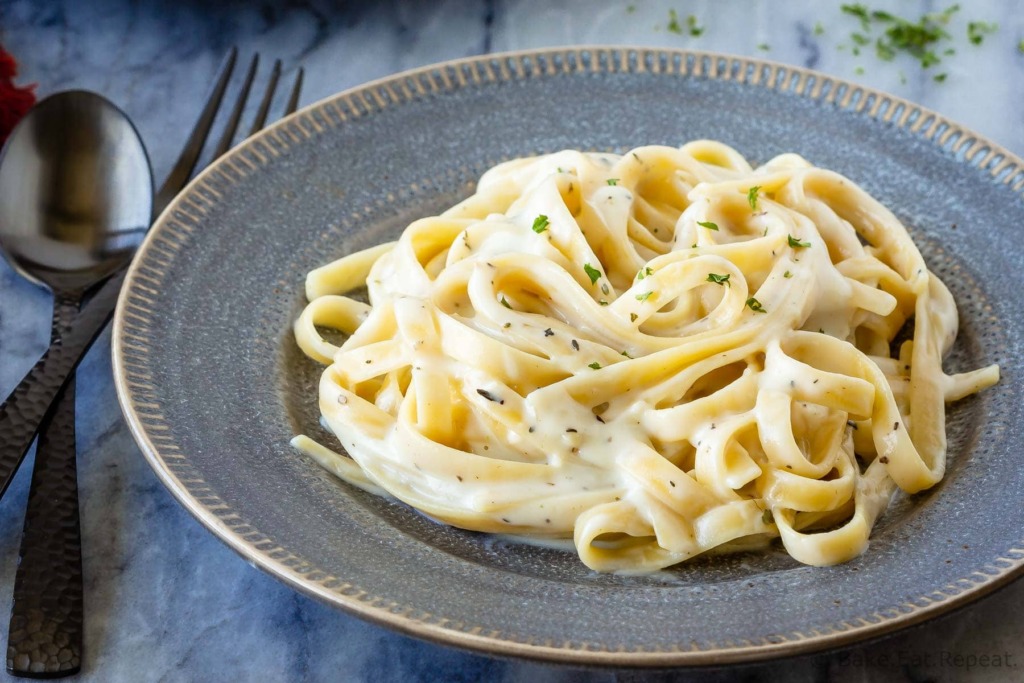 I've been making this light Alfredo sauce for years.
Actually, I rarely make the real thing anymore because this light version is so tasty.
And I always have milk in the fridge, but cream? Not so much. I need to plan ahead to make real Alfredo sauce.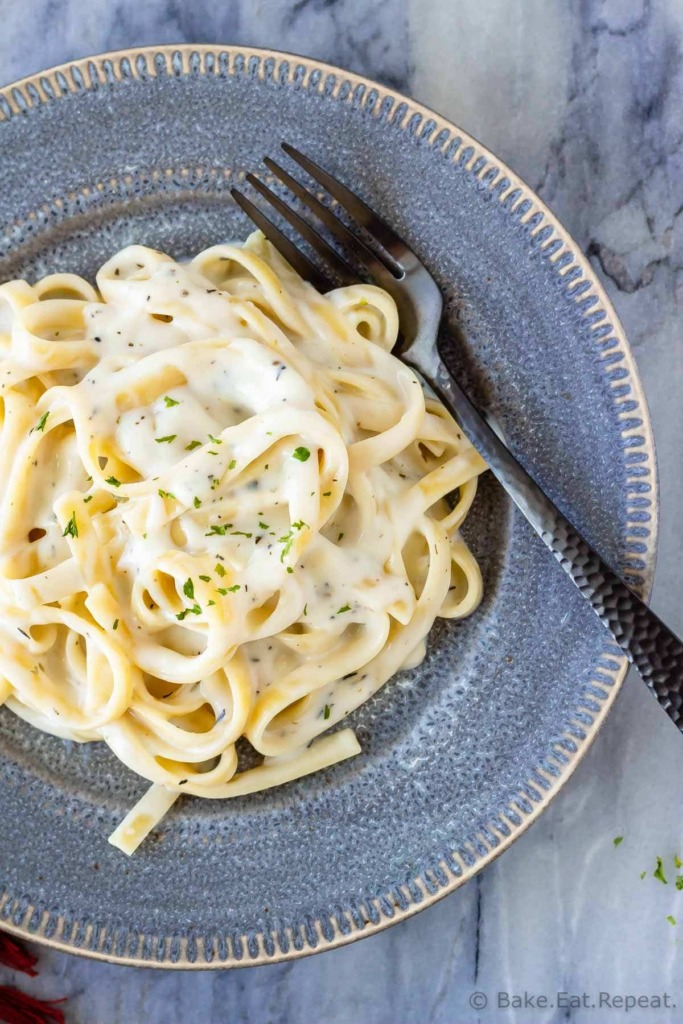 And I really think that the real thing is worth making every now and then. It's definitely amazing. So don't get me wrong, if you are craving a plate full of fettuccine with thick, creamy, cheesy, Alfredo sauce, by all means, head over to my homemade Alfredo sauce recipe and make that immediately if not sooner.
Because it's amazing.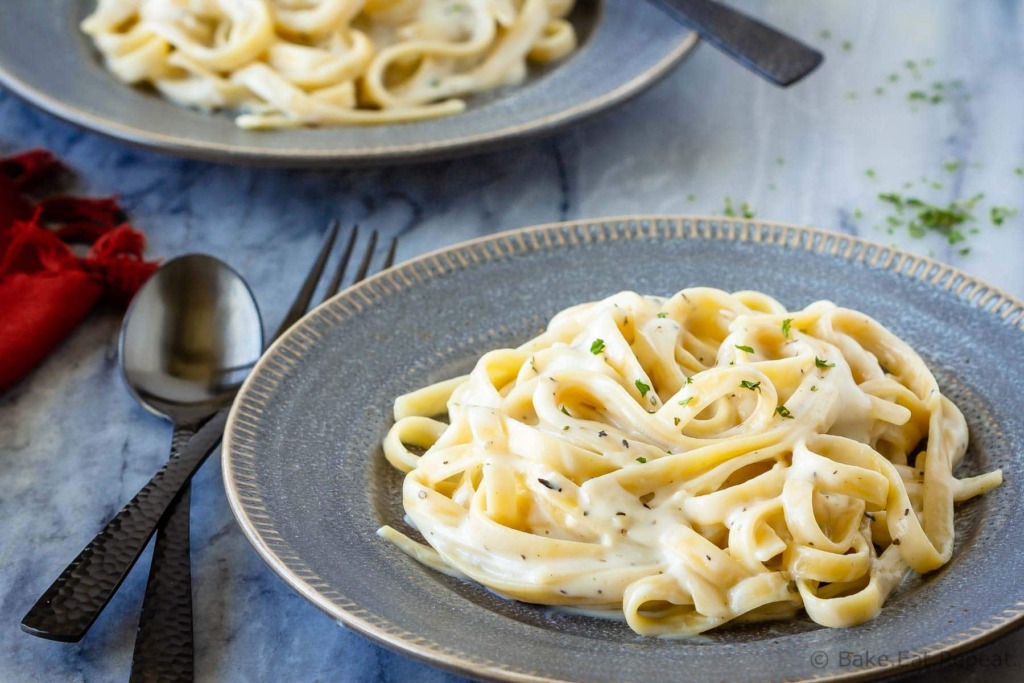 But we all know that sometimes you want fettuccine alfredo without the calories. And that's where this light Alfredo sauce comes in. A serving of this light Alfredo sauce has about 1/3 of the calories and 1/5 of the fat of a serving of regular Alfredo sauce. So it is significantly healthier.
And yet it is still thick and creamy and full of flavour.
Perfect for those days you're craving Alfredo pasta, but still want to eat a bit healthier.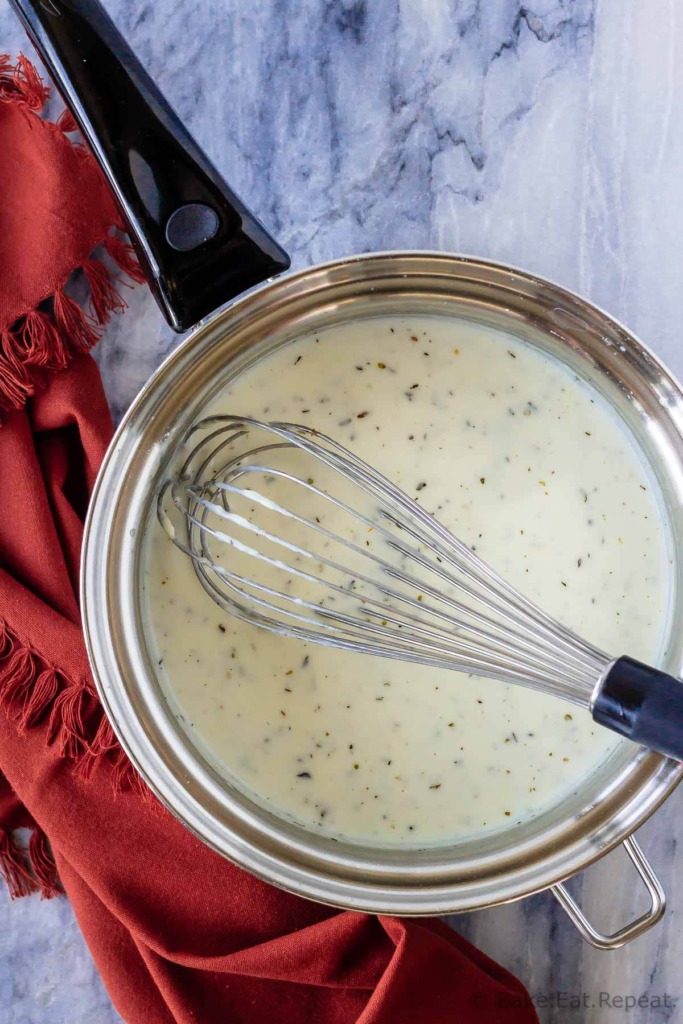 Can you use milk instead of heavy cream for Alfredo sauce?
Using milk instead of heavy cream for this light Alfredo sauce is the main change. You need to add some flour to thicken it up, but it's a significant reduction in fat and calories to make it with milk instead of cream. And the flavour is still fantastic.
Compared side by side, I'm sure everyone would love this cream based Alfredo sauce more. But since you're likely not making them together, I am positive you will love this light Alfredo sauce when you try it.
In all honesty, I probably choose this light version over the real thing most of the time – mostly because I always have milk, but not cream, sitting in the fridge. Also, it's just healthier!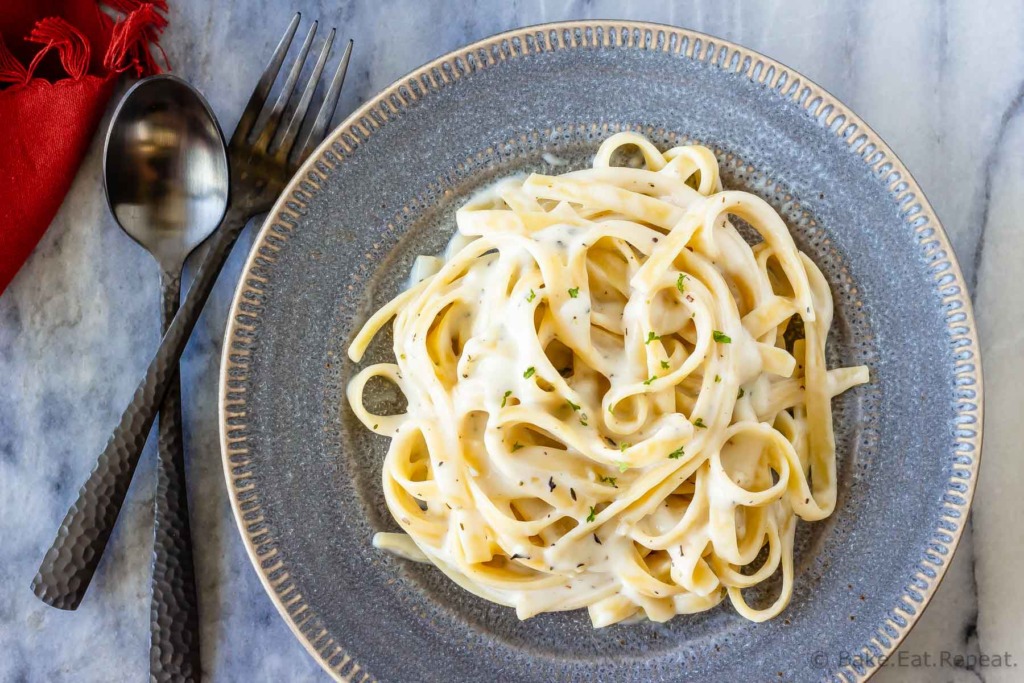 How do you make Alfredo sauce thinner?
If your Alfredo sauce thickens more then you would like, thin it out with a bit of pasta water. Just make sure you save some when you drain your pasta! If you forget, you can also thin it with a bit more milk.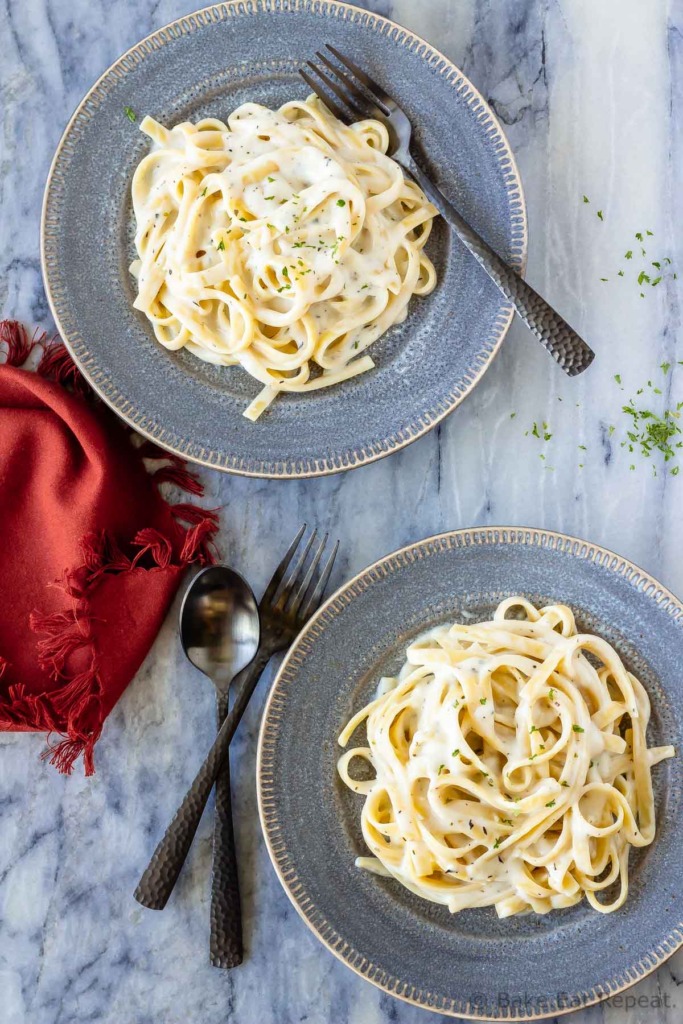 How do you revive Alfredo sauce?
To revive leftover alfredo sauce that is already mixed with pasta, heat a bit of olive oil in a sauce pan over low heat, and add the pasta with sauce. Cook, stirring constantly, on low heat, and slowly add about 1 tablespoon of milk for every 2 cups of pasta to revive the sauce and make it nice and smooth again.
If your Alfredo sauce isn't mixed with pasta already, simply reheat it over low heat, stirring constantly until it is warmed through and serve over hot pasta.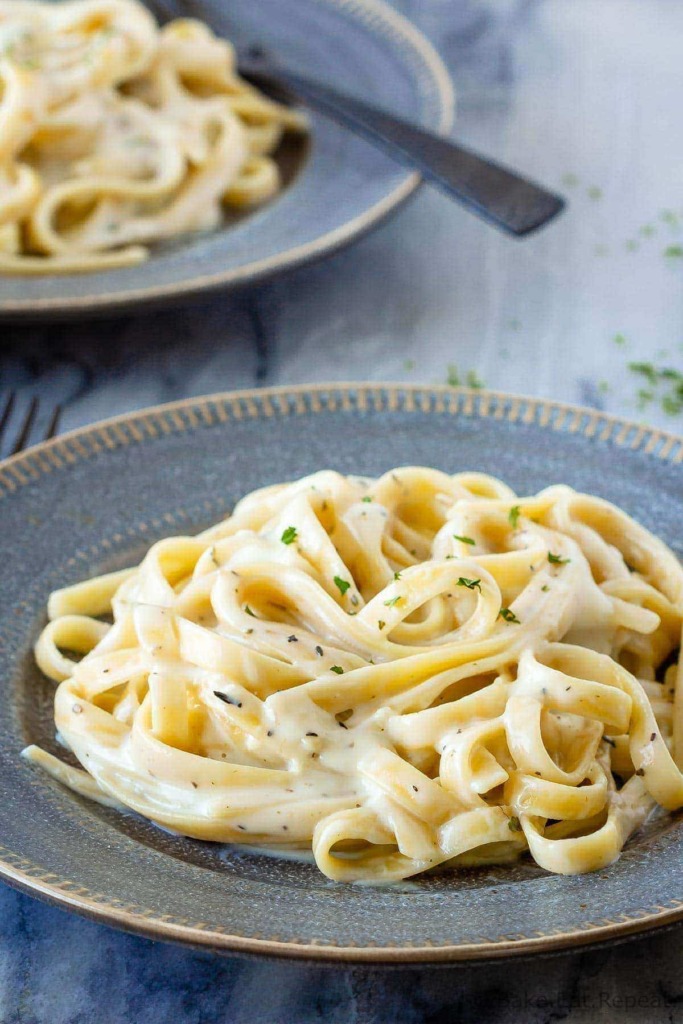 How to make Light Alfredo Sauce:
This light alfredo sauce is so tasty and so fast and easy to make. I always have the ingredients on hand and it can be on the table in less then 30 minutes. It's one of our favourite meals.
I always use 2% milk for this sauce. You could definitely use 3% or 1% if that's what you buy. I believe skim milk would likely work well too, but I think that the sauce would be noticeably thinner with skim milk. It would definitely be worth a try though, if you want to lighten it up even more.
Start your water boiling for your pasta before you start on the Alfredo sauce, because this sauce is ready so fast that you will likely have it finished before your pasta is cooked. It can just simmer on low heat while you wait for the pasta to finish.
If you're looking for more great pasta sauce recipes, I have 12 Easy Pasta Sauce Recipes here that are all fantastic!

Here are some more great Alfredo pasta options for you: