This chocolate wacky cake is super moist and so easy to make. It mixes up right in the pan, and it doesn't use any eggs or dairy!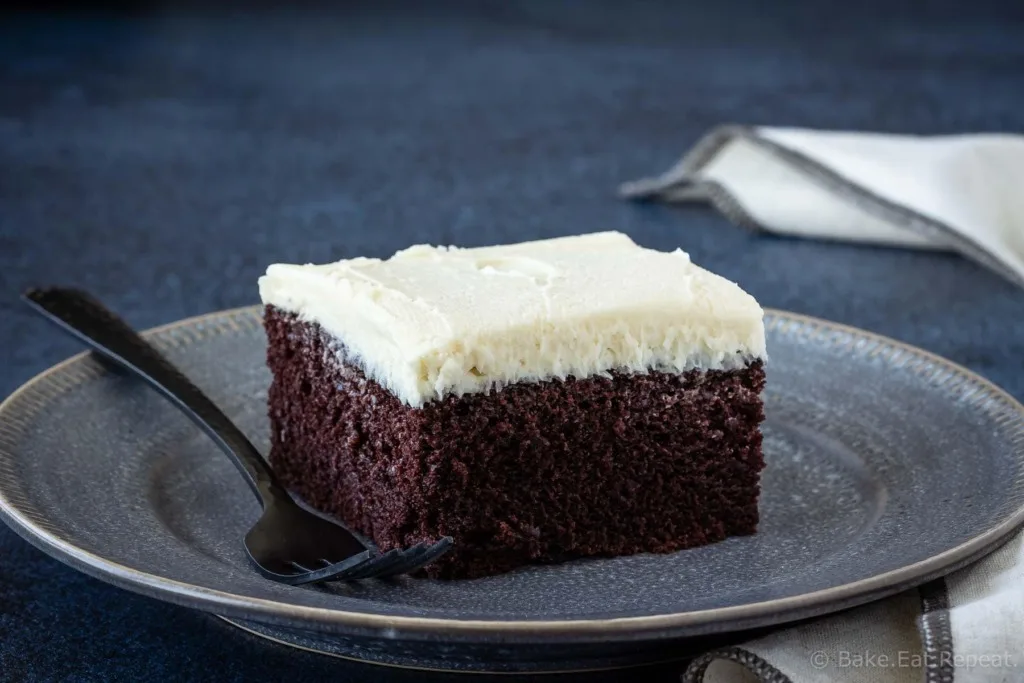 Chocolate wacky cake is one of our absolute favourite desserts. I've been making it for about 20 years.
It's a recipe I got from my mother-in-law when I got married and I have been making it ever since.
At least once a year in fact (usually more), because it is always the cake my husband request for his birthday. Without fail.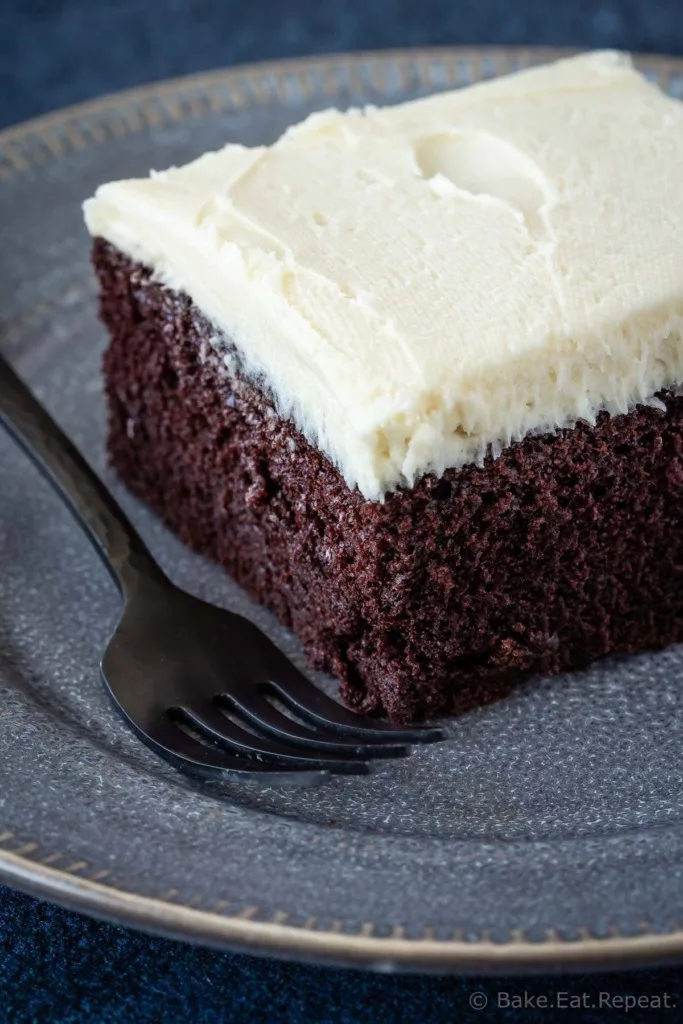 I actually usually try to convince him to let me make him something else, because it's just so easy that it doesn't seem impressive enough for a birthday cake!
But it's his favourite, so that's what we make.
The great thing about wacky cake is that it is so easy to make.
You mix it up right in the baking pan and it can literally be ready to go in the oven before it has even finished heating up.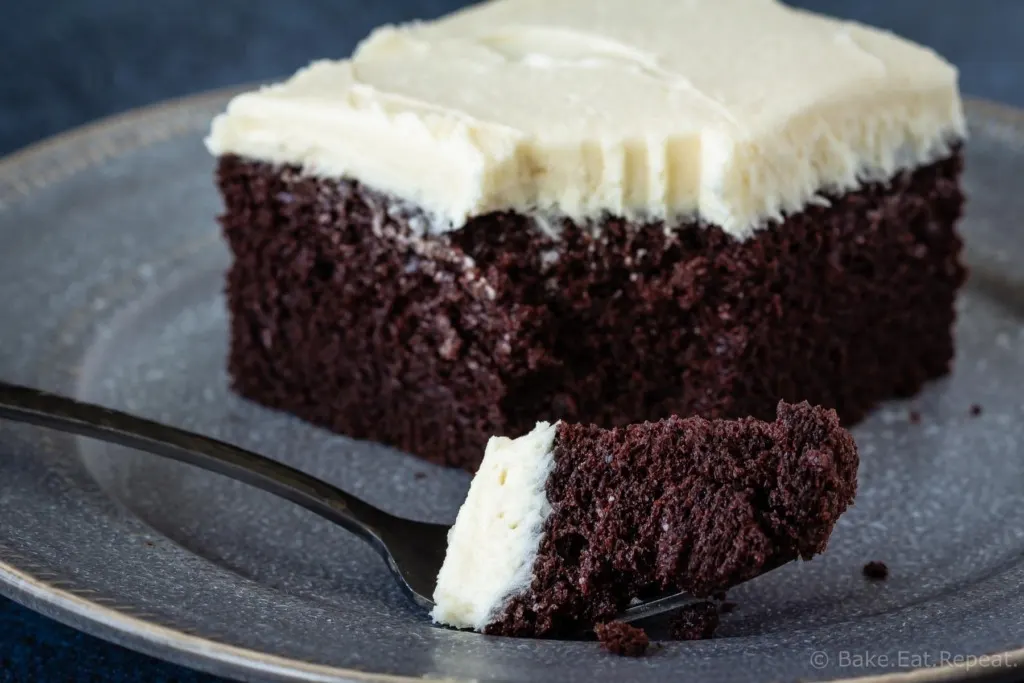 It's easy enough that all the kids can make it without any help.
This wacky cake is the best chocolate cake.
Soft and moist and full of chocolate flavour, and so easy to make.
Plus it doesn't have any dairy or eggs in it, so it's perfect if you're contending with any allergies. Or you just don't have anything but pantry staples available.
And everyone loves it.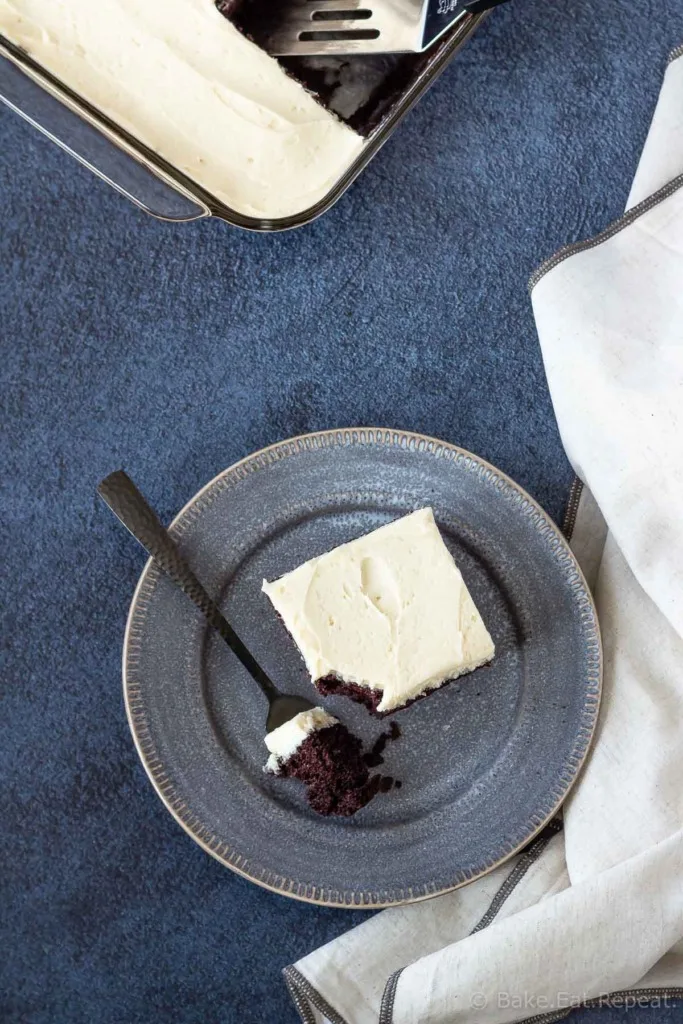 Why is it called Wacky Cake?
This chocolate cake is called wacky cake for a couple of reasons.
It uses a different mixing technique than most cakes, with all the ingredients mixed up right in the baking pan.
It also uses unusual ingredients like vinegar, and doesn't have any milk, eggs, or butter in it.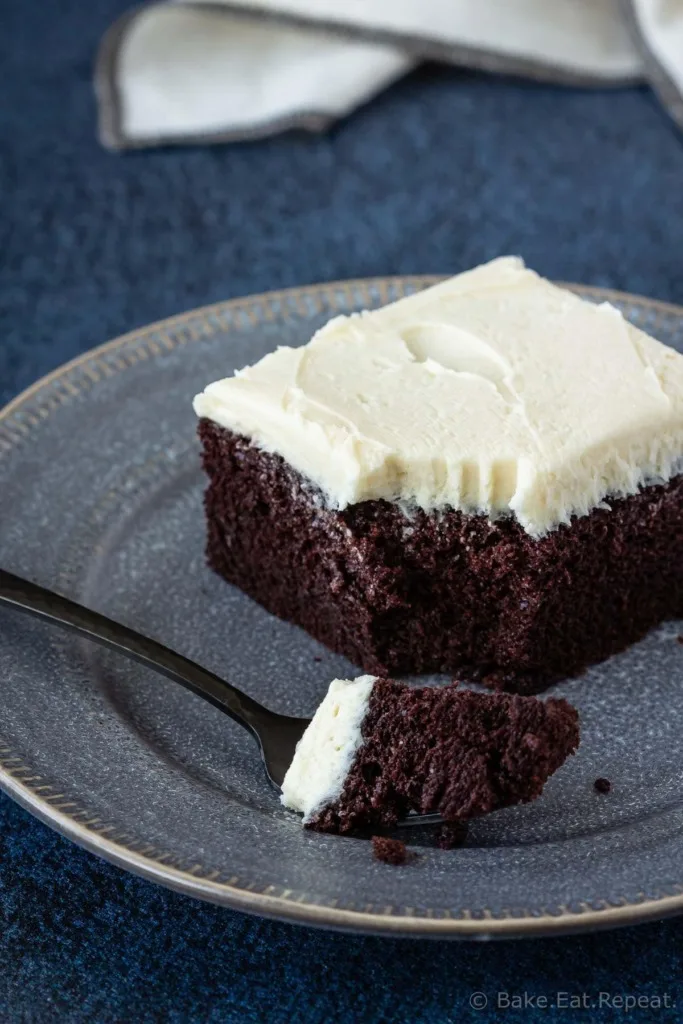 Wacky cake likely originated during wartime rationing when it was difficult to get things like milk, eggs, and butter.
It's also sometimes called crazy cake, or depression cake.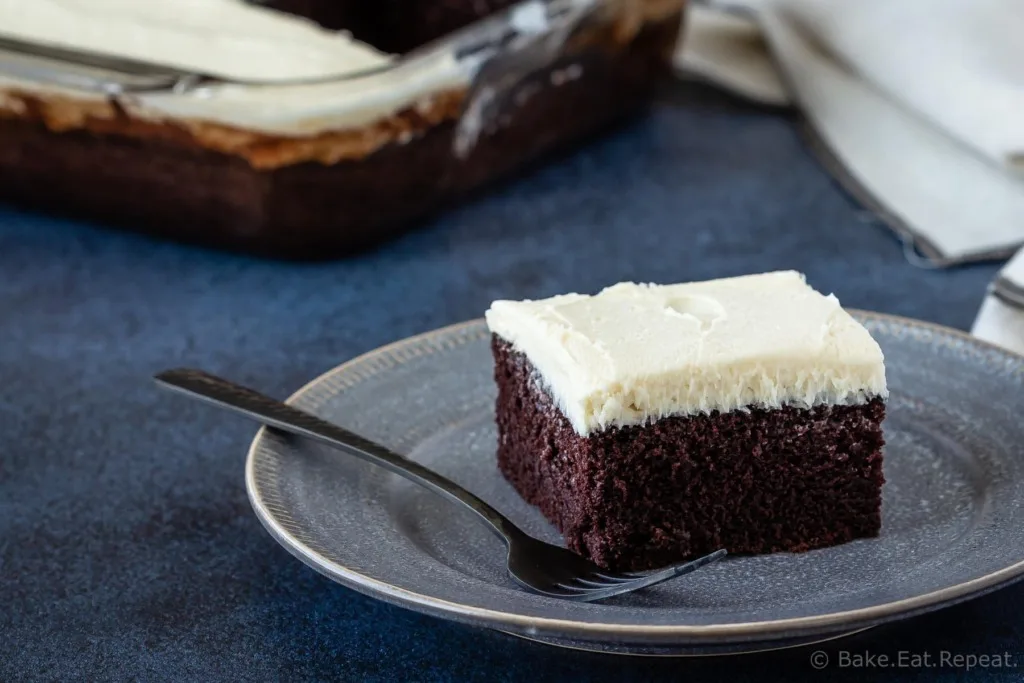 How do you make wacky cake from scratch?
Wacky cake is one of the easiest desserts to make.
My kids have been making it on their own for years.
And the best part is it mixes up right in the baking pan, so you don't even have a bunch of dishes to do afterwards.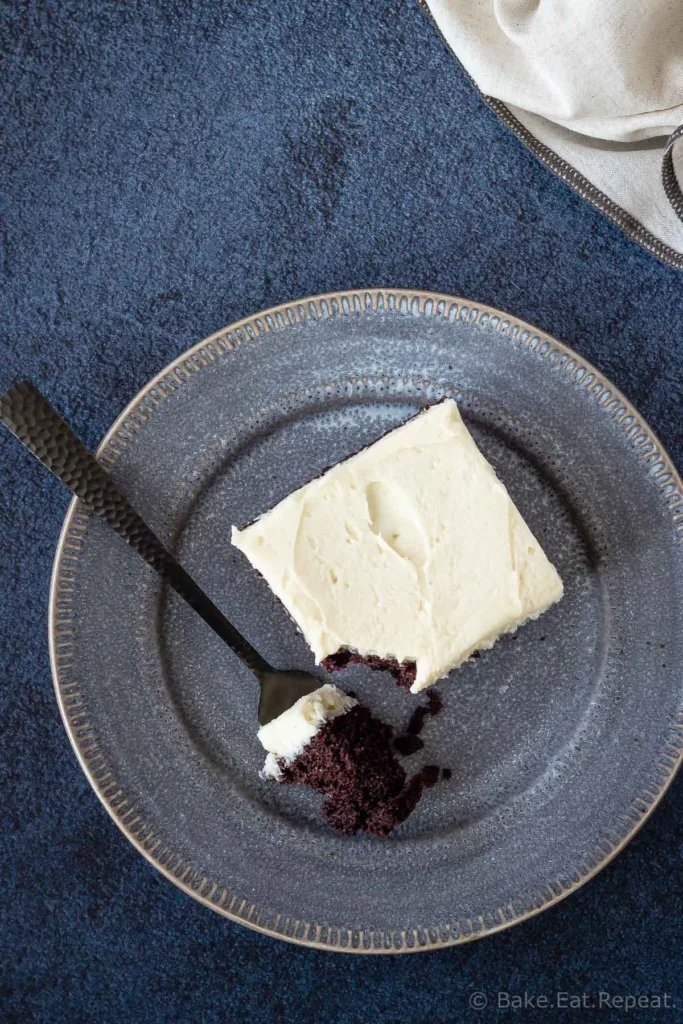 All you have to do to make a wacky cake from scratch is whisk together the dry ingredients in the baking pan.
You then make three wells in the dry ingredients, and add vanilla, vinegar, and oil to them.
Pour some water over top and stir everything together. That's it.
So easy, and it makes the best chocolate cake!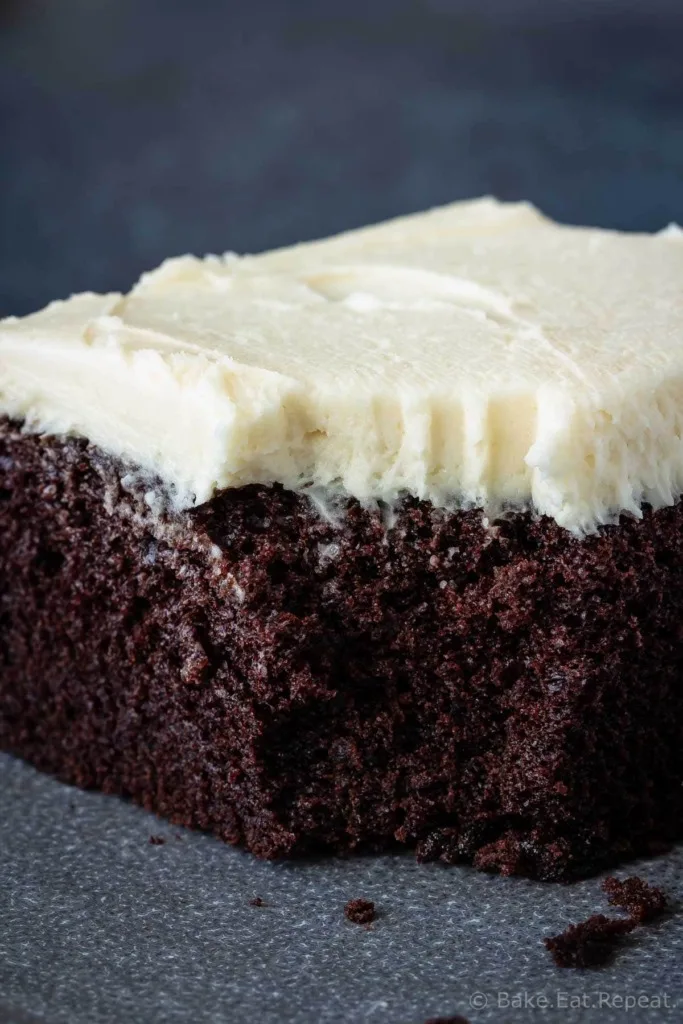 How to make Wacky Cake:
This wacky cake is one of the easiest cakes to make. It mixes up right in the cake pan, and can easily be ready to go in the oven by the time it's heated up (maybe faster!).
I use vanilla buttercream frosting, so that's what I've included in the recipe, but use any frosting you like, or none at all.
The cake is dairy free, but the frosting is not, so use a different frosting recipe for a completely dairy free dessert. Or replace the butter with margarine and omit the cream in the frosting.
We like this cake cold, so usually keep it in the fridge, but it will be fine at room temperature for up to 3 days if you prefer. Keep it covered tightly with plastic wrap so it doesn't dry out.
Wacky cake also freezes well. I usually cut it into squares and freeze it in an airtight container so we can take out as many portions as we want. You can freeze it with the frosting on, and it defrosts quite quickly at room temperature.
If you want a larger cake, you can double the recipe and bake it in a 9×13 inch pan instead.
Here are some more great dessert recipes for you: