These easy little chocolate chip peanut butter cookie cups are like thick and chewy little peanut butter cookies studded with mini chocolate chips. Easy to make and all you have to do is fill up a mini muffin tin to bake them!
We love peanut butter cookies around here. I think they might just be my favourite kind of cookie. Especially when you add some chocolate chips to the mix. Is there any better combination in the world then peanut butter and chocolate? I think not.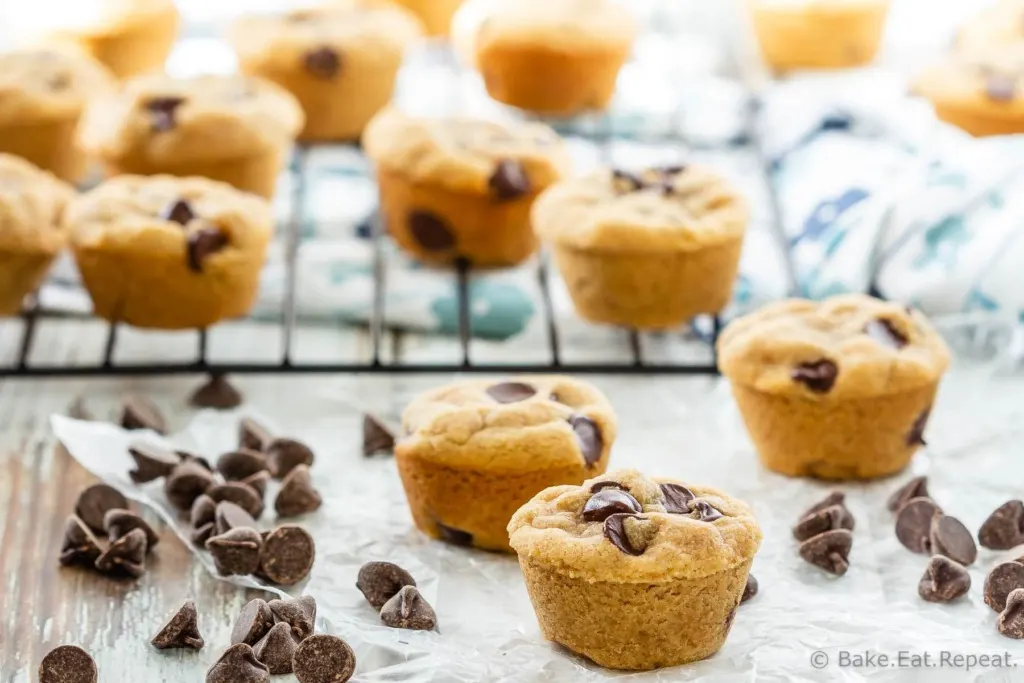 These mini chocolate chip peanut butter cookie cups are basically thick and chewy peanut butter cookies that are easy to mix up and don't need to be chilled before they're baked. So…they're pretty much the perfect cookie in my opinion.
Although, as far as easy to make goes, you probably can't really beat these 3 ingredient peanut butter cookies. Obviously. There's only 3 ingredients.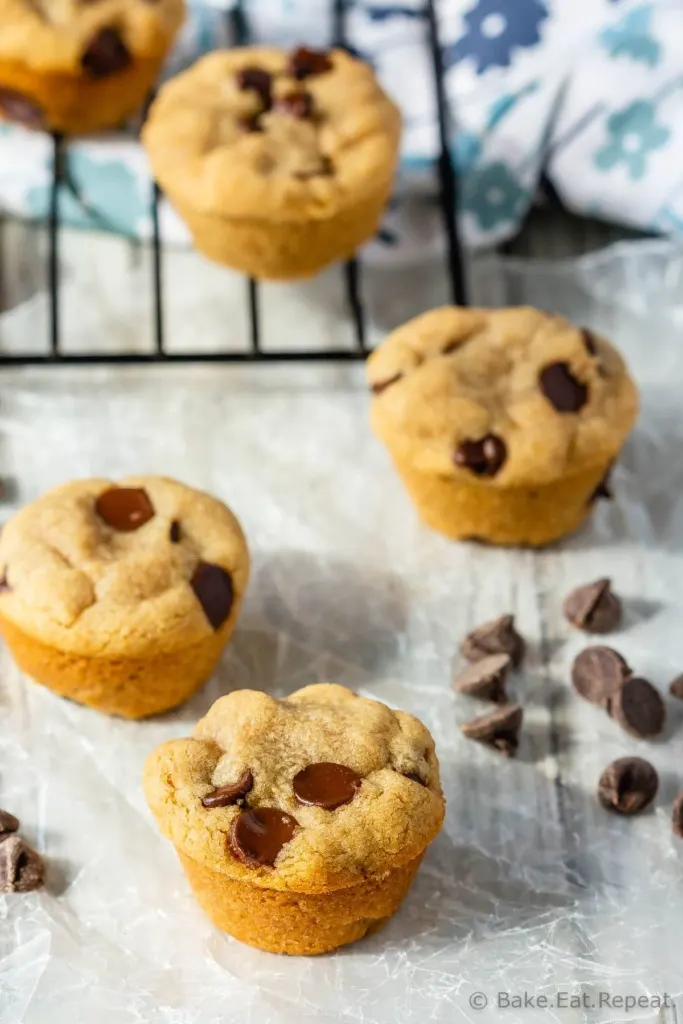 But I like options when it comes to my cookie baking.
Even with something as simple as peanut butter cookies. Options are good. Do you want a classic cross hatched, rather crumbly peanut butter cookie, a chewy flourless peanut butter cookie, one with chocolate like these peanut butter brookie cups, or these no bake peanut butter cookie cups, or….the options are endless really. Which is fantastic, because who doesn't need more peanut butter cookies in their life?
Well, if I'm honest, I probably don't need any more cookies in my life. But I know I'm going to keep making them, so options are good.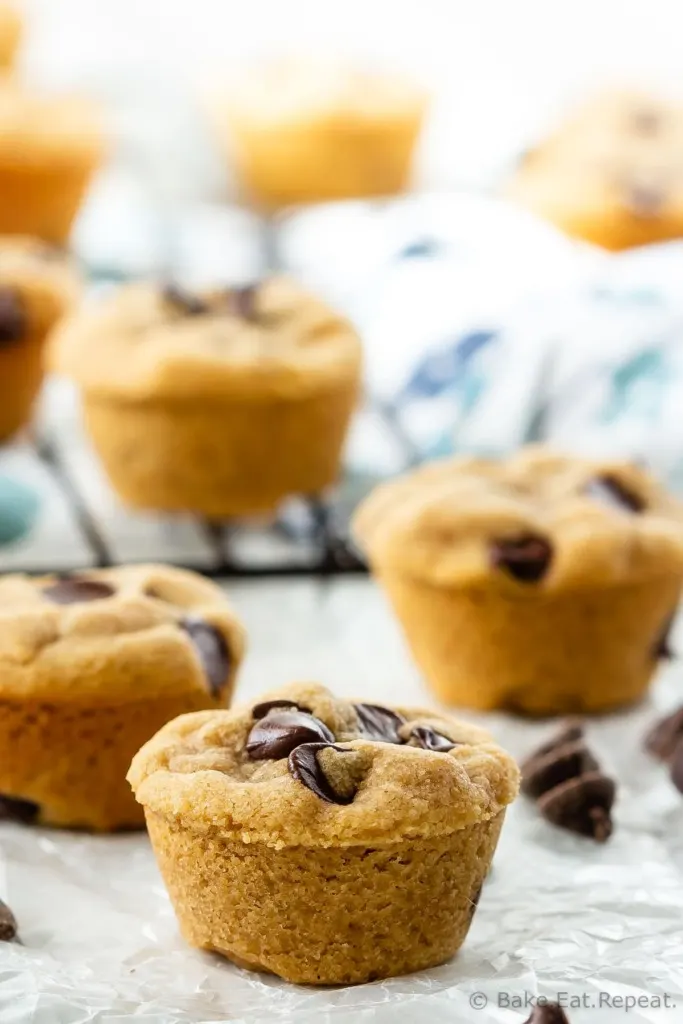 How do you make cookie cups?
Cookie cups are just as easy to make as cookies. The only real difference is you bake the cookie dough in a muffin tin (or mini muffin tin) instead of on a cookie sheet. The result is a thick, chewy cookie, instead of one that is spread out.
The trick to having good cookie cups is to make sure not to over-bake them. If you over-bake your cookie cups they will end up dry and crumbly, or too crisp, and aren't that great. Make sure to take them out of the oven when they still look under done in the middle for chewy cookie cups. You also want to let them cool completely in the muffin tin or they will fall apart!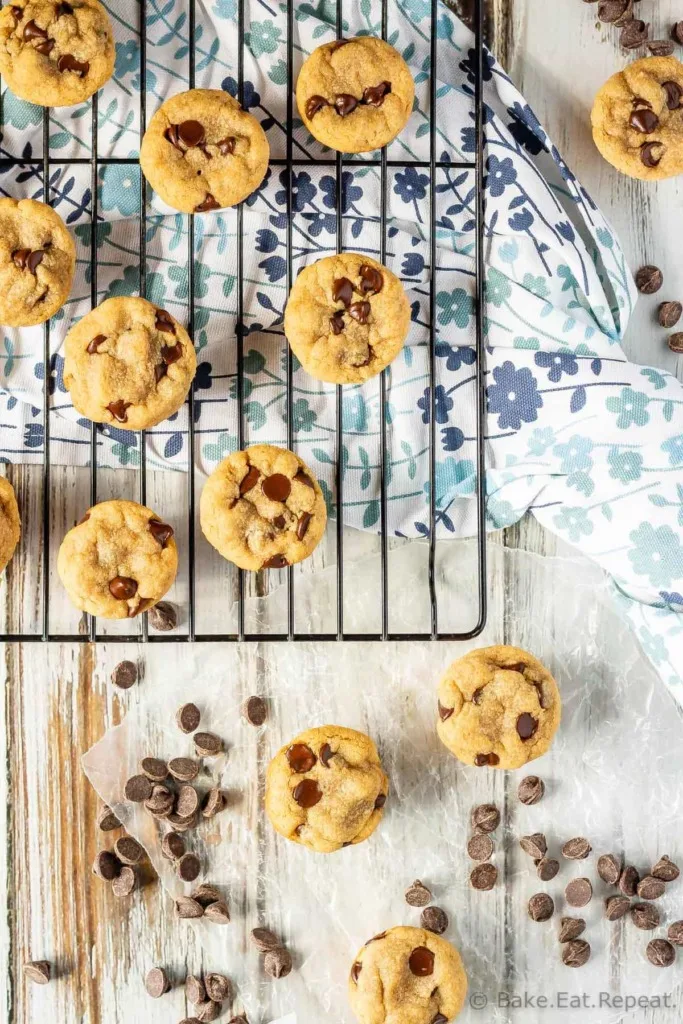 I think what I like most about these mini chocolate chip peanut butter cookie cups is that you don't need to chill the dough before baking. Although I really don't have a lot of cookie recipes where that is necessary! And I also just like that they're a little bit different. Cookies made in a muffin tin are just a nice change, don't you think?
And they're super easy to make and taste great….so there's that.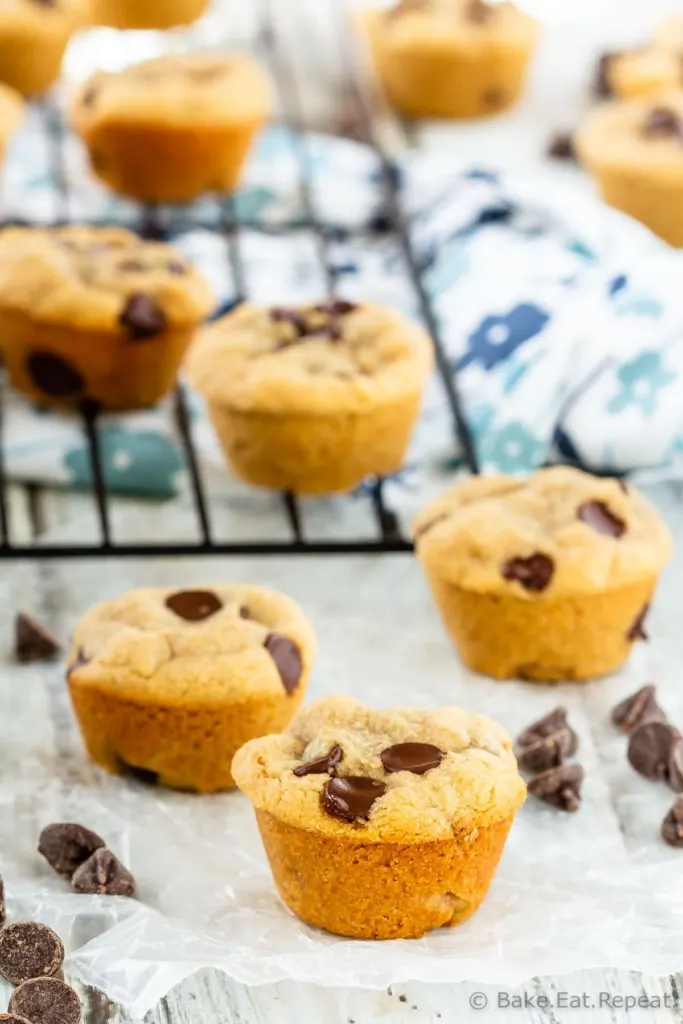 How to make Mini Chocolate Chip Peanut Butter Cookie Cups:
Use a non-stick pan for these cookie cups and spray it lightly with non-stick cooking spray before using so the cookies come out with no problem – but make sure to let them cool before removing them from the pan or they will fall apart on you!
I use this 1 1/2 tablespoon sized cookie scoop to portion the cookie dough into the muffin tin, and then press the dough into the muffin cups.
Here are some more great cookie recipes for you:
I've also shared this Mini Chocolate Chip Peanut Butter Cookie Cups recipe over on Food Fanatic.