These peanut butter brookie cups are so tasty – half peanut butter cookie and half brownie – they make the perfect sweet treat!
If you're looking for an amazing sweet treat today, I have the perfect easy recipe! These peanut butter brookie cups are a delicious combination of peanut butter cookies and brownies.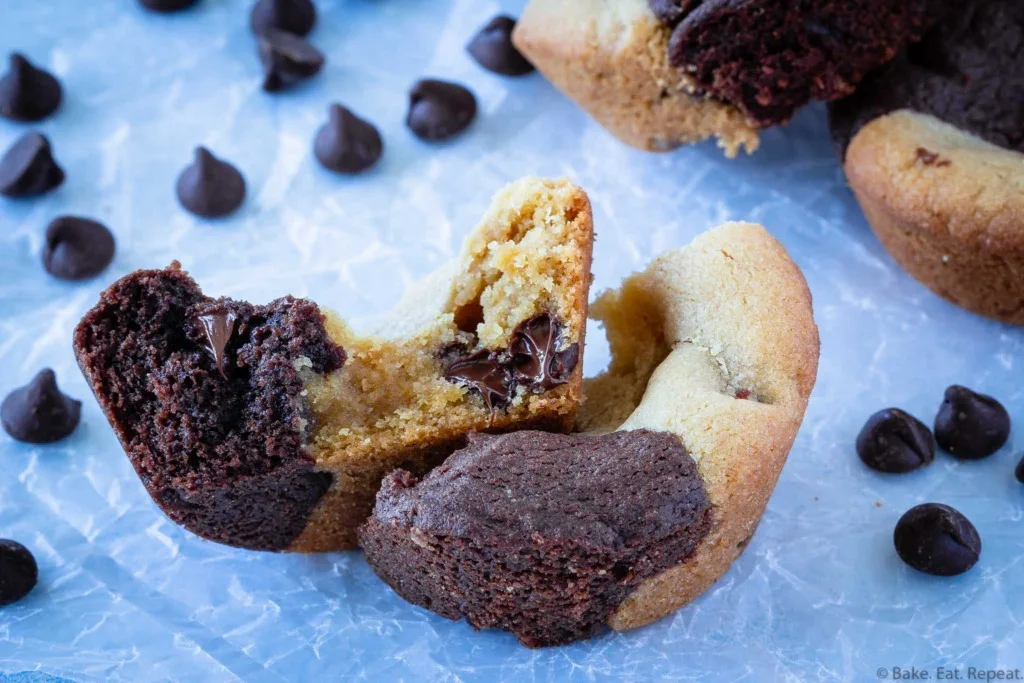 Half chewy peanut butter chocolate chip cookie, and half chewy chocolate brownie, they are the perfect option when you're looking for something rich and delicious, that is super easy to make.
Both the peanut butter cookie dough and the brownie batter mix up very quickly, and there's no chilling required for either dough.
And since these brookie cups are baked in a muffin tin, you don't even need to shape the cookies at all. Simply press some of each dough into a muffin tin and bake.
They're so easy to make and taste fantastic! So next time you can't decide whether to make cookies or brownies – make both with these tasty peanut butter brookie cups!
How do you make brookies from scratch?
Making brookies from scratch is no more difficult than making cookies from scratch. It's just a two step process since you have two doughs you're working with rather than just one.
Mix up the peanut butter cookie dough and set it aside. Then mix up the brownie dough. Then divide each of the doughs into pieces and press one of each into greased muffin tins.
The two doughs bake together into one tasty peanut butter brookie cup.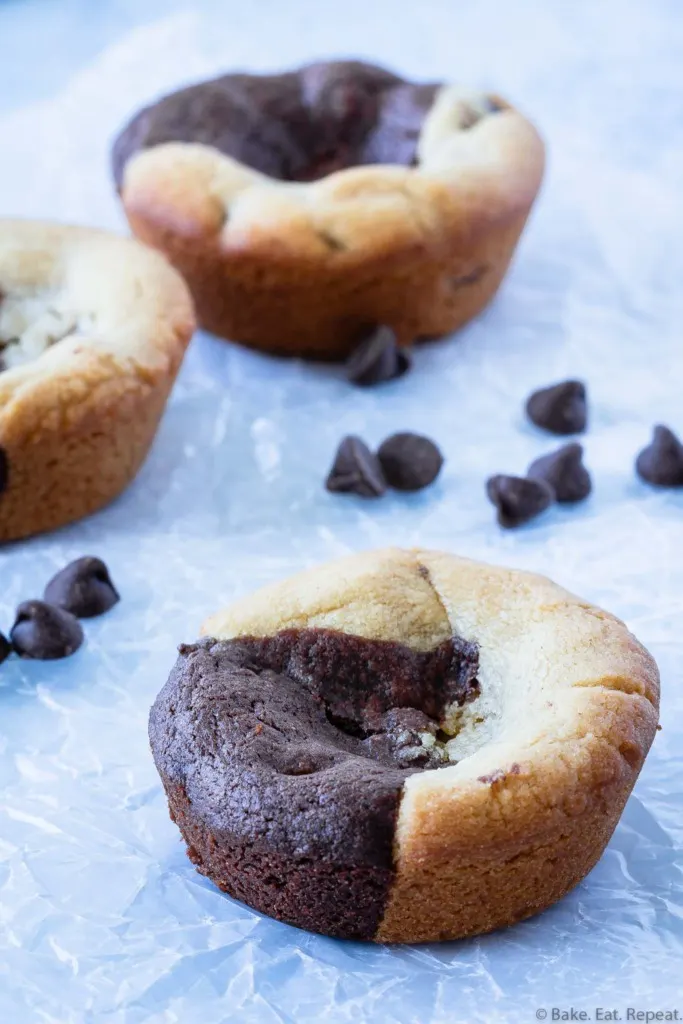 How to make Peanut Butter Brookie Cups:
Make sure to grease your muffin tins with non-stick cooking spray, or you may have trouble getting the brookie cups out without breaking them.
Let the brookie cups cool completely before trying to remove them from the muffin tin. They will break if you try to take them out when they're still warm.
There is more peanut butter cookie dough than brownie batter. This is fine, just divide each dough into 18 equal pieces and press one of each into each muffin cup.
Store the brookies in an airtight container at room temperature for 3-5 days, or freeze for up to 3 months.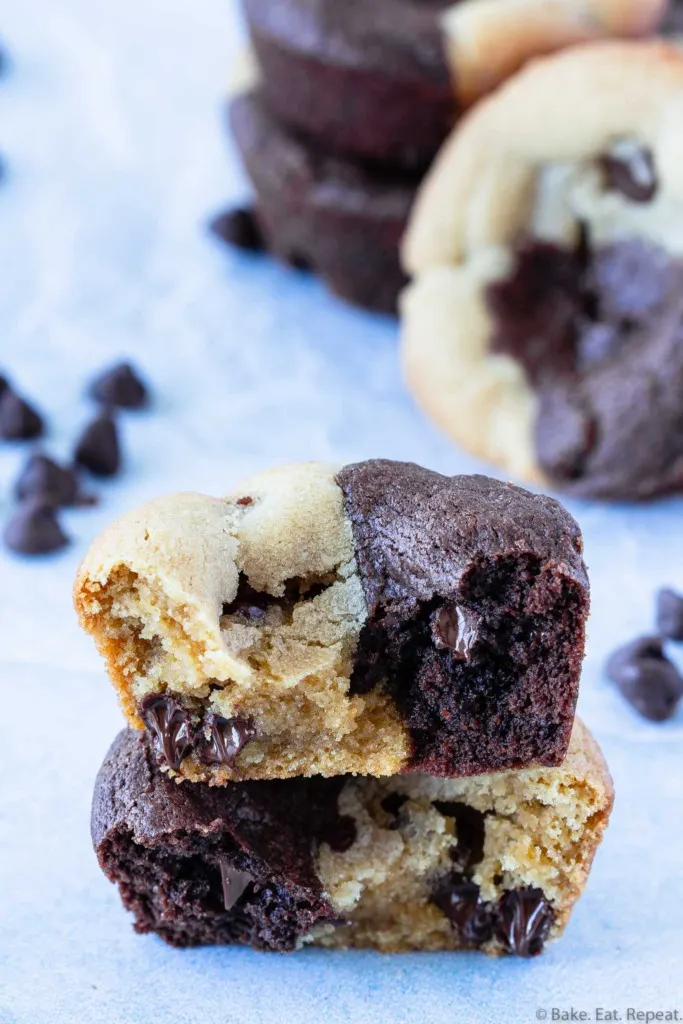 Here are some more great cookie recipes for you: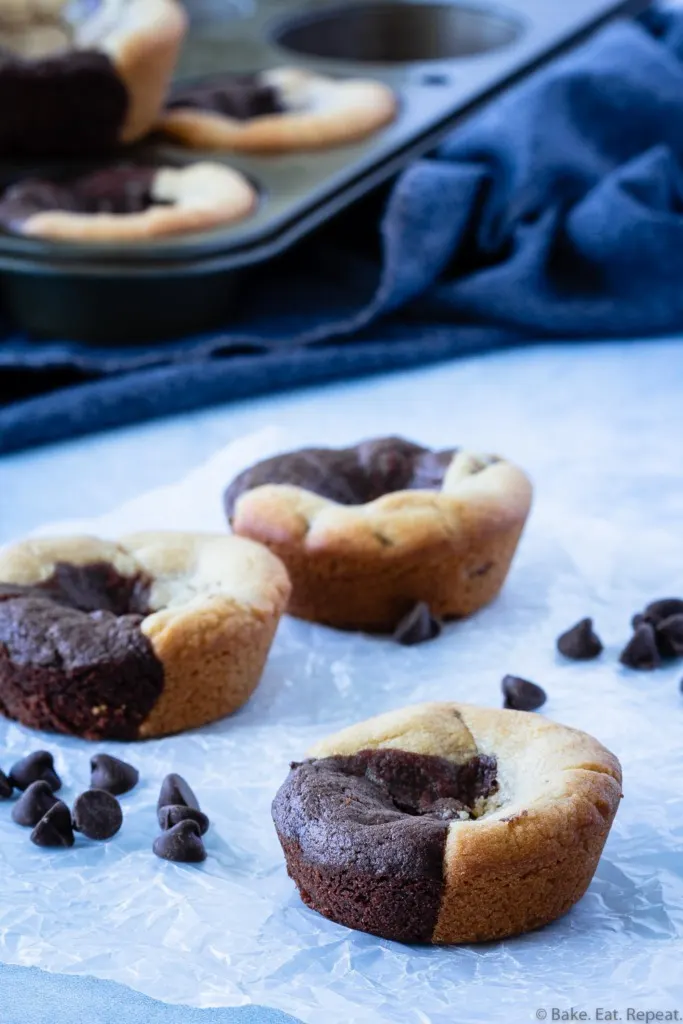 I've also shared this peanut butter brookie cup recipe over on Food Fanatic.