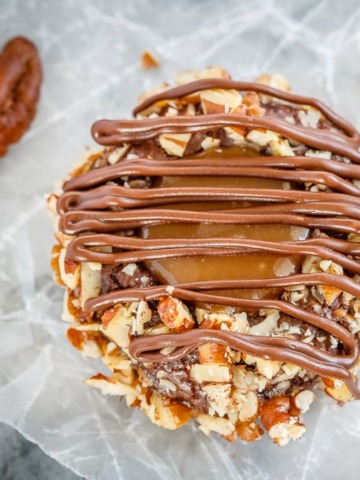 These turtle thumbprint cookies are amazing! Rich chocolate cookies rolled in chopped pecans, topped with salted caramel sauce and drizzled in chocolate!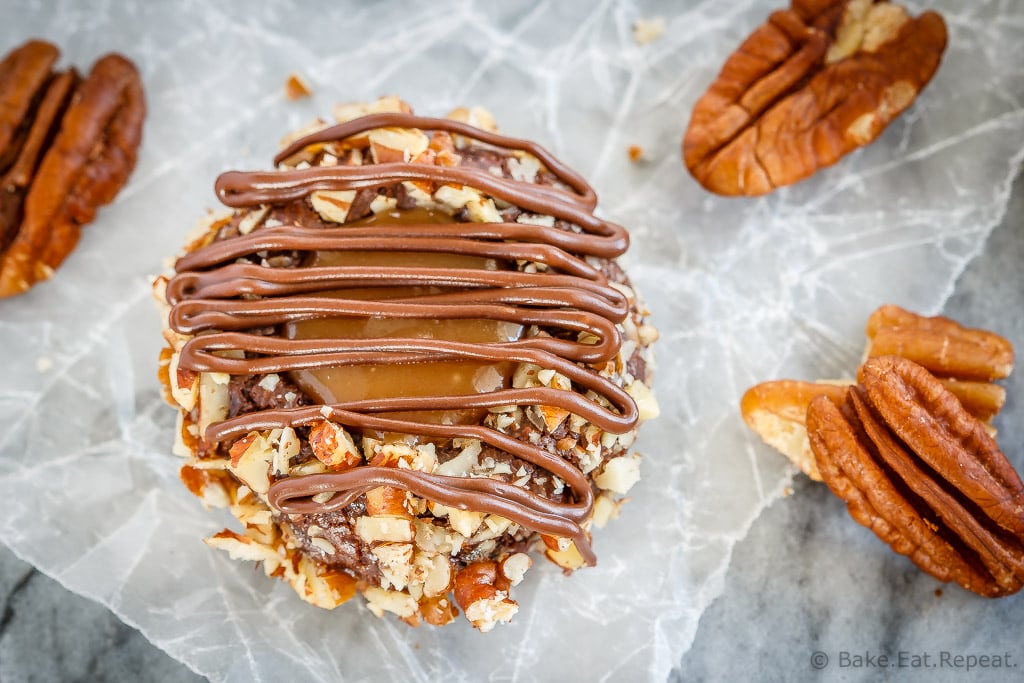 Who else loves turtles?! The candy. Not the animal.
Not that I have anything against the animal, it's super cute, just not what I'm talking about here.
These little thumbprint cookies are turtles candy, in cookie form. Dense chocolate cookies rolled in chopped pecans, filled with homemade salted caramel sauce, and drizzled with melted chocolate. So… basically it's dessert heaven happening here.
I'm actually not a big caramel fan. It's just not my favourite thing – too sweet I think. But make it salted caramel and add it to chocolate and pecans and I am completely in love. That sweet and salty combination is really just the best thing ever.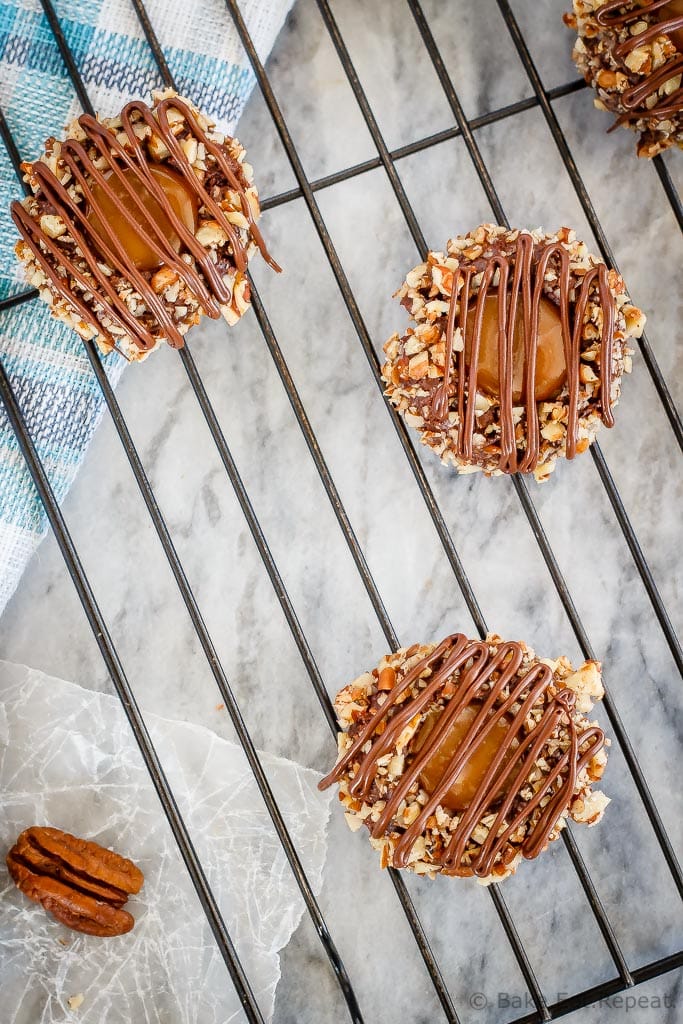 And, for some reason, even though I am always saying I don't like caramel, I do like turtles. I cannot tell you why that is, but there you go. It must be the chocolate.
These turtle thumbprint cookies do take a little while to make – they're a bit fussier then your standard drop cookie, what with the rolling in pecans and making an indent and filling it with caramel and all. But let me tell you, they are totally worth the extra time. Especially at Christmas when we're all a little more into the baking that takes a bit of extra time (I'm looking at you sugar cookies!).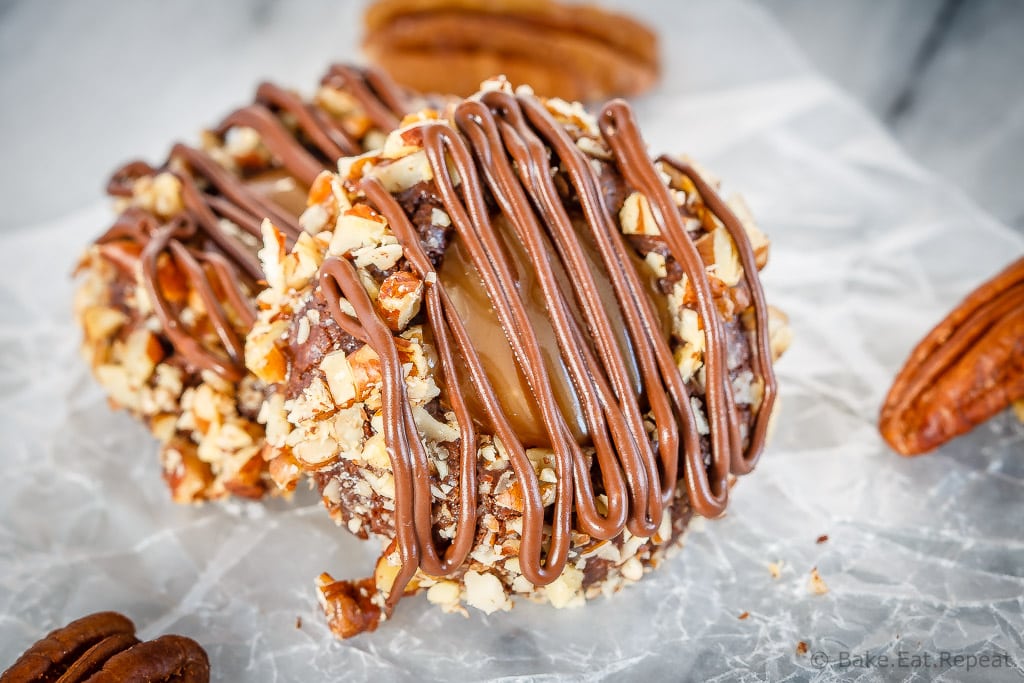 These cookies make the perfect addition to your holiday baking platter, and would be a delightful gift to receive if you like to make edible gifts at Christmas.
And can I just say that the salted caramel sauce is really worth making from scratch? You could use some from the store – but if you have the time to make it, it is amazing – and super, super easy. Plus, you won't use it all so then you'll have some delicious salted caramel sauce sitting in the fridge for something else. Which is always a good thing!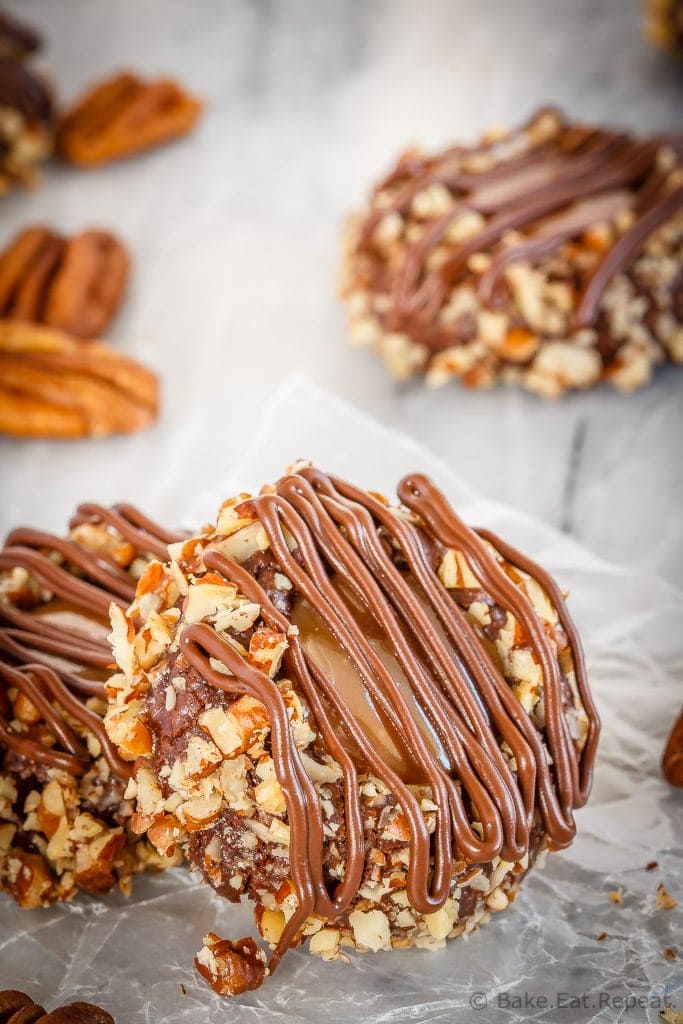 Tips for perfect Turtle Thumbprint Cookies:
Yield: 24 cookies
Turtle Thumbprint Cookies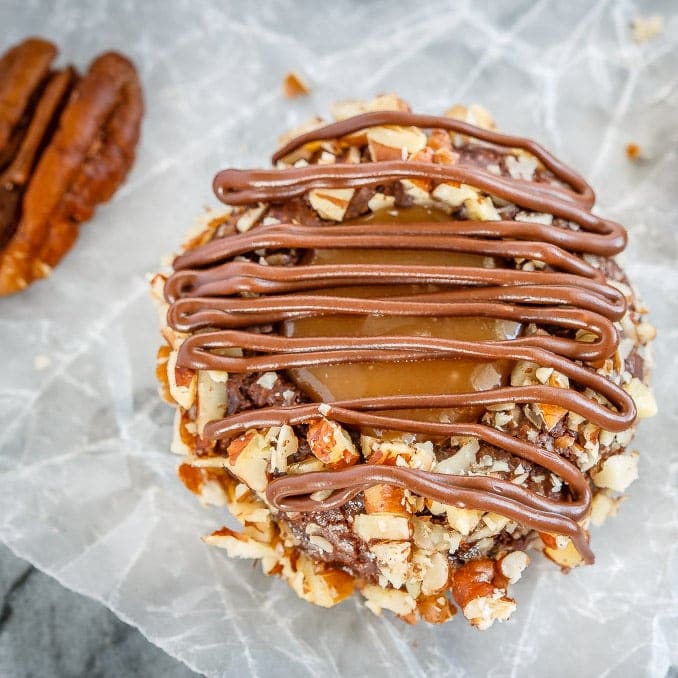 These turtle thumbprint cookies are amazing! Rich chocolate cookies rolled in chopped pecans, topped with salted caramel sauce and drizzled in chocolate!
Ingredients
1/2 cup unsalted butter, softened
3/4 cup granulated sugar
1 large egg, separated
1 tablespoon heavy cream (35% whipping cream)
1 teaspoon vanilla
1 cup all purpose flour
1/2 cup unsweetened cocoa powder (dutch processed)
1/2 teaspoon salt
1 cup finely chopped pecans
1/4 cup semi-sweet chocolate, chopped
Instructions
Preheat the oven to 350 degrees F and line a cookie sheet with parchment paper or a silicone baking mat.
In a stand mixer, or a large bowl with an electric mixer, cream the butter and sugar together until light and fluffy.
Add the egg yolk (saving the egg white), cream and vanilla and mix well. In another bowl whisk together the flour, cocoa powder and salt, and then add it to the butter mixture and mix well.
In a small bowl, beat the egg white until frothy.
Roll the cookie dough into 2 teaspoon sized balls, coat them in the egg white, and then roll them in the chopped pecans, pressing them in a bit so they stick, and place them 2 inches apart on the prepared cookie sheet.
Using your thumb, or the back of a 1/2 teaspoon measuring spoon, press an indent into the middle of each cookie.
Bake for 8-10 minutes, or until just set.
Press the indent again, if necessary, and let the cookies cool for 5 minutes on the cookie sheet, then move them to a wire rack to cool completely.
Heat the caramel sauce gently in the microwave (on 50% power), until it is easy to scoop.
Spoon 1/2 teaspoon of the salted caramel sauce into the indent in each cookie.
Melt the chocolate with one teaspoon of butter in the microwave on 50% power, stirring every 30 seconds until smooth. Drizzle it across the cookies.
Let the chocolate set and then store the cookies in an airtight container at room temperature, with wax paper in between the layers of cookies so they don't stick together. They can also be frozen for up to 3 months.
Recommended Products
This post contains affiliate links. As an Amazon Associate, I may receive a small commission from qualifying purchases.
Nutrition Information:
Yield:
24
Serving Size:
1 cookie
Amount Per Serving:
Calories:

133
Total Fat:

8g
Saturated Fat:

3g
Trans Fat:

0g
Unsaturated Fat:

4g
Cholesterol:

19mg
Sodium:

54mg
Carbohydrates:

14g
Fiber:

1g
Sugar:

8g
Protein:

2g
Nutrition Information is estimated based on ingredients used and may not be exact.
This post contains affiliate links, meaning that if you make a purchase through these links, I may receive a small commission.