These turtle thumbprint cookies are amazing! Rich chocolate cookies rolled in chopped pecans, topped with salted caramel sauce and drizzled in chocolate!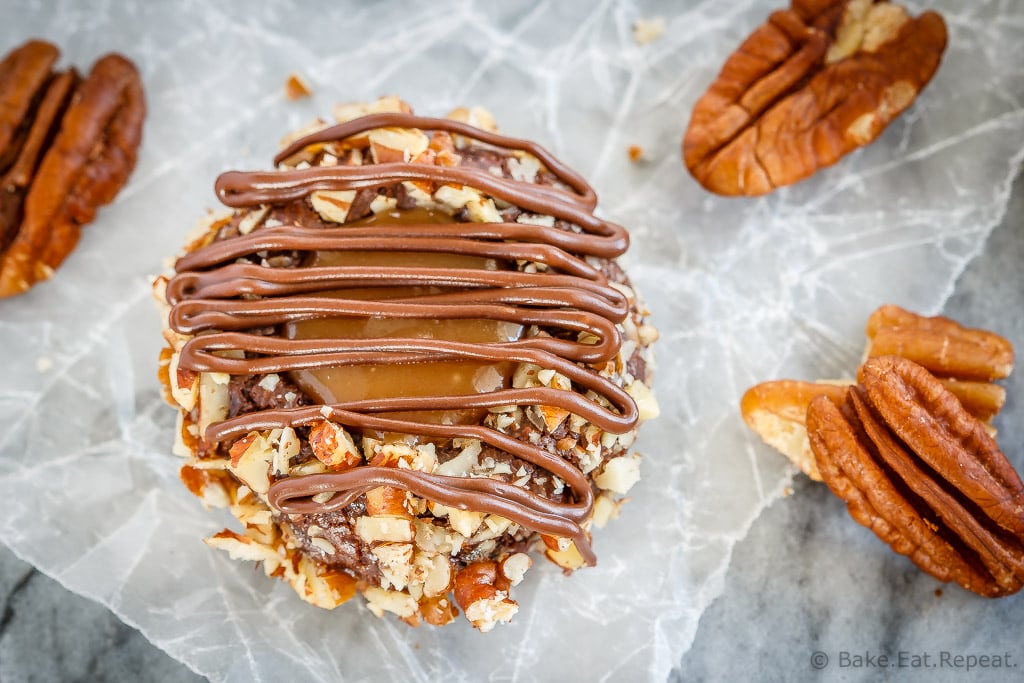 Who else loves turtles?! The candy. Not the animal.
Not that I have anything against the animal, it's super cute, just not what I'm talking about here.
These little thumbprint cookies are turtles candy, in cookie form. Dense chocolate cookies rolled in chopped pecans, filled with homemade salted caramel sauce, and drizzled with melted chocolate. So… basically it's dessert heaven happening here.
I'm actually not a big caramel fan. It's just not my favourite thing – too sweet I think. But make it salted caramel and add it to chocolate and pecans and I am completely in love. That sweet and salty combination is really just the best thing ever.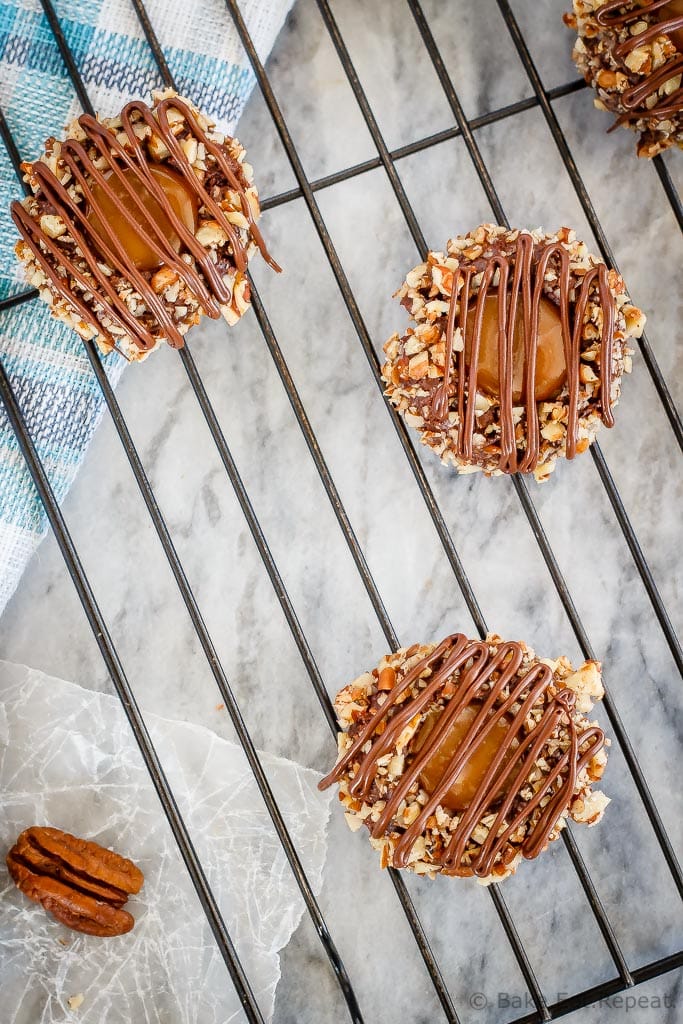 And, for some reason, even though I am always saying I don't like caramel, I do like turtles. I cannot tell you why that is, but there you go. It must be the chocolate.
These turtle thumbprint cookies do take a little while to make – they're a bit fussier then your standard drop cookie, what with the rolling in pecans and making an indent and filling it with caramel and all. But let me tell you, they are totally worth the extra time. Especially at Christmas when we're all a little more into the baking that takes a bit of extra time (I'm looking at you sugar cookies!).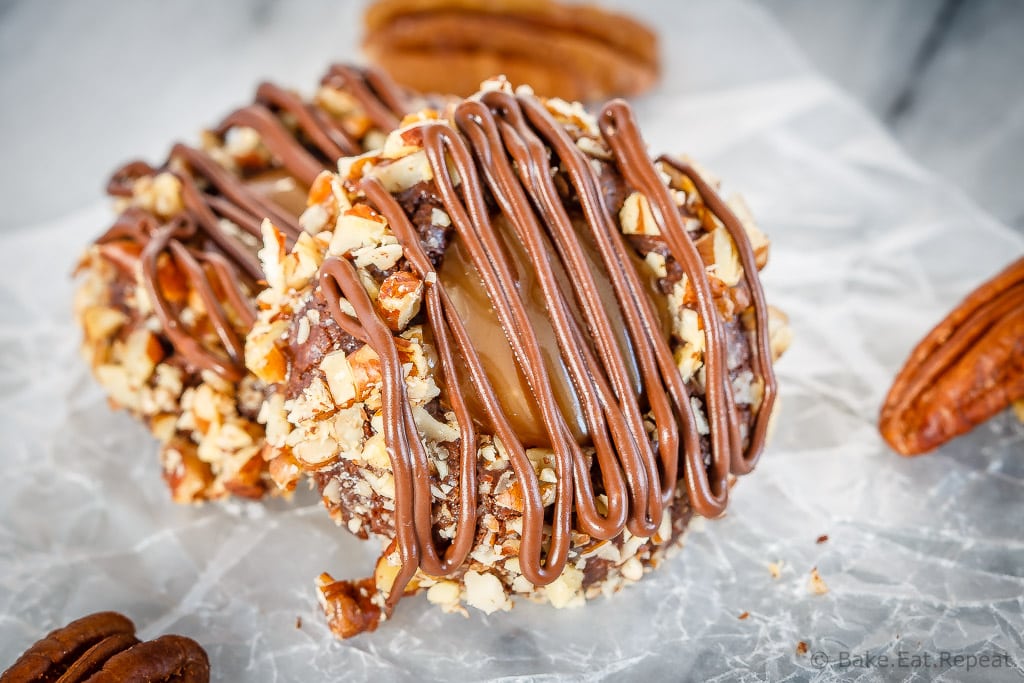 These cookies make the perfect addition to your holiday baking platter, and would be a delightful gift to receive if you like to make edible gifts at Christmas.
And can I just say that the salted caramel sauce is really worth making from scratch? You could use some from the store – but if you have the time to make it, it is amazing – and super, super easy. Plus, you won't use it all so then you'll have some delicious salted caramel sauce sitting in the fridge for something else. Which is always a good thing!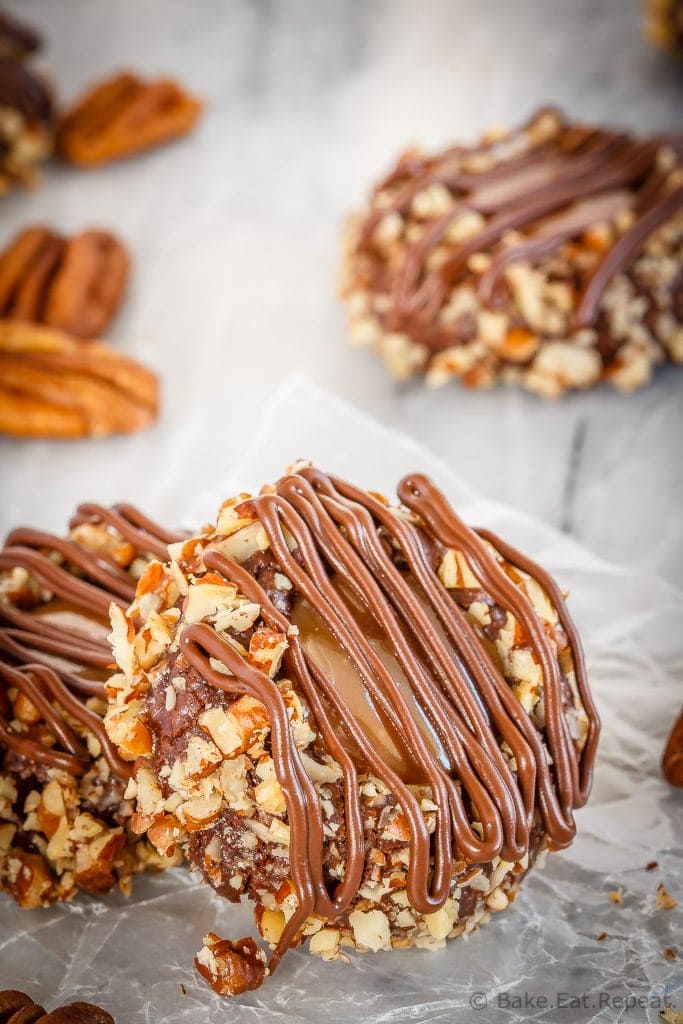 Tips for perfect Turtle Thumbprint Cookies:
This post contains affiliate links, meaning that if you make a purchase through these links, I may receive a small commission.