This sheet pan maple glazed salmon and vegetables is an easy, one pan meal that the whole family will love. And the maple glaze has just 3 ingredients!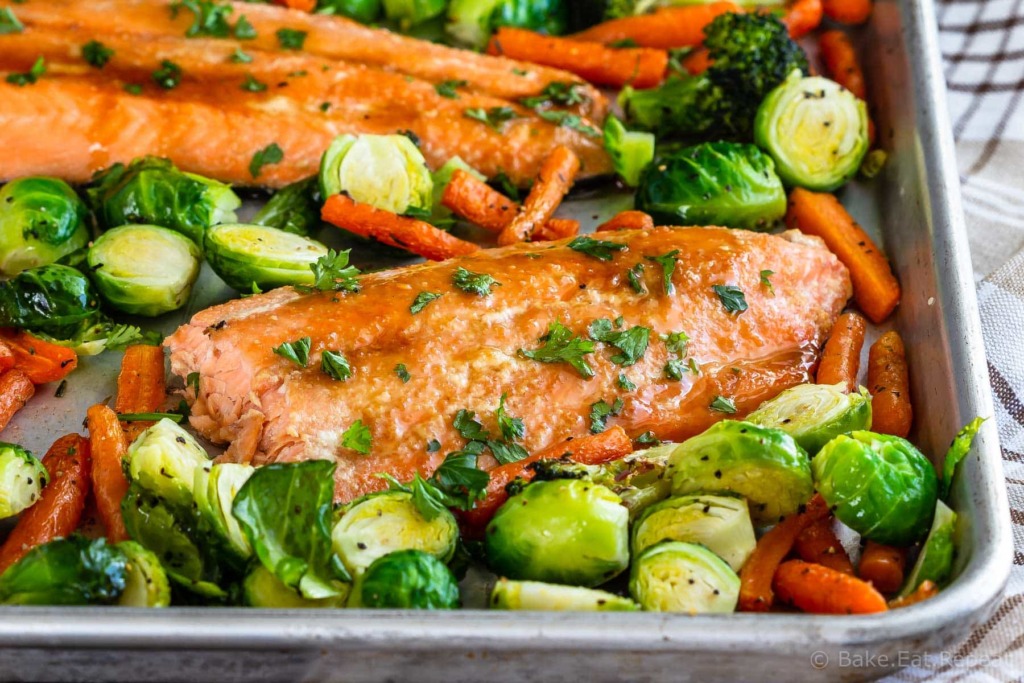 My entire family loves salmon. Even the kids.
Especially the kids.
I'm really happy about this because salmon is one of my favourite meals ever. If there's salmon on the menu at a restaurant, that's usually what I'm ordering.
It's just one of those meals that I never get tired of.
I love salmon plain and simple with a little lemon pepper and dill seasoning sprinkled on it. But I also like trying different recipes with it.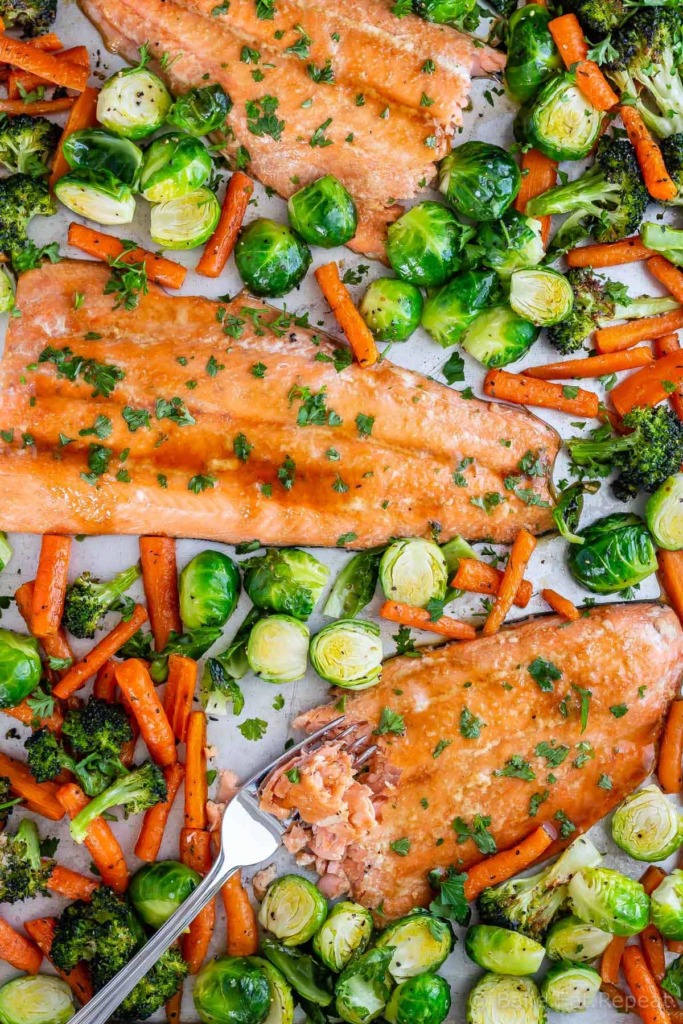 This sheet pan maple glazed salmon is beyond simple. Mix up the 3 ingredient glaze, spread it on the salmon and throw it in the oven. That's really all you need to do.
I've included directions for roasting the vegetables at the same time, so you don't need to worry about figuring out cook times. I've kept them simple, just tossed with olive oil and some seasoning, but you could easily glaze some of the veggies too if you like. Just increase the amount of glaze you make if you'd like to do that.
Or just make the maple glazed salmon and serve it with some dinner rolls and a salad. Simple and delicious.
That's my kind of meal.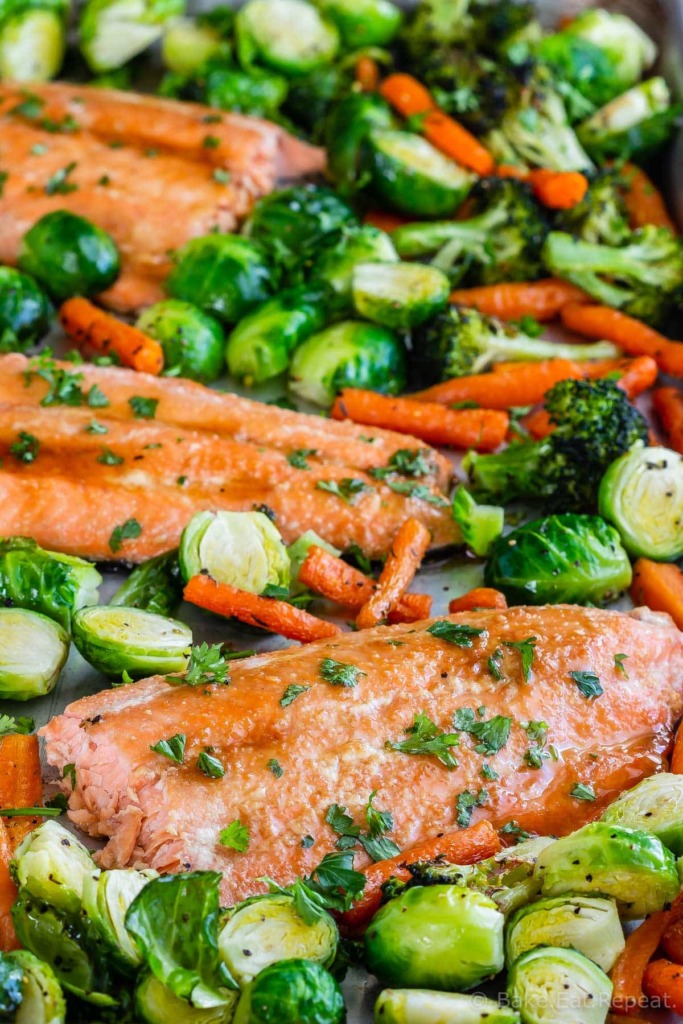 How do you make maple glaze for salmon?
Making a maple glaze for salmon is super easy. All it takes is 3 ingredients – maple syrup, soy sauce, and garlic. You could even make it with two ingredients and omit the garlic if you don't have any, or don't like it, and it would still be fantastic.
How long does it take to cook salmon in the oven?
It takes 15-18 minutes to cook salmon in the oven at 425 degrees F. The range is because of the varying thicknesses of salmon fillets. I find most salmon takes 15 minutes to cook at 425F, but if you have a really thick piece it will likely take a couple extra minutes.
It's easy to test if it's done. If your salmon flakes easily with a fork at the thickest part of the fillet, then it's done. Don't over-cook your fish as it will end up dry.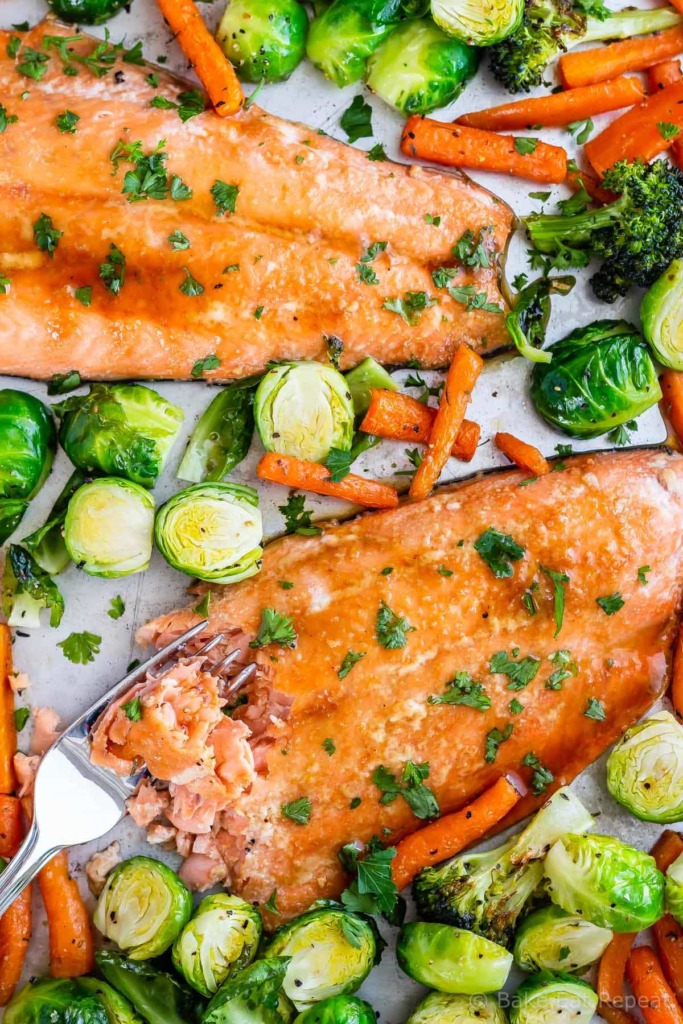 How to make perfect Maple Glazed Salmon:
You can easily change up the vegetables in this sheet pan maple glazed salmon recipe. I like broccoli, carrots, and brussels sprouts but use whatever you like. The broccoli and carrots take about 25 minutes to roast, so they go in ahead of the salmon and brussels sprouts. If you want roasted potatoes with your salmon instead, they take about 40 minutes to cook so plan accordingly.
Make sure to use pure maple syrup in your glaze.
I like to put the maple glaze just on the salmon, but if you want any of your vegetables glazed too, you can definitely make more glaze and toss some of your veggies with it.
For this recipe, I spread half the glaze on the salmon before roasting, and then add the rest at the end of the cook time. I then broil the salmon so the glaze caramelizes a little bit.
Here are a few more great salmon recipes for you: Chili Lime Baked Salmon, Crispy Salmon with Greek Orzo, and Honey Lemon Baked Salmon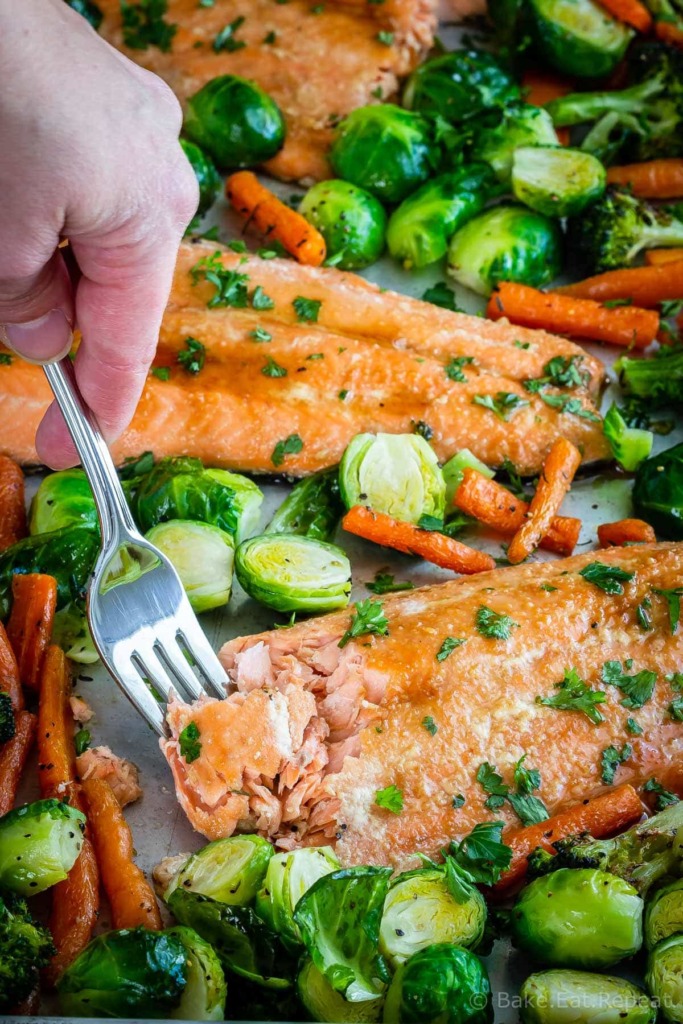 Yield: serves 4
Maple Glazed Salmon and Vegetables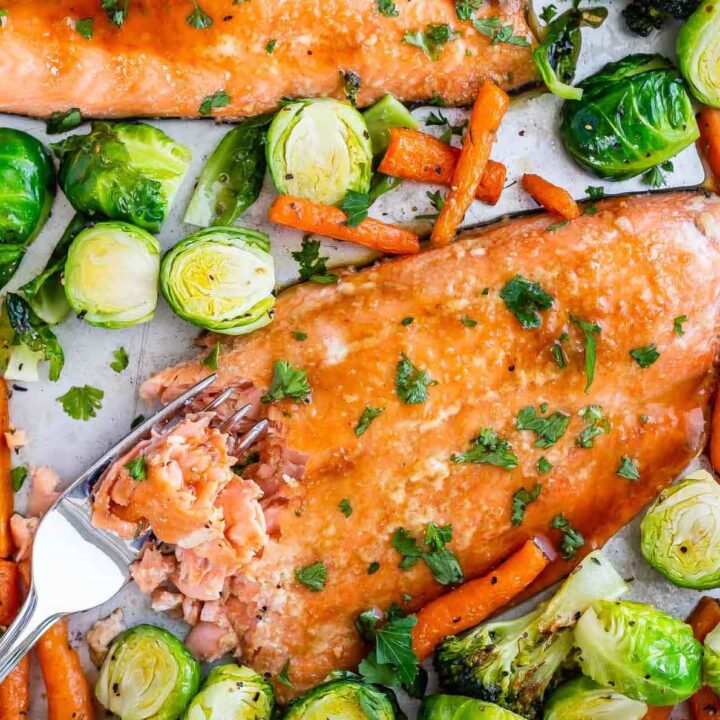 This sheet pan maple glazed salmon and vegetables is an easy, one pan meal that the whole family will love. And the maple glaze has just 3 ingredients!
Ingredients
8 ounces carrots, about 3 medium
8 ounces broccoli florets
1 pound brussels sprouts
2 tablespoons olive oil, divided
1 teaspoon kosher salt, divided
1/2 teaspoon coarse black pepper, divided
1/2 teaspoon garlic powder
2 pounds salmon
1/4 cup pure maple syrup
2 tablespoons soy sauce
2 cloves garlic, minced
1 tablespoons minced fresh parsley (optional)
Instructions
Preheat the oven to 425 degrees F. Line two rimmed baking sheets with parchment paper.
Slice the carrots into 2 inch pieces, and slice the pieces in half or quarters lengthwise (they should be about 2 inches by 1/2 inch). In a large bowl (or directly on the sheet pan) toss the carrots and broccoli florets with 1 tablespoon of the olive oil, 1/2 teaspoon of the salt, 1/4 teaspoon of the pepper, and the garlic powder. Spread them out on one of the sheet pans and place in the preheated oven. Set a timer for 10 minutes.
Slice the stem ends off of the brussels sprouts, then slice the sprouts in half lengthwise and remove any loose outer leaves. Toss the brussels sprouts with the remaining 1 tablespoon of olive oil, 1/2 teaspoon of salt, and 1/4 teaspoon of pepper. Spread them out on half of the other prepared sheet pan.
Place the salmon filets, skin side down, on the other half of the sheet pan. In a small bowl, whisk together the maple syrup, soy sauce and garlic. Brush half of the maple glaze onto the salmon.
When the timer goes, add the second sheet pan with the salmon and brussels sprouts to the oven, putting it on the top rack in the middle of the oven and moving the carrots and broccoli to the rack just below it. Roast for 15-18 minutes, or until the salmon flakes easily with a fork.
When the timer goes, remove the carrots and broccoli from the oven and tent with foil to keep them warm. Turn the broiler on high, brush the salmon with the remaining maple glaze, and broil for an additional 1-2 minutes, or until the glaze is bubbling. The brussels sprouts will be fine broiling for a couple minutes with the salmon.
Sprinkle everything with minced fresh parsley, if desired, and serve hot.
Recommended Products
This post contains affiliate links. As an Amazon Associate, I may receive a small commission from qualifying purchases.
Nutrition Information:
Yield:
4
Serving Size:
4
Amount Per Serving:
Calories:

368
Total Fat:

13.9g
Saturated Fat:

2.3g
Cholesterol:

69mg
Sodium:

1174mg
Carbohydrates:

34.5g
Fiber:

7.3g
Sugar:

18.2g
Protein:

30.9g
Nutrition Information is estimated based on ingredients used and may not be exact.