This sheet pan maple glazed salmon and vegetables is an easy, one pan meal that the whole family will love. And the maple glaze has just 3 ingredients!
My entire family loves salmon. Even the kids. Especially the kids.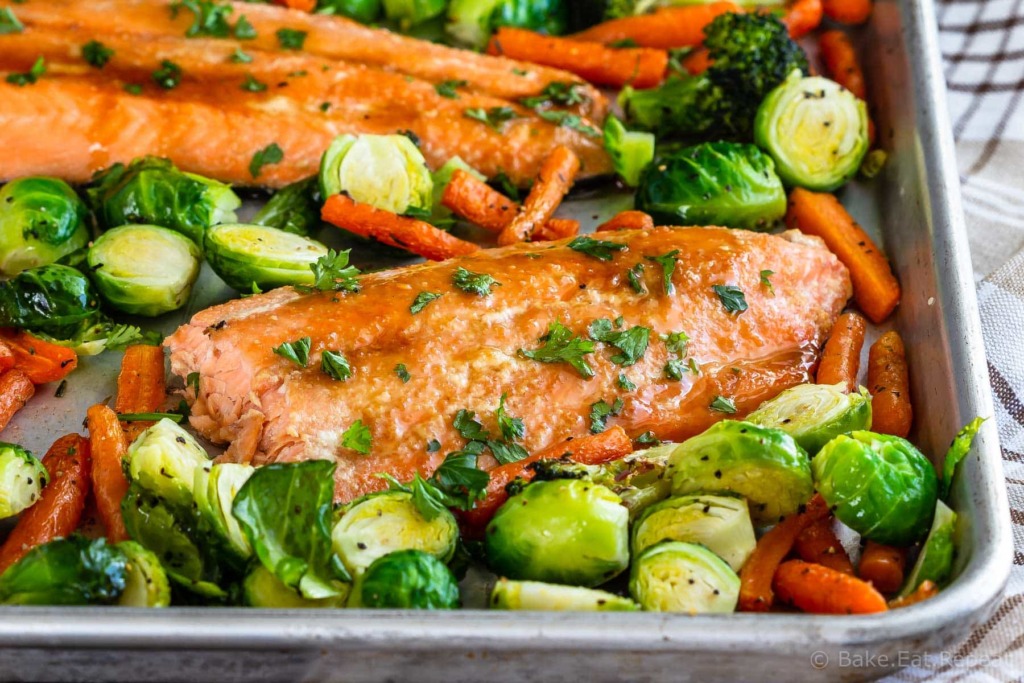 I'm really happy about this because salmon is one of my favourite meals ever. If there's salmon on the menu at a restaurant, that's usually what I'm ordering.
It's just one of those meals that I never get tired of.
I love salmon plain and simple with a little lemon pepper and dill seasoning sprinkled on it. But I also like trying different recipes with it.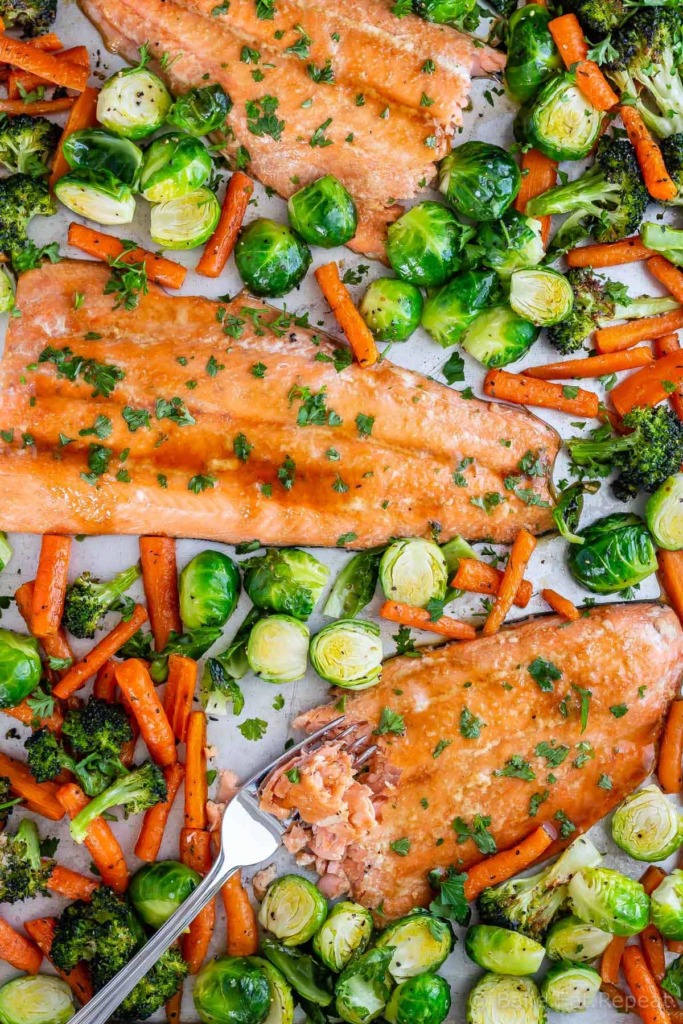 This sheet pan maple glazed salmon is beyond simple. Mix up the 3 ingredient glaze, spread it on the salmon and throw it in the oven. That's really all you need to do.
I've included directions for roasting the vegetables at the same time, so you don't need to worry about figuring out cook times. I've kept them simple, just tossed with olive oil and some seasoning, but you could easily glaze some of the veggies too if you like. Just increase the amount of glaze you make if you'd like to do that.
Or just make the maple glazed salmon and serve it with some dinner rolls and a salad. Simple and delicious.
That's my kind of meal.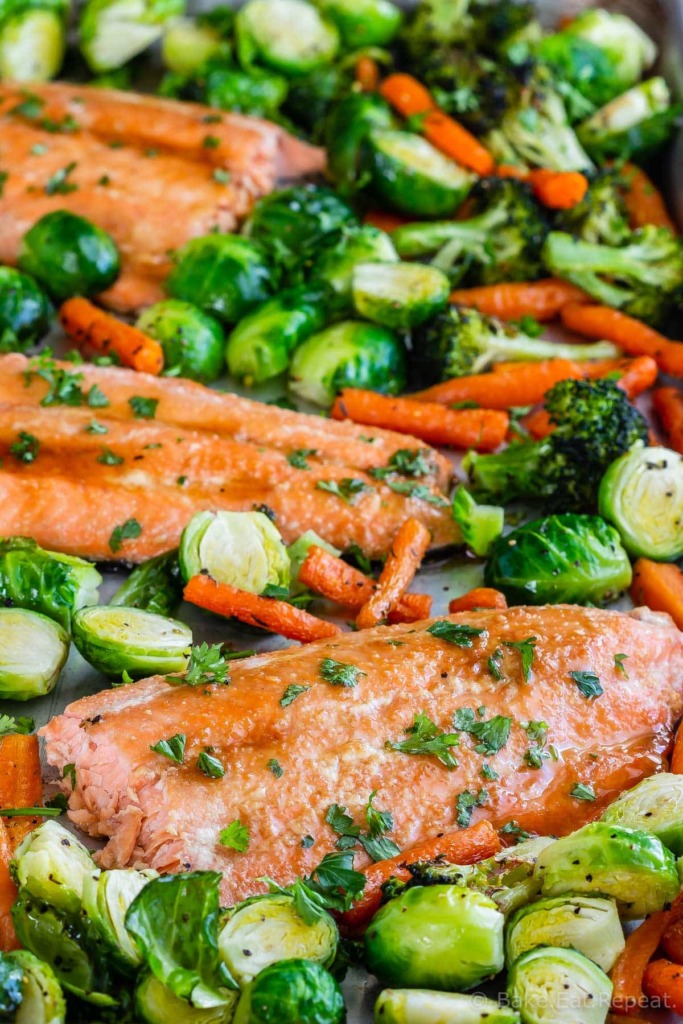 How do you make maple glaze for salmon?
Making a maple glaze for salmon is super easy. All it takes is 3 ingredients – maple syrup, soy sauce, and garlic. You could even make it with two ingredients and omit the garlic if you don't have any, or don't like it, and it would still be fantastic.
How long does it take to cook salmon in the oven?
It takes 15-18 minutes to cook salmon in the oven at 425 degrees F. The range is because of the varying thicknesses of salmon fillets. I find most salmon takes 15 minutes to cook at 425F, but if you have a really thick piece it will likely take a couple extra minutes.
It's easy to test if it's done. If your salmon flakes easily with a fork at the thickest part of the fillet, then it's done. Don't over-cook your fish as it will end up dry.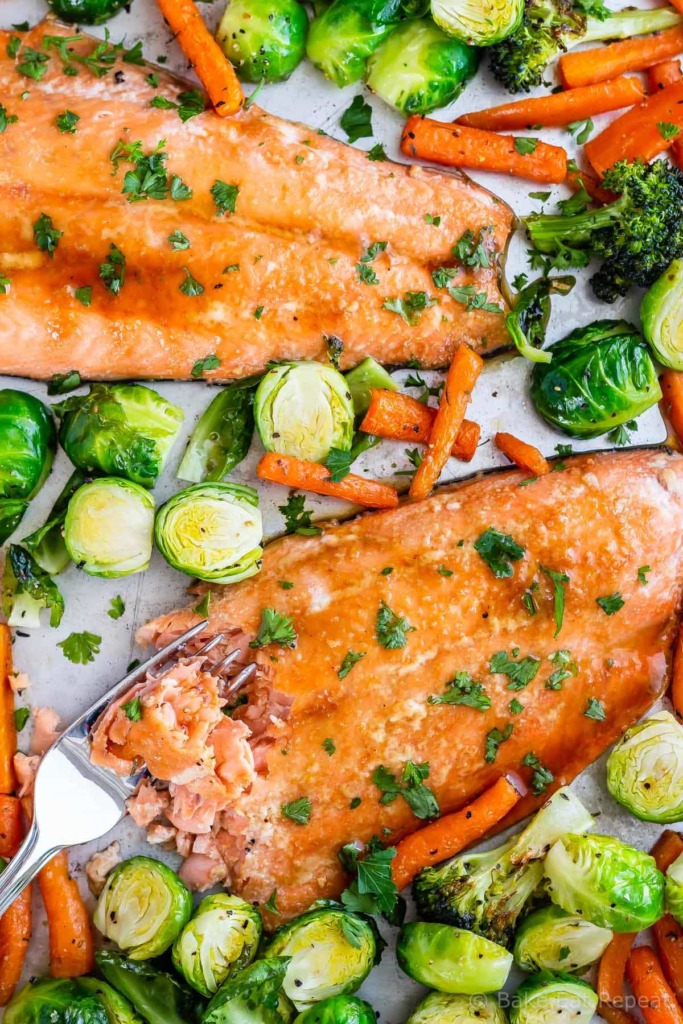 How to make Maple Glazed Salmon:
You can easily change up the vegetables in this sheet pan maple glazed salmon recipe. I like broccoli, carrots, and brussels sprouts but use whatever you like. The broccoli and carrots take about 25 minutes to roast, so they go in ahead of the salmon and brussels sprouts. If you want roasted potatoes with your salmon instead, they take about 40 minutes to cook so plan accordingly.
Make sure to use pure maple syrup in your glaze.
I like to put the maple glaze just on the salmon, but if you want any of your vegetables glazed too, you can definitely make more glaze and toss some of your veggies with it.
For this recipe, I spread half the glaze on the salmon before roasting, and then add the rest at the end of the cook time. I then broil the salmon so the glaze caramelizes a little bit.
Here are a few more great salmon recipes for you: