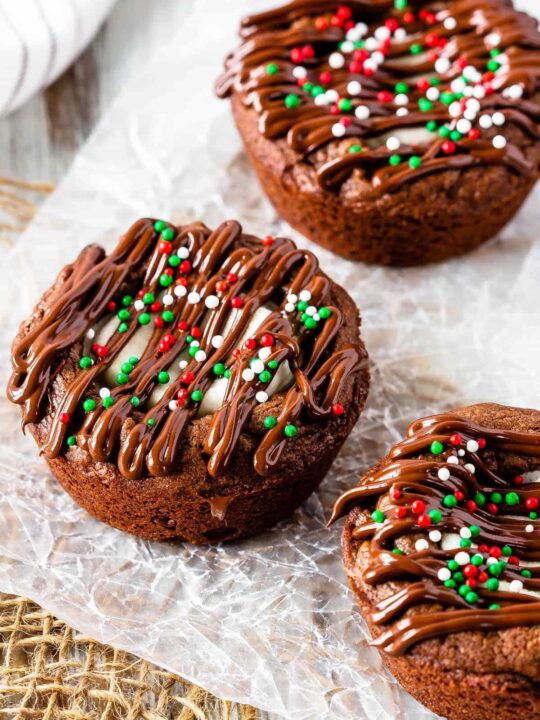 These hot chocolate brownies are easy to make and taste fantastic. A chewy brownie cup topped with a marshmallow and drizzled in melted chocolate – they're amazing!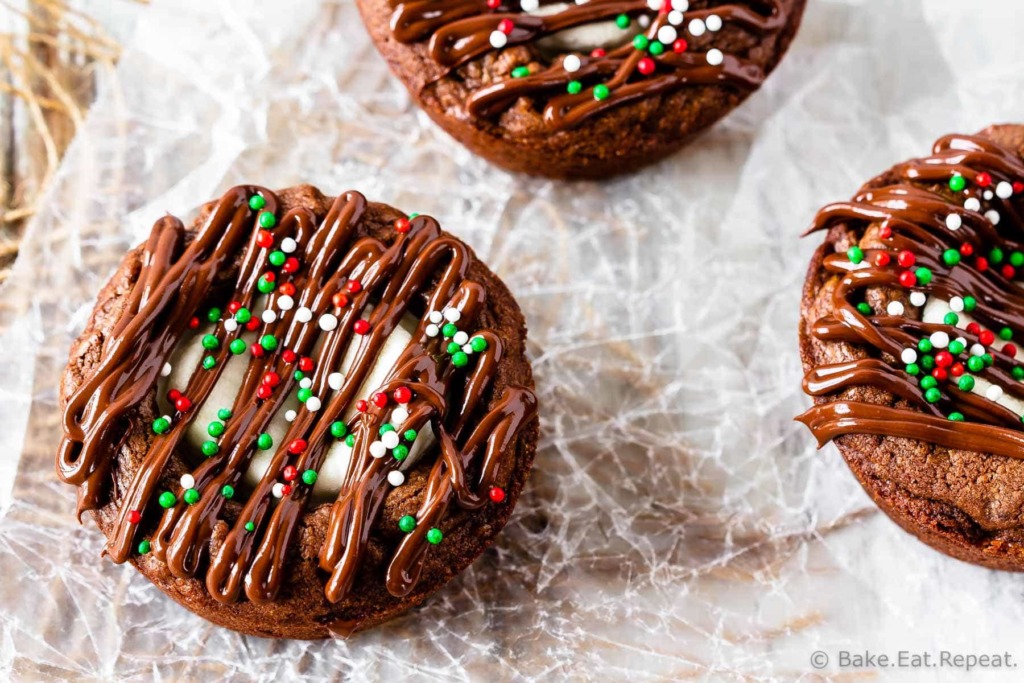 These hot chocolate brownies are magical. Really.
Brownies are definitely one of my favourite treats ever. I actually can't let myself make them very often because it's very difficult to not just eat half the pan myself. So I just try not to make them too often!
But I don't really like marshmallows all that much.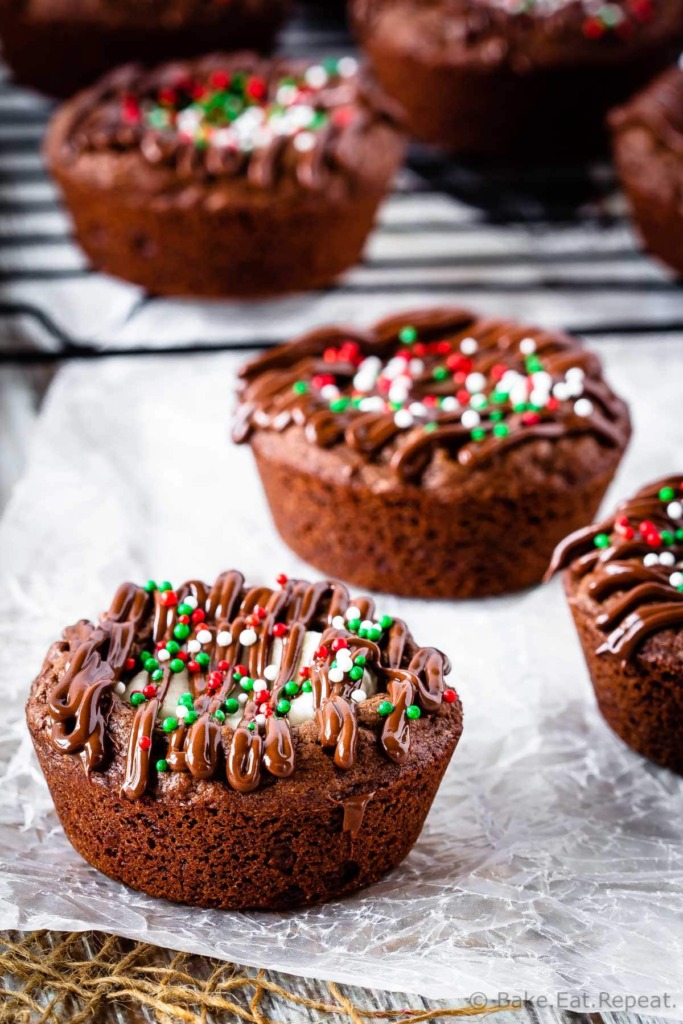 I know, I'm crazy, who doesn't like marshmallows? But really, if it's not toasted over a fire and made into a s'more, why bother? And really, it's probably just the melty chocolate and graham crackers I enjoy there.
So the fact that these hot chocolate brownies were so good that after trying one, I immediately set three aside for my kids and sent the rest to my husband's office so they wouldn't be tempting me, tells you how good they were. Because I even enjoyed the marshmallow portion of this treat.
I feel like that's saying something.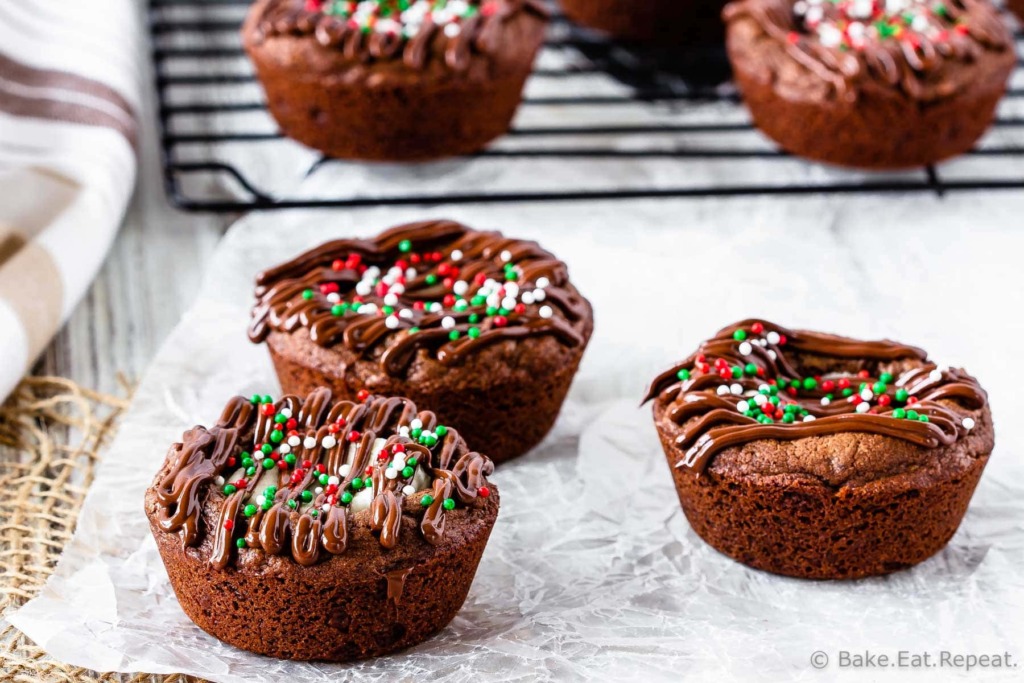 Or maybe I just like chocolate.
Regardless, these hot chocolate brownies are divine. And you should probably drop everything and go make them right now.
These are perfect for Christmas, or just as a fun treat. Because they're magical. Really.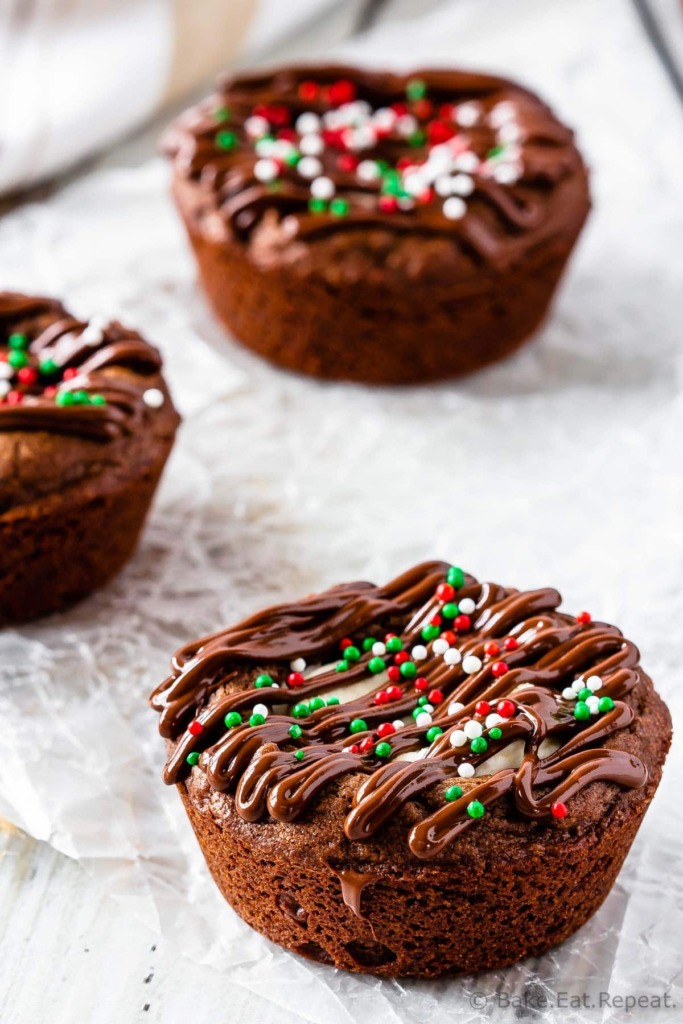 Can you use hot chocolate powder instead of cocoa powder in brownies?
No, you cannot substitute hot chocolate powder for cocoa powder in brownies. Hot chocolate powder is made from powdered milk, chocolate, and sugar.
Cocoa powder is made from cocoa beans and does not have any added sugar. Make sure you're using unsweetened cocoa powder – this is the kind I always use.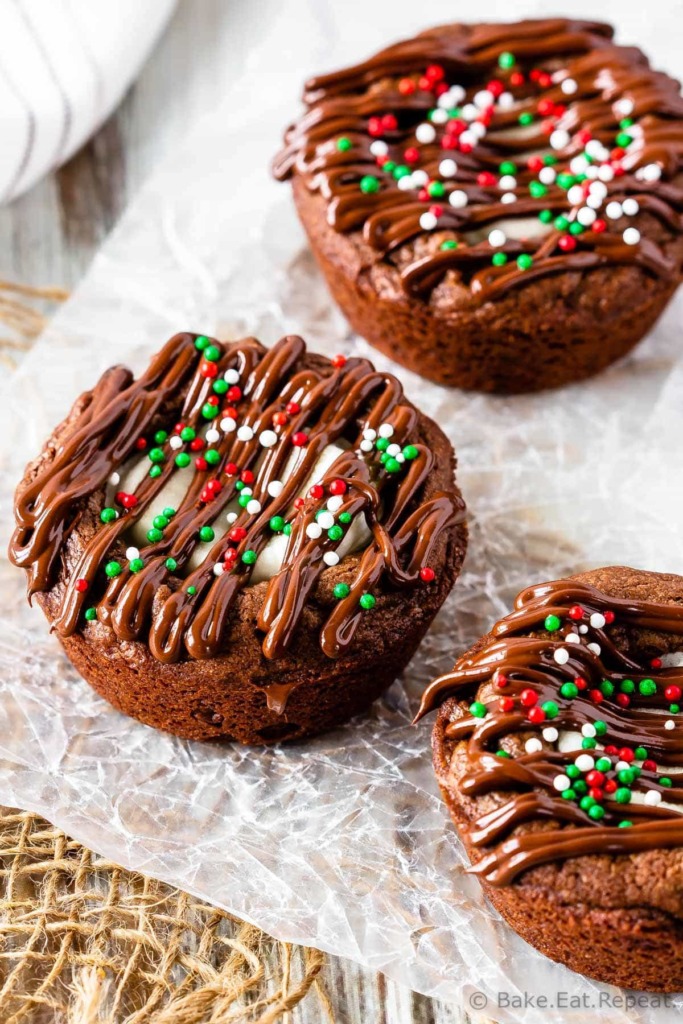 How to make Hot Chocolate Brownies:
These hot chocolate brownies mix up very quickly and easily. Since they're individual brownies though, you need to portion the batter into a muffin tin rather then dump it all into a baking pan. Still very easy to make though, so don't let that stop you!
Make sure to spray the muffin tin with non-stick cooking spray or your brownies may stick.
With these hot chocolate brownie cups, you need to let them cool completely in the muffin tin before removing them. If you try to take them out before they're cool, they'll fall apart on you. Be patient and wait, and they will pop out easily by sliding a butter knife into the muffin tin beside the brownie cup.
These are definitely large brownies – more of a dessert then a snack. But I think that they would work well as mini brownie cups too if you prefer, although I haven't tried it yet. If you want to try that so they're not so big, I would suggest decreasing the baking time a bit, probably about 6 minutes, top with a mini marshmallow, and then another 1-2 until the marshmallow is puffed.
Here are some more great brownies for you to try:
Yield: 12 brownies
Hot Chocolate Brownies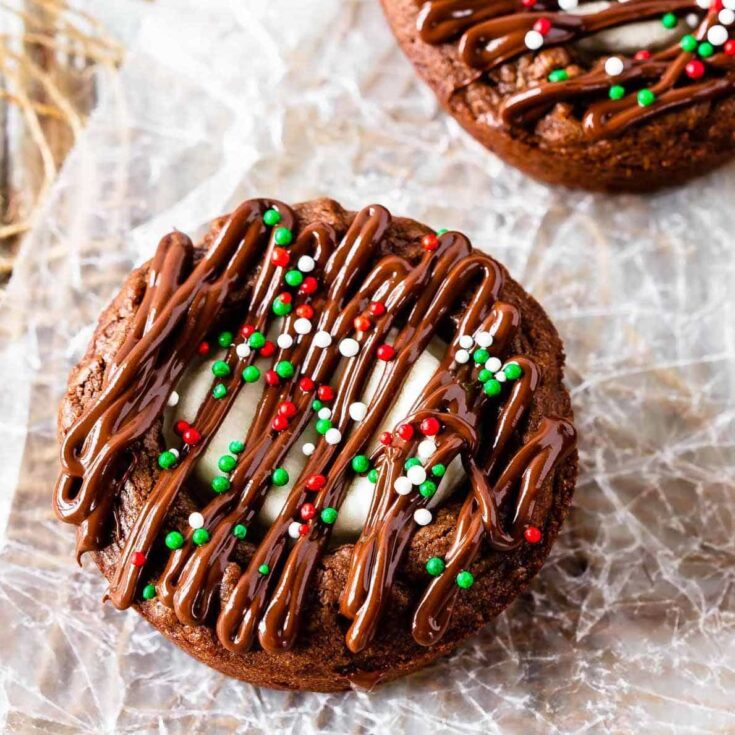 These hot chocolate brownies are easy to make and taste fantastic. A chewy brownie cup topped with a marshmallow and drizzled in melted chocolate - they're amazing!
Ingredients
2/3 cup unsalted butter, softened
3/4 cup granulated sugar
1/2 cup brown sugar, lightly packed
1 teaspoon vanilla
2 large eggs
1 1/2 cups all purpose flour
1/2 cup unsweetened cocoa powder
1/2 teaspoon salt
1/4 teaspoon baking soda
1/2 cup mini semi sweet chocolate chips
6 large marshmallows, cut in half
1/3 cup chopped semi-sweet chocolate (or chocolate chips)
sprinkles (optional)
Instructions
Preheat the oven to 350 degrees F. Lightly spray a muffin tin with non-stick cooking spray and set aside.
In the bowl of a stand mixer, or with an electric mixer, cream together the butter, sugar, brown sugar, and vanilla until light and fluffy.
Add the eggs and mix again until well combined.
Whisk together the flour, cocoa powder, salt, and baking soda.
Add the dry ingredients to the butter mixture and mix until well combined.
Stir in the mini chocolate chips.
Scoop the brownie batter into the prepared muffin tin, dividing it evenly between the 12 muffin cups, and smooth the tops.
Bake for 7-8 minutes, or until the tops are just starting to set. Do not over-bake, they will be baking for a few more minutes so they shouldn't be done yet.
Remove the brownies from the oven and press half a marshmallow (cut side down) into the middle of each brownie.
Return the brownies to the oven and bake for another 2-3 minutes, until the marshmallows are puffed and the brownies are done. Keep an eye on them.
Let the brownie cups cool completely before removing them from the muffin tin, then pop them out carefully by sliding a butter knife into the muffin tin next to the brownie.
Melt the chopped chocolate in the microwave at 50% power for 2-3 minutes, stirring every 30 seconds until it is almost melted. Continue stirring until it is completely melted and spoon it into a piping bag or a ziplock bag.
Snip the corner from the ziplock bag and drizzle the chocolate over top of the cooled brownies. Add some sprinkles if you like.
Store in an airtight container at room temperature for 3-5 days.
Recommended Products
This post contains affiliate links. As an Amazon Associate, I may receive a small commission from qualifying purchases.
Nutrition Information:
Yield:
12
Serving Size:
1 brownie
Amount Per Serving:
Calories:

326
Total Fat:

16g
Saturated Fat:

9.8g
Cholesterol:

58mg
Sodium:

214mg
Carbohydrates:

46.2g
Fiber:

2.7g
Sugar:

29.3g
Protein:

3.5g