These classic peanut butter cookies are a bit crisp and crumbly, full of peanut butter flavour, and super easy to make. They have that classic cross hatch pattern on top, and are the perfect snack or dessert!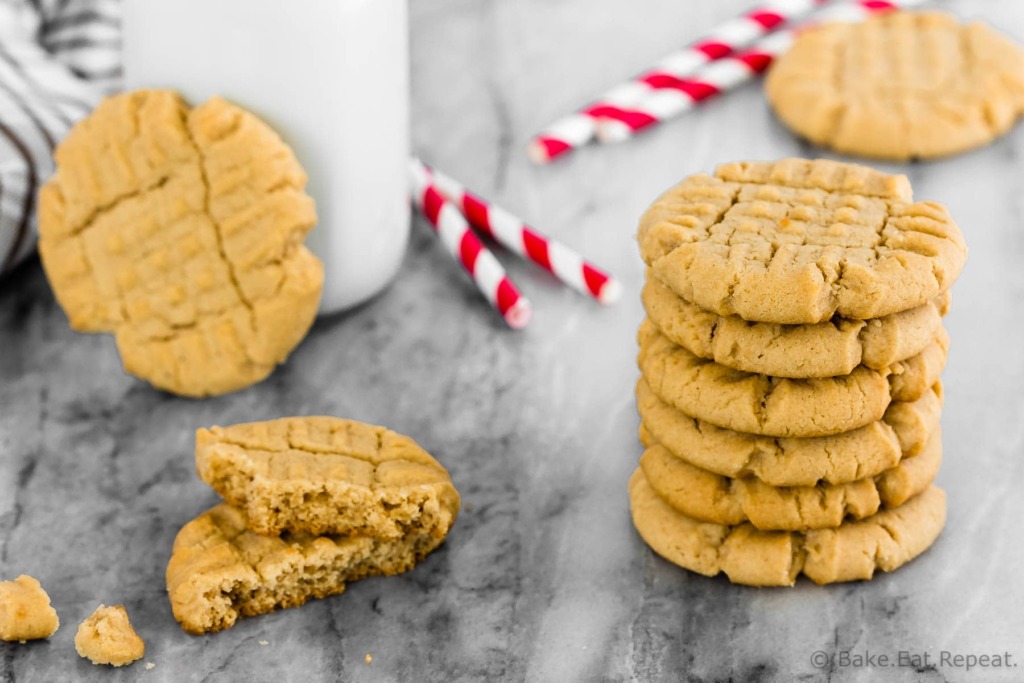 I love peanut butter cookies.
They might even win against chocolate chip cookies, which is a little weird. Usually I go for anything chocolate first, but peanut butter cookies? They are just the best.
It's pretty clear that we're peanut butter fans around here. So many peanut buttery recipes on this site! These chewy 3 ingredient peanut butter cookies are amazing, and so easy to make. These peanut butter energy balls are like a no bake peanut butter oatmeal cookie and are perfect for a quick energy filled snack. These oatmeal peanut butter bars taste a bit like a monster cookie, but are actually fairly healthy.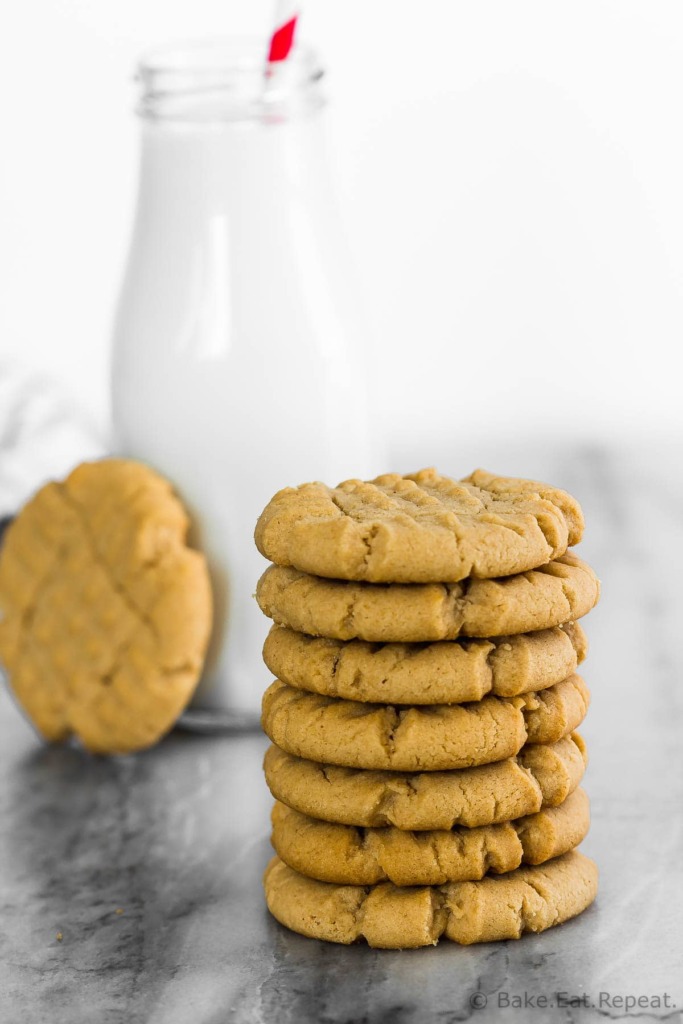 And….I could go on. So many peanut butter recipes and really, they're all good. The trick is deciding which to make when you're hankering after a peanut buttery snack!
But these particular peanut butter cookies? They're pretty amazing too.
It's a classic peanut butter cookie (with the cross hatch pattern on top that peanut butter cookies just need to have) that is a bit crisp, a bit crumbly, and basically reminds me of the peanut butter cookies my mom used to make when I was a kid.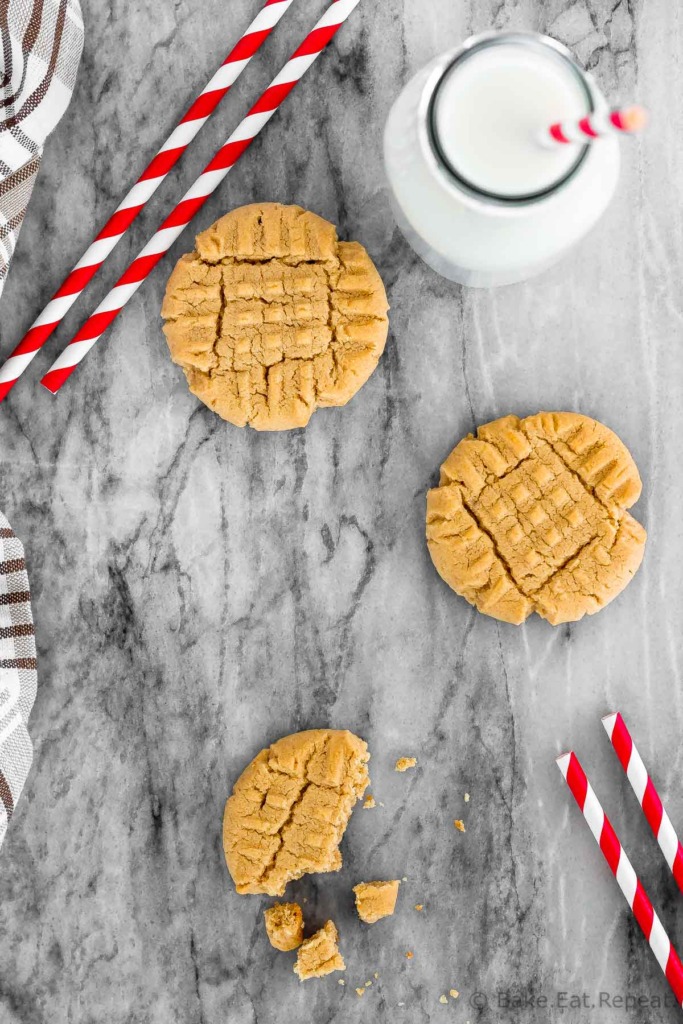 In fact, they probably are the peanut butter cookies that my mom used to make, since I found this recipe stashed in her old recipe binder. I remember as a kid coming in the door after school and immediately smelling these cookies if she had made them that day. That always made for the best after school snack!
My kids agree – these cookies are pretty fantastic – and perfect for those after school munchies!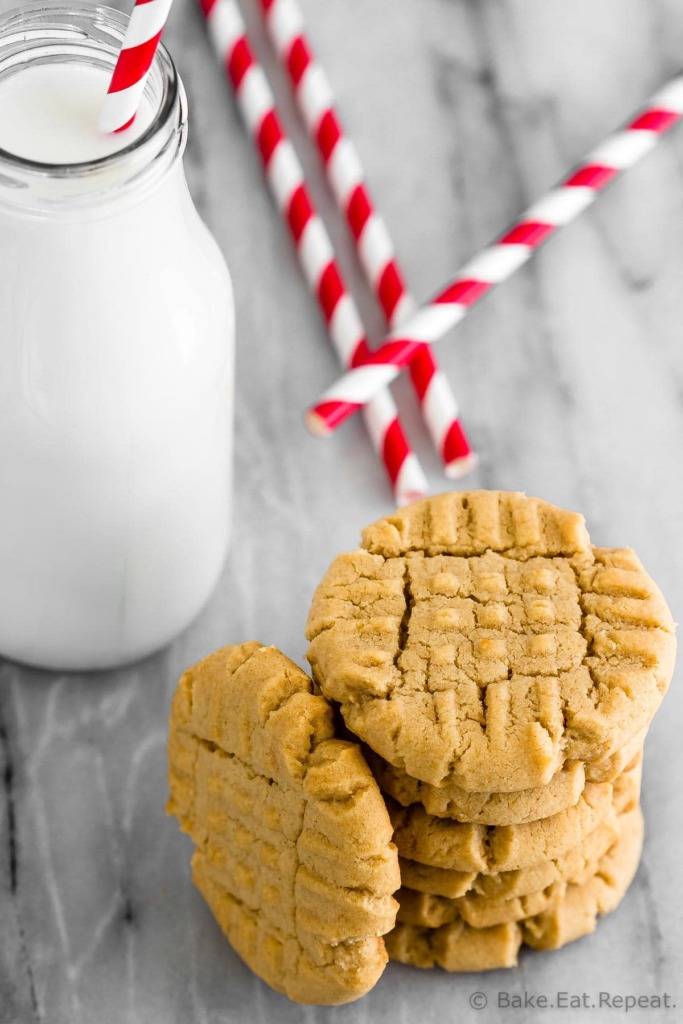 Tips for perfect Peanut Butter Cookies:
I use a cookie scoop to shape the dough into balls and then press them down with a fork – if you find your fork is sticking to the dough, dip it in granulated sugar to prevent that
I love these baking sheets for lining my pans instead of parchment paper – they're reusable and work really well
don't over-bake these cookies or you'll end up with really crunchy cookies – they will look a bit under done when you take them out of the oven, but that's okay, they firm up as they cool
here are some more fantastic peanut butter cookie recipes for you: Peanut Butter Brookie Cups, Mini Peanut Butter Chocolate Chip Cookie Cups, and No Bake Peanut Butter Cookie Cups