These raspberry lemon cookies are ultra soft and chewy – quick and easy to make and so tasty everyone loves them. One of the best cookies I've made!
If you're here looking for a copycat recipe for Subway's Raspberry Lemonade Cookies, I also have a recipe for those here!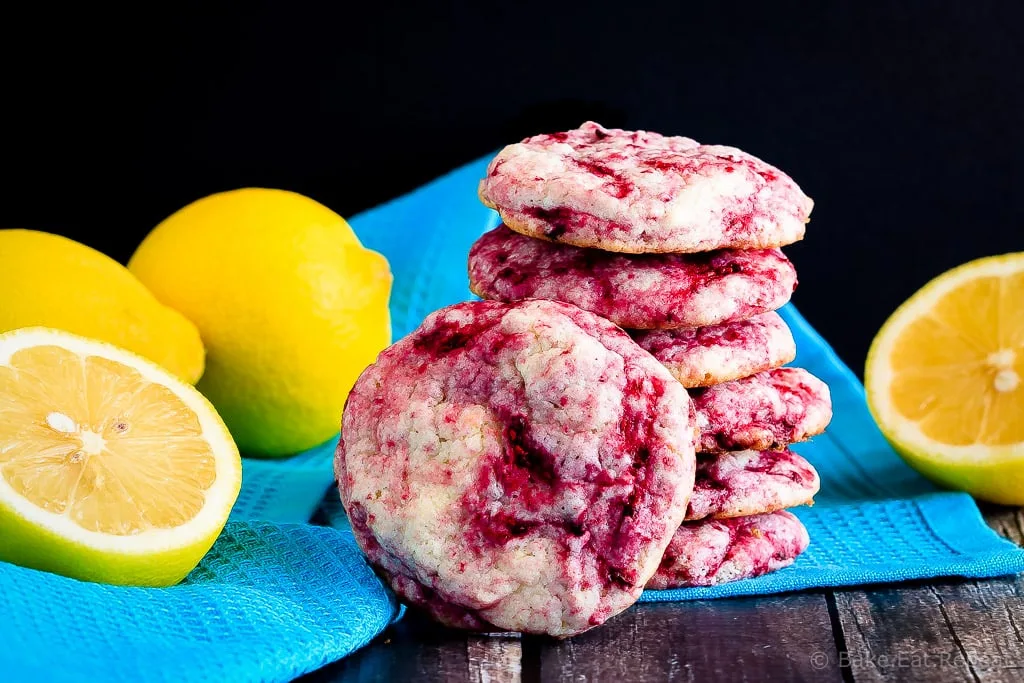 Raspberry lemon cookies. That may be all you need to know about this recipe before you rush to the kitchen to immediately make them. If you're anything like me, that is.
Cookies plus that incredible raspberry lemon combination all in one little treat? Doesn't get a whole lot better.
Raspberry lemon is one of the few combos that doesn't involve chocolate that I absolutely adore.
These Lemon Raspberry Sweet Rolls are probably one of my favourite breakfast indulgences ever – and it's because of the raspberry lemon combo. Just so, so good.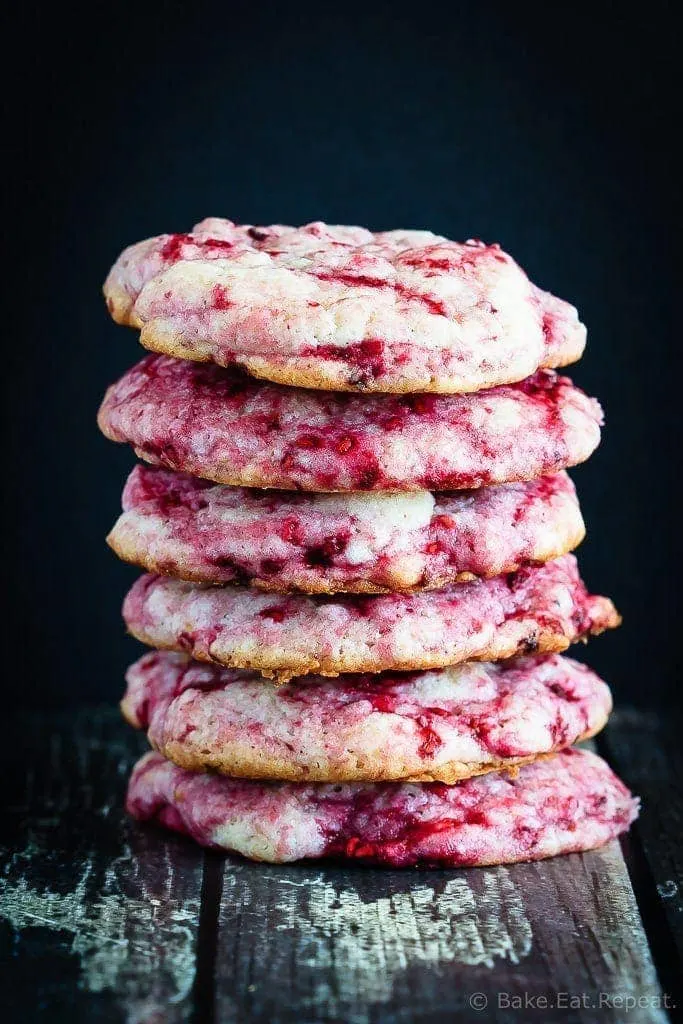 These cookies are amazing.
They have been the most popular recipe on my blog since I first posted it a year and a half ago – and for good reason.
I haven't had anyone tell me they don't like them. A soft, chewy, lemon flavoured cookie filled with raspberries just can't really be bad!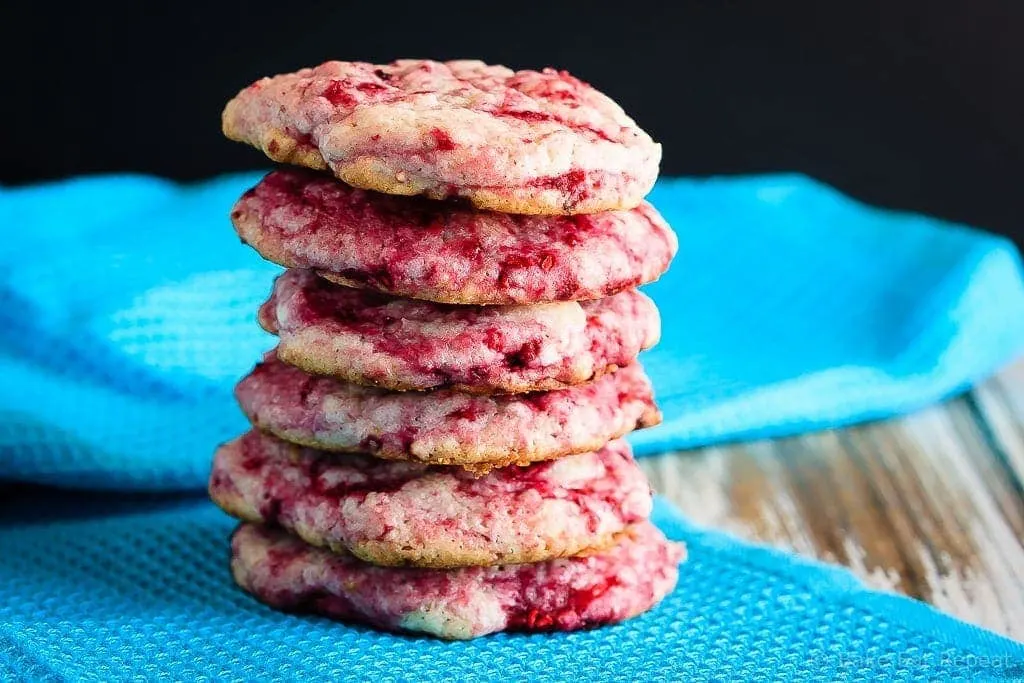 In fact, that combo is so good that I've also come up with another version that is a copycat recipe for Subway's Raspberry Lemonade Cookies. Those ones are fantastic too.
They have white chocolate chips, some cream cheese in the cookie dough, and raspberry candies instead of real raspberries, if you're looking for another version to try!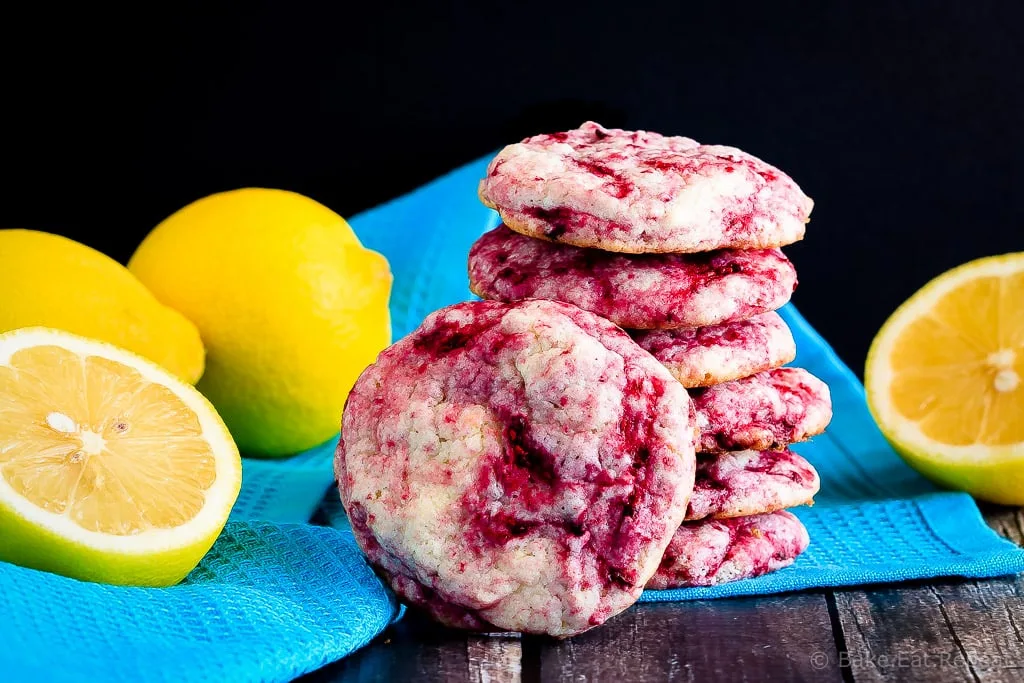 These raspberry lemon cookies can be ugly. I will say that that's a possibility.
Using frozen raspberries in the dough makes for a super sticky cookie dough, so you need to mix them in quickly right at the end, and straight from the freezer to keep it from being just ridiculous.
You also need to make sure not to mix the dough too much once you add the raspberries – just a quick mix to incorporate them and leave it at that.
If you mix for too long they'll still taste great, but you won't get the nice pretty swirls of colour.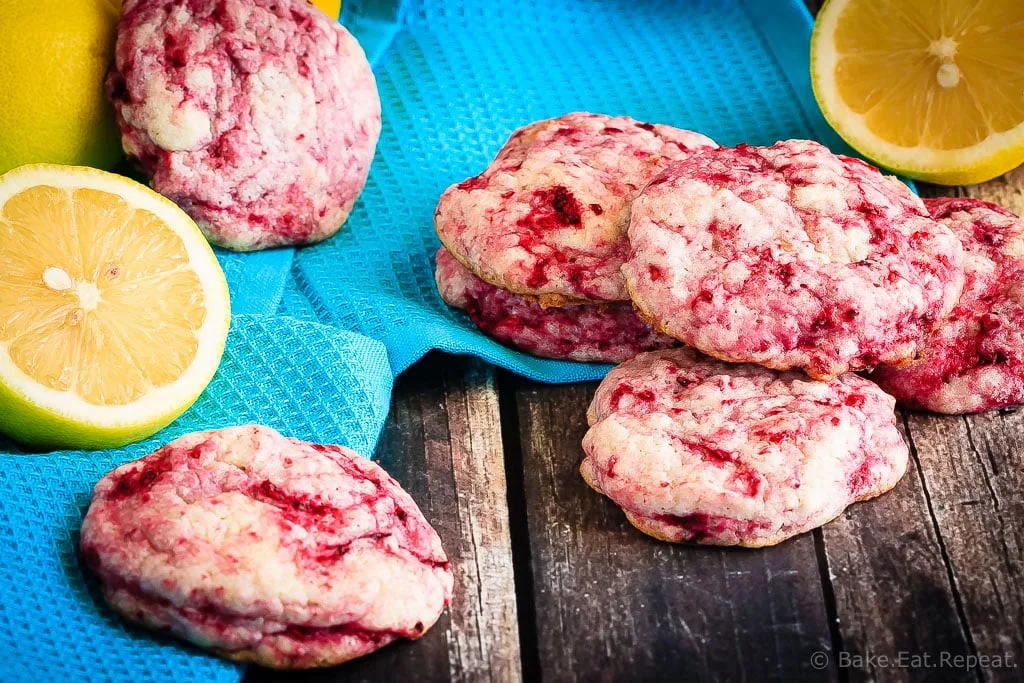 You also want to scoop the dough quickly onto the cookie sheet to bake.
I find a cookie scoop works the best, or just using a couple spoons for a simple drop cookie.
Don't try to form them into nice perfect cookie dough balls with your hands. You'll regret it – trust me. Big, big mess.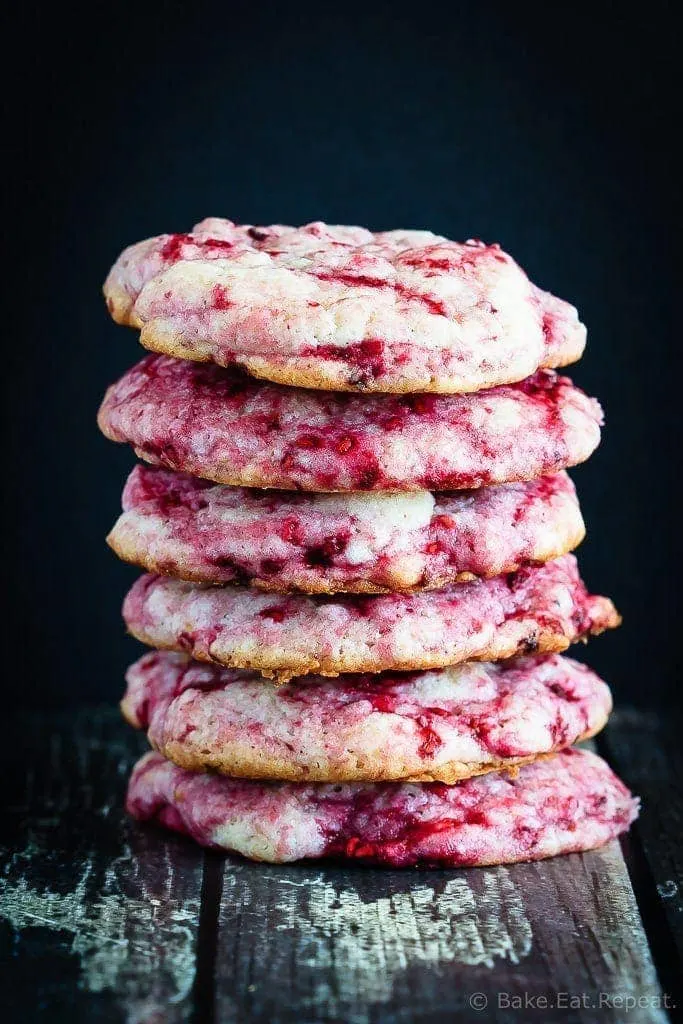 This recipe makes 24 cookies, so I usually get one tray in the oven and then stick the rest of the cookie dough into the fridge until I can bake it so that it doesn't get any softer.
Besides that I don't do a chill time with this cookie dough. I've tried it, but didn't find it made for better cookies – so I don't bother.
Soft and chewy raspberry lemon cookies. You should probably make them.
How to make Raspberry Lemon Cookies:
Here are some other raspberry recipes you will love: