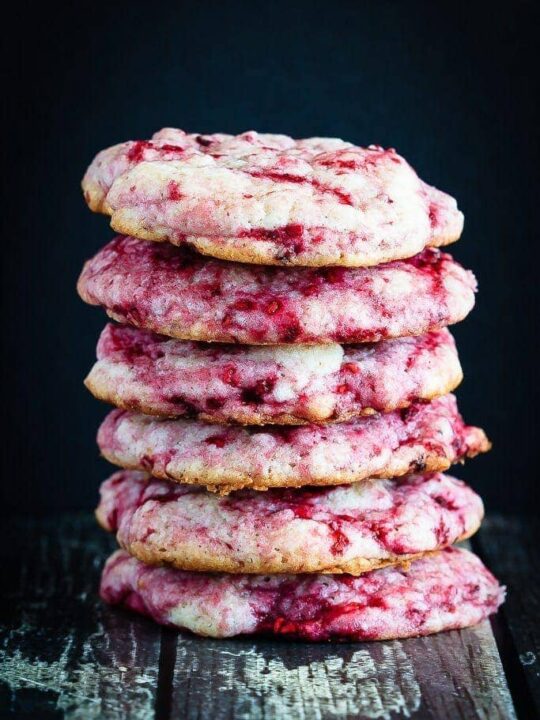 These raspberry lemon cookies are ultra soft and chewy – quick and easy to make and so tasty everyone loves them. One of the best cookies I've made!
If you're here looking for a copycat recipe for Subway's Raspberry Lemonade Cookies, I also have a recipe for those here!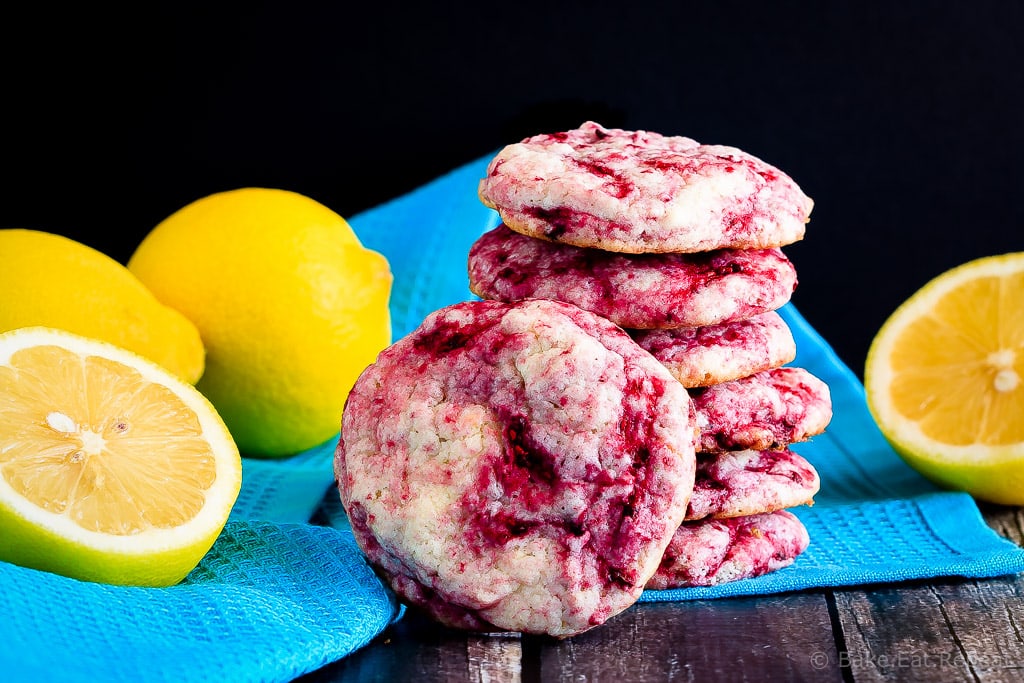 Raspberry lemon cookies. That may be all you need to know about this recipe before you rush to the kitchen to immediately make them. If you're anything like me, that is.
Cookies plus that incredible raspberry lemon combination all in one little treat? Doesn't get a whole lot better.
Raspberry lemon is one of the few combos that doesn't involve chocolate that I absolutely adore.
These Lemon Raspberry Sweet Rolls are probably one of my favourite breakfast indulgences ever – and it's because of the raspberry lemon combo. Just so, so good.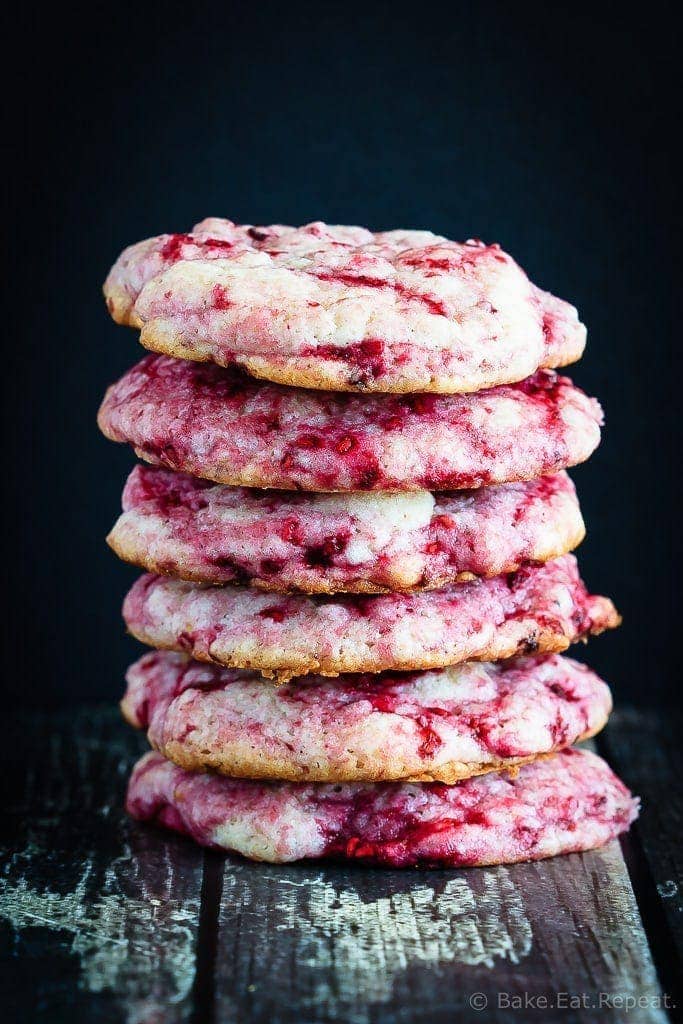 These cookies are amazing.
They have been the most popular recipe on my blog since I first posted it a year and a half ago – and for good reason.
I haven't had anyone tell me they don't like them. A soft, chewy, lemon flavoured cookie filled with raspberries just can't really be bad!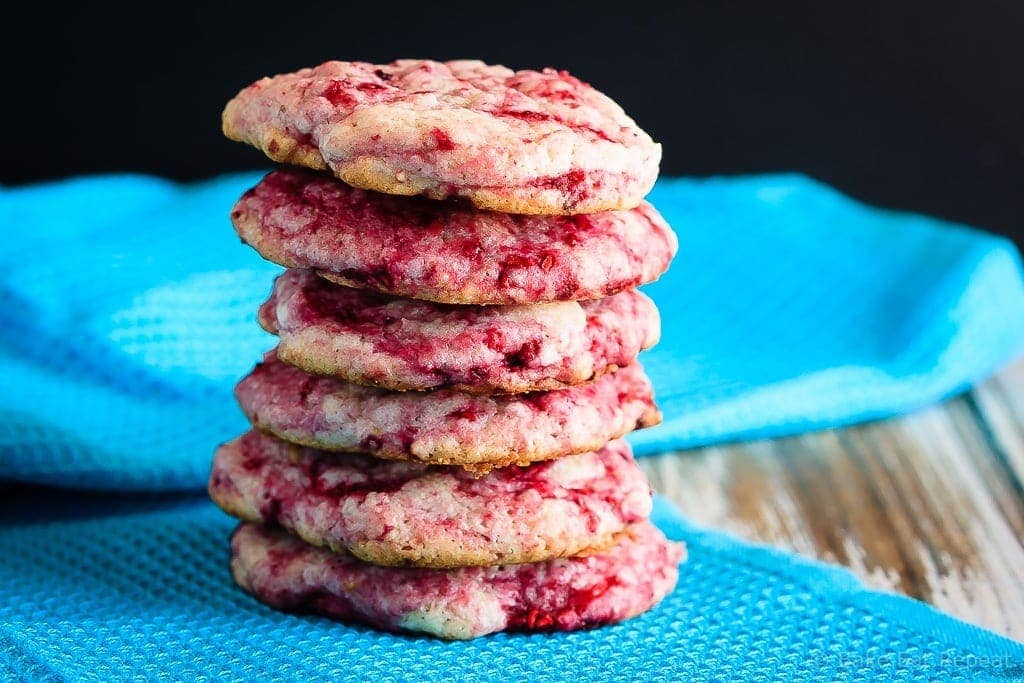 In fact, that combo is so good that I've also come up with another version that is a copycat recipe for Subway's Raspberry Lemonade Cookies. Those ones are fantastic too.
They have white chocolate chips, some cream cheese in the cookie dough, and raspberry candies instead of real raspberries, if you're looking for another version to try!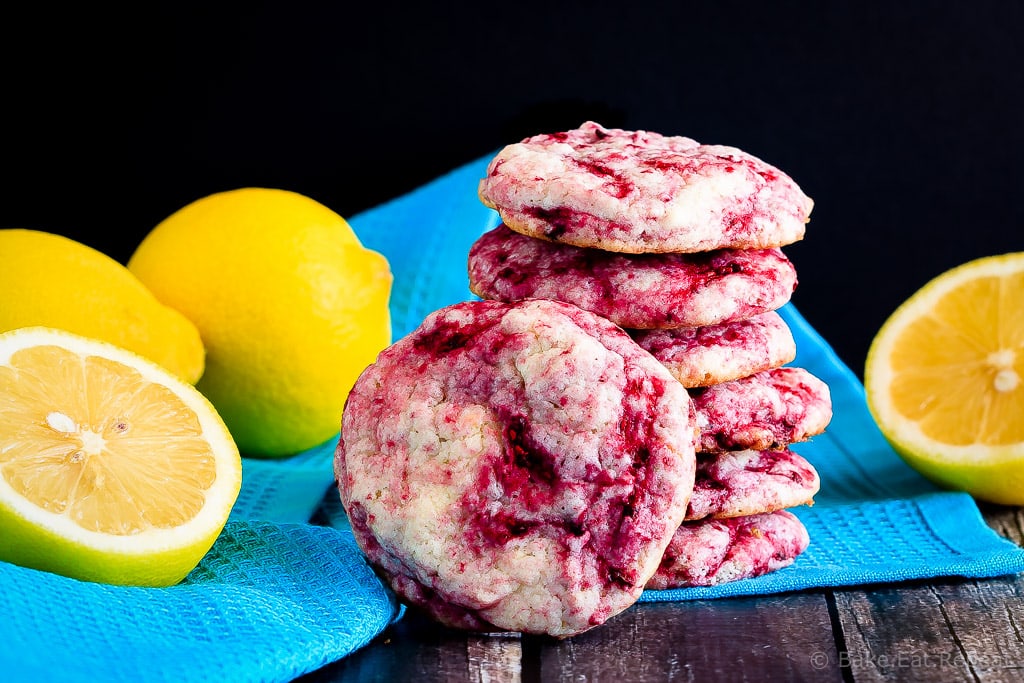 These raspberry lemon cookies can be ugly. I will say that that's a possibility.
Using frozen raspberries in the dough makes for a super sticky cookie dough, so you need to mix them in quickly right at the end, and straight from the freezer to keep it from being just ridiculous.
You also need to make sure not to mix the dough too much once you add the raspberries – just a quick mix to incorporate them and leave it at that.
If you mix for too long they'll still taste great, but you won't get the nice pretty swirls of colour.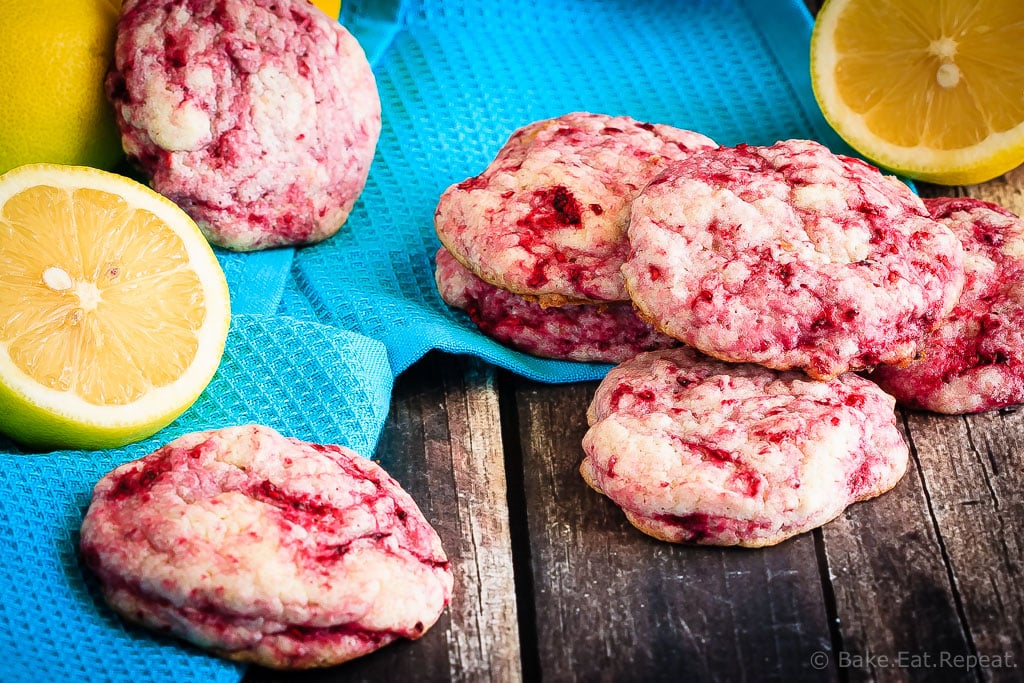 You also want to scoop the dough quickly onto the cookie sheet to bake.
I find a cookie scoop works the best, or just using a couple spoons for a simple drop cookie.
Don't try to form them into nice perfect cookie dough balls with your hands. You'll regret it – trust me. Big, big mess.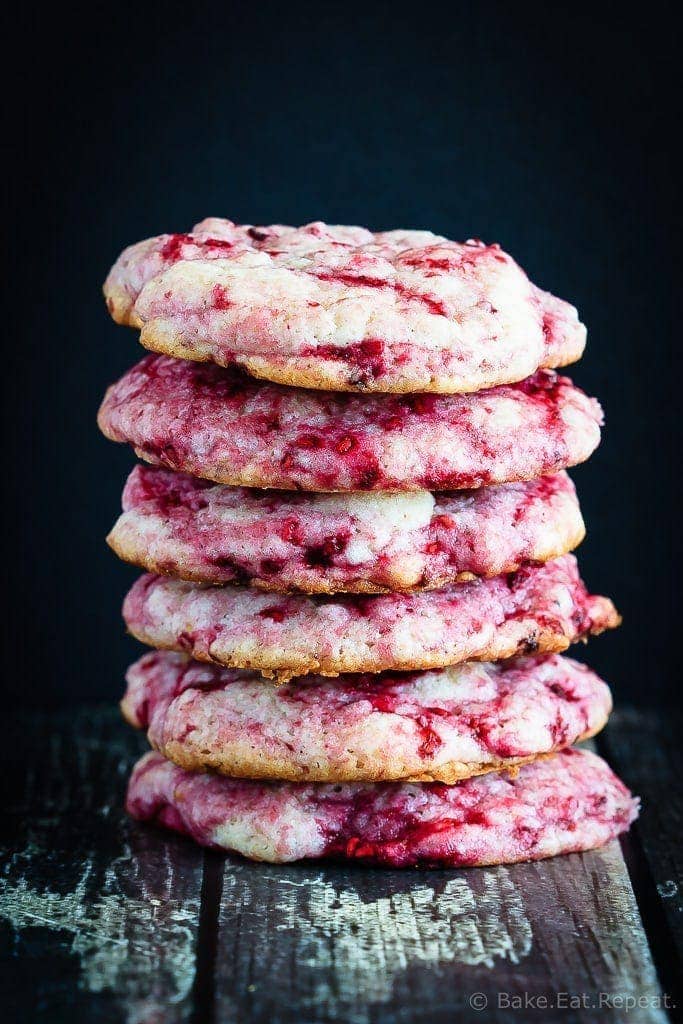 This recipe makes 24 cookies, so I usually get one tray in the oven and then stick the rest of the cookie dough into the fridge until I can bake it so that it doesn't get any softer.
Besides that I don't do a chill time with this cookie dough. I've tried it, but didn't find it made for better cookies – so I don't bother.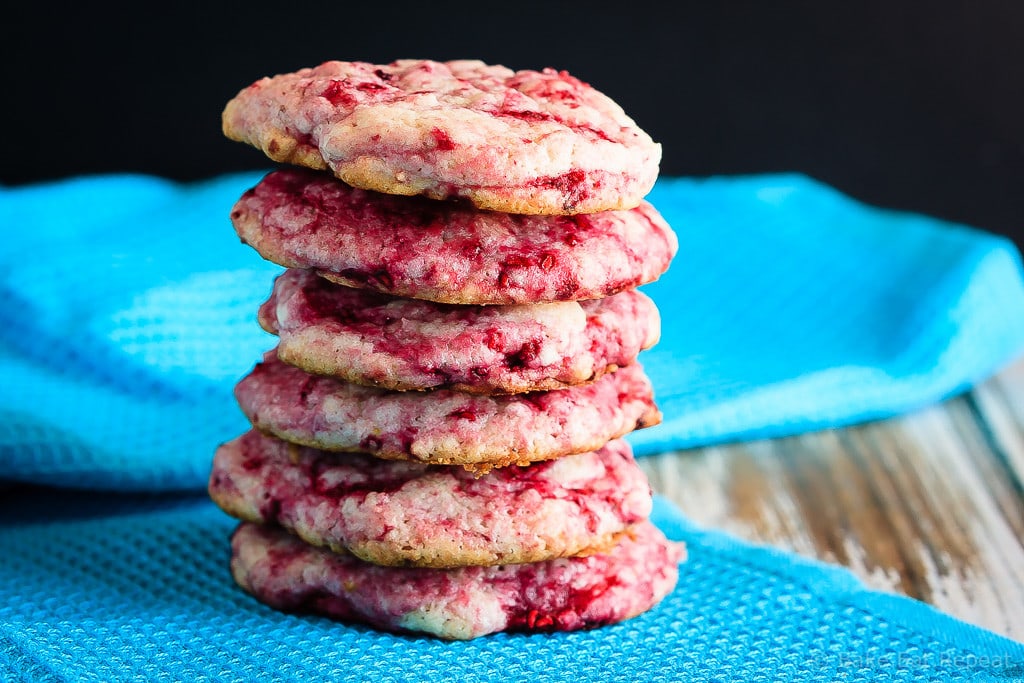 Soft and chewy raspberry lemon cookies. You should probably make them.
How to make Raspberry Lemon Cookies:
Here are some other raspberry recipes you will love:
Yield: 24 cookies
Raspberry Lemon Cookies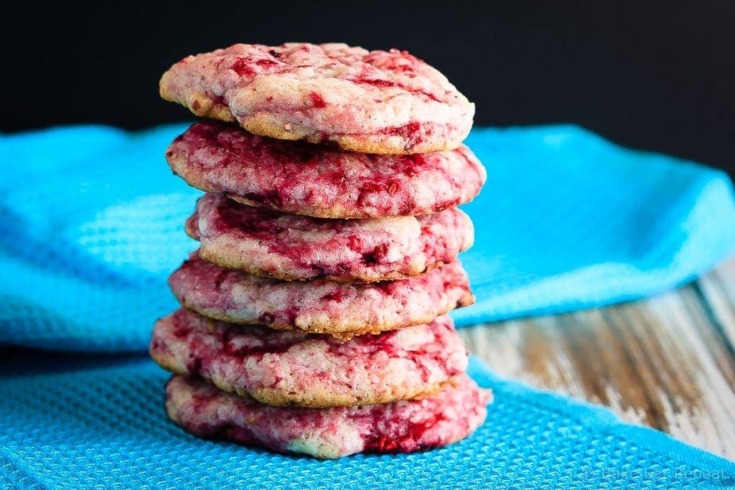 These raspberry lemon cookies are ultra soft and chewy - quick and easy to make and so tasty everyone loves them. One of the best cookies I've made!
Ingredients
1/2 cup unsalted butter, softened
1 cup granulated sugar
1/2 teaspoon vanilla
1 large egg
1/2 lemon, zest and juice
1/4 teaspoon salt
1/4 teaspoon baking powder
1/8 teaspoon baking soda
1 1/2 cups all-purpose flour
3/4 cup frozen raspberries, coarsely chopped
Instructions
Preheat the oven to 350 degrees F.
Line 2 cookie sheets with parchment paper or silicone baking mats. Set aside.
In a large bowl, or the bowl of a stand mixer, cream together the butter and sugar until light and fluffy.
Add the vanilla, egg, lemon zest and juice and mix well, scraping down the sides of the bowl as needed.
Add the salt, baking powder, baking soda and flour and mix until combined.
Add in the raspberries and mix briefly to incorporate them.
Drop the dough by tablespoonful (a cookie scoop works best here, the dough is extremely sticky, but two spoons works too, the cookies will just be less uniform) onto the prepared cookie sheet.
Bake for 14-16 minutes or until they are just starting to brown on the edges and are no longer shiny at all.
Put the second half of the cookie dough in the fridge while the first sheet is baking, it will get even softer as the raspberries thaw.
Allow the cookies to cool on the baking sheet for 10 minutes before moving to a wire rack to cool completely.
Store in an airtight container at room temperature for 5 days, or freeze for up to 3 months.
Notes
This cookie dough is extremely sticky, and is best if the raspberries stay frozen, so leave them in the freezer until you're ready to add them to the dough. If you find it is getting too sticky to scoop, chill it for 30 minutes and then bake.
Don't try to form it into balls by hand though, it works best as a drop cookie, scooping it onto the baking sheet by the tablespoonful and baking immediately.
When baking, they are done when they are no longer shiny at all on top. If they are still shiny, they will be underbaked around the raspberries.
Recommended Products
This post contains affiliate links. As an Amazon Associate, I may receive a small commission from qualifying purchases.
Nutrition Information:
Yield:
24
Serving Size:
1 cookie
Amount Per Serving:
Calories:

99
Total Fat:

4.2g
Saturated Fat:

2.5g
Cholesterol:

18mg
Sodium:

59mg
Carbohydrates:

14.8g
Fiber:

0.5g
Sugar:

8.6g
Protein:

1.2g