This tomato cream sauce is the perfect easy pasta sauce for a quick weeknight meal. It's ready in less then 30 minutes, and the whole family will love it!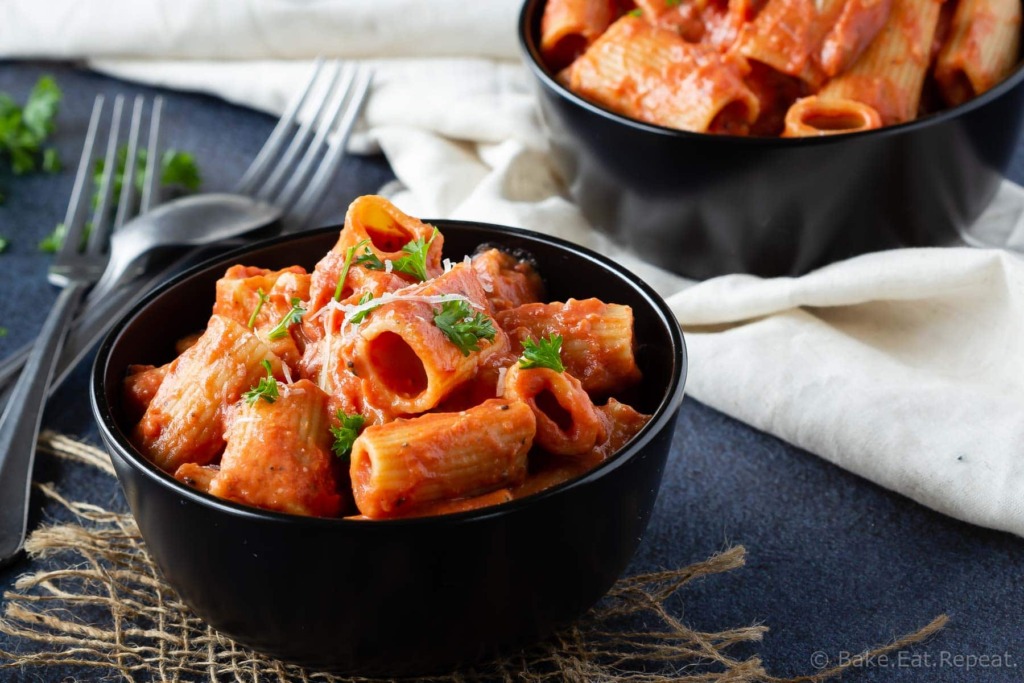 Tomato cream sauce is not a pasta sauce that I have made very often. We usually go for tomato sauce, or cream sauce.
Marinara sauce, or Alfredo sauce.
Not a combination of the two.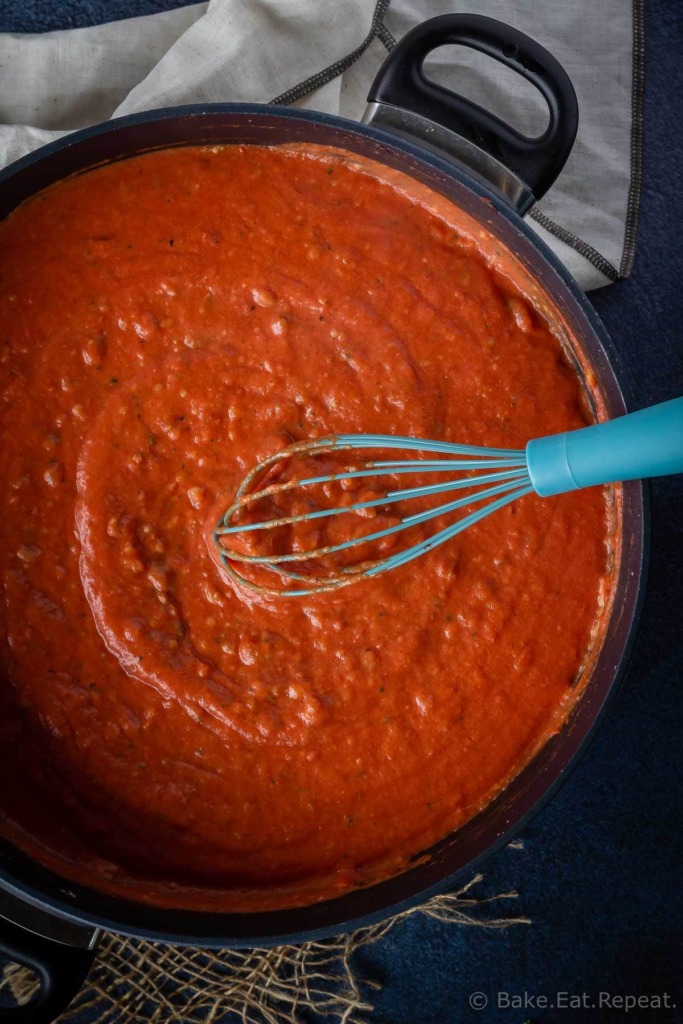 And I have to say, that the one time I grabbed a jar of pre-made tomato cream sauce at the store, we ended up not even finishing the meal I made with it.
It really was not very good at all.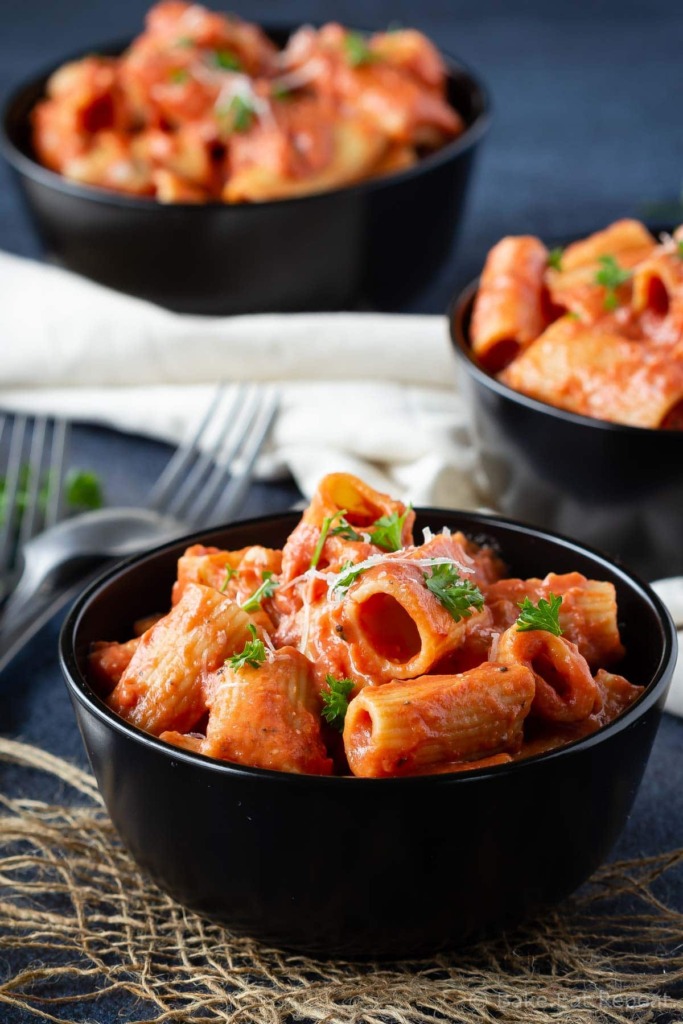 So I figured we just weren't fans of this type of pasta sauce, and why bother trying to make it?
Well, it turns out, when it's homemade, tomato cream sauce is pretty fantastic.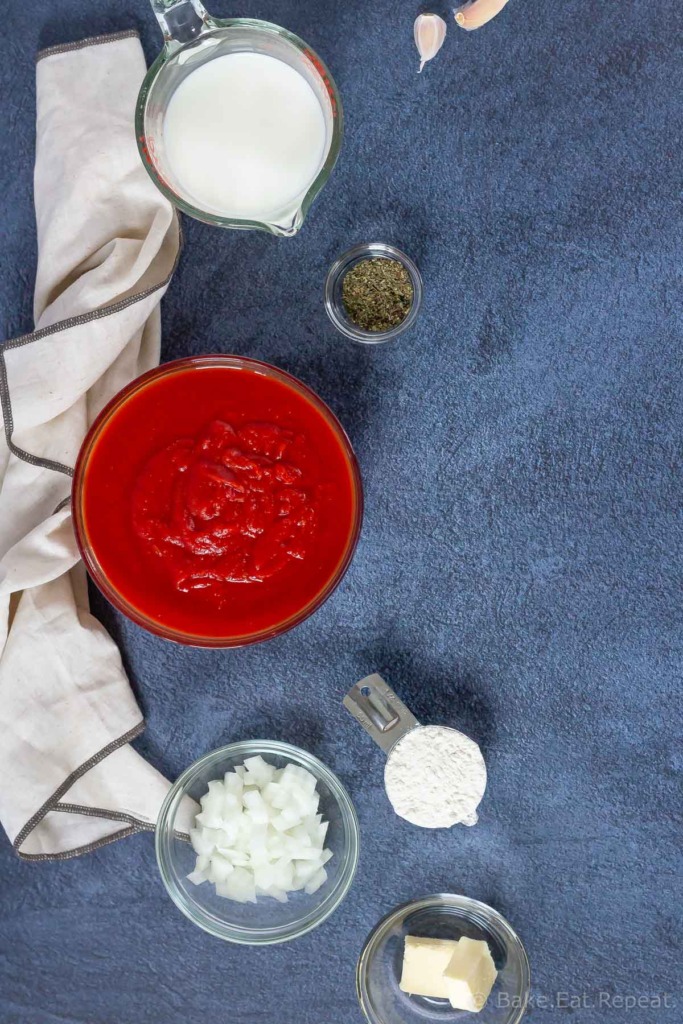 Really, I should have known that from the start.
Homemade is always better.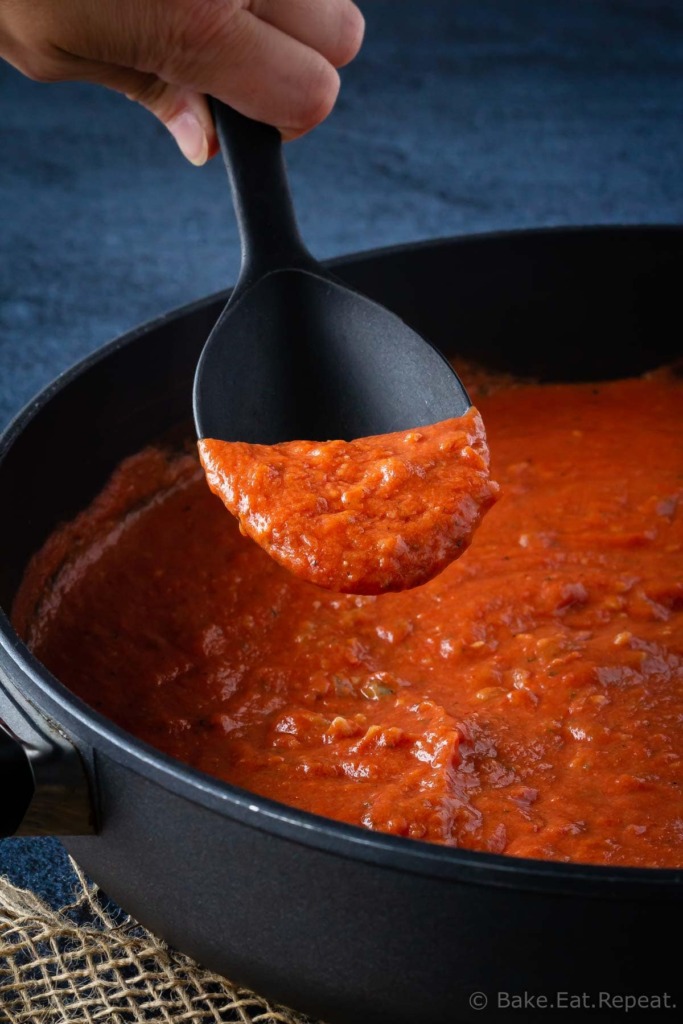 What can I substitute for heavy cream in pasta sauce?
I actually use 2% milk in this tomato cream sauce recipe. I realize the word "cream" is right in the title, but what can I say?
I think milk is great in this pasta sauce, so why use heavy cream?
That being said, even though I do love this pasta sauce with milk, I have made it with half milk and half heavy cream (so basically I used half and half cream).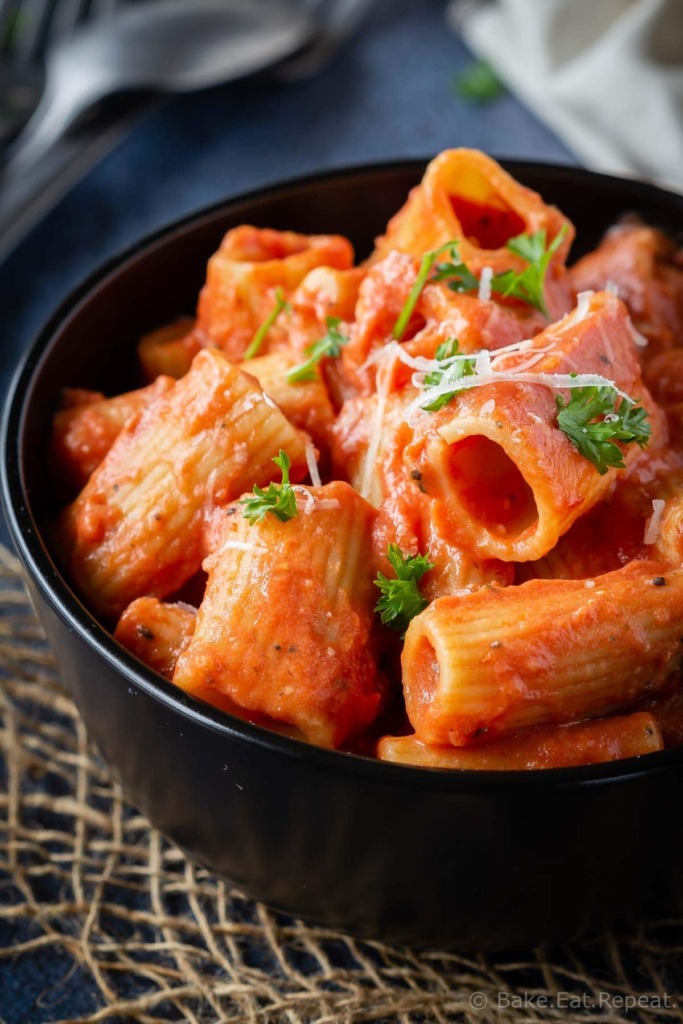 Both versions were fantastic.
So go with what you have on hand, or how rich you want your sauce to be.
Using some heavy cream will make a thicker, richer sauce than just 2% milk will.
But they will both taste great.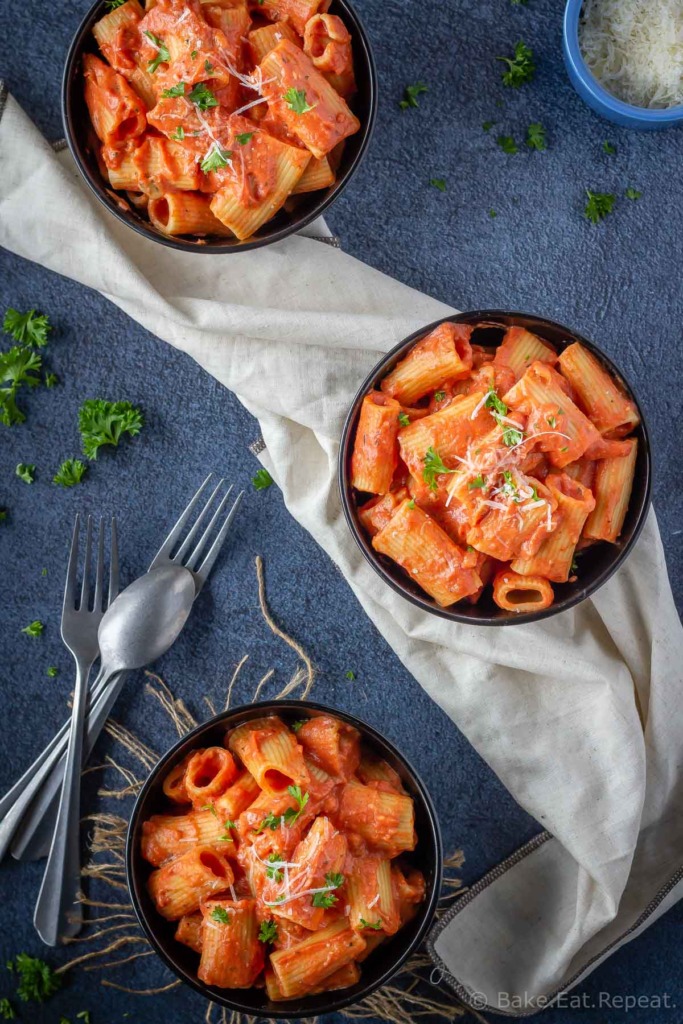 How to make Tomato Cream Sauce:
Since this pasta sauce uses milk instead of heavy cream, you do need to be careful not to boil it. Cream is more heat tolerant and can be boiled, but milk tends to separate a bit. Bring it to a high simmer, but not a full boil, before reducing the heat to a low simmer.
We loved this pasta sauce with rigatoni, but any pasta shape will be fine, so use whatever you happen to have.
This pasta sauce freezes well. Let it cool completely, then freeze it flat in a large freezer ziplock bag. Reheat it over low heat on the stove or in the microwave, or on low in the slow cooker for about 2 hours.
I've also frozen this tomato cream sauce already mixed with some pasta, in a foil lined 9×13 inch baking dish, with shredded mozzarella cheese on top. Once it's frozen you can pop the foil wrapped pasta out of the dish to free up your baking dish until you want to bake the pasta. When you're ready to use it, put it back in the same dish (peel off the foil first), let it thaw overnight in the fridge, and bake it at 350F for 30-40 minutes, or until it is heated through.
If you're looking for more great pasta sauce recipes, I have 12 Easy Pasta Sauce Recipes here that are all fantastic!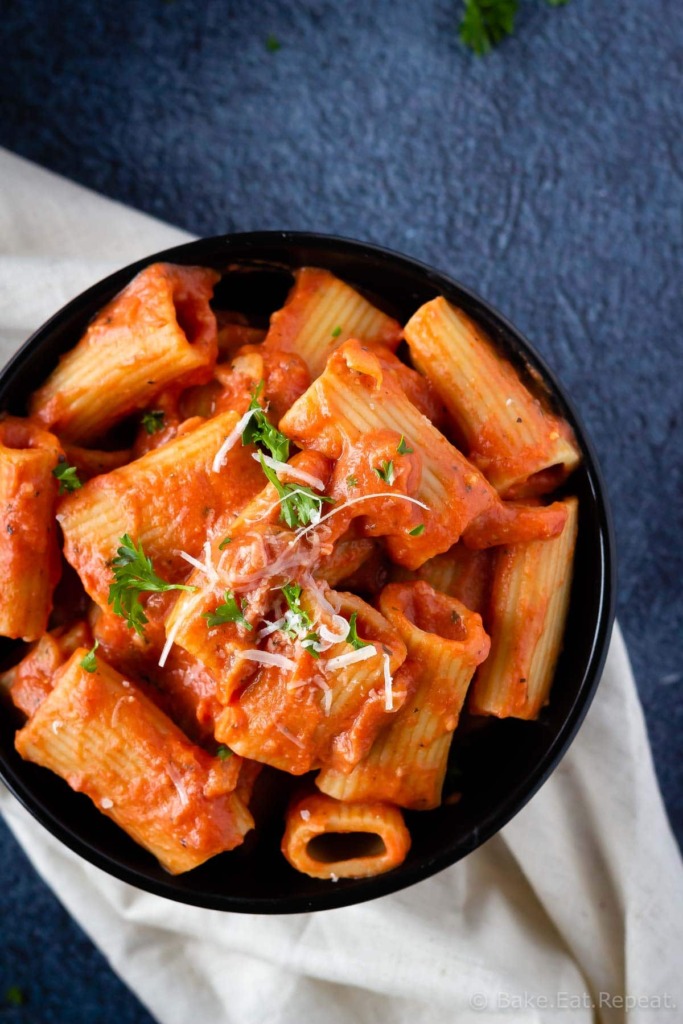 Here are some more great pasta recipes for you: