These whole wheat pumpkin dinner rolls are soft and fluffy and so easy to make. Plus they are amazing piled with turkey or ham for lunch!
Do you like making homemade bread and dinner rolls?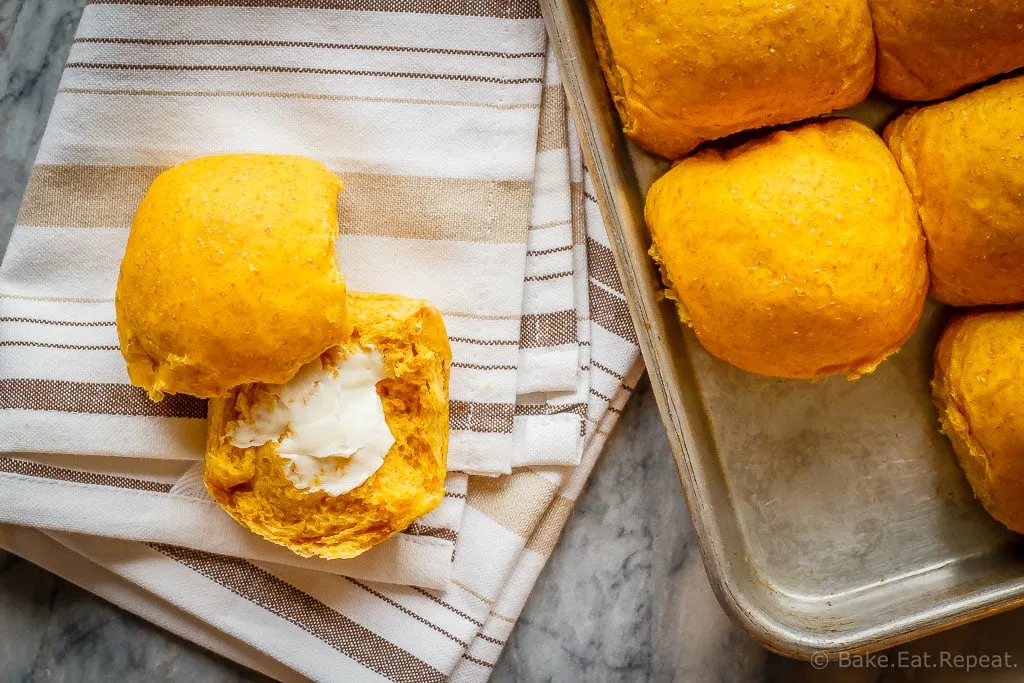 I really do, but I'll admit that I definitely go through phases where I make all of our bread, and then other times where I won't make it at all. My kids actually get all complain-y when that happens.
Questions of "when are you going to make bread again, mom?" start to be heard every time I pick up more bread at the store. Spoiled kids.
They're right though – homemade bread and rolls are so much better then the store bought kind. And they're not that hard to make – pretty easy, actually. It's just a matter of taking the time to do it.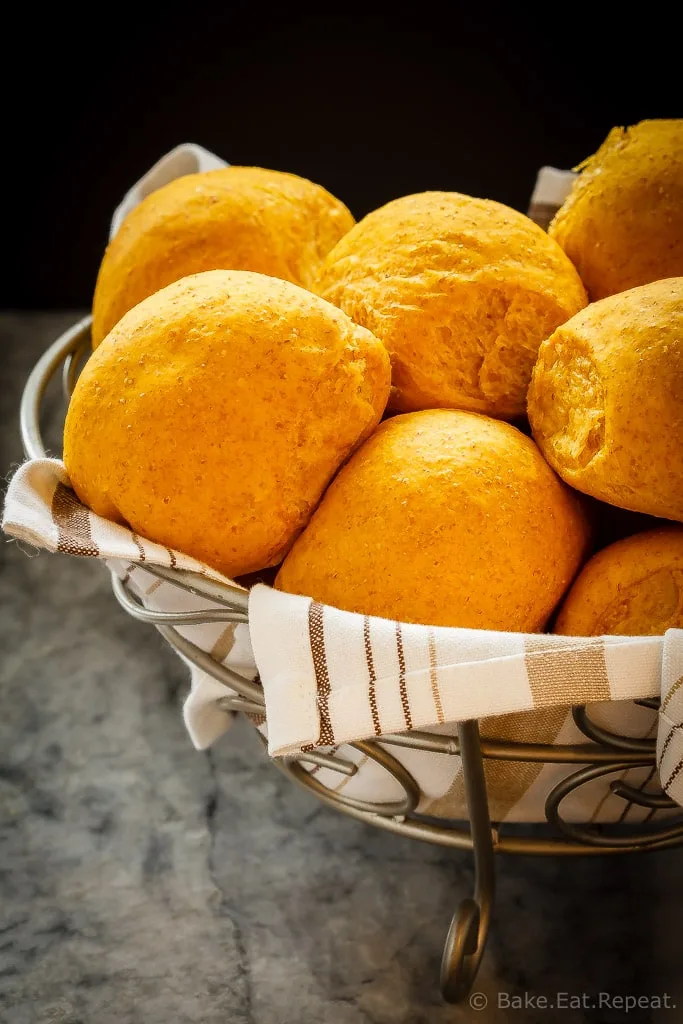 There's not all that much hands on time involved, but you do need to do a little planning when you make bread so you're home and able to do the next step when the rising times are finished.
My problem is that I often think of making bread or dinner rolls at times when I need to be out of the house at the same time I would need to be shaping the dough – so then I don't make it at all.
Clearly I need to be better at the planning stage of things around here.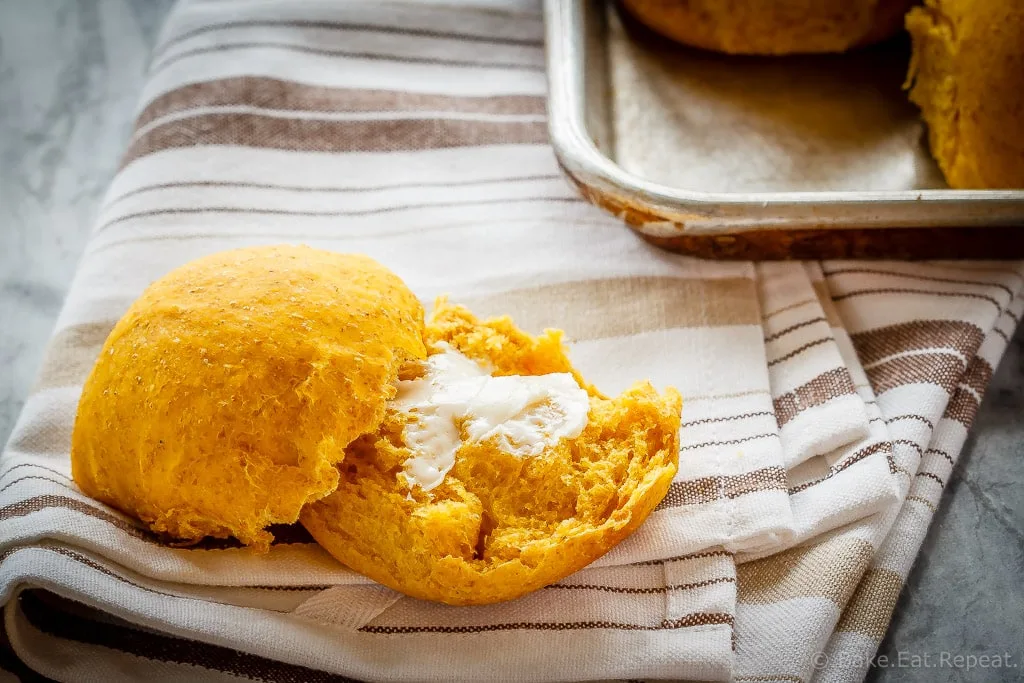 At any rate – when I do make bread at home, we are all very happy about it.
These whole wheat pumpkin dinner rolls are one of my favourites. They're super soft dinner rolls, even with half whole wheat flour in them.
The pumpkin keeps them soft and they don't seem as dense as a lot of other whole wheat dinner rolls are. Soft and fluffy and easy to make, they are the perfect accompaniment to your holiday dinner table.
Or anytime really – if you're like me, and happily use pumpkin all year round!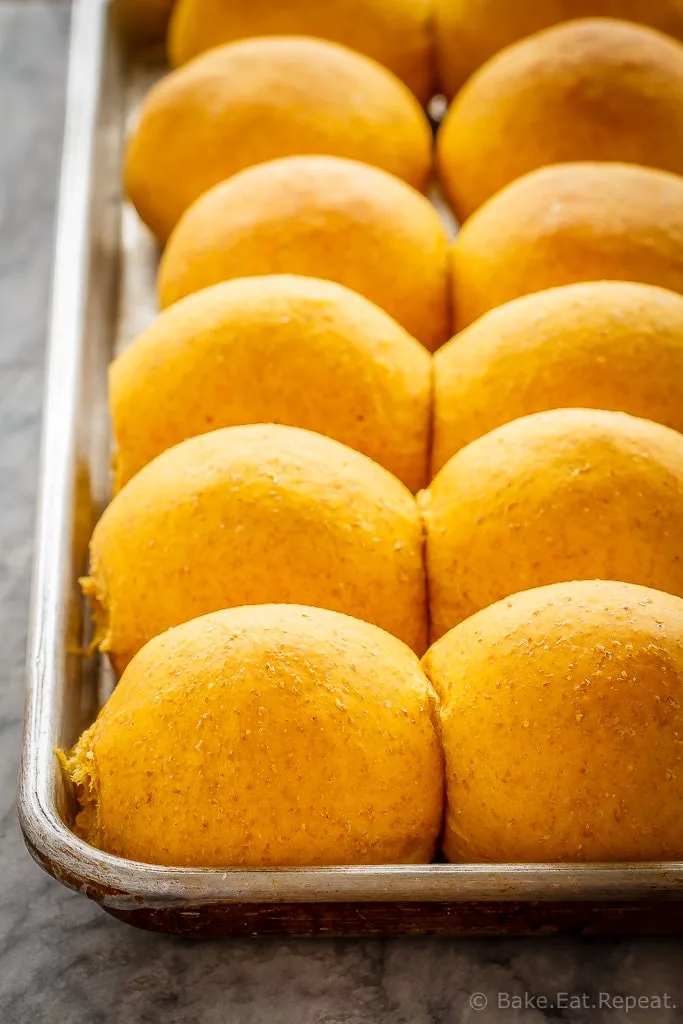 How to make Whole Wheat Pumpkin Dinner Rolls:
Make sure not to over flour the dough. Start with the lower amount of flour listed and only add more if necessary for the dough to clear the sides of the bowl. I have a great step by step tutorial for making bread if you'd like to see what perfectly floured dough should look like – How To Make Bread.
I love my Bosch stand mixer (I have an older version of that one) for making bread dough. If you have a stand mixer with a dough hook, that is the easiest way to mix up this dough, but you can also knead it by hand if you like, it will just take a little longer.
These dinner rolls freeze very well in ziplock bags after they cool if you want to make them ahead of time.
Here are some more great dinner roll recipes for you:
I've also shared this Pumpkin Dinner Rolls recipe over on Food Fanatic.