Happy New Year!  I hope everyone had a lovely holiday season.
And with the New Year, I'm finally giving you something a bit healthier!  Although it IS still bread, but it's whole wheat so it's a whole lot better then the sugar fest that's been happening here for the last month!
I had never had Parker House rolls before making these.  Had no idea what they even were.  I had to google it.  Evidently it's a dinner roll that was developed at a hotel in Boston, with a distinctive folded shape, a crisp buttery outside, and a fluffy tender inside.
And they're amazing.   Google never told me that though.  These rolls did.  And I can't wait to make them again.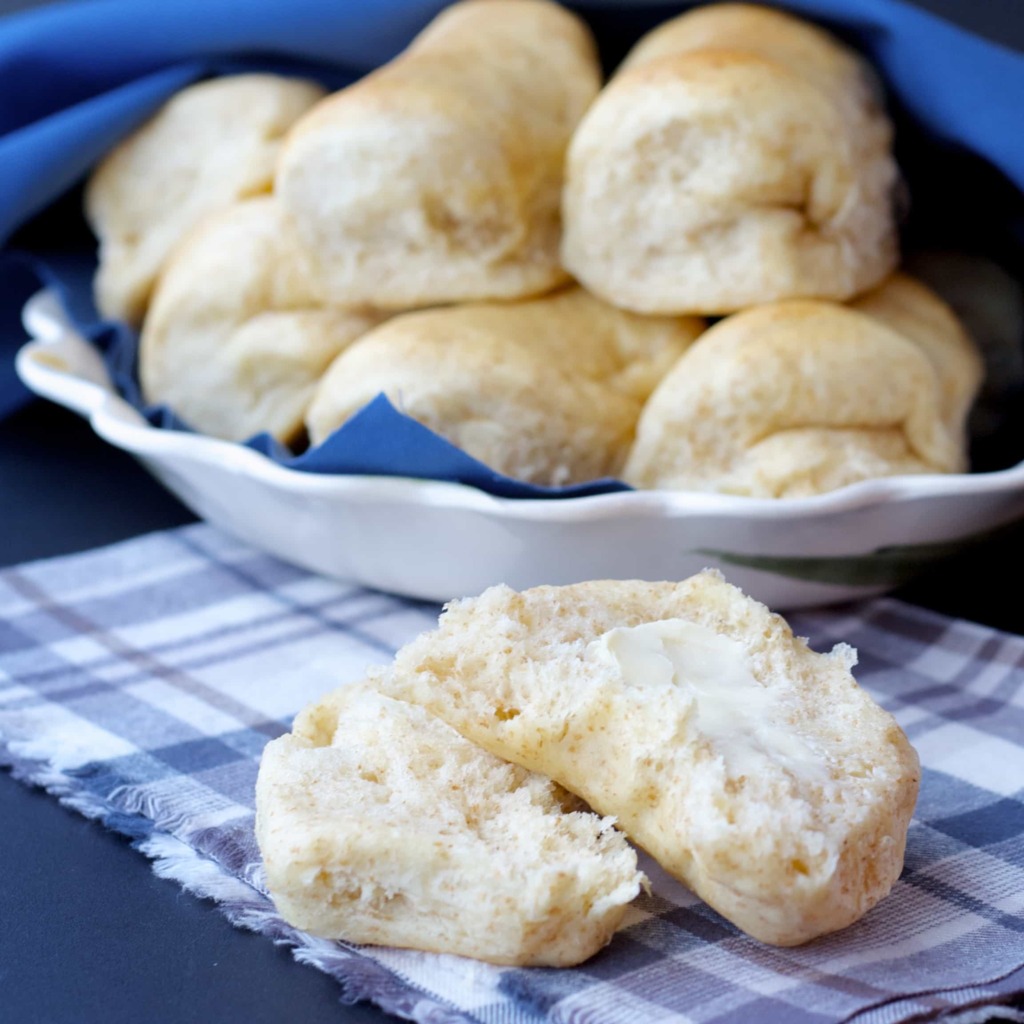 I've mentionned before that I absolutely love to make bread.  There's something very satisfying about making your own bread.  Kneading, shaping, watching it rise.  And then devouring it straight out of the oven slathered in butter.  All good.
If you've never made your own bread, I most definitely recommend it.  The stuff from the store doesn't hold a candle to homemade.  It is so incredibly good, that I'm willing to bet that if you try making it, you won't want to go back to store-bought bread.
And it's really not that hard.  It does take some time, but a lot of that time isn't actively doing anything, it's just waiting for the yeast to work it's magic.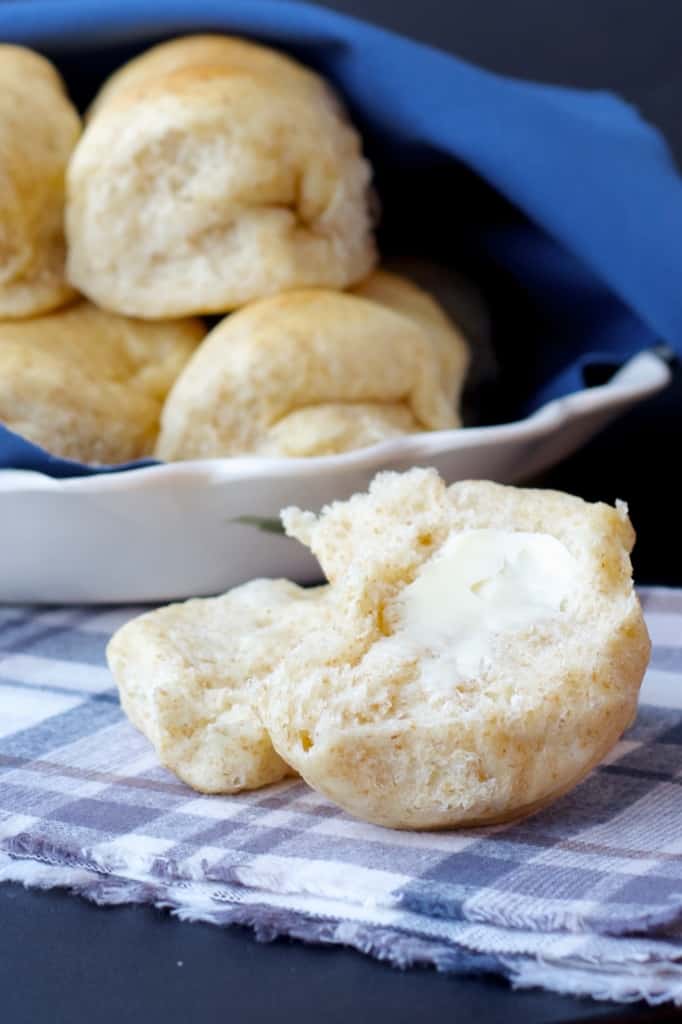 I know that a lot of people are a bit intimidated by working with yeast, but seriously, don't be.  It's really not difficult.  Although if you're nervous about it, I definitely recommend starting with instant yeast, and not active dry yeast.  With instant yeast you mix it right into the flour, there's no messing around with activating it in warm water before you begin.
The only thing you need to be a bit careful of when working with yeast is the temperature of your water.  The ideal temperature is 100 degrees F – this feels very warm to the touch, but it won't hurt at all when you test it with your hand.  Although I would recommend using a thermometer to check the temperature until you have a very good idea of what 100 degrees feels like.  If your water is too hot, it will kill your yeast, so err on the side of warm, not hot if you don't have a  thermometer to check.  If the water is not quite 100 degrees, it won't effect whether or not your bread rises, it will just effect the speed at which it does.
If you've never made your own bread, this recipe is a great one to try out!  It's quick (only about 2 1/2 hours from start to finish) and easy, and you don't even have to knead this dough.  Just mix it together and put it in an oiled bowl to rise.  Then shape the rolls, rise again, and bake.
Quick, easy, and so amazing.  Try it, you won't regret it.  These rolls are fantastic!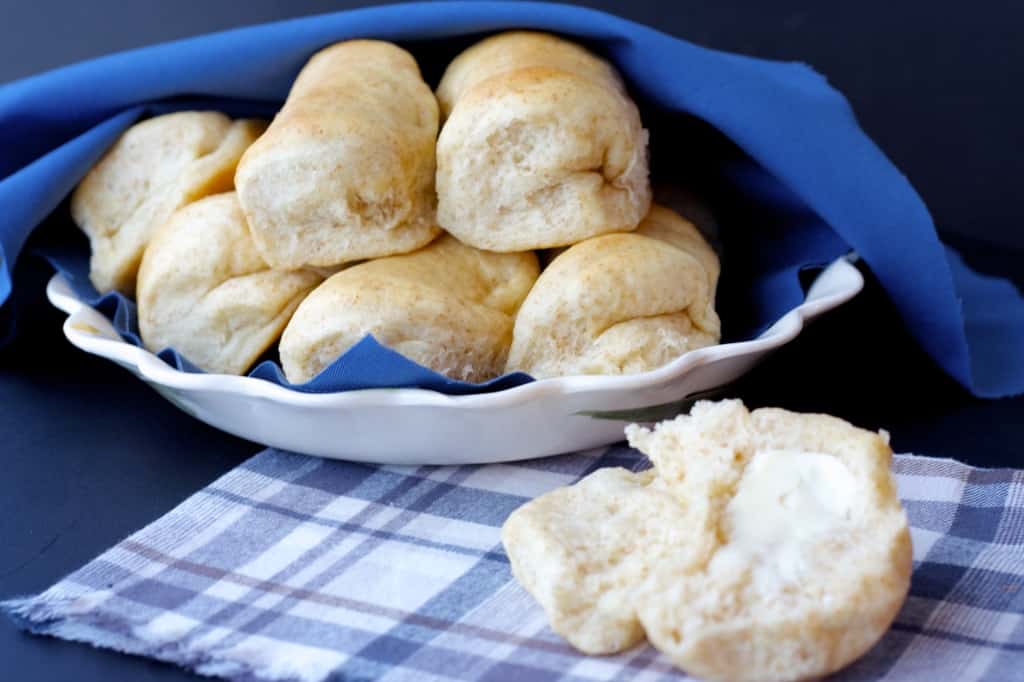 Yield: one 11x17 inch sheet pan of rolls (25-30)
Whole Wheat and Honey Parker House Rolls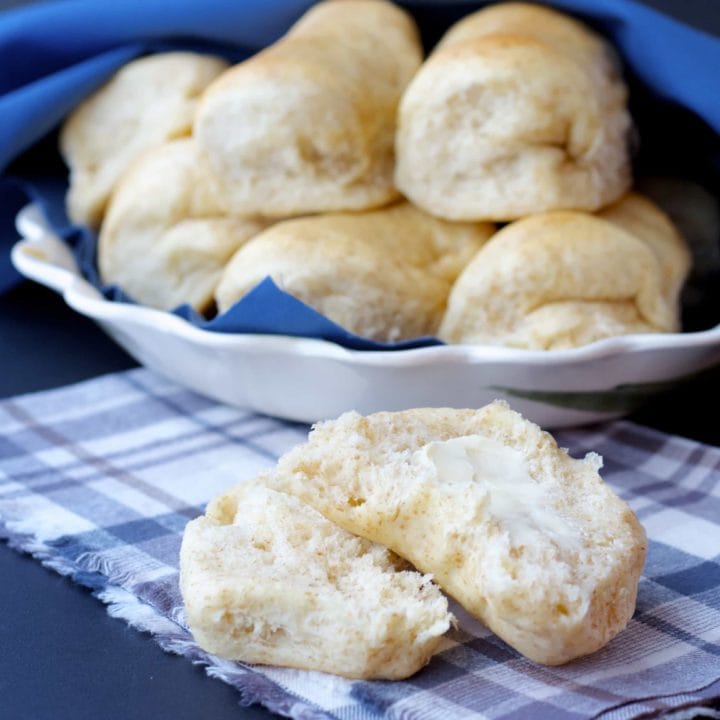 Ingredients
1/2 cup honey
2 cups hot water
1/2 cup canola oil
1 teaspoon salt
2 eggs
3-4 cups whole wheat flour
3 cups all-purpose flour
1 tablespoon instant yeast
1/4 cup butter, melted, for shaping the rolls
Instructions
Combine the honey, hot water and canola oil and beat with an electric mixer. Add the salt and eggs and beat well. Once the mixture has cooled to just lukewarm (about 100 degrees F), add the instant yeast and keep beating. Add the flour, starting with just 3 cups of whole wheat flour, and continue mixing (with the dough hook if using a machine) until a soft dough forms.
If the dough is really sticky and not coming together continue to add the last cup of whole wheat flour, 1/4 cup at a time until the dough comes together. It should be a very soft dough, so don't overflour or you'll have tough rolls.
Don't knead the dough, once it is finished mixing together, just transfer to an oiled bowl and let rise, covered, for 60-90 minutes.
Once the dough has doubled in size you're ready to shape the rolls. Roll the dough out on a lightly oiled countertop to 1/2 inch (1.5cm) thickness. Cut out 3 inch (7.5cm) circles. Holding the dough circle by the edges, dip both sides in the melted butter. Then fold the circle in half on the baking sheet and pinch the edges together to seal. You need to press down hard on the seam, pressing the dough down until you can feel the baking sheet, or it won't stay closed. Continue this process with the rest of the dough, arranging the rolls on the pan so that they are nearly touching. Cover with a clean tea towel and let rise for 30-45 minutes.
Preheat the oven to 350 degrees F. Once the rolls have risen, bake for 18-20 minutes. When they come out of the oven you can brush the tops with the leftover melted butter if you like. Remove them from the baking sheet to a wire rack to cool completely before storing in a sealed plastic bag for up to 5 days. They also freeze well.