Quick and easy whole wheat soda bread – this bread mixes up in minutes and tastes fantastic! An easy side dish that you can make in no time!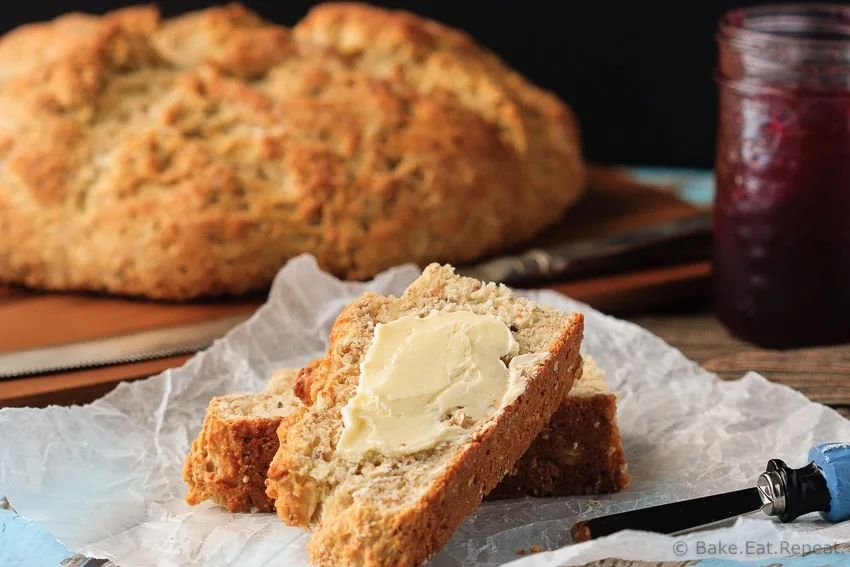 So, St. Patrick's Day is coming up next week – hence the Chewy Chocolate Mint Chip Cookies earlier this week. Besides the random green cookie though, we don't really do anything. The kids'll wear something green to school I suppose, but that's about it.
But….I happen to really love soda bread so I couldn't let another year pass by without sharing my personal favourite version of it. I know it's supposed to be baked in a cast iron pan, but I'm living in a temporary place right now with most of my dishes in storage and I don't have one here. I know you're supposed to put currants in soda bread, but I don't really like them in it, so I didn't.
So….yeah. Not really a traditional soda bread recipe that I'm sharing I suppose. But it tastes fantastic and that's all that really matters I think.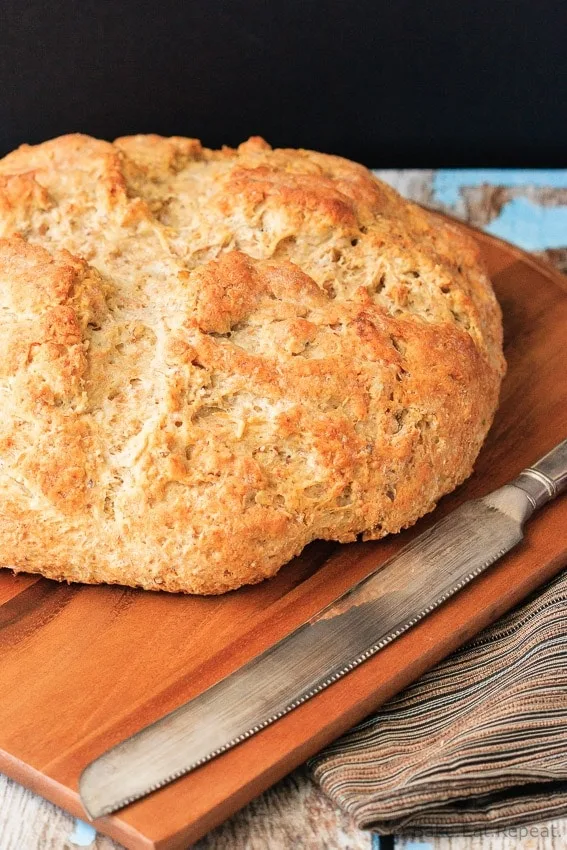 Full of whole wheat (or multigrain) flour and oats, this bread takes less time to mix up then it takes to heat up the oven. Served warm with lots of butter, it's the perfect answer to the "what should I serve with supper?" question. Because I'm sure I can't be the only one asking that question almost every night. The main dish is always fairly easy to plan, it's those side dishes that are sometimes difficult, right? And when I can't think of something to serve, my mind usually turns to carbs!
Whether you need something for St. Patrick's Day, or just need a quick and easy side for supper tonight, this whole wheat soda bread is amazing.
And…it's also fantastic with butter and jam for breakfast. Just saying.
This post contains affiliate links.