This coconut lime rice is so quick and easy to make and tastes fantastic. It's the perfect side dish (with or without cilantro!) to serve with dinner.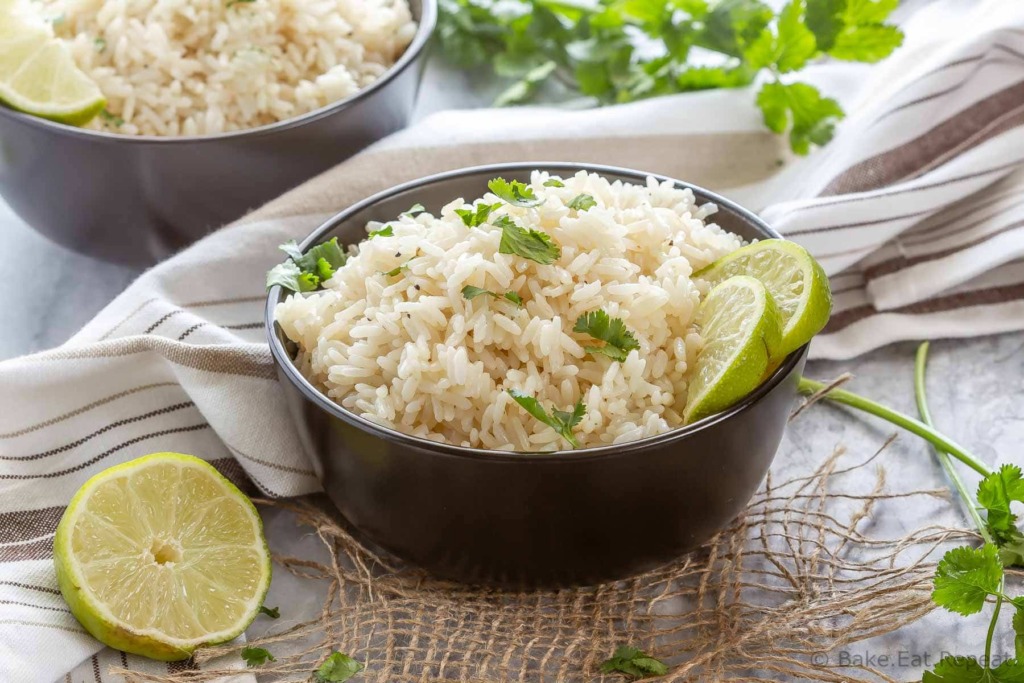 Anyone else sometimes wish that you didn't need to bother with side dishes?
I feel like once I've figured out what to make for dinner, that should be it. I'm done. Grilled chicken is enough, we don't need to put anything else out.
Except of course, that's not true. You need more then meat for dinner. Obviously.
Unless you're making a one pot meal and everything is literally in the one pot. There's a reason those recipes are so popular. It's nice not to have to think about side dishes.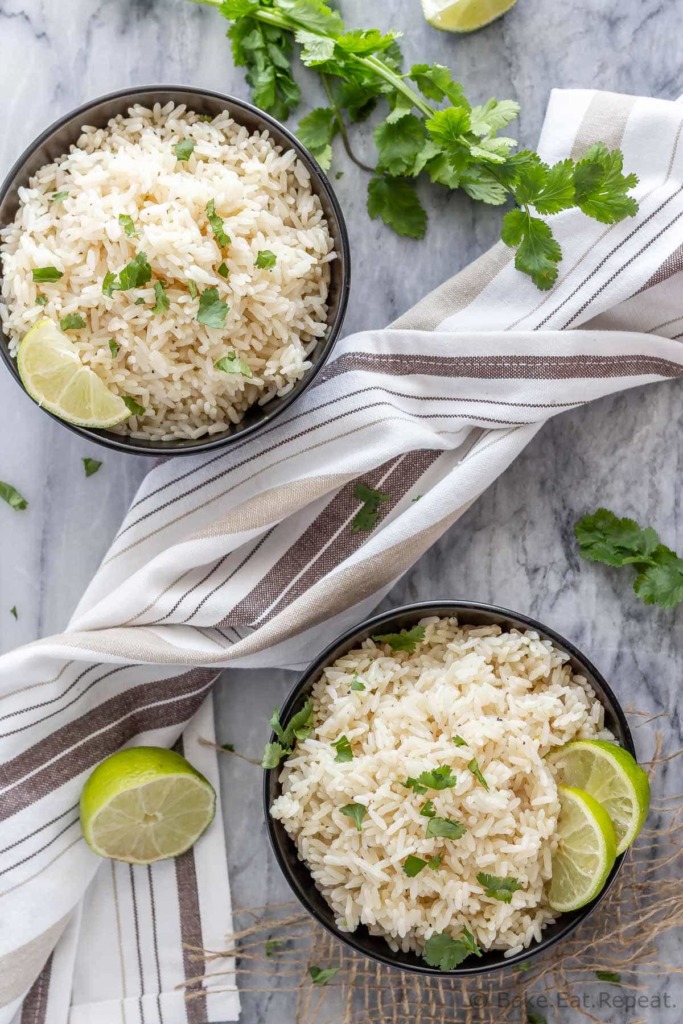 More often then not when I'm making something that needs a side dish, I throw some rice in the microwave, steam some vegetable to go with it, and call it a day. And that's fine. Everyone eats it, and let's be honest, the kids are probably happier with a plain meal like that then they would be if I put more effort into it!
But I get bored with plain rice.
This coconut lime rice is the perfect solution if you get bored with your side dish options too! Almost as easy as plain white rice, and it changes up the usual side dish enough to make dinner interesting.
With or without cilantro, this coconut lime rice makes the perfect side dish. Although my vote is with cilantro.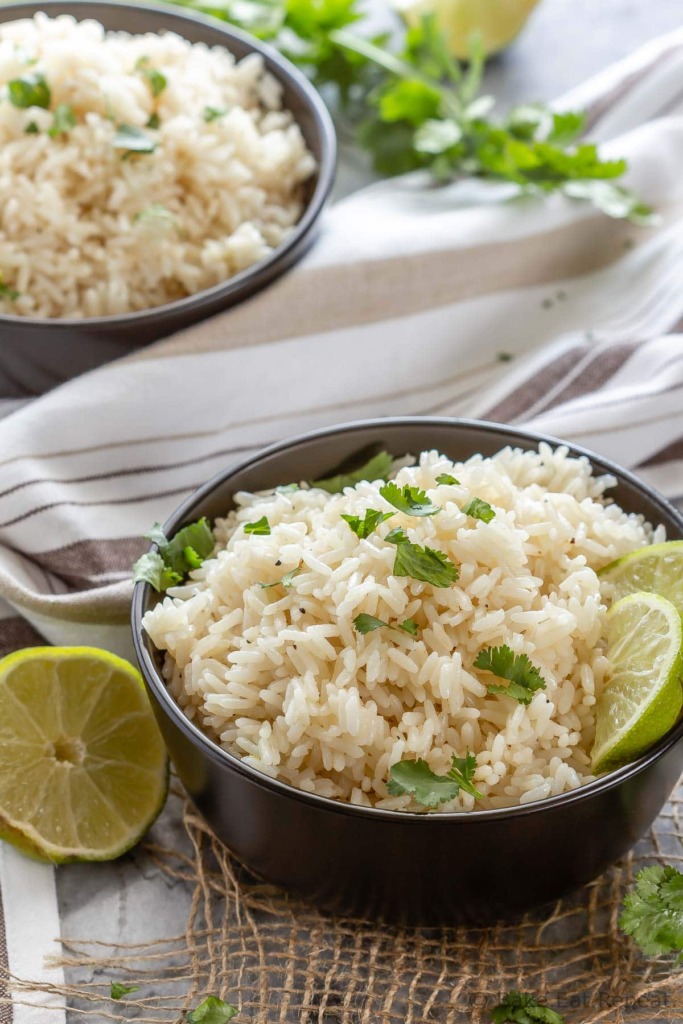 What food goes well with rice?
I find that rice is the perfect side dish with so many meals. It's the perfect accompaniment to a stir fry or saucy slow cooker meal, with grilled meats of any kind, or with fish. It's fast and easy and everyone likes it.
But I do like to change up the plain white rice with this coconut lime version sometimes just to add some variety!
Here are a few recipes that go very well with this coconut lime rice:

How much water do I add to rice?
How much water you add to rice depends on the type of rice. For long grain white rice (which is what I used in this recipe) you typically need twice as much water as rice.
Since we are also adding coconut milk to this rice, there is less water. There is still twice as much liquid as there is rice though. We are just substituting half of the water for coconut milk instead.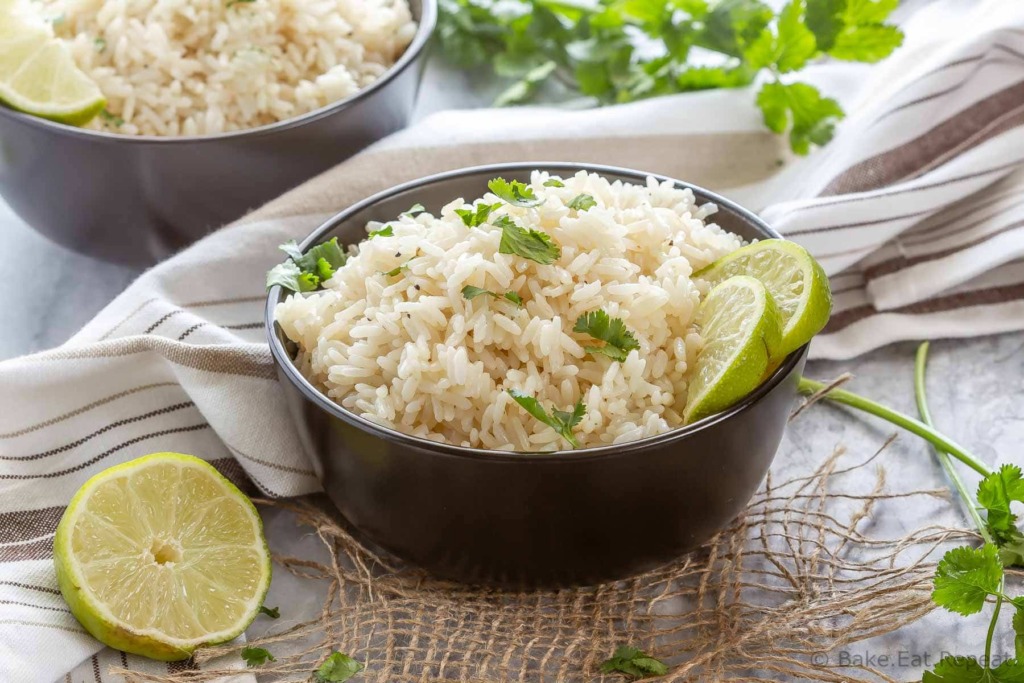 How to make Coconut Lime Rice:
I love this zester for zesting my lime for this recipe. It does pull the zest off in long strips though so you need to chop it finely afterwards. One of these graters works very well for zesting the lime too.
This lime juicer is fantastic for getting all the juice out of the lime quickly and easily.
If you don't love cilantro, you definitely don't need to add it to this recipe. I just add it to individual servings at the table because my kids aren't huge fans. I, on the other hand, load up my rice with as much cilantro as possible.

Here are some more great side dishes for you:
Yield: serves 4
Lime Coconut Rice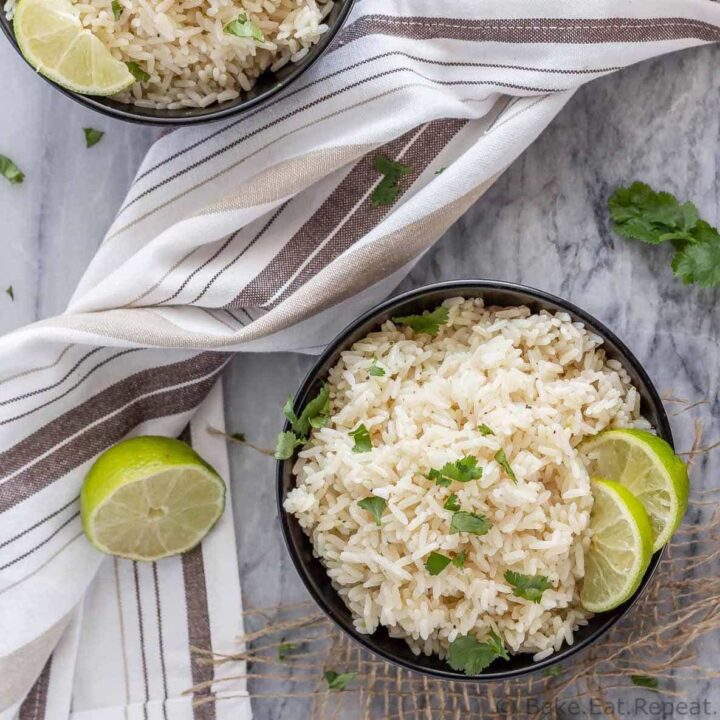 This coconut lime rice is so quick and easy to make and tastes fantastic. It's the perfect side dish (with or without cilantro!) to serve with dinner.
Ingredients
1 tablespoon unsalted butter
1 cup long grain white rice
1 cup coconut milk
1 cup water
1/2 teaspoon salt
1/4 teaspoon pepper
1 lime, juice and zest
fresh cilantro (for serving, optional)
Instructions
In a large saucepan over medium heat, melt the butter, then add the rice and cook, stirring, for 1-2 minutes.
Add the coconut milk, water, salt, pepper, lime juice, and lime zest and bring to a boil.
Reduce the heat to low, cover and cook for 15 minutes, or until the liquid is absorbed and the rice is tender.
Remove the pan from the heat and let stand for 5-10 minutes.
Fluff the rice with a fork, garnish with cilantro if you like, and serve.
Recommended Products
This post contains affiliate links. As an Amazon Associate, I may receive a small commission from qualifying purchases.
Nutrition Information:
Yield:
4
Serving Size:
1
Amount Per Serving:
Calories:

191
Total Fat:

15g
Saturated Fat:

13g
Trans Fat:

0g
Unsaturated Fat:

2g
Cholesterol:

8mg
Sodium:

276mg
Carbohydrates:

14g
Fiber:

0g
Sugar:

0g
Protein:

2g
Nutrition Information is estimated based on ingredients used and may not be exact.