Homemade butter chicken cooked in the slow cooker with an easy to make sauce.  It's the perfect weeknight meal with very little hands on cooking time!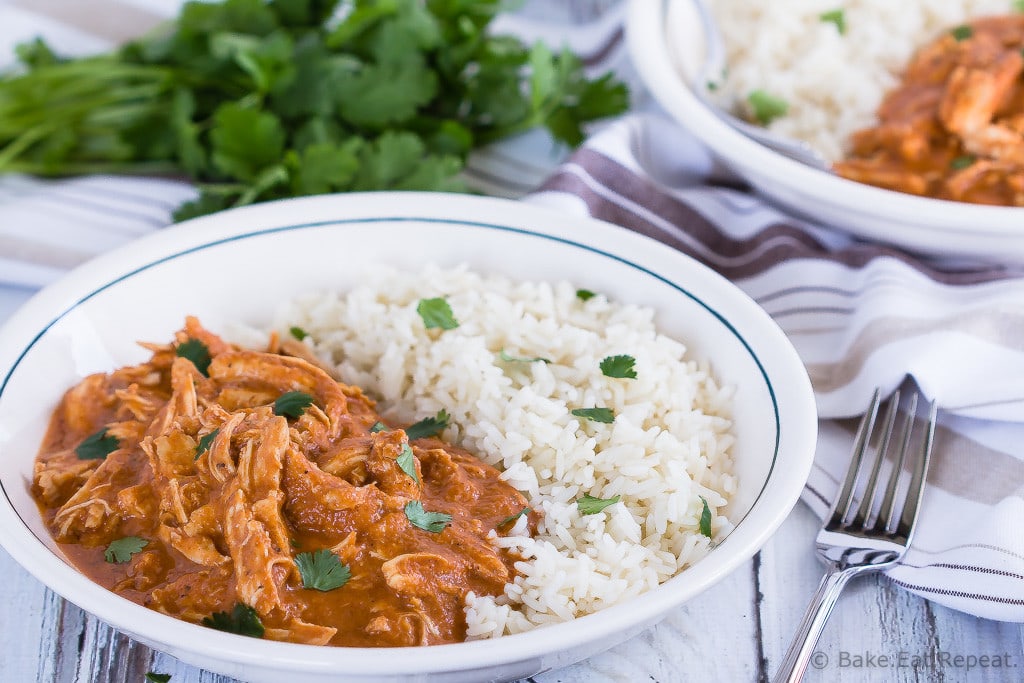 Have you ever made butter chicken at home?
I actually hadn't even eaten butter chicken until probably about 5 years ago.
Clearly I was not a very adventurous eater up until getting married.  I didn't try Pad Thai until my husband informed me I needed to, and it was the same with butter chicken.  He couldn't believe it when he found out I hadn't ever tried either of those and quickly remedied the situation by bringing some home as soon as possible.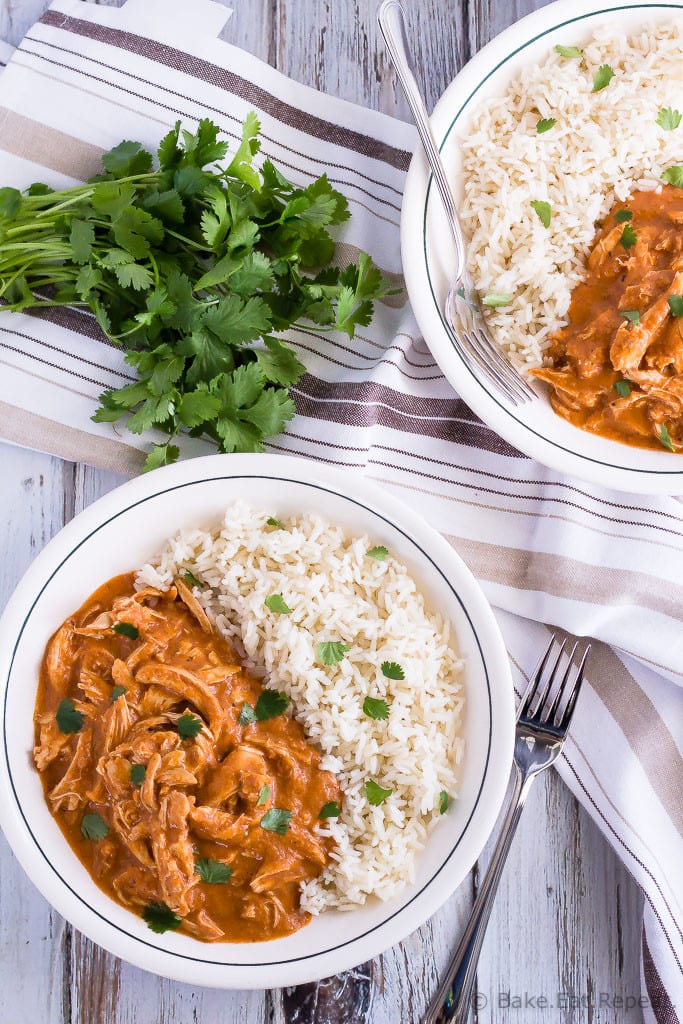 And then of course I realized that both are absolutely delicious and needed to be made at home so that we could enjoy them whenever we wanted.
My kids were not convinced quite as quickly as I was that butter chicken is amazing.  I will admit that.  But let's be honest, it really doesn't look that appealing.  And the name makes it sound like it's chicken swimming in butter which is a tad unappetizing.  That's what I thought before seeing a recipe for it and realizing that there really isn't all that much butter in butter chicken.  A couple tablespoons for flavour, but that's it.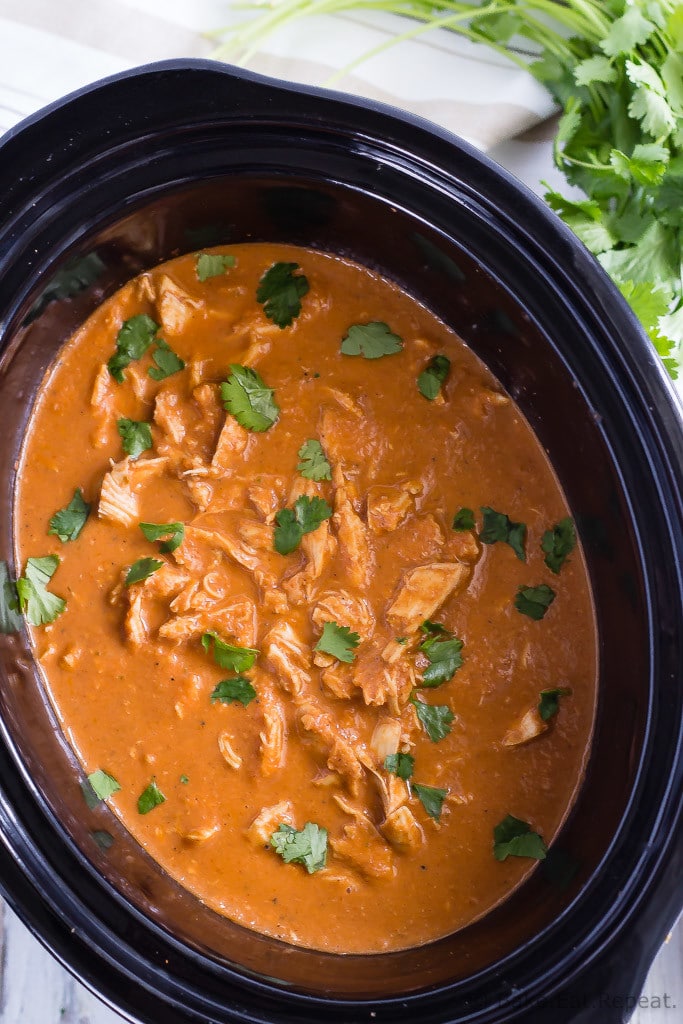 This recipe comes together quickly, with just a few minutes to cook up the vegetables on the stovetop, which are then blended with chicken broth and tomato paste for the sauce.  The chicken cooks in the sauce so all you need to do is toss it in the slow cooker.  There's a few minutes at the end of cooking time to shred or chop the chicken and you're ready to eat.
I'm making butter chicken a little too often now that I have a quick and easy slow cooker recipe available to me.  Making up for lost time, I guess.
Don't be like me.  Try this slow cooker butter chicken tonight so you aren't missing out on the deliciousness any longer!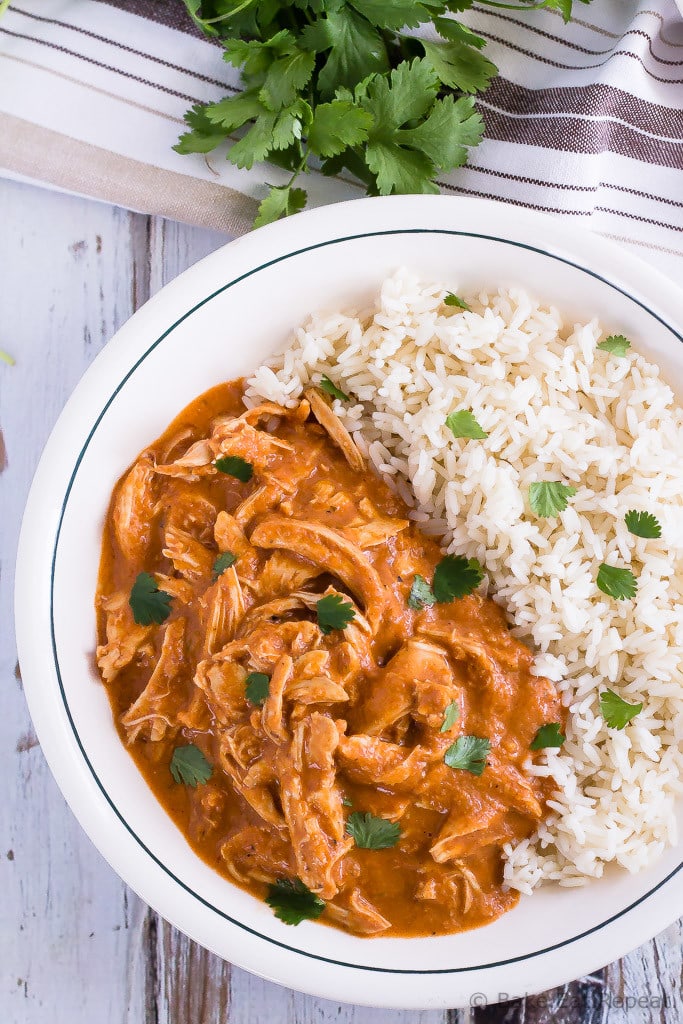 Tips for perfect Slow Cooker Butter Chicken:
I've also shared this Slow Cooker Butter Chicken recipe over on The Weary Chef.
This post contains affiliate links, meaning that if you make a purchase through these links, I receive a small commission.