These cheesy roasted Brussel sprouts with cauliflower are so easy to make and taste great. Crispy roasted vegetables with a creamy homemade cheese sauce!
I think these cheesy roasted Brussel sprouts with cauliflower might just be my favourite roasted Brussel sprouts recipe yet.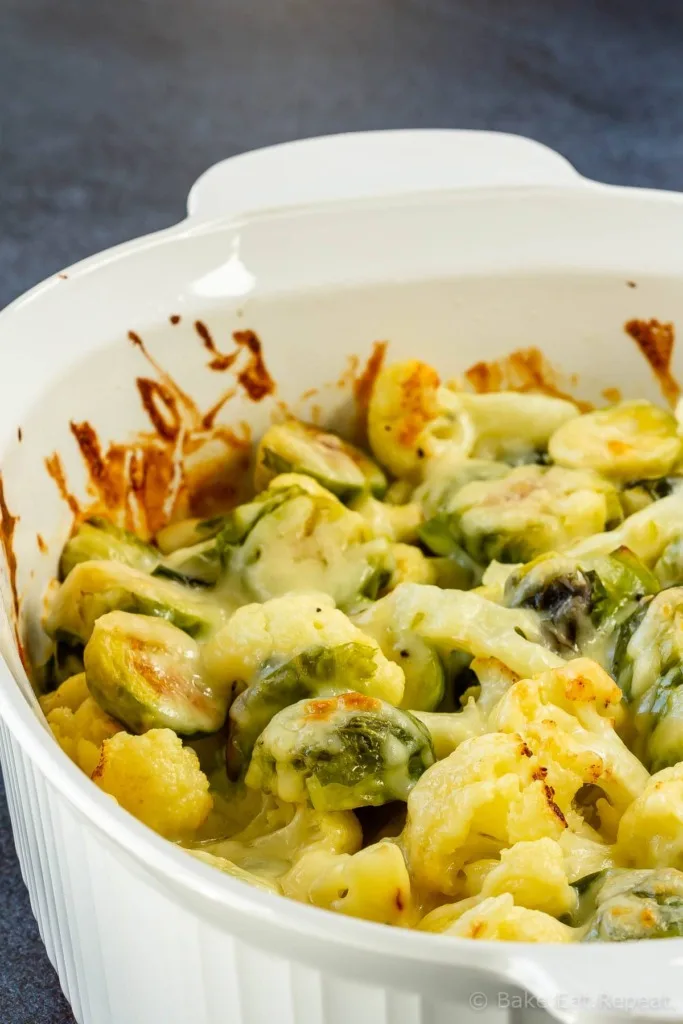 We definitely enjoy roasted Brussel sprouts though – I have 7 roasted Brussel sprouts recipes here.
But really, add cheese to just about anything and it only gets better, right?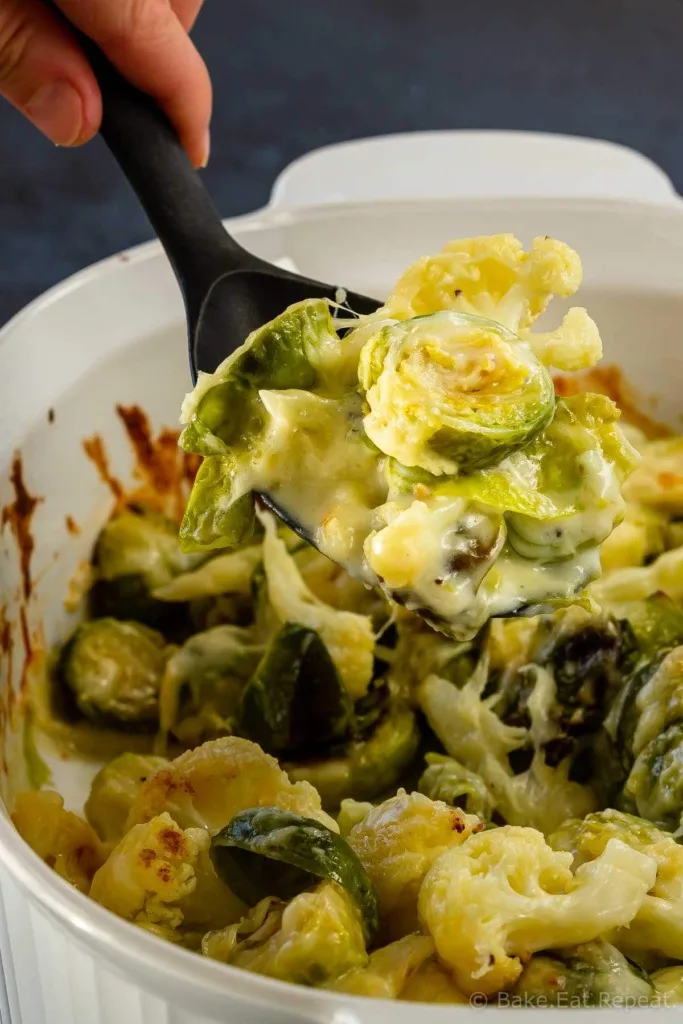 These cheesy roasted Brussel sprouts are really very easy to make, even with the homemade cheese sauce.
All you need to do is chop up your vegetables and toss them with some oil, garlic, and salt, and roast them for about 20 minutes.
Make the cheese sauce while the veggies are roasting (it won't take that long at all, it's so easy to make), toss everything together in a casserole dish, sprinkle more cheese on top, and bake until bubbling.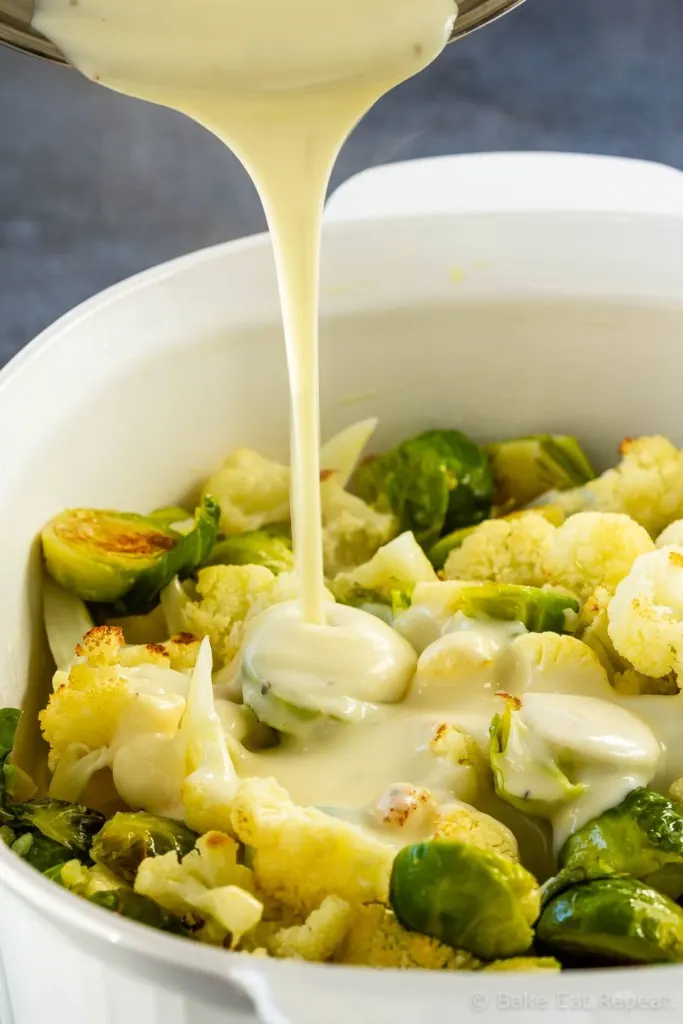 Seriously so easy to make and it is absolutely delicious. Even my kid that isn't a big vegetable fan loved this dish.
Like I said, add cheese and it just gets better.
The eight year old definitely agrees.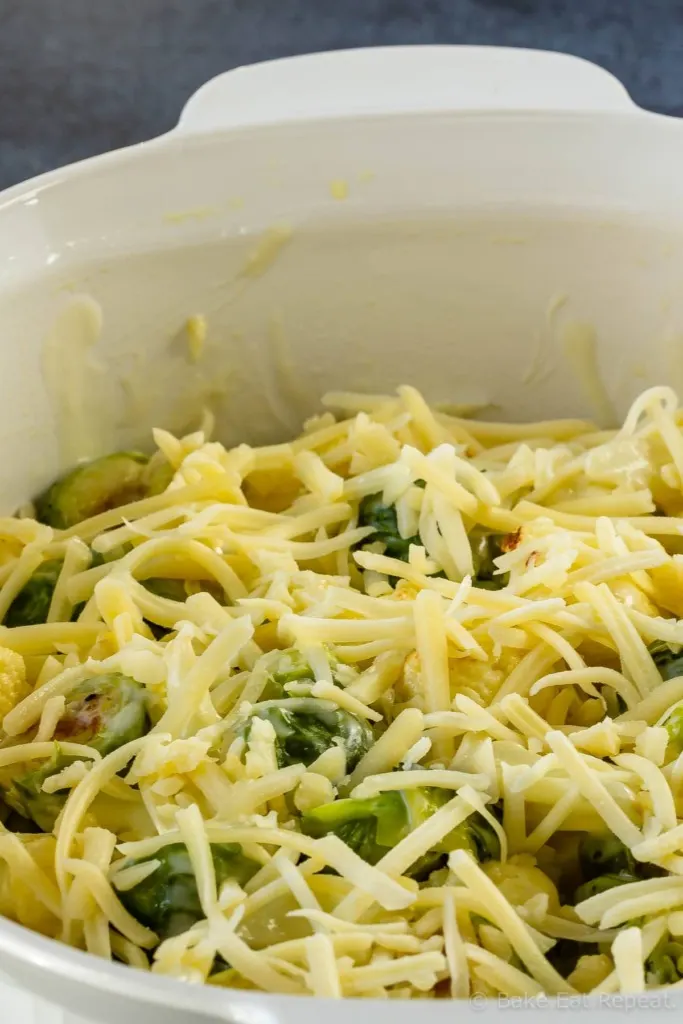 Are brussel sprouts just small cabbages?
I call them mini cabbages when talking about them to my kids, because you can pretend you're a giant when you eat them.
Clearly that makes eating vegetables more fun.
But if you're curious, they're not actually small cabbages, just part of the same family. With cabbages you eat the whole head of the vegetable that grows out of the ground, but brussels sprouts are buds that grow along a thick stalk.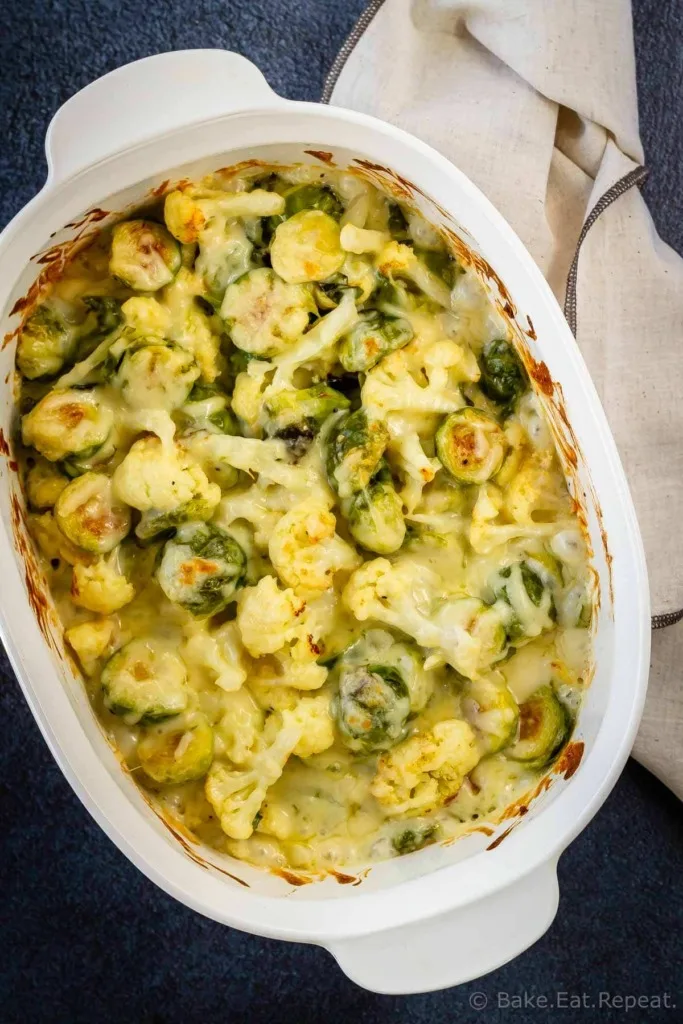 Can you eat the whole brussel sprout?
You can eat the whole sprout. You just need to trim the dry part at the base of the sprout and pull off any loose outer leaves.
Brussels sprouts keep well for up to two weeks in the fridge. Smaller sprouts are usually a bit sweeter then the larger ones.
Look for smaller ones if you don't care for the bitter taste they sometimes have.
How to make Cheesy Roasted Brussel Sprouts and Cauliflower:
I like to roast my vegetables spread out on a baking sheet and then transfer them to a casserole dish and add the cheese sauce before baking them again. This isn't strictly necessary, but if they're close together and piled on top of each other, they end up steaming more then roasting and I like the crispy edges. To get those, they need a bit of space around them when roasting, so it's worth it to me to move them. If you'd rather not bother and don't care if they're crispy, you can roast them in a casserole dish instead.
If you don't have kosher salt, sea salt would be a good substitute. Table salt will work too, but I do prefer a coarser salt for this recipe.
You can use another vegetable here with the Brussel sprouts instead of cauliflower. Or just use Brussels sprouts on their own. The amount of cheese sauce is perfect for 2 1/2 pounds of vegetables.
I use a combination of Swiss and mozzarella cheese for this recipe, but any cheese that melts well will work just fine. Go with freshly grated though, as the pre-shedded cheese comes with a coating on it to prevent it from sticking together in the bag, so it doesn't melt as well, and it can give a bit of a grainy texture to the cheese sauce.
Here are a few more great roasted Brussel sprouts recipes for you: