These cheesy roasted Brussel sprouts with cauliflower are so easy to make and taste great. Crispy roasted vegetables with a creamy homemade cheese sauce!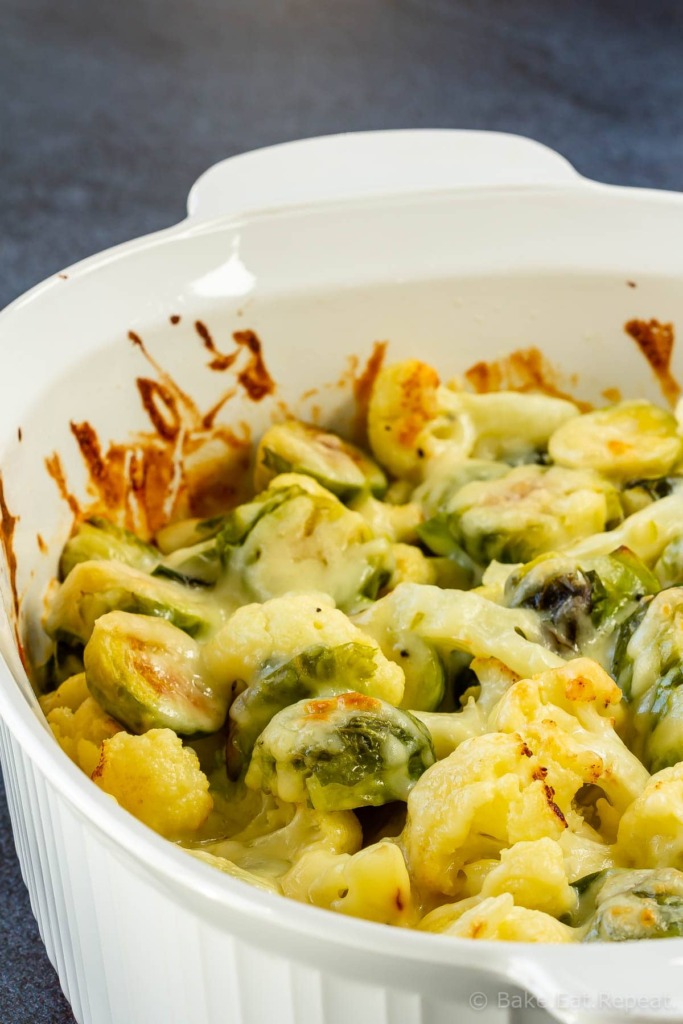 I think these cheesy roasted Brussel sprouts with cauliflower might just be my favourite roasted Brussel sprouts recipe yet.
But really, add cheese to just about anything and it only gets better, right?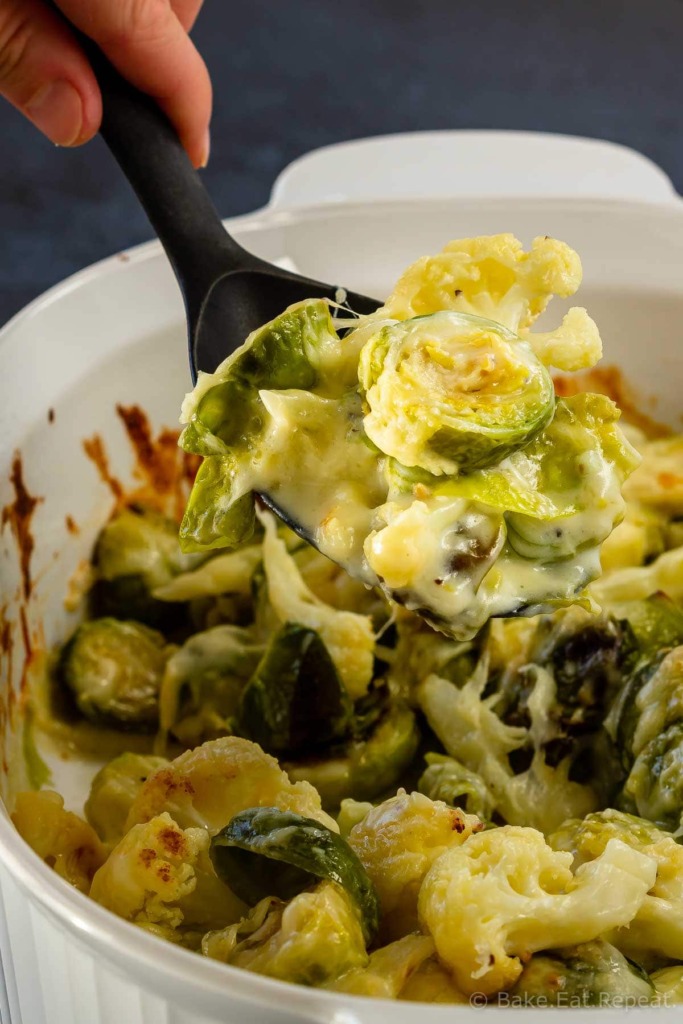 These cheesy roasted Brussel sprouts are really very easy to make, even with the homemade cheese sauce. All you need to do is chop up your vegetables and toss them with some oil, garlic, and salt, and roast them for about 20 minutes.
Make the cheese sauce while the veggies are roasting (it won't take that long at all, it's so easy to make), toss everything together in a casserole dish, sprinkle more cheese on top, and bake until bubbling.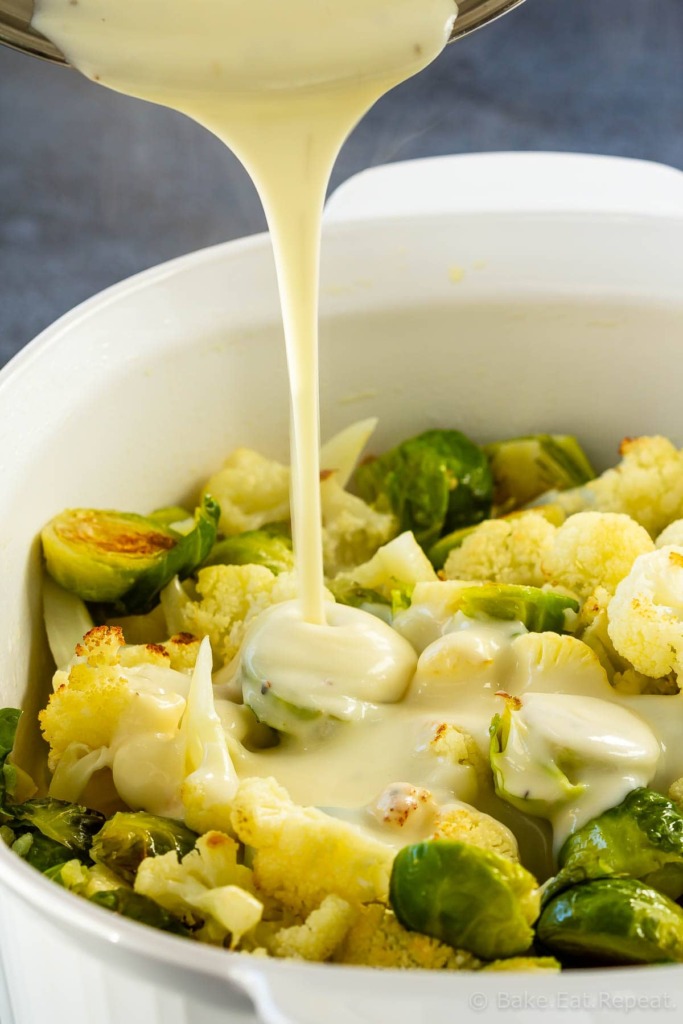 Seriously so easy to make and it is absolutely delicious. Even my kid that isn't a big vegetable fan loved this dish.
Like I said, add cheese and it just gets better.
The eight year old definitely agrees.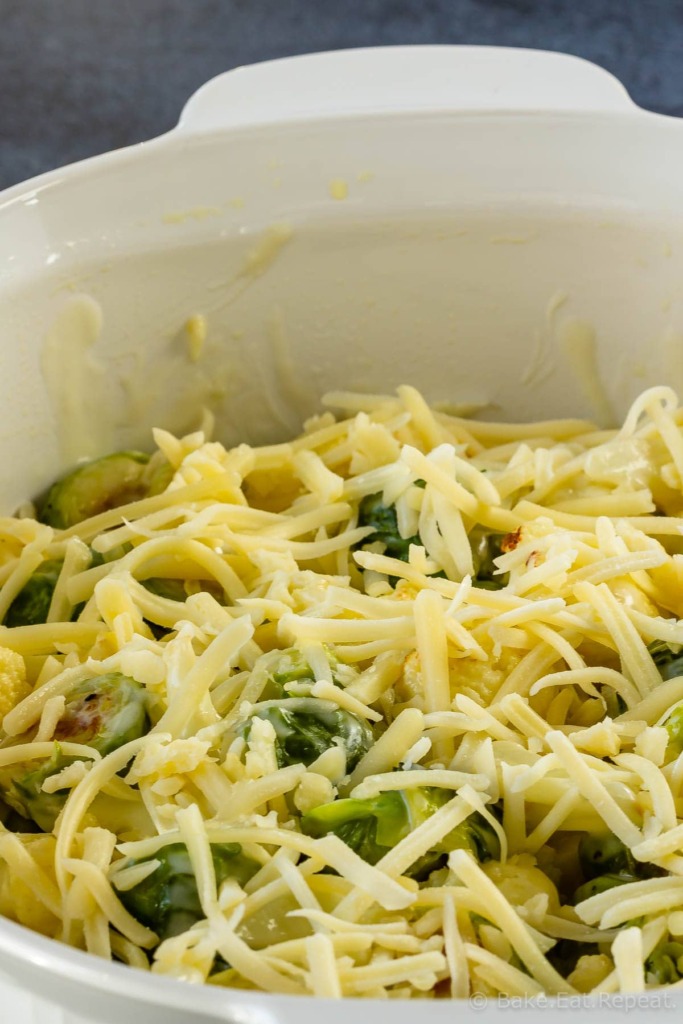 Are brussel sprouts just small cabbages?
I call them mini cabbages when talking about them to my kids, because you can pretend you're a giant when you eat them.
Clearly that makes eating vegetables more fun.
But if you're curious, they're not actually small cabbages, just part of the same family. With cabbages you eat the whole head of the vegetable that grows out of the ground, but brussels sprouts are buds that grow along a thick stalk.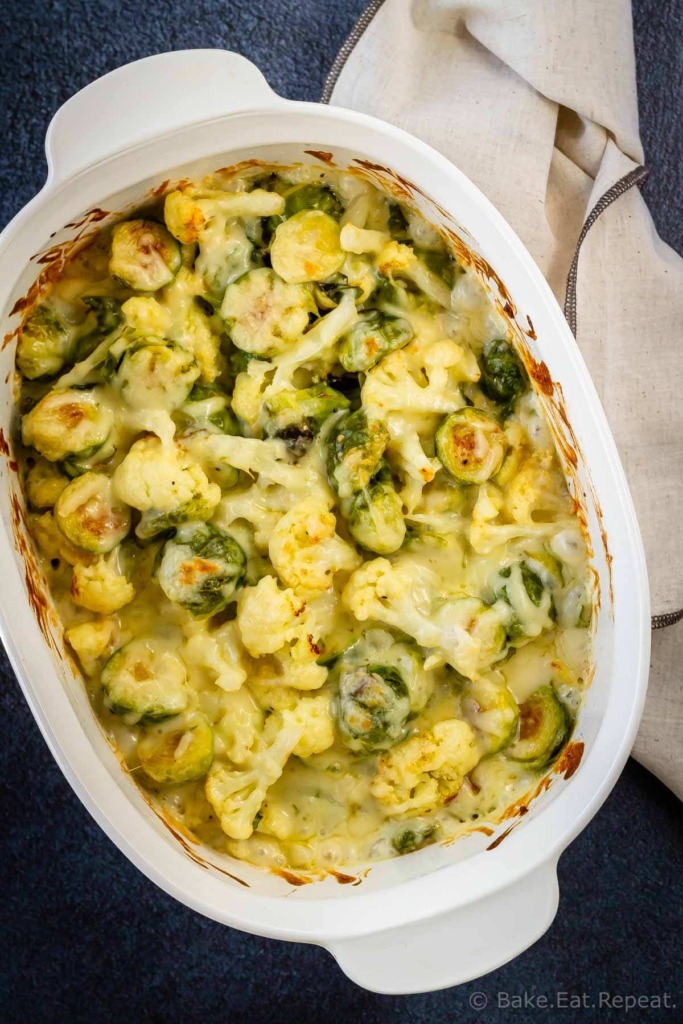 Can you eat the whole brussel sprout?
You can eat the whole sprout. You just need to trim the dry part at the base of the sprout and pull off any loose outer leaves.
Brussels sprouts keep well for up to two weeks in the fridge. Smaller sprouts are usually a bit sweeter then the larger ones. Look for smaller ones if you don't care for the bitter taste they sometimes have.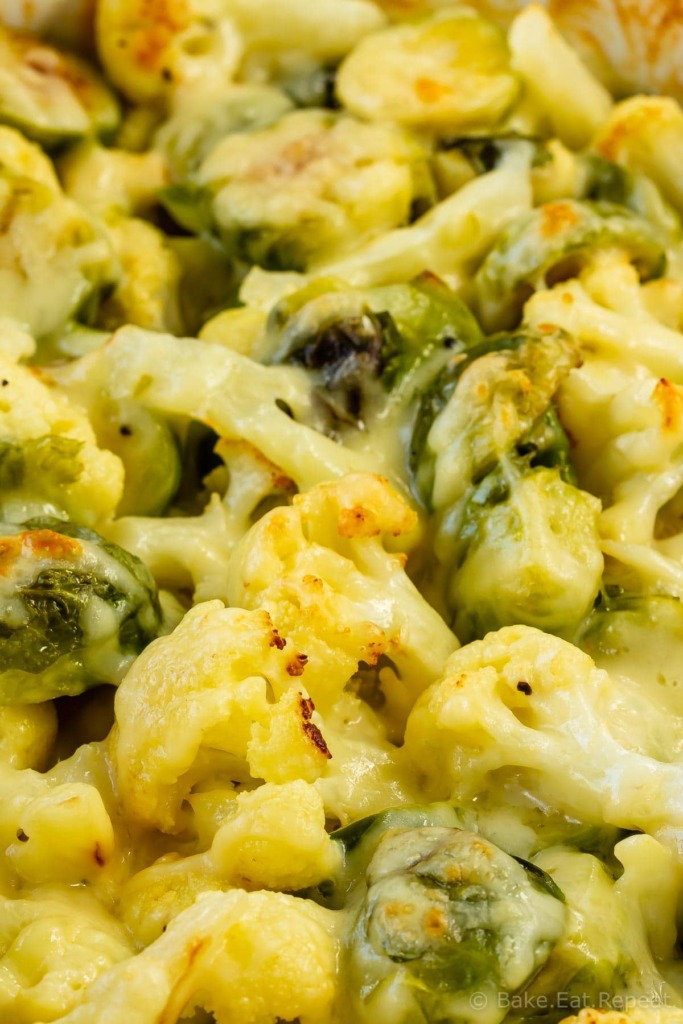 How to make Cheesy Roasted Brussel Sprouts and Cauliflower:
I like to roast my vegetables spread out on a baking sheet and then transfer them to a casserole dish and add the cheese sauce before baking them again. This isn't strictly necessary, but if they're close together and piled on top of each other, they end up steaming more then roasting and I like the crispy edges. To get those, they need a bit of space around them when roasting, so it's worth it to me to move them. If you'd rather not bother and don't care if they're crispy, you can roast them in a casserole dish instead.
If you don't have kosher salt, sea salt would be a good substitute. Table salt will work too, but I do prefer a coarser salt for this recipe if you have it.
You can use another vegetable here with the Brussel sprouts instead of cauliflower if you like. Or just use Brussels sprouts on their own. The amount of cheese sauce is perfect for 2 1/2 pounds of vegetables, so as long as you keep the amount of vegetables consistent, it will still work out great.
I use a combination of Swiss and mozzarella cheese for this recipe, but any cheese that melts well will work just fine. I think it would be fantastic with cheddar, Swiss, mozzarella, Monterey Jack, or any combination of cheeses you like. I do prefer to buy a block of cheese rather then the pre-shredded cheese for this recipe. The pre-shedded cheese comes with a coating on it to prevent it from sticking together in the bag, so it doesn't melt as well, and it can give a bit of a grainy texture to the cheese sauce.

Here are a few more great roasted brussel sprouts recipes for you:
Yield: serves 8
Cheesy Roasted Brussel Sprouts and Cauliflower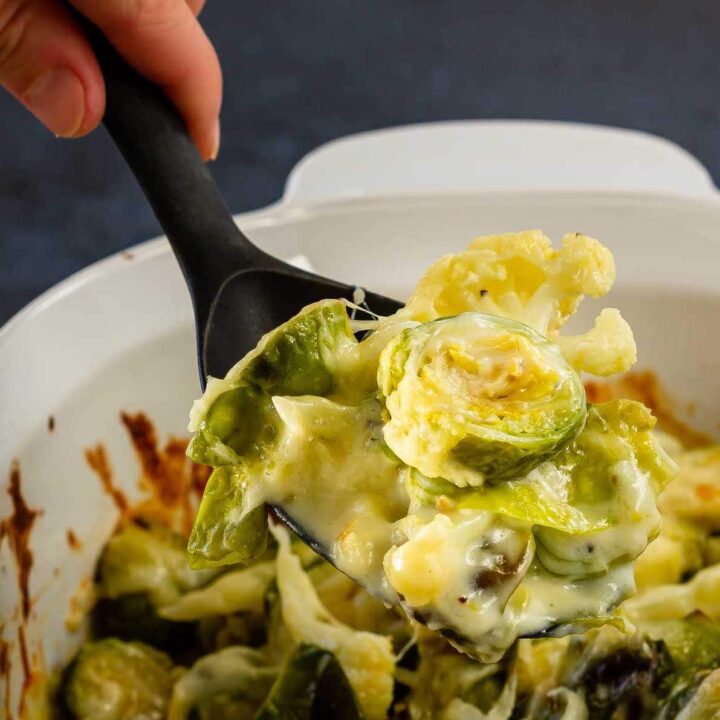 These cheesy roasted Brussel sprouts with cauliflower are so easy to make and taste great. Crispy roasted vegetables with a creamy homemade cheese sauce!
Ingredients
1 1/2 pounds Brussels sprouts, trimmed and cut in half
1 pound cauliflower florets (about half medium head)
2 tablespoons olive oil
1 teaspoon kosher salt
3 cloves garlic, minced
2 tablespoons unsalted butter
2 tablespoon all purpose flour
1 cup milk (I use 2%)
1/8 teaspoon pepper
1/8 teaspoon dry mustard
1 1/2 cups shredded cheese (I used 1 cup Swiss and 1/2 cup mozzarella), divided
Instructions
Preheat the oven to 425 degrees F.

Toss the Brussels sprouts, cauliflower, olive oil, salt, and garlic together until the vegetables are evenly coated.

Spread them on a rimmed baking sheet, and roast for 15-18 minutes, or until they are fork tender.

While the vegetables are roasting, make the cheese sauce.

In a medium saucepan over medium heat, melt the butter.

Add the flour and cook, stirring, for about a minute until the flour is browned.

Slowly add the milk, whisking constantly so the sauce is smooth.

Whisk in the pepper and dry mustard, and bring the sauce to a simmer. It should be steaming with small bubbles along the edges, and starting to thicken.

Lower the heat to medium low and slowly whisk in 1 cup of the cheese, continuing to stir until it is completely melted.

Reduce the heat to low and keep the sauce warm until the vegetables are finished roasting.

Remove the vegetables from the oven and transfer them to a large casserole dish, or a 9x13 inch baking dish. (They will just fit in a 9x13 dish so if you have something a bit larger that will make it easier to stir in the cheese sauce, but a 9x13 dish will work.)

Pour the cheese sauce over top of the vegetables and stir gently to coat everything in the cheese sauce.

Sprinkle the remaining half cup of cheese over top of the vegetables and bake for another 10-15 minutes, or until the cheese is melted on top and the sauce is bubbling.
Recommended Products
This post contains affiliate links. As an Amazon Associate, I may receive a small commission from qualifying purchases.
Nutrition Information:
Yield:
8
Serving Size:
1
Amount Per Serving:
Calories:

209
Total Fat:

15g
Saturated Fat:

7g
Trans Fat:

0g
Unsaturated Fat:

7g
Cholesterol:

31mg
Sodium:

446mg
Carbohydrates:

12g
Fiber:

4g
Sugar:

3g
Protein:

9g
Nutrition Information is estimated based on ingredients used and may not be exact.