Roasted garlic mashed potatoes are so easy to make, and can even be made ahead of time. Add some roasted garlic to your mashed potatoes for a tasty change!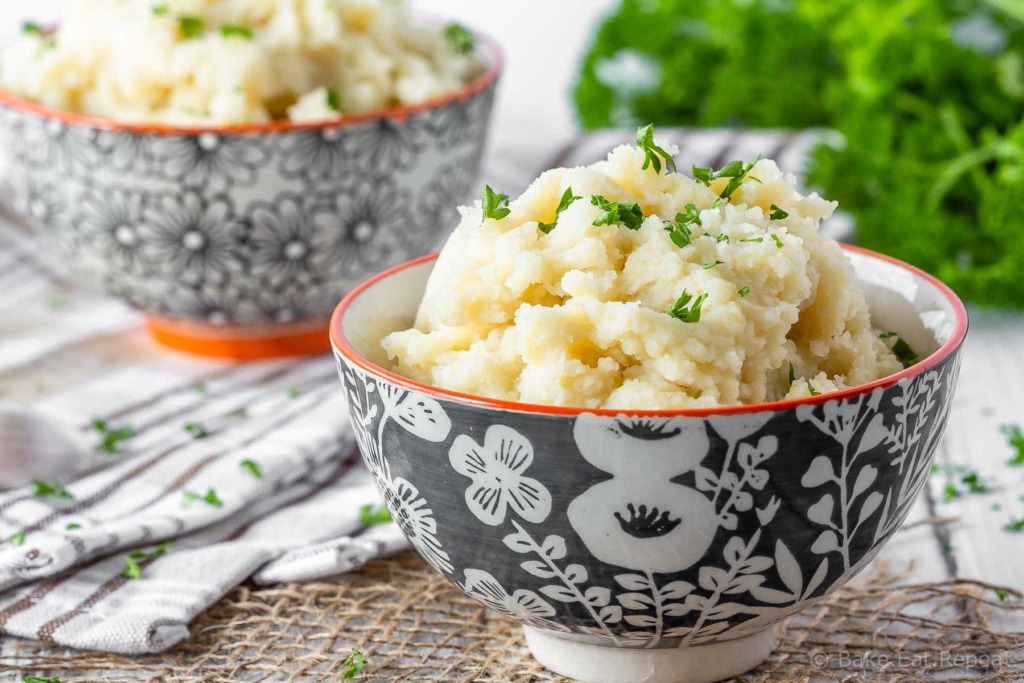 I've mentioned before that mashed potatoes are not my strong suit. I've made lumpy mashed potatoes so many times that my family has started to not expect much when mashed potatoes are on the menu.
It's true. I'll admit it.
I've just never been that great at making mashed potatoes.
But I like them. So clearly I needed to remedy that situation.
I've discovered that the Instant Pot makes mashed potatoes easy. So if you have the same problem and always seem to undercook your potatoes so they just don't mash easily, make them in the Instant Pot. Five minutes of cook time and they are perfect every time.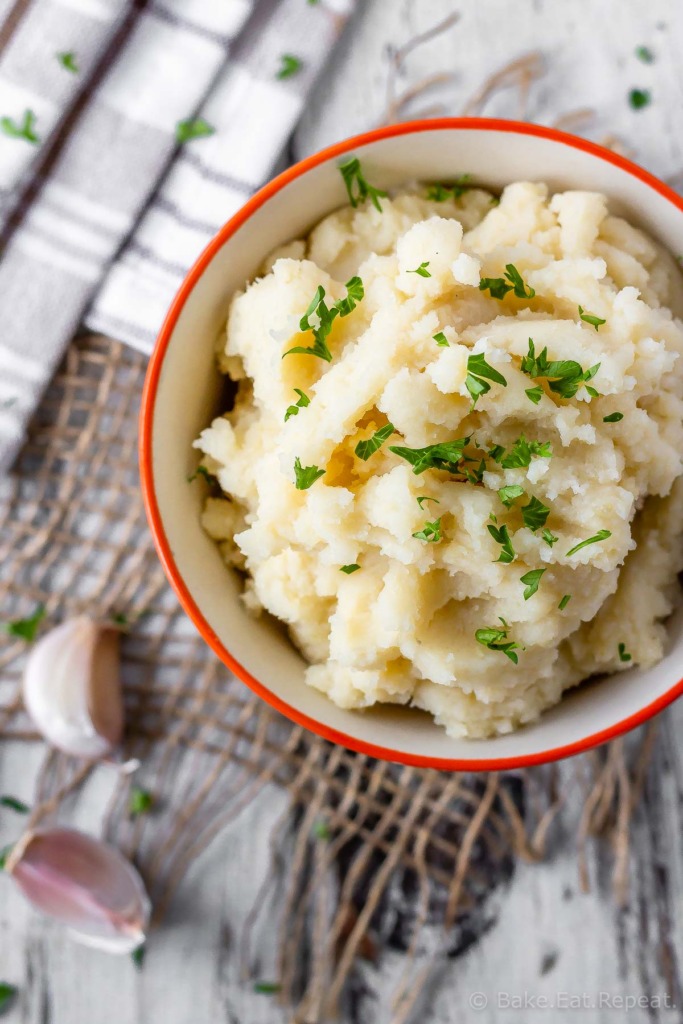 Or just boil them long enough if you're making them on the stove. Cook them longer then you think you need to. Trust me on this.
They need to literally be falling apart or your mashed potatoes will have lumps. I've learned this the hard way. If you think they're done, cook them a little longer!
But in my mind, Instant Pot mashed potatoes are where it's at. I don't see myself making them any other way from now on.
I'll change them up by making roasted garlic mashed potatoes though. Roasted garlic is so tasty, and adding it to mashed potatoes makes for the perfect side dish.
Roasted garlic has a milder flavour then raw garlic so don't be concerned that this recipe calls for a whole head of garlic. It's delicious this way, I promise. If you like garlic, you will love these roasted garlic mashed potatoes.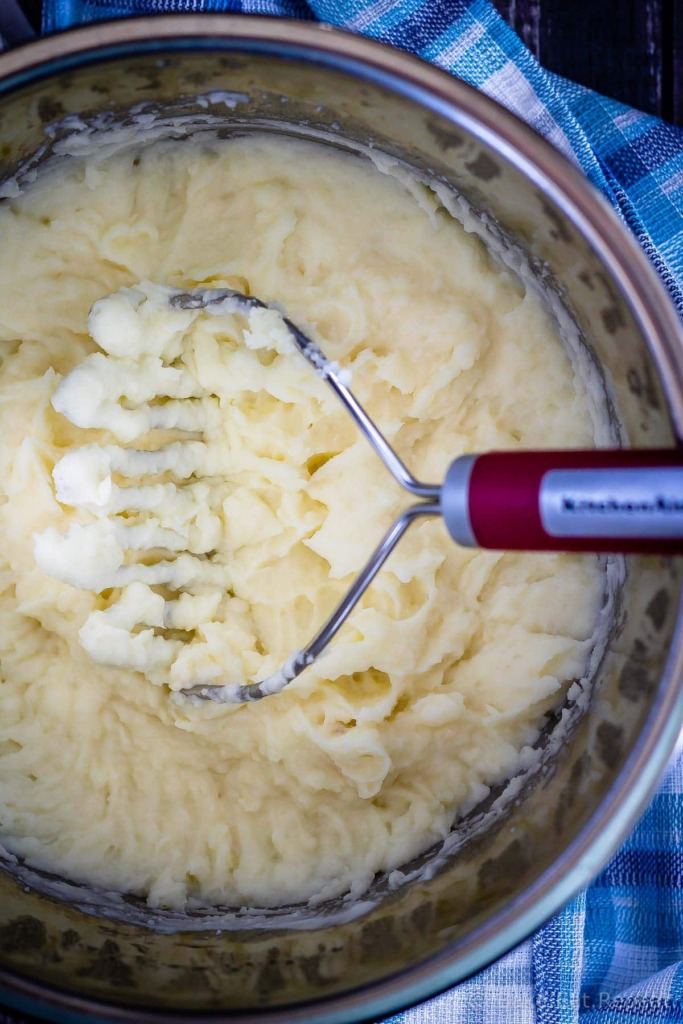 How do you roast garlic?
Roasting garlic in the oven is super easy and is so much tastier in mashed potatoes then raw garlic. The flavour is much milder and doesn't have the bite of raw garlic. I've written an entire post on how to roast garlic, so head there to check out all the details, along with a bunch of ideas for using it!
What potatoes are best for mashed potatoes?
Higher starch potatoes, such as russet or yukon gold potatoes, produce the smoothest, fluffiest mashed potatoes. I typically use russet potatoes – mostly because that's what my father-in-law told me to use, and he makes amazing mashed potatoes so he must be right!
How many potatoes is 2 pounds?
2 pounds of potatoes is about 6 medium russet potatoes. If you have a kitchen scale, the best way to make sure you're using the right amount is simply to weigh your potatoes and use approximately 2 pounds for this recipe. You don't need to worry about being too exact here – if my 6-7 potatoes are 2.2 pounds, I still use all 6 or 7 of them!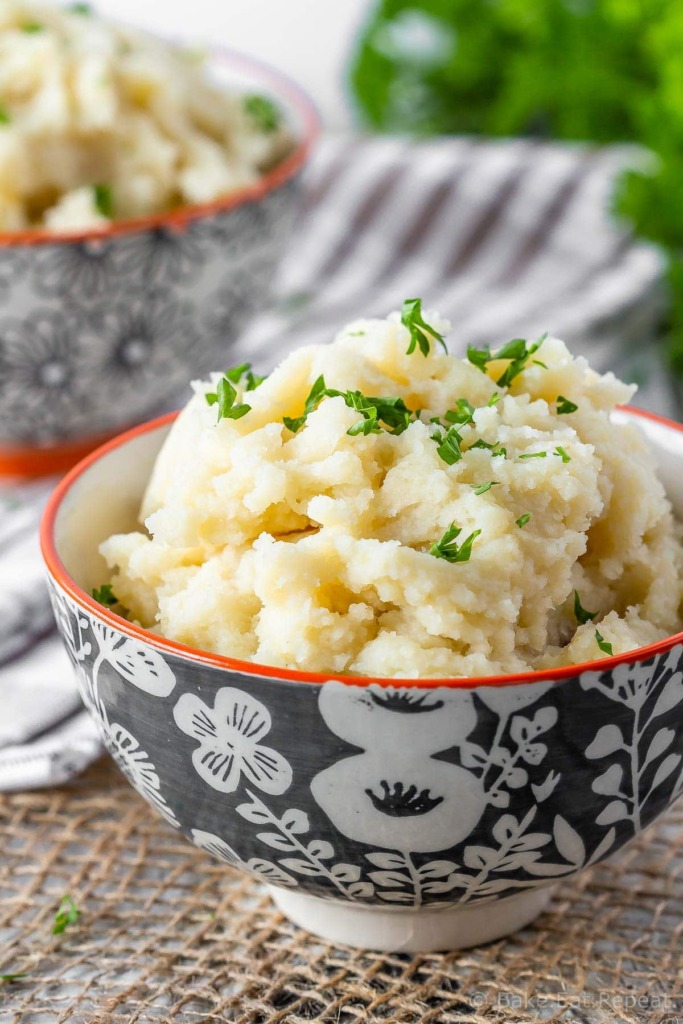 How many potatoes should you make per person for mashed potatoes?
Typically you should use 1/3-1/2 pound of raw potatoes per person for mashed potatoes. Obviously this will depend on the people – but it's a good starting point. This recipe can be easily increased to cook for more people, although as it's written it makes about 4 servings.
Can you make mashed potatoes ahead of time?
Yes! Mashed potatoes can be made a day or two ahead of time and refrigerated. To reheat them, mash them with the milk and sour cream and then refrigerate.
When you want to reheat them, place them in the buttered crock of a slow cooker and reheat on low (or warm, depending on how hot your slow cooker is) for 3-4 hours. Mine runs pretty hot, so I do low for 1-2 hours and then lower it to warm. When you are ready to serve, add the butter and whip them until smooth.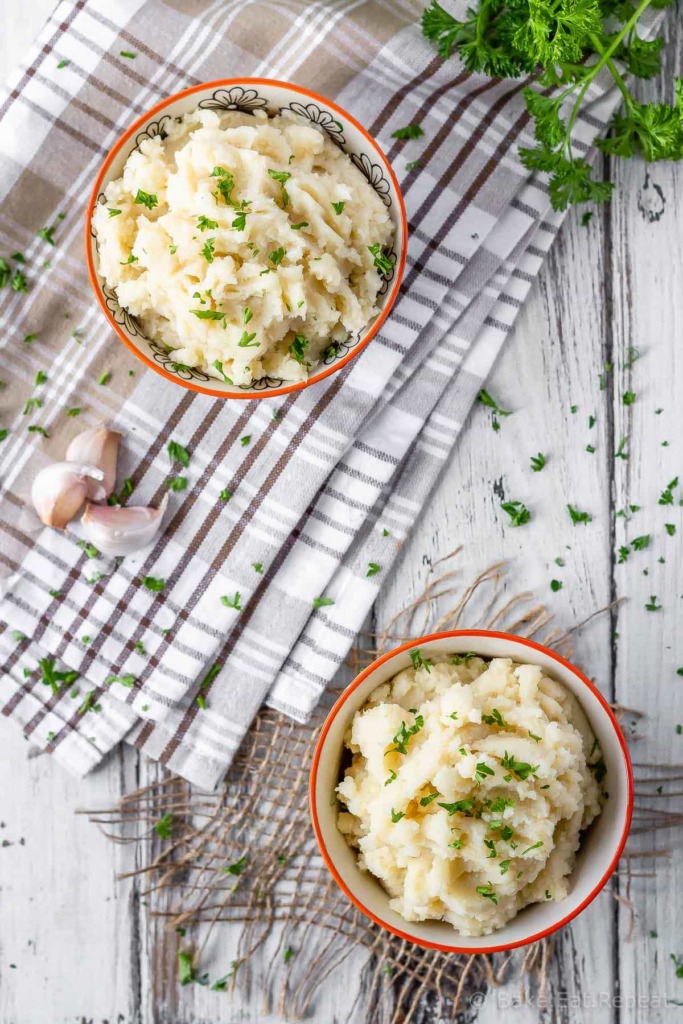 How to make roasted garlic mashed potatoes:
You can roast the garlic a day or two ahead of time and keep it in a sealed container in the fridge. Or start it roasting and then peel and cook your potatoes while it's in the oven.
This recipe does call for a whole head of garlic. It's okay, really. When you roast garlic, it has a much milder flavour than when it's raw. I will say though, that if you are making these mashed potatoes ahead of time, the roasted garlic flavour tends to intensify. So if you're serving them immediately, the whole head of garlic will just add a nice garlic flavour. But if you are making them ahead and they're refrigerated for a couple of days, it will be more pronounced. We still like them with a stronger flavour, but if you don't want that, either add your garlic when you reheat them, or use a little less.
If you're boiling your potatoes, make sure to cook them long enough. They should be falling apart when they're done.
Here are some more great side dishes for you: