These salt crusted, roasted baby potatoes with rosemary and garlic make the perfect side dish, and it takes just a few minutes to get them in the oven!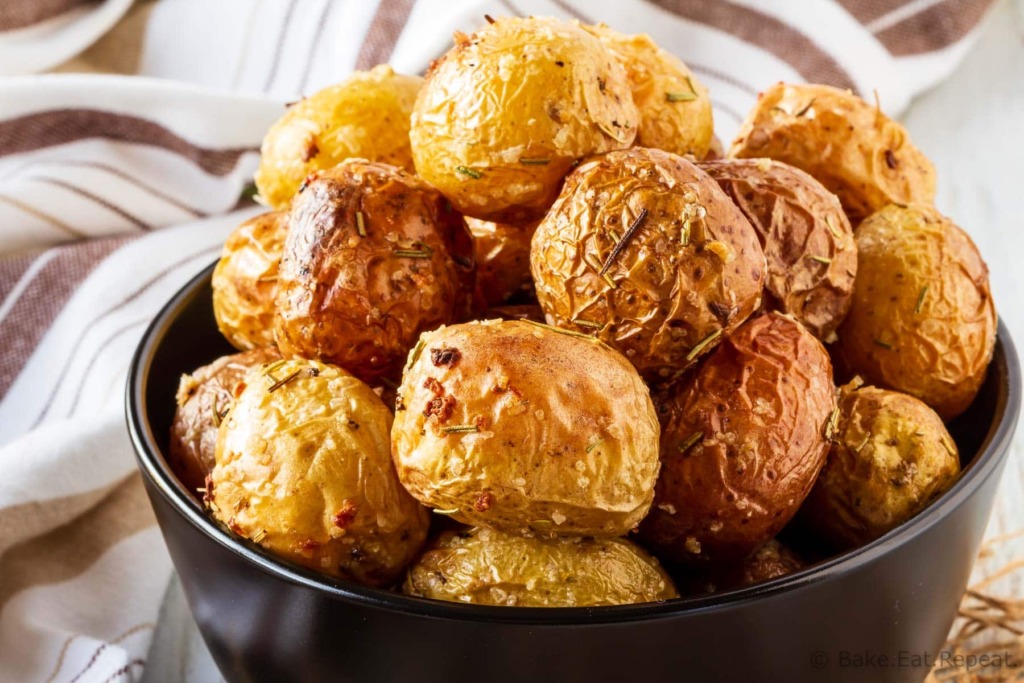 These roasted baby potatoes. They are incredible. That is all.
Well….not really. I always have more to say about food then that. But sometimes that's all I really want to say. Just "make this, it's good" and leave it at that.
Because maybe that's all you really need to know sometimes.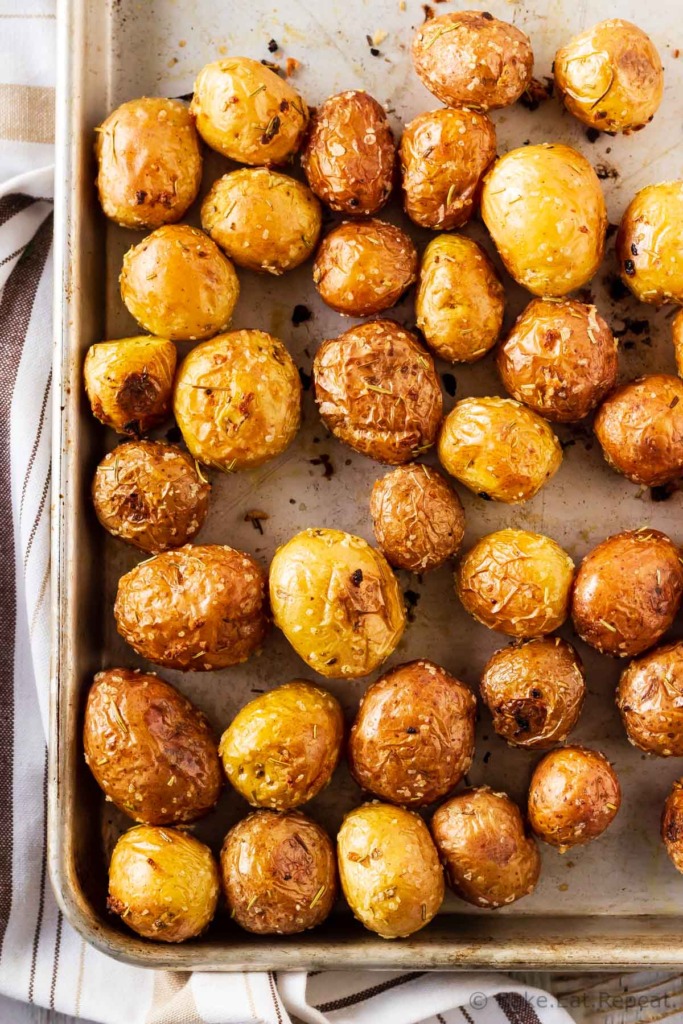 So….I don't have a whole lot more to say about these roasted baby potatoes with rosemary and garlic. Except that I have been making these roasted baby potatoes for years and years and years, and they're still my first thought when I want to make potatoes.
They're also the only way my older son will eat potatoes. And he loves them.
Crispy, garlicky, salt crusted roasted baby potatoes with rosemary. Make them. They're good.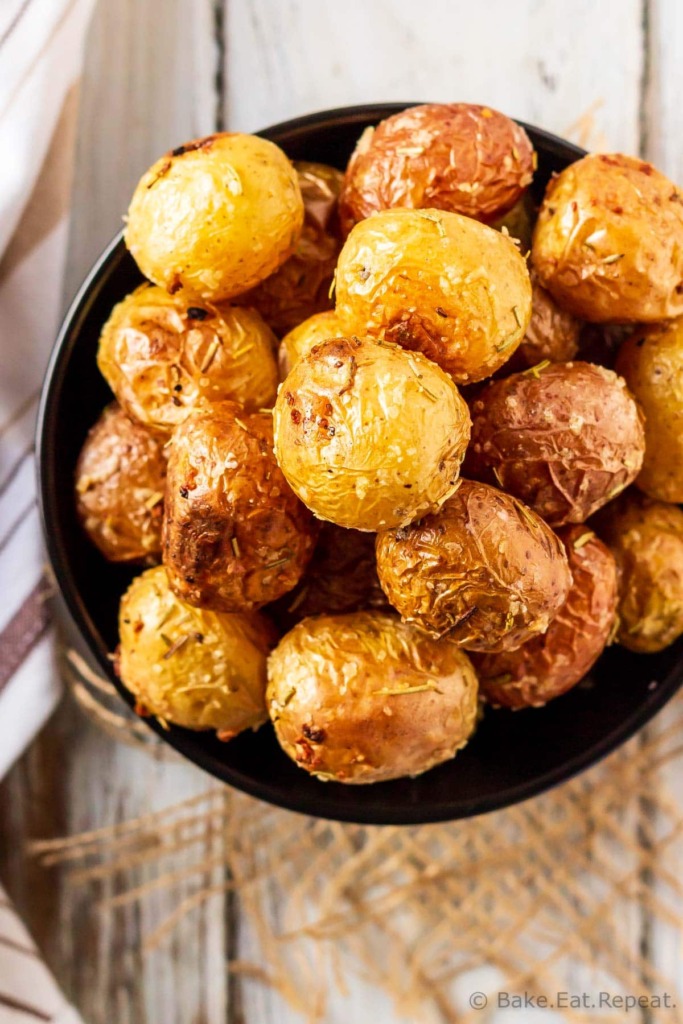 How long does it take to roast small potatoes?
Baby potatoes take 40-45 minutes to roast when roasted at 425 degrees F. This will give you nice crispy skins and fork tender middles. They may be soft on the inside a little earlier then that, depending on how small they are, but the crispy skins take that long.
How do you cook baby potatoes in the oven?
To cook baby potatoes in the oven, I like to toss them with olive oil, kosher salt, rosemary, and garlic, and roast them. It's super easy to cook them in the oven, just spread them on a rimmed baking sheet and throw them in the preheated oven.
I usually flip them halfway through the baking time so they crisp up evenly. But I have forgotten about them and skipped that step and they still turn out great.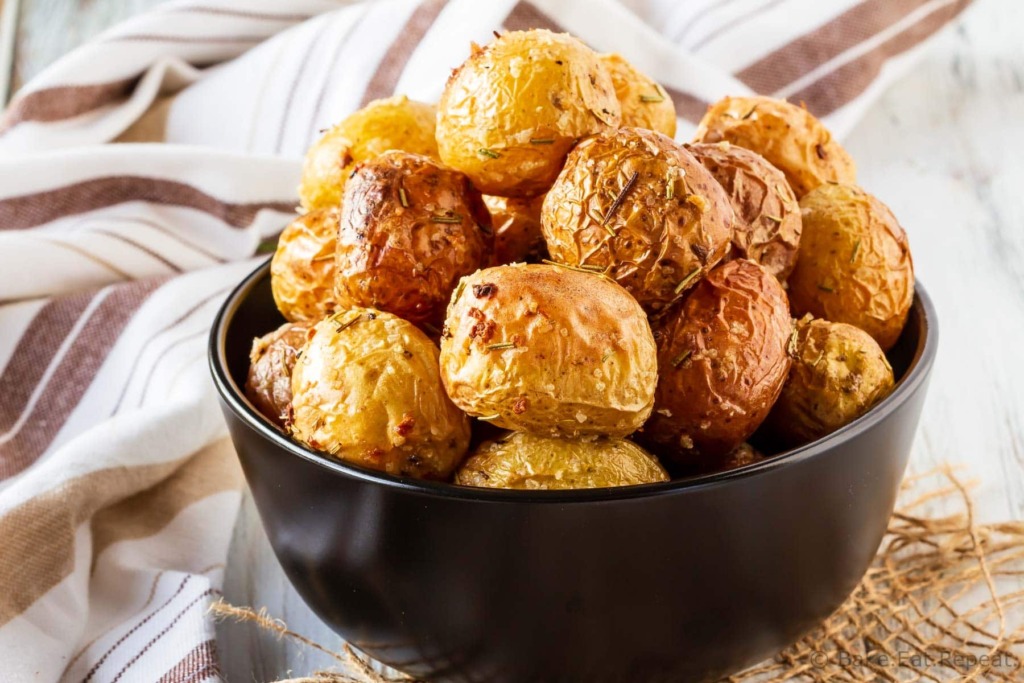 How do I make crispy baby potatoes?
Baby potatoes will have crispy skins if you roast them at a high temperature with the skins coated in olive oil. I use extra virgin olive oil, and roast them at 425 degrees F for 40-45 minutes, and this gives them nice crispy skins.
How to make Roasted Baby Potatoes with Rosemary and Garlic:
You can skip the garlic if you like, and just toss the baby potatoes with rosemary and coarse salt. I sometimes make them this way and they're delicious like this too. But I usually add garlic (I love this garlic press for mincing my garlic).
You can replace the dried rosemary with a tablespoon of chopped fresh rosemary if you like. I usually use dried just because I always have it on hand.
This recipe makes 2 1/2 pounds of roasted baby potatoes. You can easily double it or half it if you need a different amount. I find 2 1/2 pounds of baby potatoes feeds my family of five with a little bit leftover most days. Usually a good rule for baby potatoes is about 1/2 pound per person, but it obviously depends on the people eating!
Here are a few more great potato recipes for you: