This Instant Pot chicken taco soup is easy to make & everyone loves it – throw everything in the Instant Pot, and hit go – so easy!
I've been making this chicken taco soup for years now, but in the past it's always been slow cooker chicken taco soup. And while we love that version, after getting an Instant Pot, I clearly needed to adapt the recipe for the pressure cooker as well.
It's our absolute favourite soup (which is saying something because I make soup all the time and love them all!), so I make it quite often, and sometimes you just want chicken taco soup without any planning ahead.
I'm not great at menu planning, or even remembering to take meat out for dinner before 4pm, so the Instant Pot is a lifesaver for me. I'd still like to get better at actually planning things, so I'm working on that, but for those days where it's 4:30pm and I still don't know what I'm making for dinner – Instant Pot chicken taco soup to the rescue.
This soup can be made with fresh or frozen chicken (so you really don't have to plan ahead at all!), I nearly always have all the ingredients to make it, and everyone loves it. We all fight over who gets to take the leftovers for lunch the next day.
I also just really love recipes like this that can be made in several different ways. Being able to toss everything in the slow cooker if I need supper ready when we walk in the door at dinnertime is great, but it's nice to still be able to have our favourite soup when I am thinking about dinner for the first time in the late afternoon, and we need to be eating within the hour.
The perfect meal – super easy to make, and everyone loves it!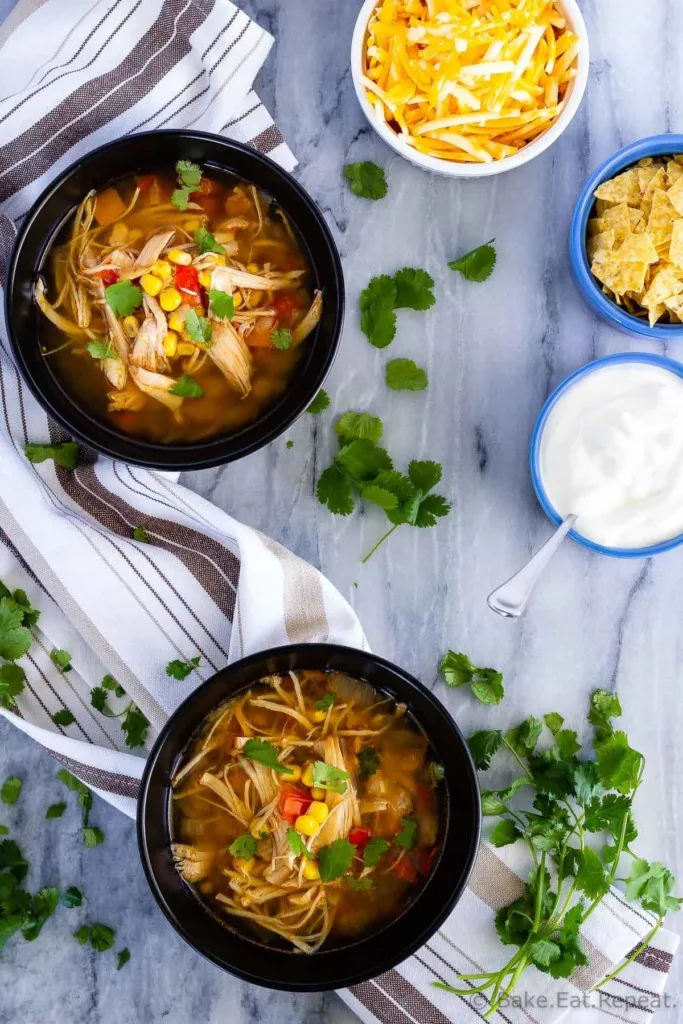 How to make Instant Pot Chicken Taco Soup:
I have an 8 quart Duo Instant Pot, and can fit a double recipe of this soup in it but it's quite full – if you have a smaller one you will probably only be able to make a single recipe, or maybe one and a half times if you want a bit more. The extra soup freezes very well.
If you don't have an Instant Pot, you can also make this soup in the slow cooker, you can find that version here – Slow Cooker Chicken Taco Soup
Everything cooks together in this recipe, simply shred the chicken with two forks once it's finished cooking – it will shred very easily.
The adults here love the jalapeno pepper in the soup – my kids will eat it, but I do need to remove the seeds and membrane for them to still eat the soup, and they prefer it without the jalapeno at all. It really doesn't add any heat if you remove the seeds, just flavour, but you can leave it out if you like.
Here are some more great soup recipes for you: