This chicken broccoli Alfredo penne with a healthier homemade Alfredo sauce makes the perfect weeknight meal – easy to make and everyone loves it!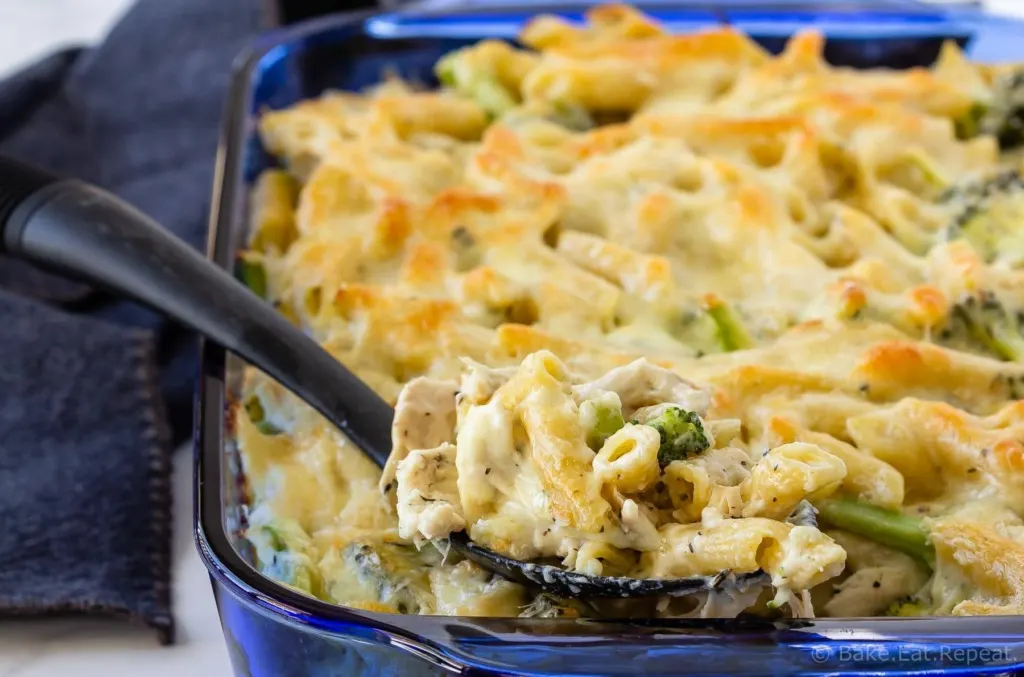 My family absolutely loves pasta (as most probably do), so everyone is happy when I make this chicken broccoli Alfredo penne for dinner.
It's the perfect choice for a weeknight meal. It's super easy to make, comes together quickly, and everyone loves it.
Plus, there's usually some leftovers, so that's a few less lunches to make the next day. Which always makes me happy.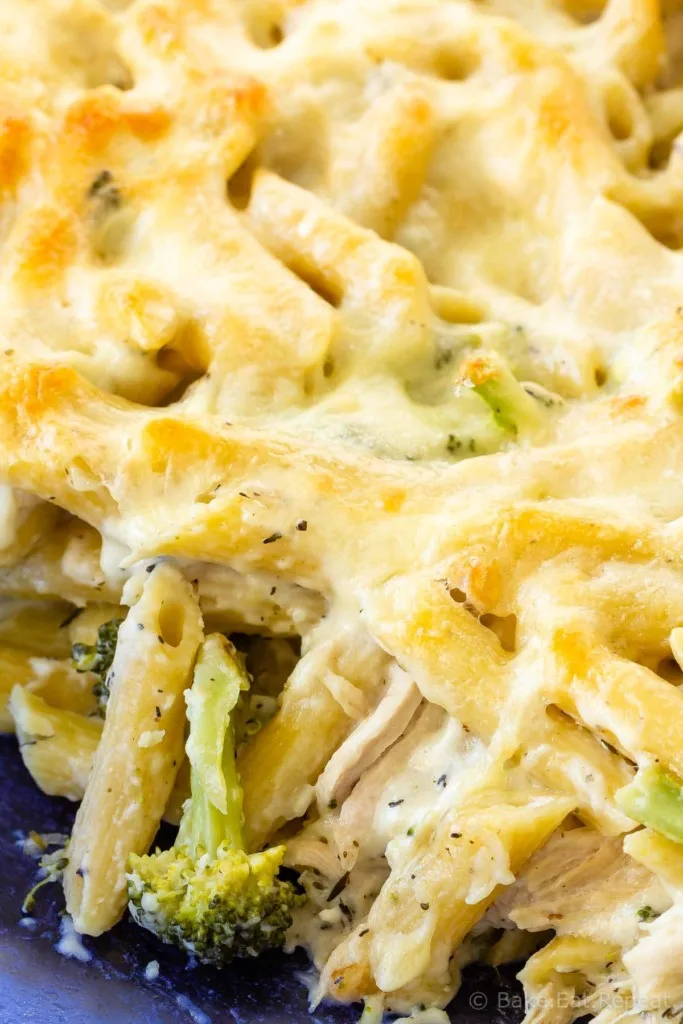 The only problem comes when there's not enough for everyone and we have to fight over the leftovers.
This recipe will be in the regular dinner rotation for a very long time I think!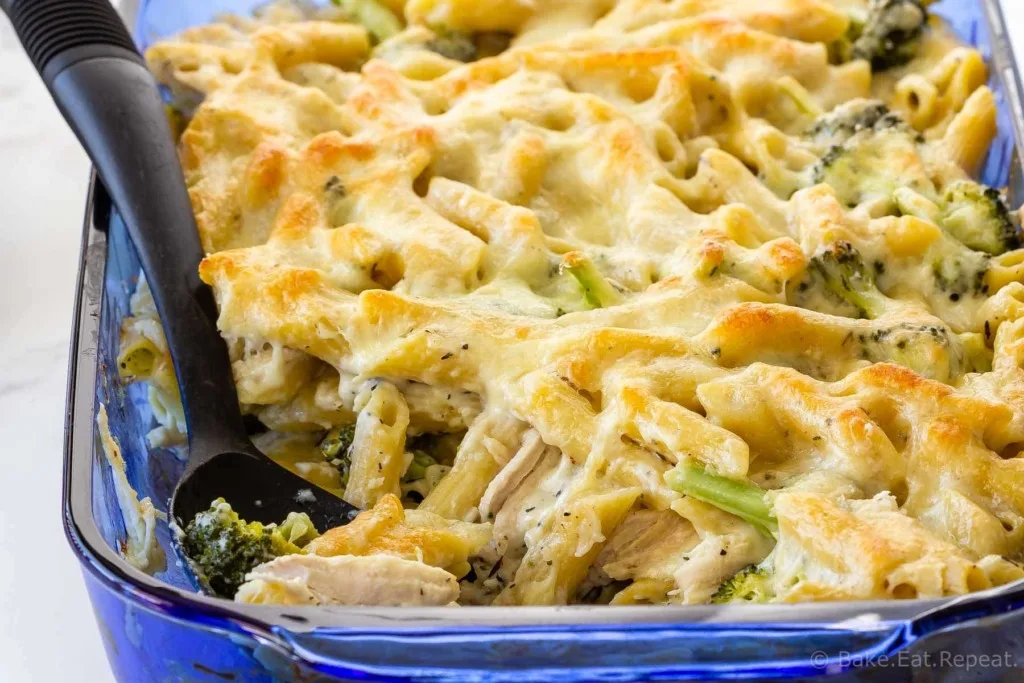 What is Alfredo sauce made of?
This chicken broccoli Alfredo penne uses a lightened up homemade Alfredo sauce. It's made with milk, butter, garlic, and parmesan cheese, with thyme, oregano, salt, and pepper for seasoning.
It's super easy to make and is ready in less time than it takes to boil the penne.
I would highly recommend making the sauce instead of buying a bottle of pre-made Alfredo sauce, although that's always an option if you want super easy dinner prep.

Can you use milk instead of heavy cream for Alfredo sauce?
Using milk instead of heavy cream for this light Alfredo sauce is the main difference. You need to add some flour to thicken it up, but it's a significant reduction in fat and calories to make it with milk instead of cream. And the flavour is still fantastic.
In all honesty, I probably choose this light version over the real thing 90% of the time – mostly because I always have milk, but not cream, sitting in the fridge. Also, it's just healthier!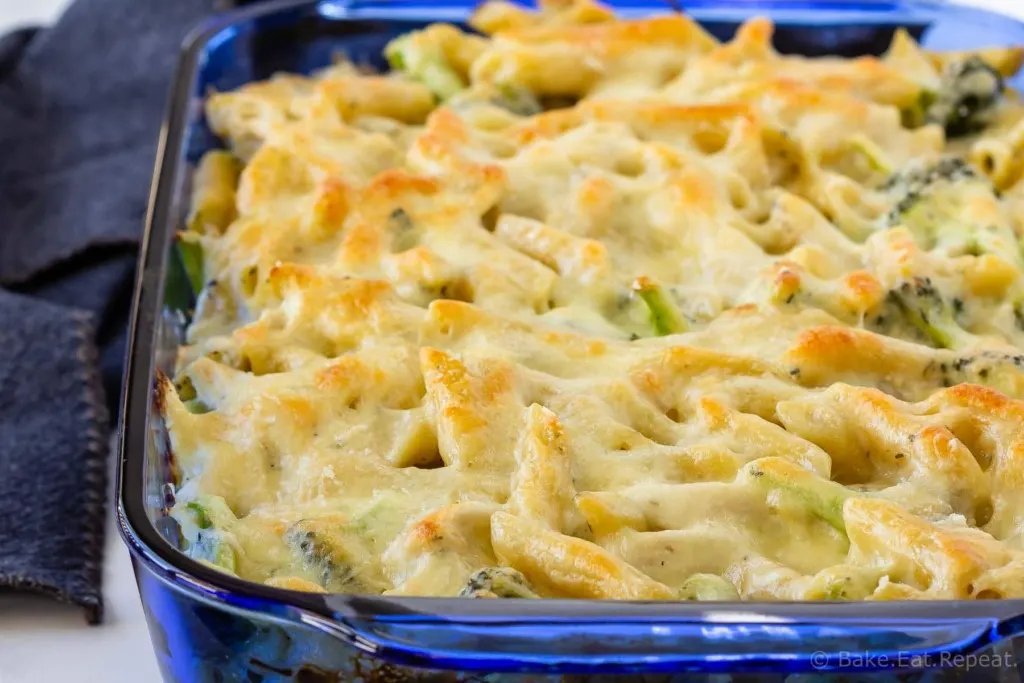 What goes well with Alfredo sauce?
We absolutely love the combination of penne, chicken, and broccoli with Alfredo sauce. But feel free to change it up a bit if you like.
Any pasta shape will work just fine here, so use what you have on hand. I do prefer smaller shaped pasta instead of long pasta like fettuccine for this recipe though.
You can also change up the protein and vegetable if you like to whatever you have on hand.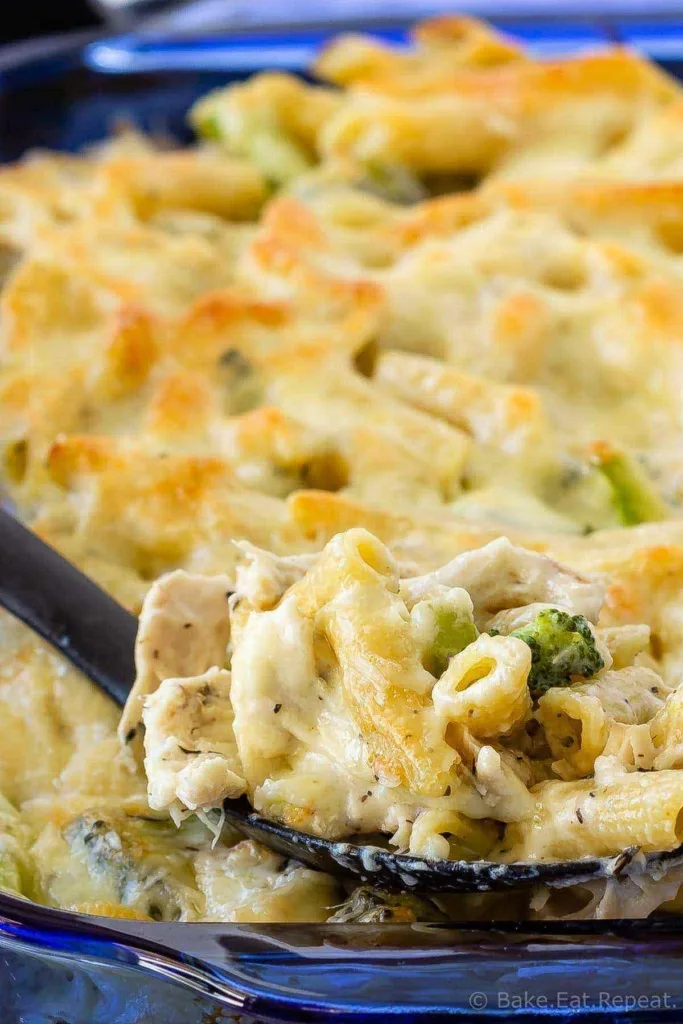 How to make Chicken Broccoli Alfredo Penne:
This recipe mixes up very quickly, but it does call for cooked chicken. If you don't have any on hand, you can easily make it earlier in the day with this Slow Cooker Shredded Chicken recipe. Or make it while you're cooking your penne and making the Alfredo sauce with this Instant Pot Shredded Chicken recipe.
I like using a lightened up Alfredo sauce for this recipe, but feel free to change it up and use the real thing. Here is the Homemade Alfredo Sauce recipe I like. For this chicken broccoli Alfredo penne you will need a double recipe of that sauce. It makes about a 1/2 cup more sauce then is called for here so you may not need it all if you go that route.
This makes a 9×13 inch pan of pasta, and easily feeds my family of five with leftovers for at least a couple of people for lunch the next day.
Here are some more great pasta recipes for you:
I've also shared this Chicken Broccoli Alfredo Penne over on Food Fanatic.