Tender, flavourful, amazing eggnog cranberry orange muffins with a crumb topping and an orange glaze – perfect for your Christmas breakfast plans!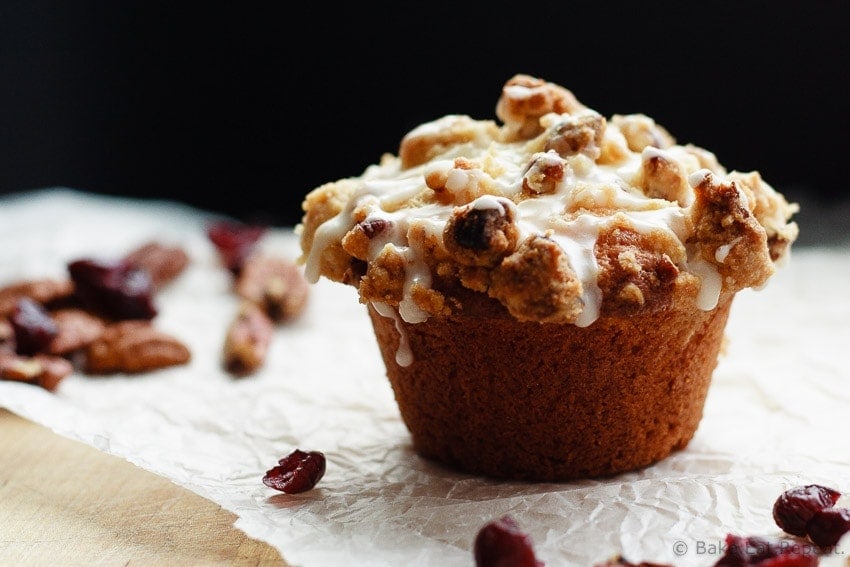 These eggnog cranberry orange muffins might just be the best muffins I have ever made.  In fact, my husband said exactly that after he inhaled one in record time.  He may have been really, really hungry  – but whatever, they are amazing so I'm going to believe him!
Of course, they may just be the least healthy muffins I've ever made too, which could have something to do with it, but they're healthier then everything else I've shared over the last couple weeks so I'm just going to go ahead and say these would make a great Christmas morning breakfast.  Or snack.  Or just to have this afternoon because they are so wonderful.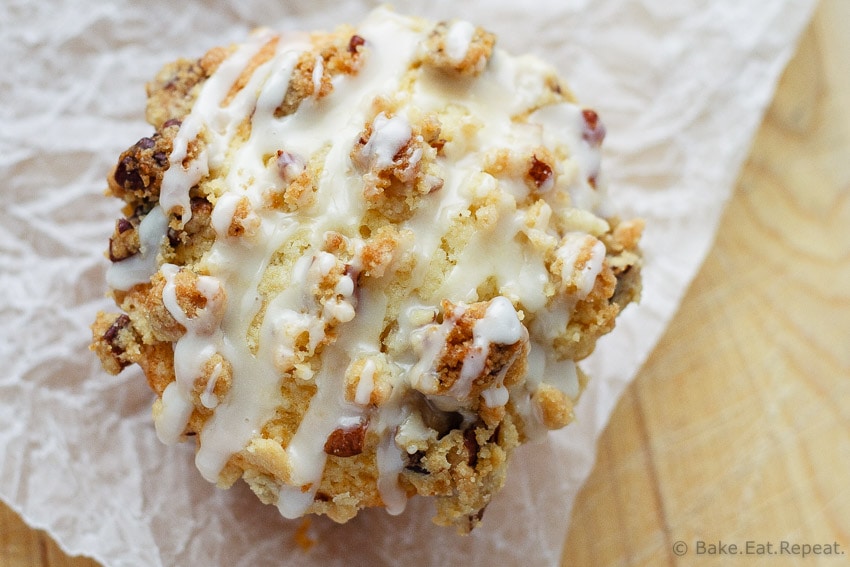 There's so many great flavours going on here.  Eggnog is used in the muffin batter instead of buttermilk, fresh cranberries and orange zest are in the muffins, and a brown sugar pecan streusel with an orange glaze finishes them off.  That's a fantastic muffin.
Very bakery like.  Not really the kind of muffin I typically make.  Sadly, these cranberry orange muffins may have convinced me to start making bakery style muffins a little more often, rather then the ultra healthy ones like these or these.  Although, I say that now.  In December.  Amidst all the treats.  I will likely change my tune in January.  When all the treats need to stop and we need to get healthy again.
But for now – eggnog cranberry orange muffins that aren't that healthy, but are pretty freaking awesome.  Christmas morning breakfast anyone?



Yield: 12 muffins
Eggnog Cranberry Orange Muffins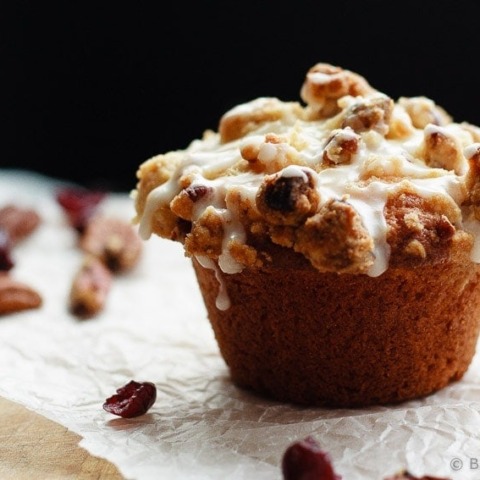 Tender, flavourful, amazing eggnog cranberry orange muffins with a crumb topping and an orange glaze - perfect for your Christmas breakfast plans!

Prep Time 20 minutes

Cook Time 24 minutes

Total Time 44 minutes
Ingredients
For the streusel:
3 tablespoons granulated sugar
3 tablespoons brown sugar, lightly packed
1/2 cup plus 3 tablespoons all purpose flour
1/2 cup coarsely chopped pecans
pinch salt
5 tablespoons unsalted butter, melted
For the muffins:
1 cup fresh cranberries, quartered
1 tablespoon orange zest
3/4 cup plus 1 tablespoon granulated sugar
2 1/2 cups all purpose flour
2 1/2 teaspoons baking powder
1 teaspoon salt
2 large eggs
4 tablespoons unsalted butter, melted and cooled
1/4 cup canola oil
1 cup eggnog
1 1/2 teaspoons vanilla extract
For the glaze:
1 cup powdered sugar
2 tablespoons orange juice
Instructions
Preheat the oven to 425 degrees F.
Lightly spray a 12 cup muffin tin with non-stick spray, or line it with paper liners and set aside.
Make the streusel - in a small bowl, combine the sugar, brown sugar, flour, chopped pecans and salt.
Drizzle the melted butter over everything and stir until everything is combined and clumping together. Set aside.
In a small bowl, toss the cranberries and orange zest with the 1 tablespoon of granulated sugar. Set aside.
In a large bowl, whisk together the flour, baking powder and salt.
In another bowl, whisk together the remaining 3/4 cup sugar, eggs, melted butter and oil until well combined.
Add the eggnog and vanilla and whisk until combined.
Add this mixture to the flour mixture and stir until just combined.
Fold in the cranberries.
Scoop the muffin batter into the prepared muffin tin, dividing it between the 12 muffin cups. They should be almost full.
Top the muffins with streusel, dividing the streusel mixture between the 12 muffin cups.
Bake for 17-20 minutes, or until a toothpick inserted in the center of a muffin comes out clean.
Allow the muffins to cool for 5-10 minutes in the muffin tin, and then remove them to a wire rack to cool completely.
In a small bowl, whisk together the powdered sugar and orange juice until smooth to make the glaze.
Drizzle the glaze over top of the cooled muffins.
Notes
Note: I think that dried cranberries would work very well in these too if you prefer, although we enjoyed the tartness of the fresh ones. Just omit tossing the cranberries with a tablespoon of sugar if you go that route.

Source: Adapted from Cook's Illustrated Baking Book.
Recommended Products
This post contains affiliate links. As an Amazon Associate, I may receive a small commission from qualifying purchases.
Nutrition Information:
Yield:
12
Serving Size:
1 muffin
Amount Per Serving: Calories: 350Total Fat: 18gSaturated Fat: 7gTrans Fat: 0gUnsaturated Fat: 11gCholesterol: 66mgSodium: 315mgCarbohydrates: 42gFiber: 2gSugar: 18gProtein: 5g

Nutrition Information is estimated based on ingredients used and may not be exact.