These glazed chocolate orange muffins are super easy to make, and make the perfect after school snack for the kids! Perfect for the holidays!
Chocolate and orange is one of the best flavour combinations ever.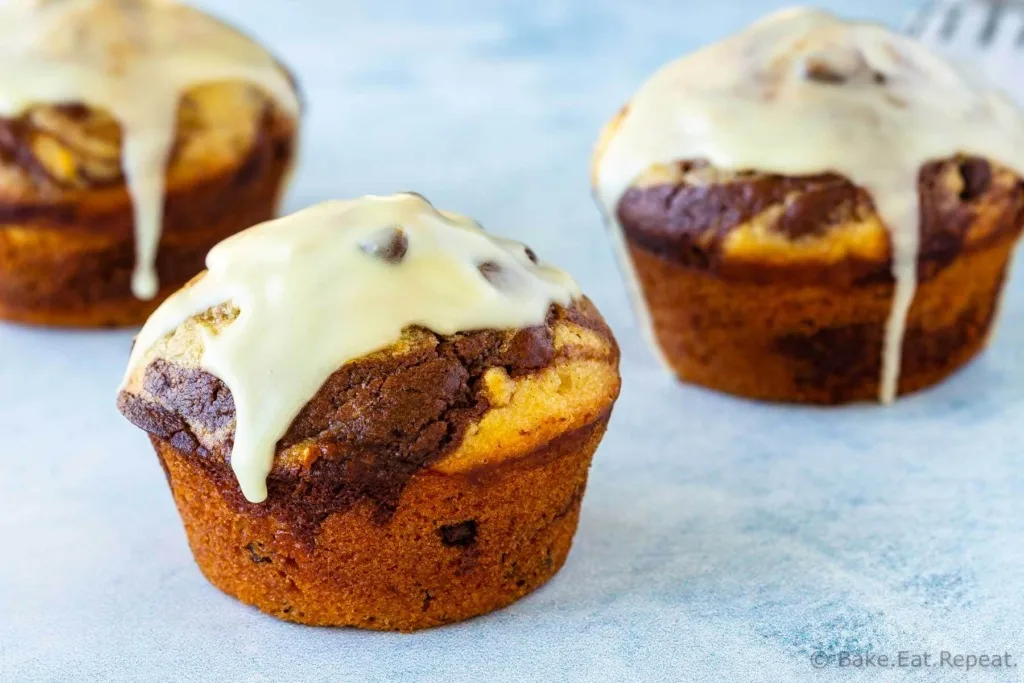 I know that when I'm looking at one of those little maps in a box of chocolates, chocolate orange is always the type I'm hoping for.
Mint chocolate is a close second, but I think I would go for chocolate orange most of the time if given the choice.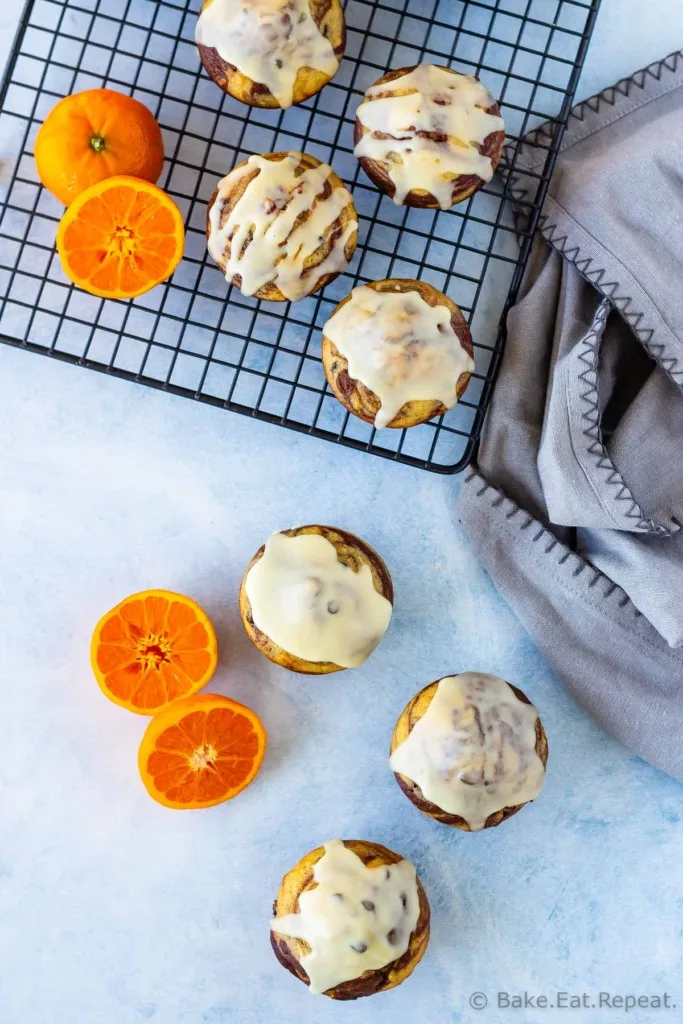 These chocolate orange muffins are soft and tender and full of that great chocolate orange flavour that I love.
The orange glaze drizzled over them just makes them even more amazing.
You could certainly leave the glaze off, they don't need the extra sweetness, but that extra bit of orange flavour really adds to these muffins.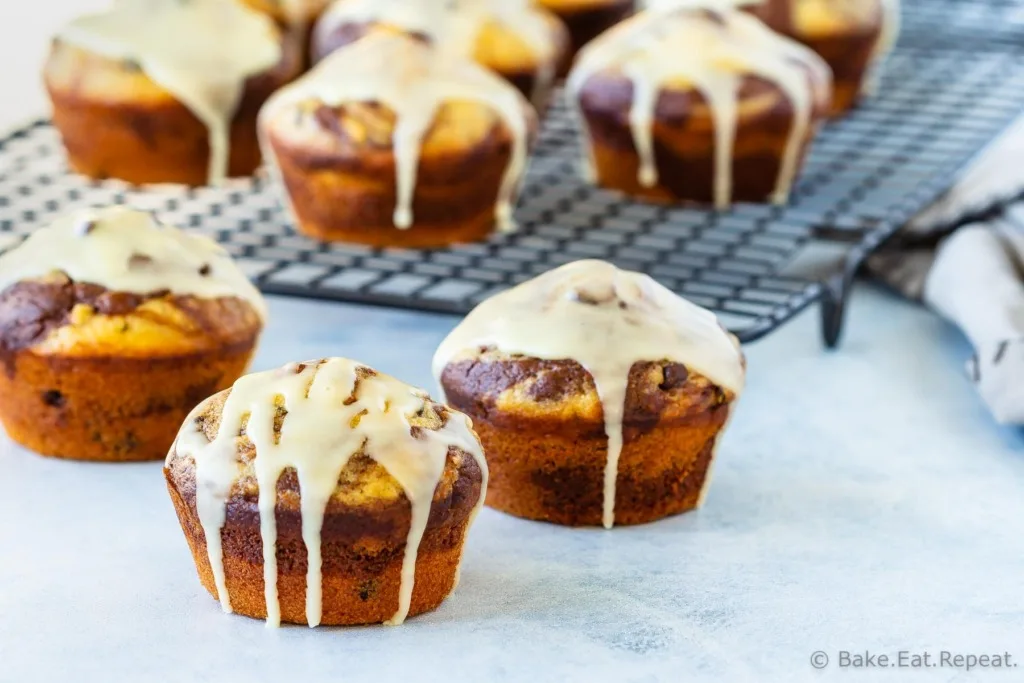 And they're so pretty!
That makes them taste even better I think. It does take slightly longer to make muffins with that marbled effect, but it's totally worth it!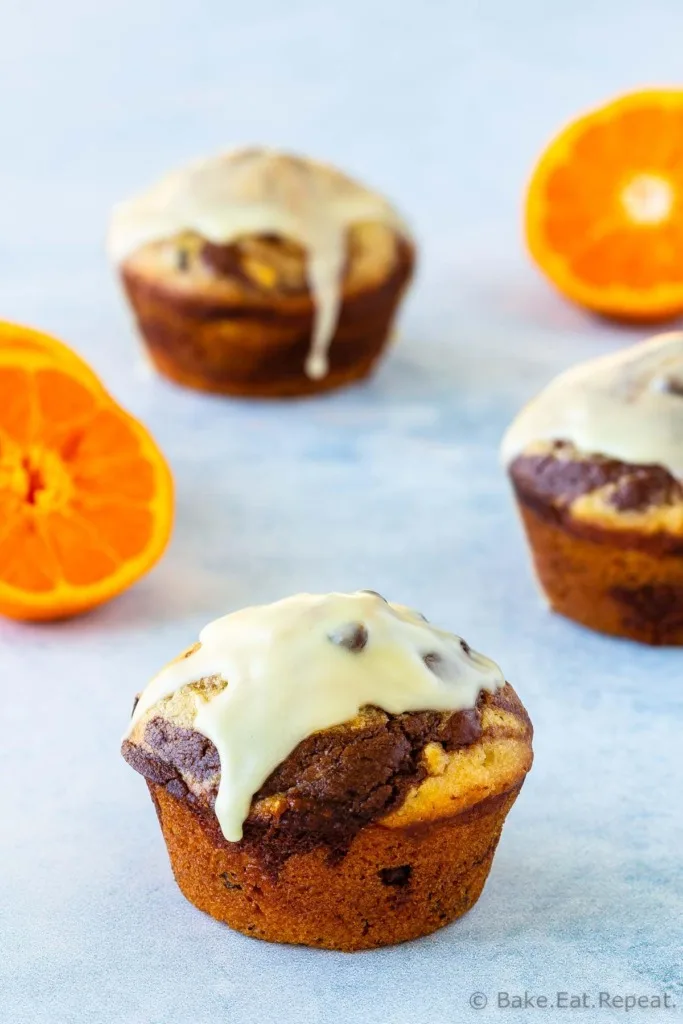 Do you let muffins cool in the pan?
You should let muffins cool in the pan for 5-10 minutes after coming out of the oven. Move them to a wire rack at this point to cool completely.
If you try to take them out of the pan immediately after baking, they tend to stick to the pan more, and crumble apart.
They also stick a bit more when left to cool completely in the pan though, so letting them cool just a bit and then removing them is best.
Can I freeze muffins?
You can definitely freeze these glazed chocolate orange muffins. The best way to freeze muffins is to let them cool completely, and then freeze them in an airtight container or a large ziplock bag.
They thaw quite quickly at room temperature. I love having muffins in the freezer to pack in school lunches.
Toss them from the freezer into the lunch kit and they will thaw by lunch time.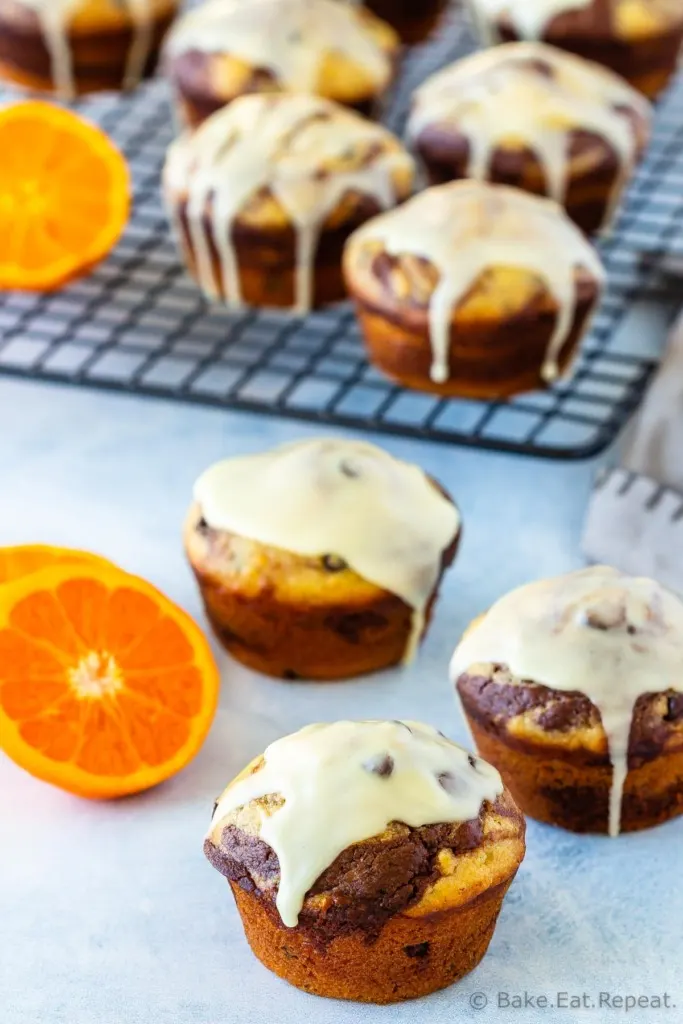 What's the best way to store muffins?
I like to store my muffins at room temperature in a large container, but with the lid unsealed. Letting some air at the muffins keeps them from getting soggy, as muffins tend to do when they are in a completely airtight container.
If you think you will have the muffins for more then 2-3 days, you will want to keep them in an airtight container so they don't dry out. I would also recommend placing some paper towel on the bottom of the container to help absorb some of the moisture.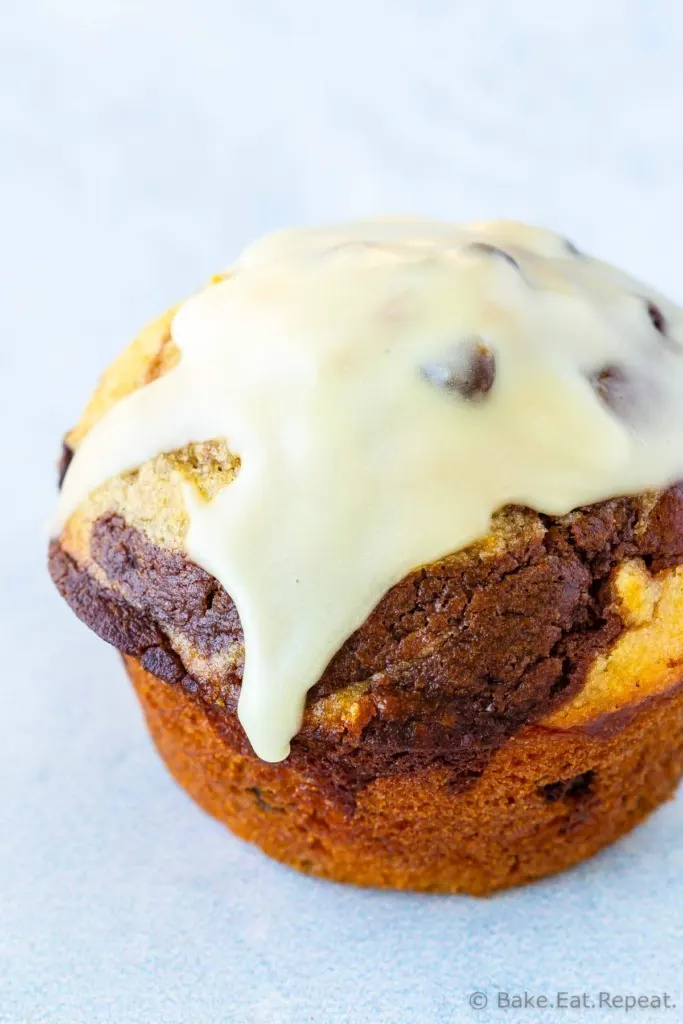 How to make Glazed Chocolate Orange Muffins:
This muffin batter is on the thinner side, so don't be alarmed if it's not as thick as some muffin batters are. It makes it a bit easier to swirl the two batters together, and they end up really soft in texture.
You could leave the mini chocolate chips out if you like, or omit the orange glaze, to make these muffins a little bit healthier, but I will admit that I loved having both options included!
To get the marbled effect, simply drop alternating spoonfuls of the two batters into the muffin tin. When you've used up all the batter, use a toothpick to swirl the two together in each muffin cup. Less is more when it comes to swirling them, as you don't want them to start mixing and lose that marbled look!
Here are some more great muffin recipes for you:
I've also shared this Glazed Chocolate Orange Muffins Recipe over on Food Fanatic.