These peach muffins with crumb topping are a great way to enjoy those summer peaches – perfect for a sweet treat with your morning coffee or tea!
Muffins that involve a crumb topping and sweet vanilla glaze might just be one of the best ways to start the day. With some coffee of course.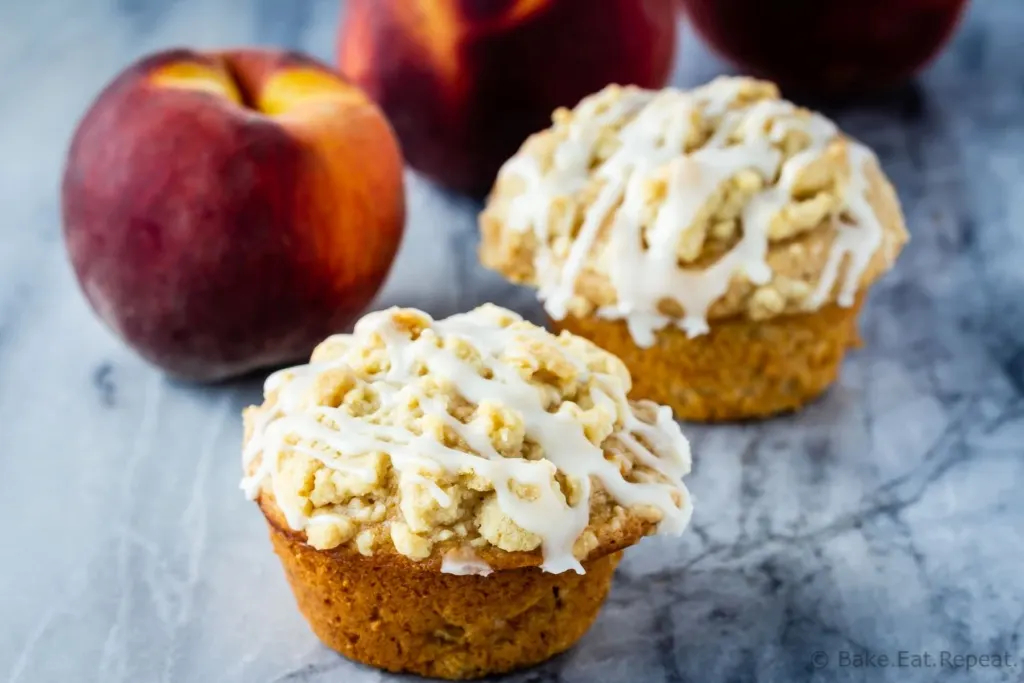 If they're filled with fresh, sweet peaches, they're even better.
I made these peach muffins with a crumb topping without really planning on it at all. This wasn't in the plans this summer as far as what to post.
But….a lovely reader asked if she could use peaches instead in my apple bread with crumb topping recipe. I decided that that was a fantastic idea, couldn't believe I hadn't tried it yet, and immediately rushed out to buy some peaches so I could.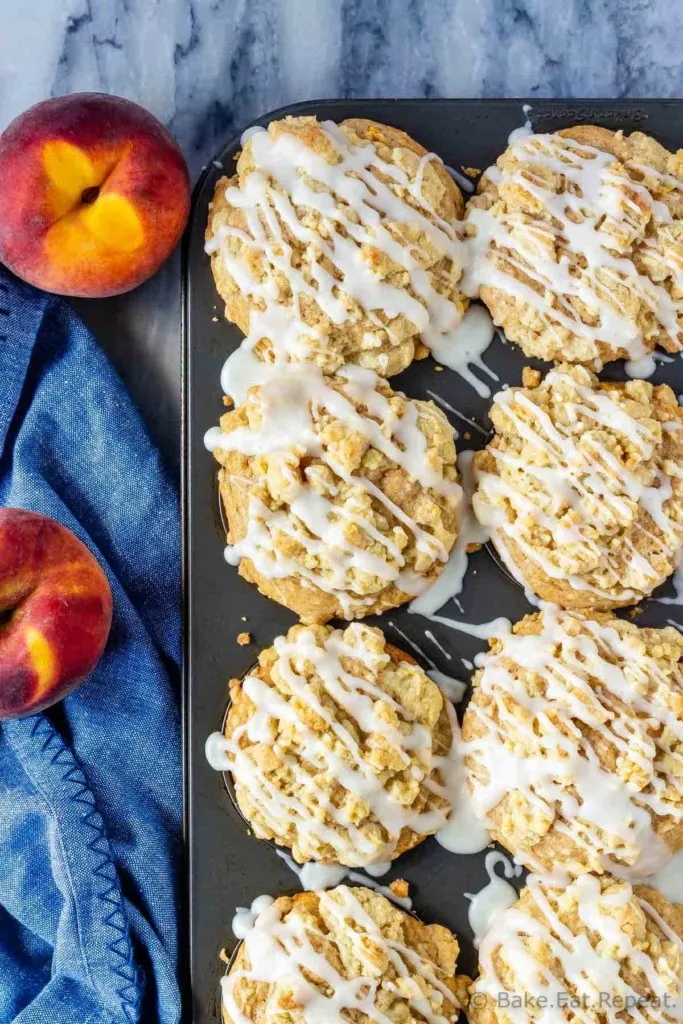 I made them the next day. And I'm so glad I did.
Of course, I went with muffins instead of bread. But I'll be honest, that was really just so that I could taste it faster. Muffins don't have to bake for an hour.
If you prefer it as a loaf of bread instead, that would work just fine. Use a 9×5 inch loaf pan, and bake it at 350F for 45-55 minutes and it should be good.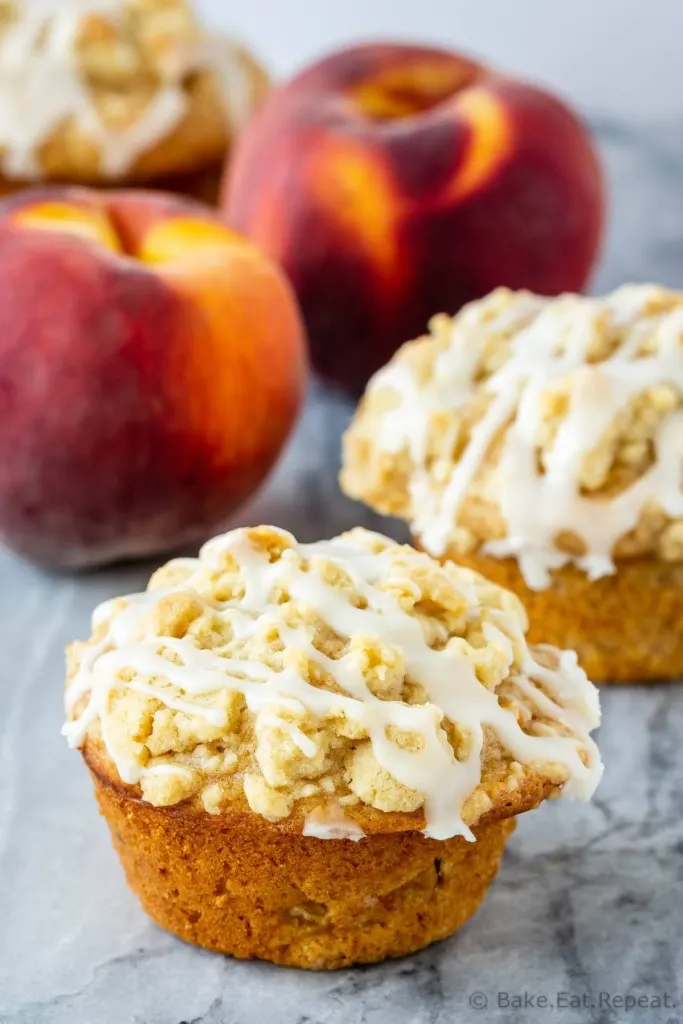 How do you make crumb topping for muffins?
It's super easy to make a crumb topping for muffins. Just a few ingredients and about thirty seconds to mix them together is all it takes.
This crumb topping uses brown and white sugar, flour, and melted butter. Place all the ingredients in a small bowl, and stir until it starts to clump together.
If you squeeze the crumb topping mixture in your hands as you put it on the peach muffins, it will clump together so you get those nice big crumbs on top.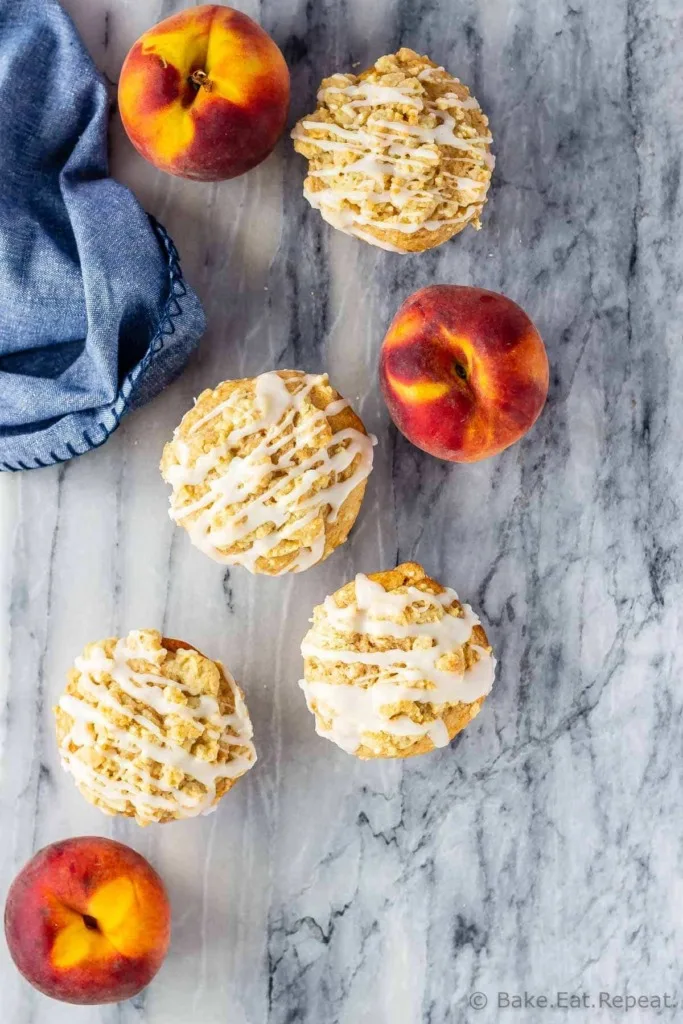 Here are some more recipes you'll love that have a fantastic crumb topping: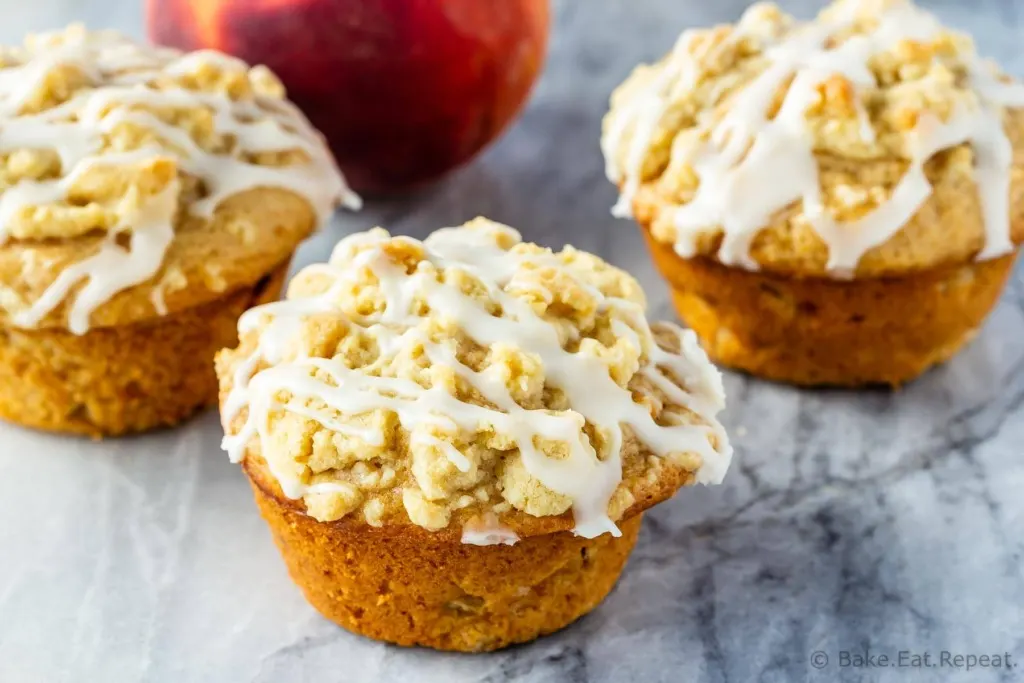 Should peaches be peeled for muffins?
I always peel peaches when I'm baking with them. I find that peach peel has an unpleasant texture in baked goods like these peach muffins with a crumb topping.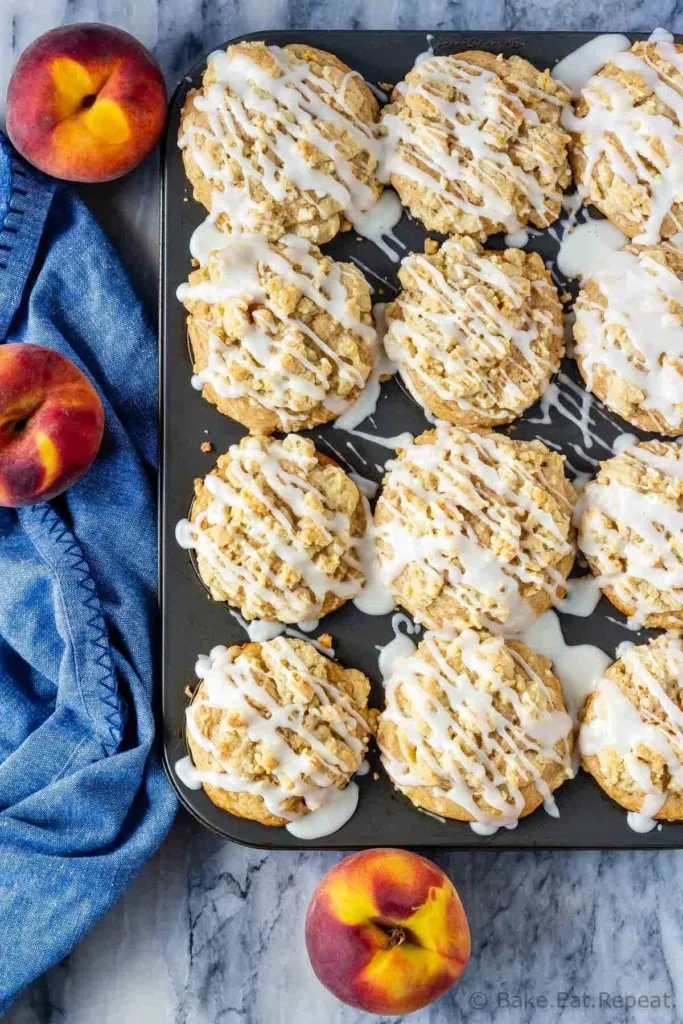 How do you peel peaches?
If your peaches are still a bit hard, you can peel them with a vegetable peeler, although I don't find this to be the easiest method. Peach peel tends to get stuck in the vegetable peeler and sometimes even an unripe peach will be too soft for this to be easy.
The easiest way to peel a peach is to cut an "X" in the bottom of the peach and place the peach in boiling water for about 30 seconds. If your peach is unripe you may need to leave it for 60 seconds. Remove the peach from the boiling water with a slotted spoon and place it in a bowl of ice water. After it cools enough to handle (about 5 minutes), you should be able to peel the softened skin off easily.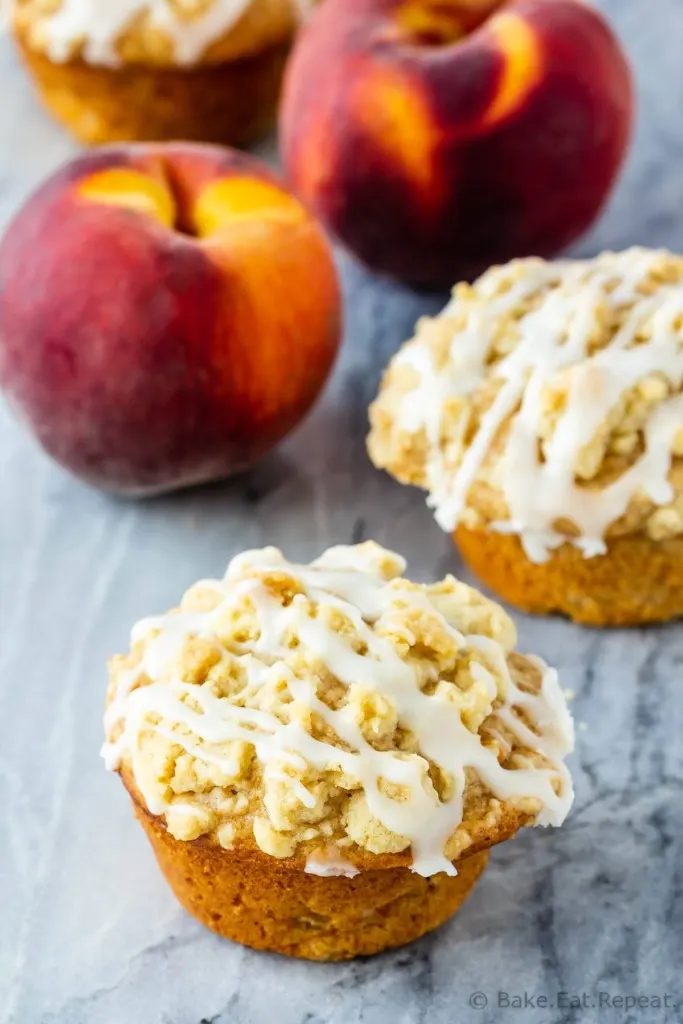 How to make Peach Muffins with a Crumb Topping:
These peach muffins are super easy to make and mix up quickly and easily. I love this stoneware muffin tin for baking muffins as they tend to rise a little bigger in it, but if you have one of those, you will need to add about 5 minutes to the baking time as they do take longer to bake in the stoneware.
The crumb topping is amazing on these peach muffins, as is the vanilla glaze, but you can definitely enjoy these muffins without them if you would like them to be a bit healthier.
If you don't have fresh peaches, I think that frozen peaches would work just fine in these muffins too. I would leave them frozen though, rather than letting them thaw before adding them to the muffin batter.
If you would rather make this as bread, use a 9×5 inch loaf pan, and bake it at 350F for 45-55 minutes or until a toothpick inserted in the centre comes out clean.
Here are some more great muffin recipes for you: