These refrigerator raisin bran muffins are easy to make, filled with sweet California Raisins, and the batter can be stored in the fridge, ready to bake, for up to a month!
Disclaimer: This post has been sponsored by California Raisins and I have been compensated monetarily. All opinions are, as always, my own.
These refrigerator raisin bran muffins are a family favourite here, and have been for a long time.
This recipe is very similar to my mother-in-laws recipe, changed a bit because I can't leave well enough alone, but basically her recipe.
And one of the things my kids always get excited for when we go to visit, is the fact that they will probably get Grandma's raisin bran muffins for breakfast a few times.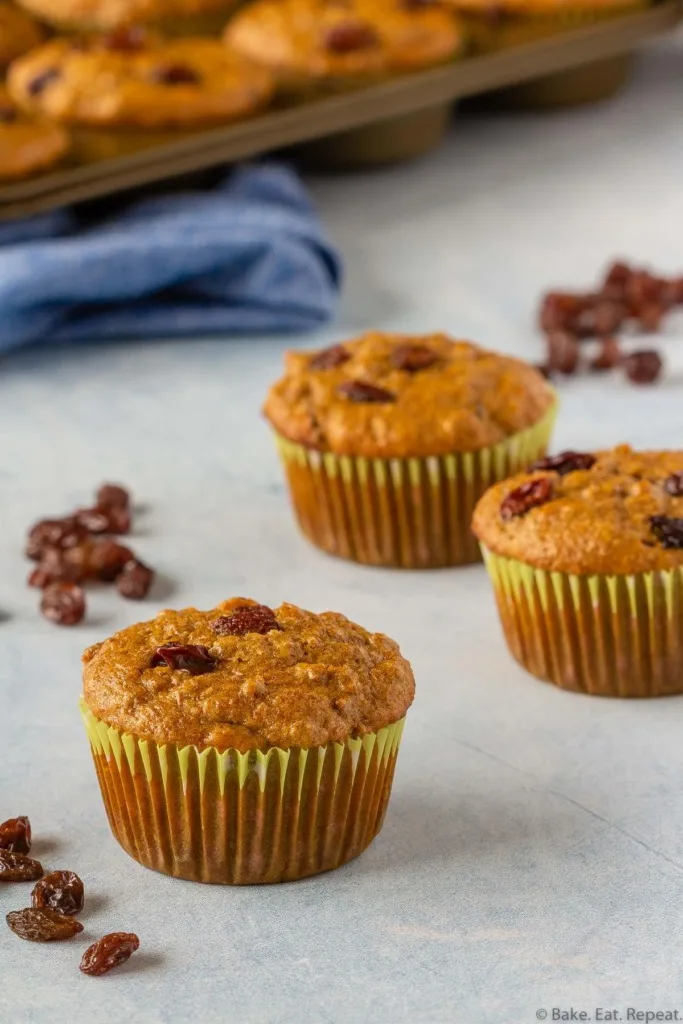 Of course, after the excessive number of refrigerator raisin bran muffins I've made over the last month, they may not get quite as excited for that next time we visit, but I'm guessing it won't change.
They're still eating them pretty much as fast as I can make them.
These raisin bran muffins will be a favourite for a very long time, I'm sure.
They taste great, are a healthy choice for breakfast, and are filled with the best raisins in the world.
California Raisins add so much natural sweetness to these muffins, and I know I will never make them without adding raisins. They just wouldn't be the same!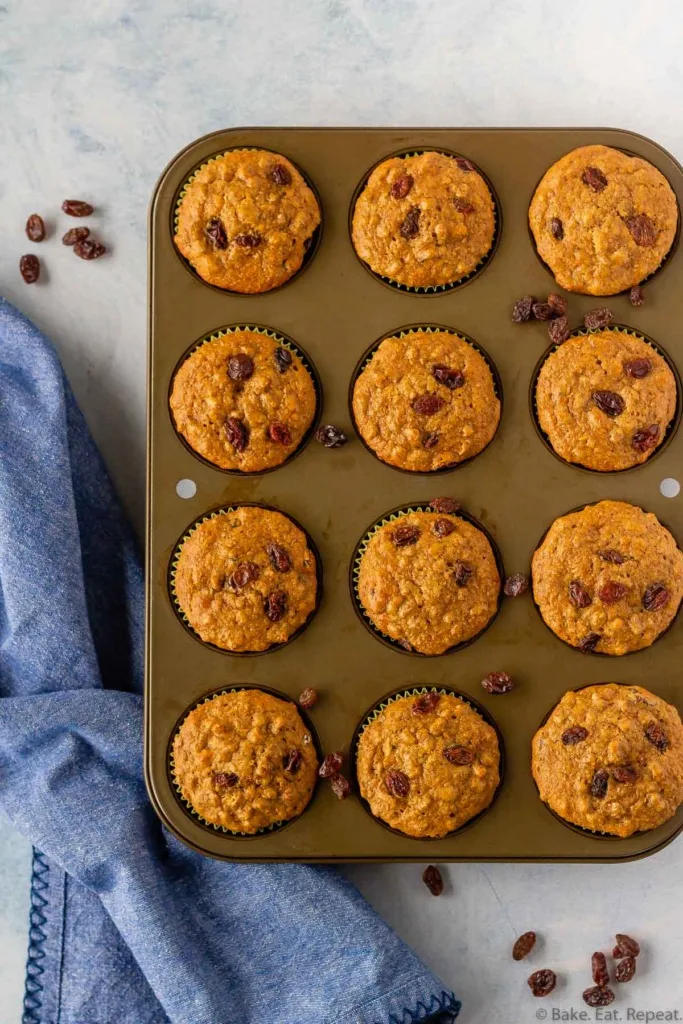 And the best part about these raisin bran muffins is that you can make up an enormous batch of batter, keep it in the fridge, and have fresh baked muffins whenever you like for the next month.
If you've never made refrigerator raisin bran muffins, you definitely need to try them.
We love them!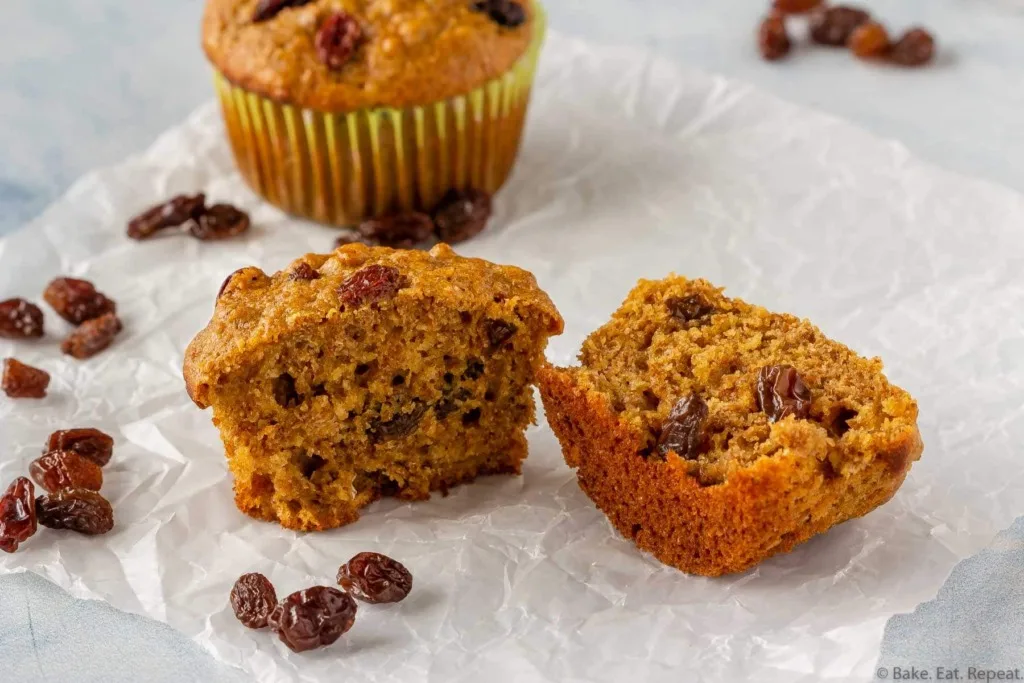 Are raisin bran muffins healthy?
As far as muffins go, these raisin bran muffins are pretty healthy.
It looks like a lot of sugar and oil in the recipe, but keep in mind that this recipe makes about 5 dozen muffins. Which means that there is only about 1/3 of a cup of sugar in a dozen muffins, which isn't too bad.
Raisin bran muffins can be unhealthy with a lot of sugar and fat, but I think this particular raisin bran muffin recipe is fairly healthy.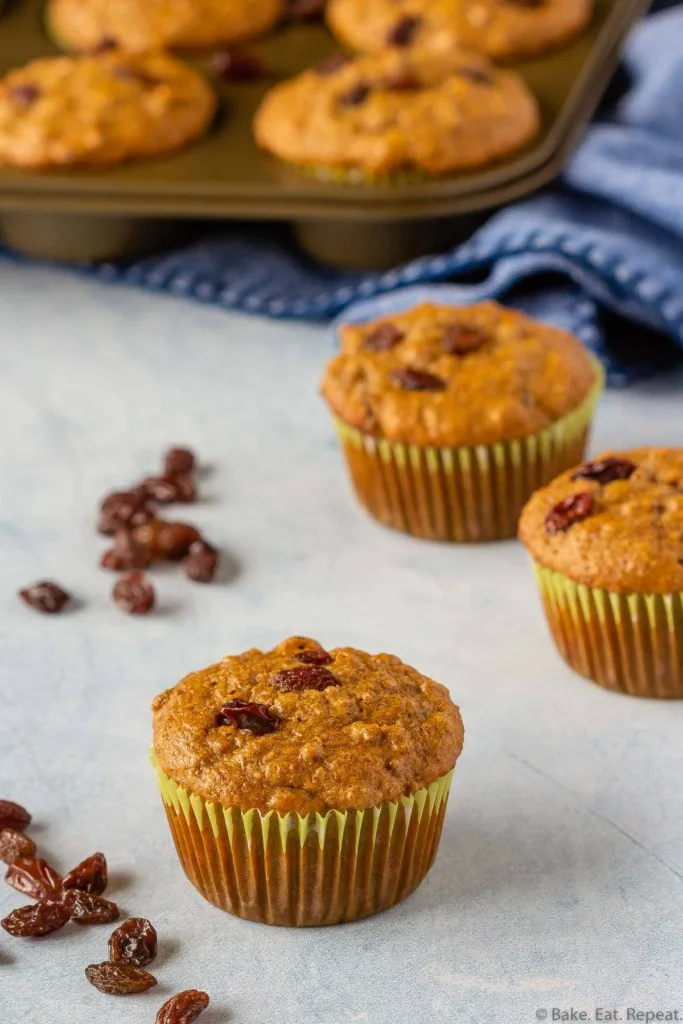 There is not an excessive amount of sugar or fat in them, and yet they still taste perfectly sweet and moist due to all the naturally sweet raisins.
Adding a superfood like naturally sun-dried California Raisins to these muffins adds a lot of sweetness without any more added sugar.
All the fibre in these raisin bran muffins from both the bran and the raisins really make them a great choice for breakfast as they keep you full all morning, which is not true of all muffins.
I have also made these muffins with whole wheat flour instead of all purpose and they are fantastic that way too, if you want them to be a bit healthier.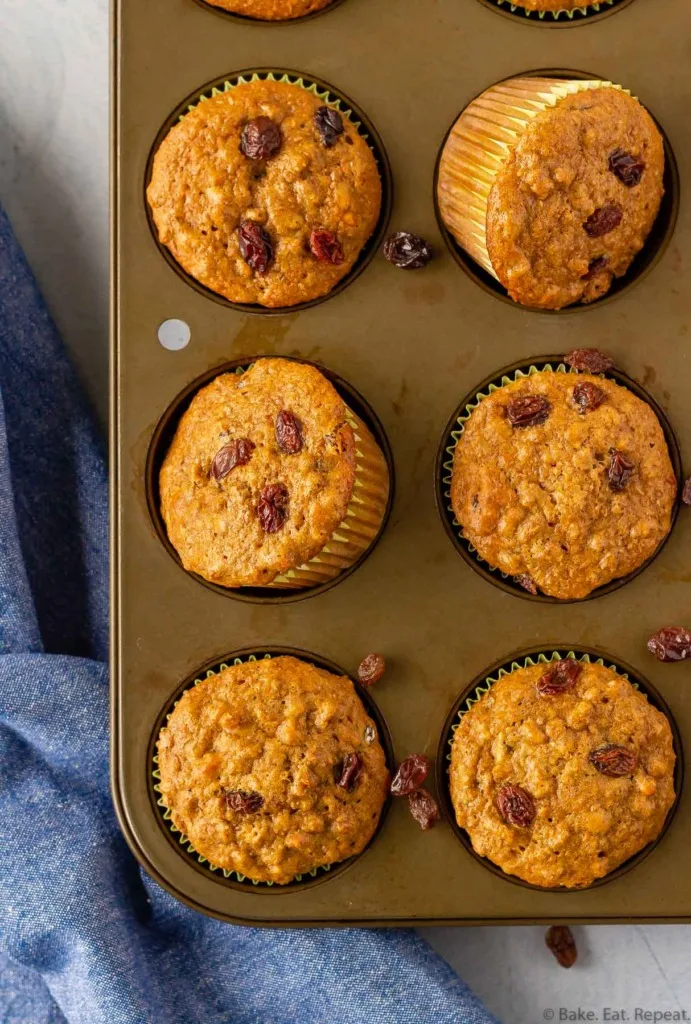 How do you make bran muffins from scratch?
Making bran muffins from scratch is really easy.
For this recipe I use natural wheat bran, and bran cereal, which need to soak in some boiling water to soften them before adding them to the batter. Other than that step this recipe is pretty simple and straightforward.
Whisk together the liquid ingredients, stir in the cooled bran mixture, whisk together the dry ingredients, and combine the two. That's it.
They are very easy to make, and you can have muffin batter in the fridge for up to a month, ready to bake up for breakfast.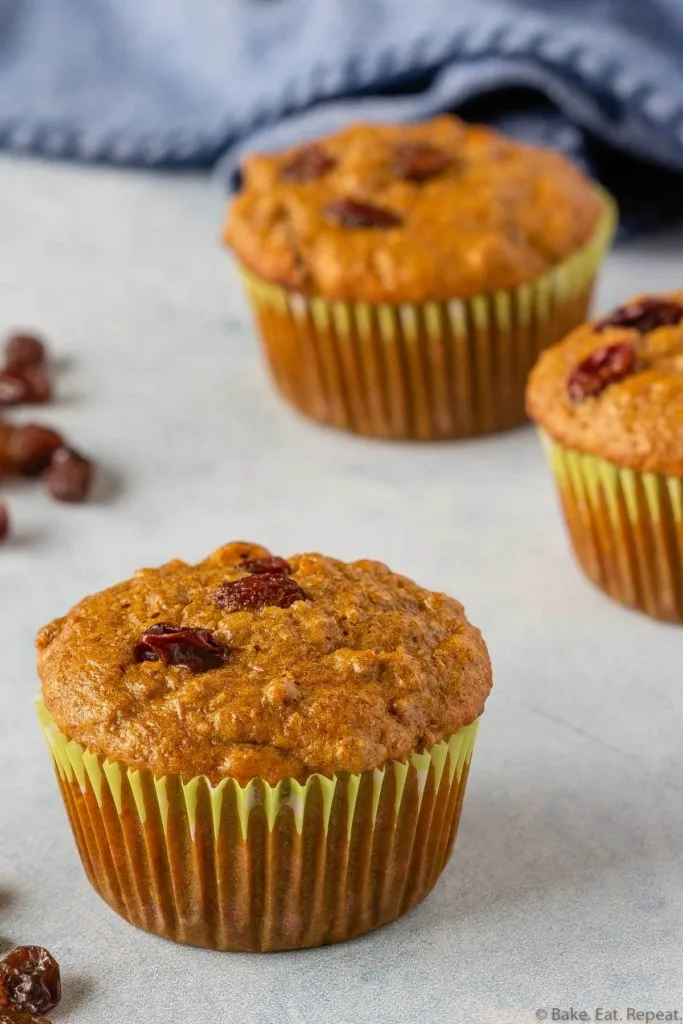 How long does refrigerator raisin bran muffin batter last?
This refrigerator raisin bran muffin batter will last for up to a month in the fridge, although I have seen very similar recipes that say it will last for 6-8 weeks.
Chances are it will last longer, but I can't really say for sure, as it never lasts any longer around here!
My family are all raisin bran muffin fanatics, so we go through this giant batch of batter pretty quickly.
This recipe is very easy to cut down though, if you prefer to make only half or a quarter of the batter, if you don't go through muffins at the ridiculous rate that we do.
The baked muffins also freeze very well for up to 3 months so that is another option if you are getting to the end of the month and still have a lot of batter left.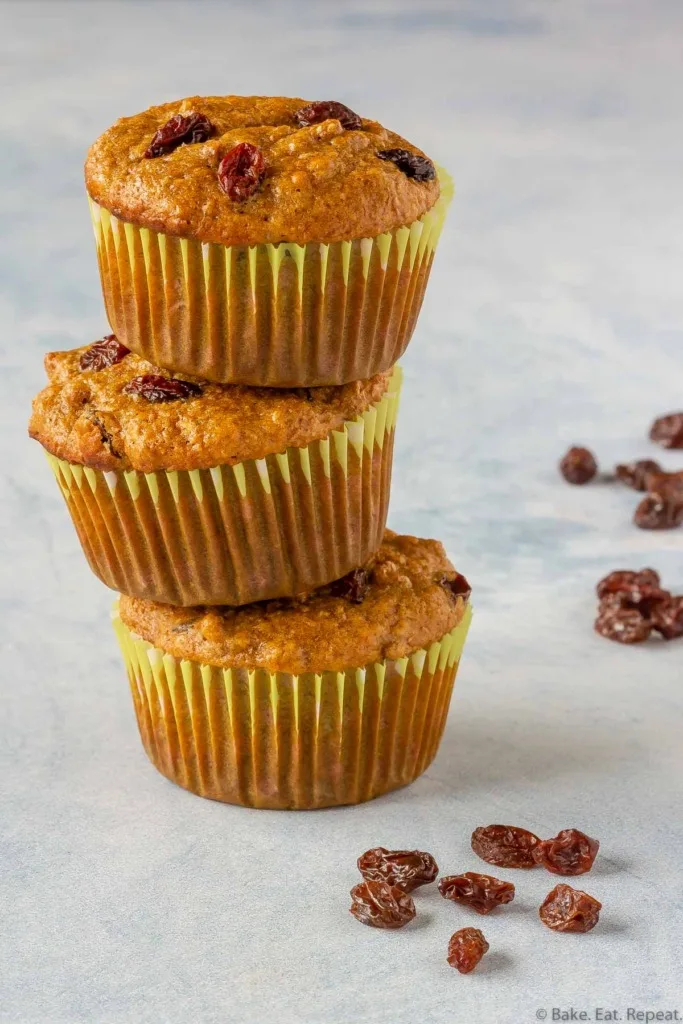 How to make Refrigerator Raisin Bran Muffins:
Don't skip the step where you let the wheat bran, bran cereal, and boiling water sit for 15-20 minutes. This time is needed for the bran to soften up so it combines well with the rest of the ingredients. While it is sitting you can whisk together the wet ingredients, and the dry ingredients so they are ready to combine with the bran.
This recipe can be halved or quartered easily if you don't want to have quite so much batter in the fridge, or if you just want to make a smaller batch.
Some or all of the all purpose flour can be replaced with whole wheat flour if you prefer.
If you make a full recipe, and bake a dozen muffins immediately, you will have about 15 cups of batter left to store in the fridge. So make sure you have one or two airtight containers that are large enough to store it.
Here are some more great muffin recipes for you: