These banana blueberry oatmeal muffins are soft and fluffy and filled with blueberries and oats for a healthier muffin that is perfect for breakfast!
These banana blueberry muffins are absolutely delicious! They're soft and fluffy, yet filled with whole grains so they're nice and filling for breakfast.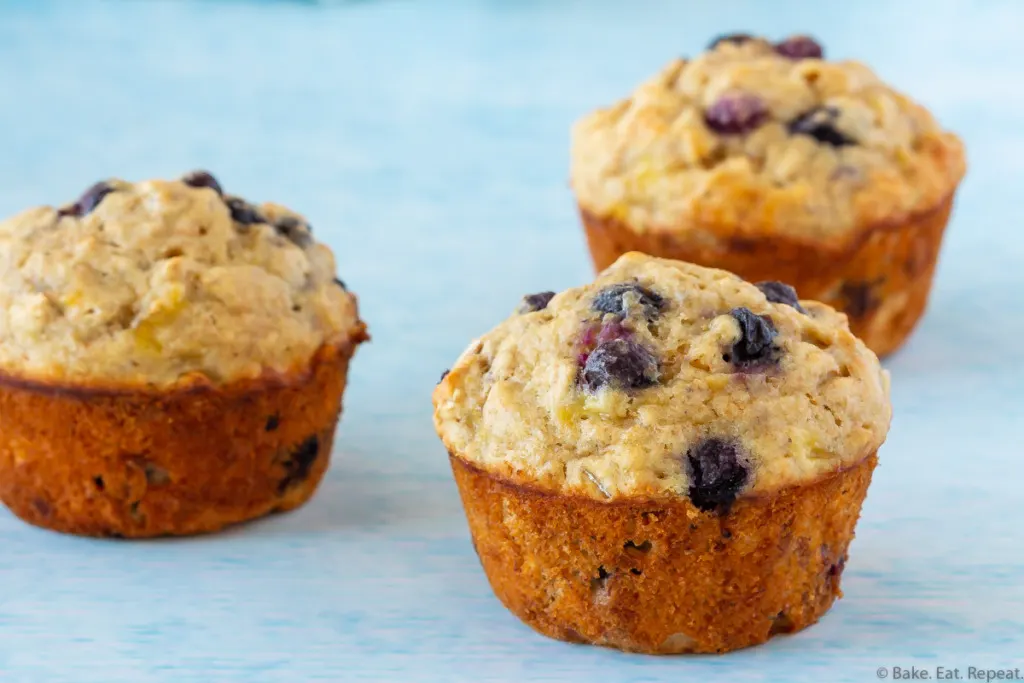 Loaded with blueberries and oats, these muffins are a favourite around here.
Plus I'm always looking for ways to use up over ripe bananas, so these banana blueberry oatmeal muffins are perfect.
They mix up quickly, taste fantastic, and can be made with fresh or frozen blueberries, and white or whole wheat flour. And they freeze well for easy grab and go snacks.
Make some today – the whole family will love them!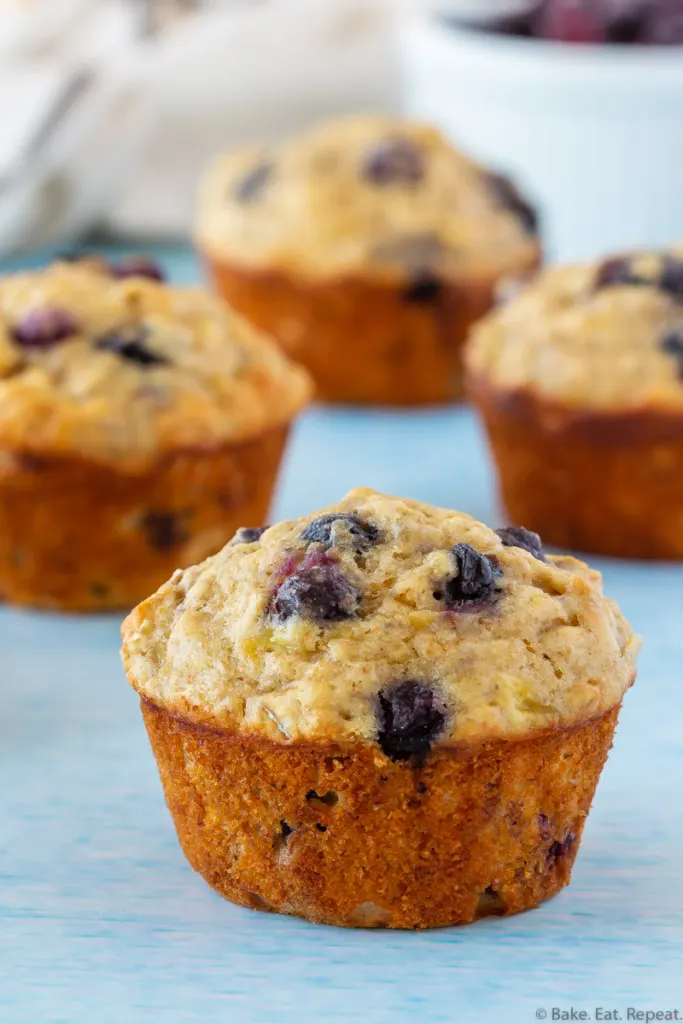 What happens if you stir muffins too much?
Stirring muffins too much will give you rather dense muffins. For soft and fluffy muffins, make sure to only stir just until the ingredients are combined.
Over mixing your muffin batter will cause the muffins to be tough, and sometimes results in tunnels forming on the inside of the muffins as they bake.
For soft, fluffy muffins, stir the batter as little as possible, just enough to combine the ingredients. It should still be lumpy, just stir until there are no dry bits of flour visible.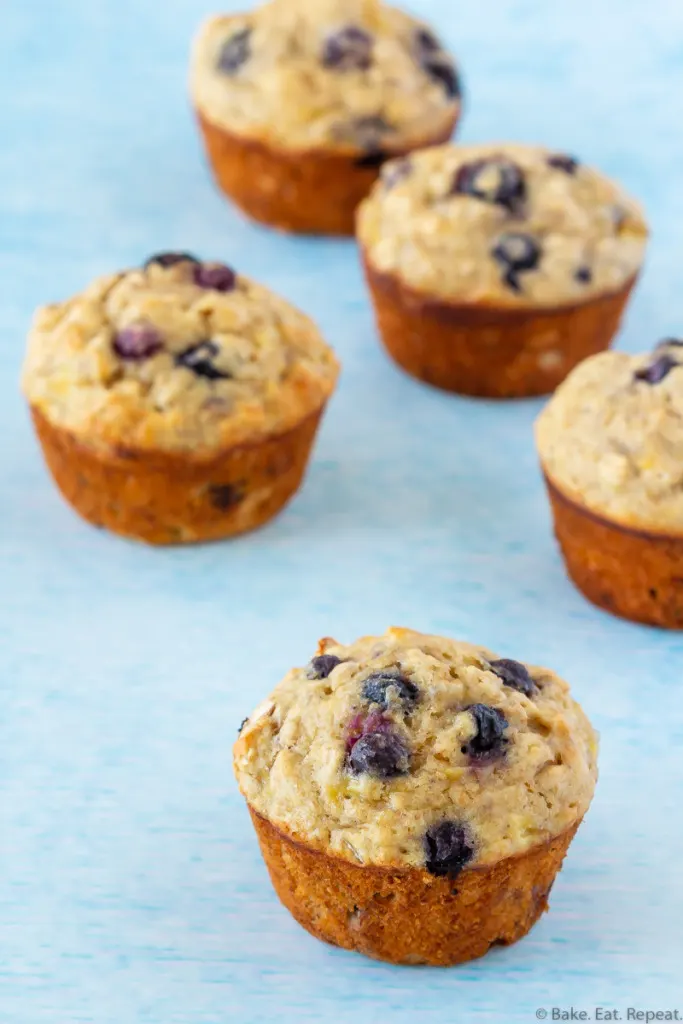 What is the best way to store muffins?
I find that the best way to store muffins is in a container that is covered loosely, rather than airtight, at room temperature. Keeping them covered loosely keeps them fresh, but allowing some air to get at them prevents them from getting soft and sticky.
Stored this way, they last for about 3 days, which is long enough at my house. If you want your muffins to stay fresh for a few more days, keep them in an airtight container instead.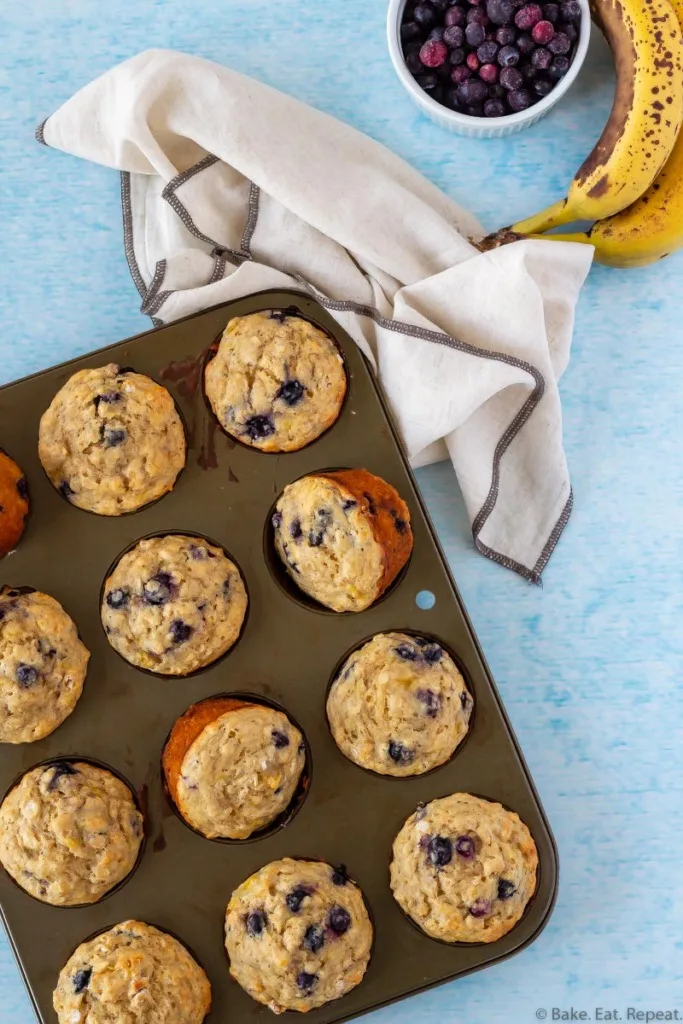 The tops will get sticky in an airtight container though. Placing a layer of paper towel below and on top of the muffins will help absorb some of the moisture.
To refresh muffins so they aren't sticky, you can reheat them in the oven at 350F for about 5 minutes to re-crisp the top and give them that fresh from the oven texture again.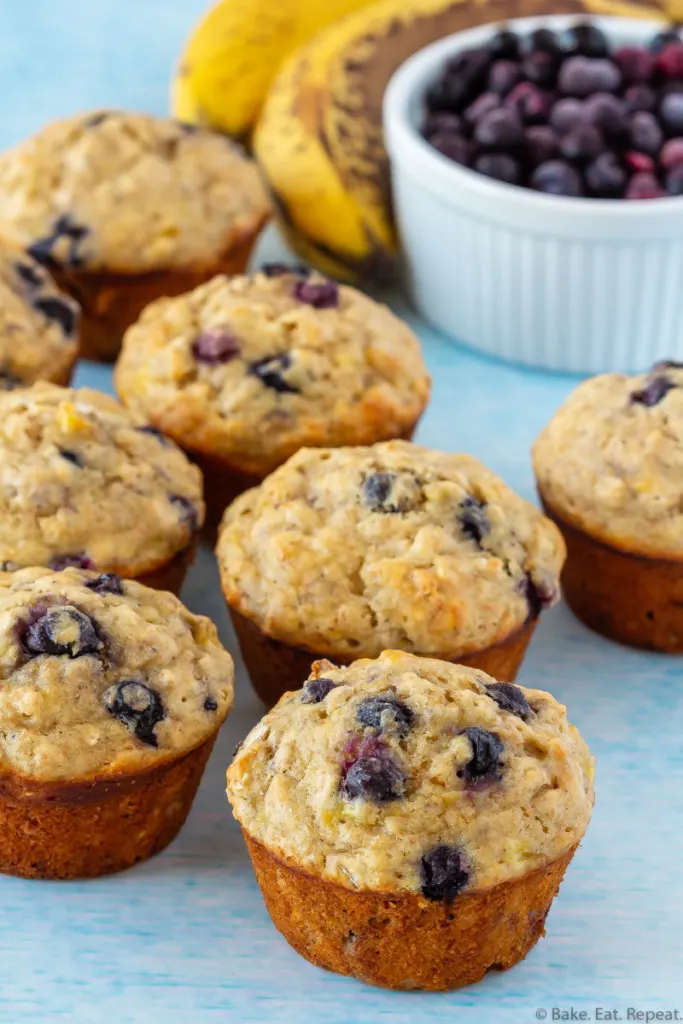 Can you use frozen bananas for muffins?
Yes, you can use frozen bananas for muffins. I do this all the time. I always have a bag of bananas in the freezer to use for baking.
When you're bananas are at the over ripe stage that is great for baking, simply peel them and freeze them in a ziplock bag to use later.
You can either let them defrost at room temperature, microwave them for a couple minutes to defrost them, or blend them up while they're still frozen with the other wet ingredients in the muffin recipe.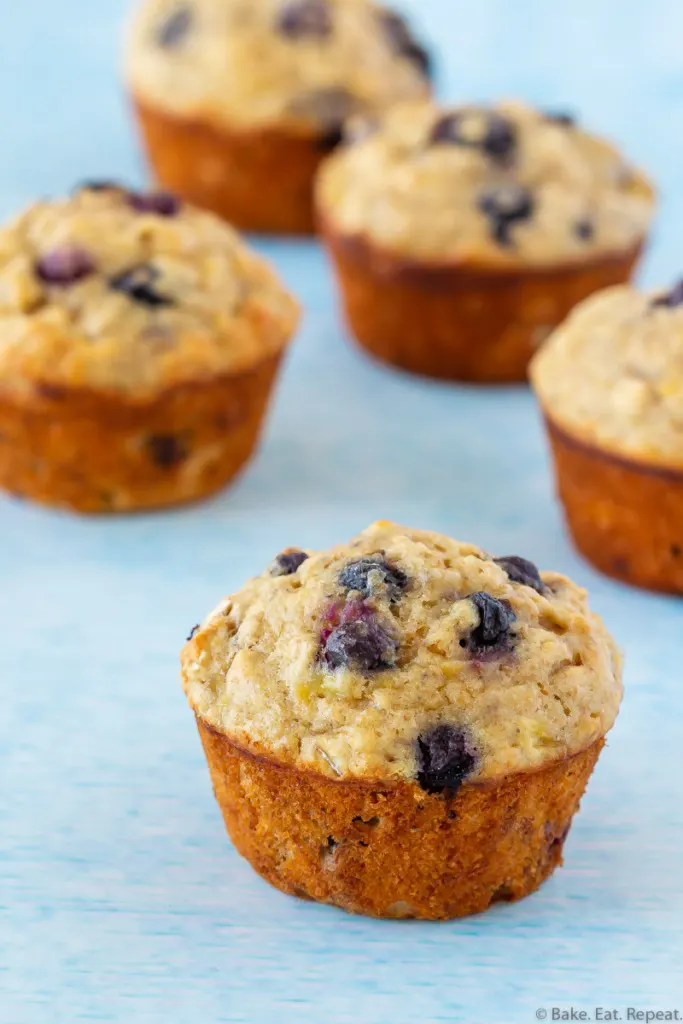 How to make Banana Blueberry Oatmeal Muffins:
Make sure not to over mix the batter. Stir just until there are no dry flour bits visible. The batter will be lumpy.
I like to use an ice cream scoop to portion the batter into the muffin tin so the muffins are all the same size.
You can use fresh or frozen blueberries in these muffins. Frozen blueberries will cause some colour bleeding into the batter – just stir as little and as gently as possible to keep this to a minimum.
If you prefer, you can use only whole wheat flour, or only all purpose flour in these muffins instead of half and half.
Here are some more great muffin recipes for you: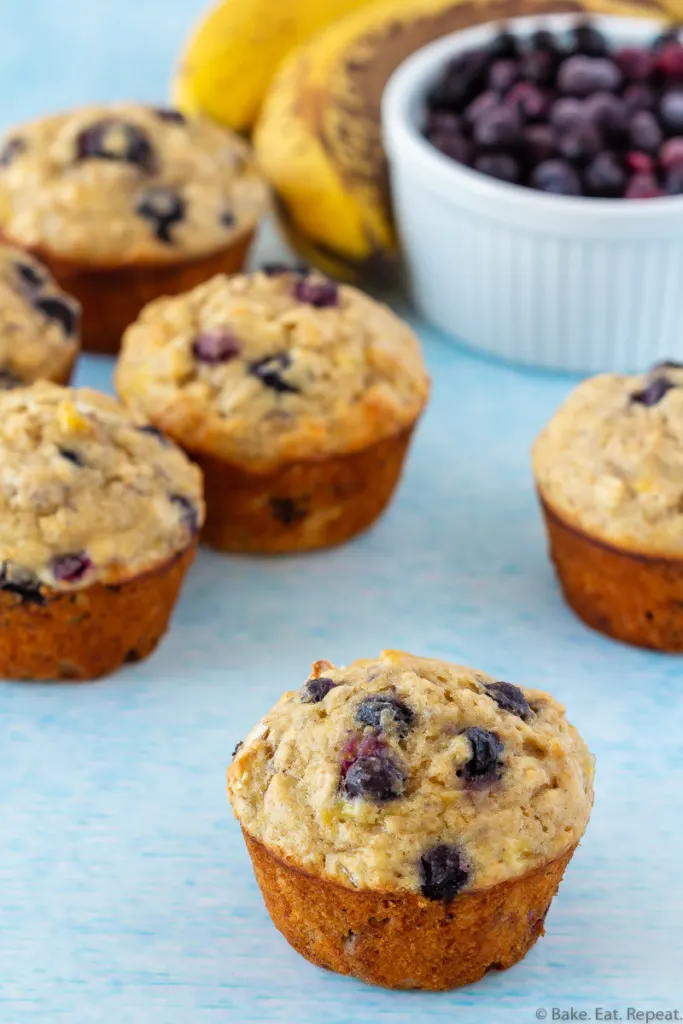 I've also shared this recipe over at Cupcakes and Kale Chips.