This homemade coleslaw recipe is easy to make and is the perfect side dish! It's the best homemade coleslaw dressing recipe I've ever made!
I have tried a ton of coleslaw recipes over the years.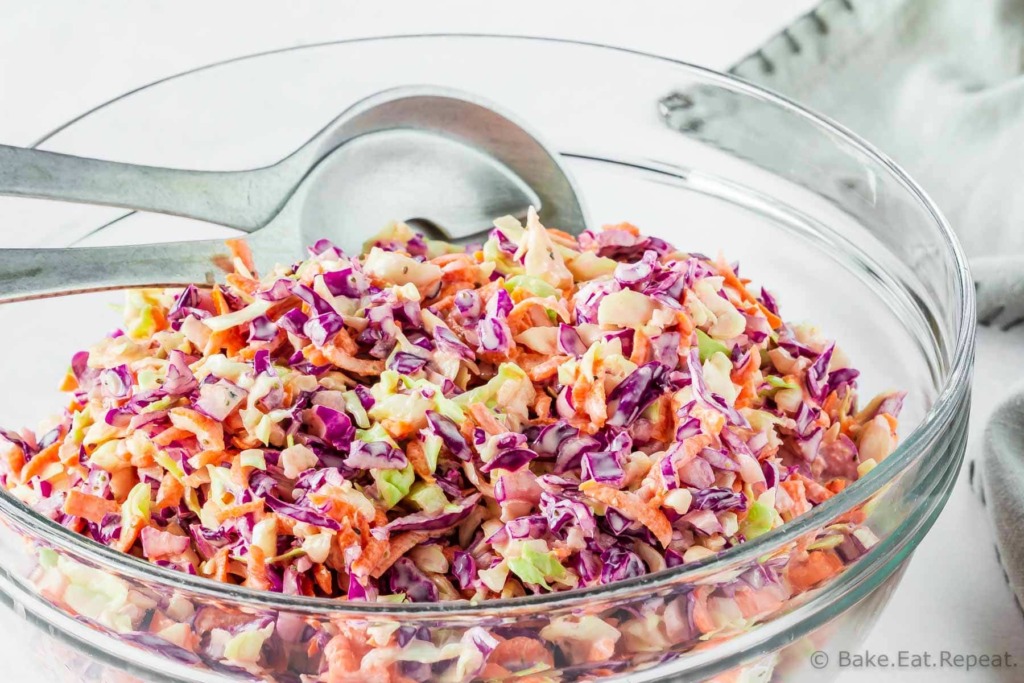 Nothing against store bought salad dressing, but honestly, we just don't eat coleslaw often enough to buy the bottle of dressing. We use half of it and eventually throw out the rest of the bottle because it's gone bad sitting in the fridge.
I hate throwing out food, so clearly I needed to find a homemade coleslaw dressing recipe that we liked as much as the store bought version.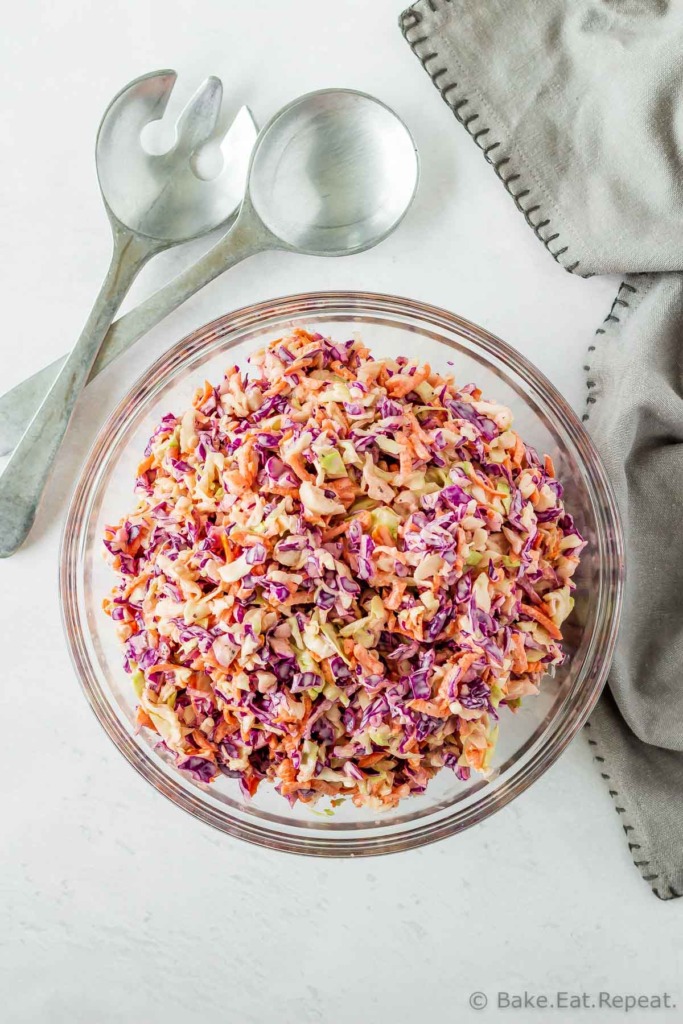 I tried SO many recipes, and we never loved any of them.
Until I had some coleslaw at a family reunion and knew that this was the one. My aunt had the best homemade coleslaw recipe all along.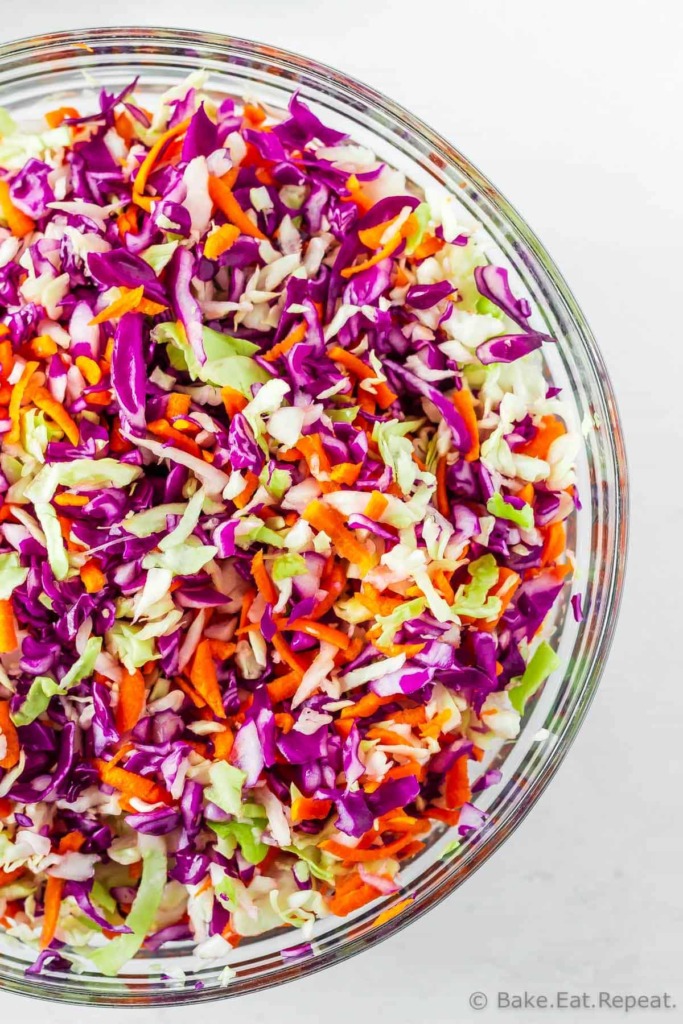 Clearly I should just start by asking everyone I know for recipes when I want something specific, rather then trying all sorts of random ones.
This homemade coleslaw is perfect.
The hunt for a homemade coleslaw dressing recipe is finally over.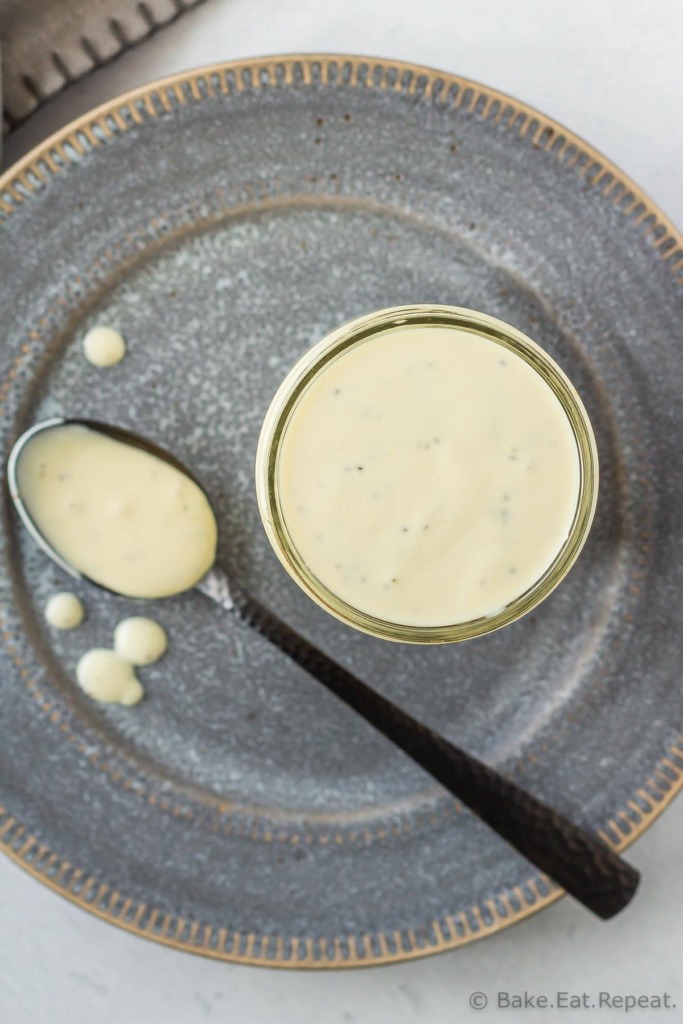 What goes with coleslaw?
Coleslaw is the perfect side dish, and it goes with almost anything. It's especially good with pulled pork though – either on the side or piled on a bun with the meat!
Homemade coleslaw is also a great option to bring to a potluck as most people like it, and it can be made a bit ahead of time.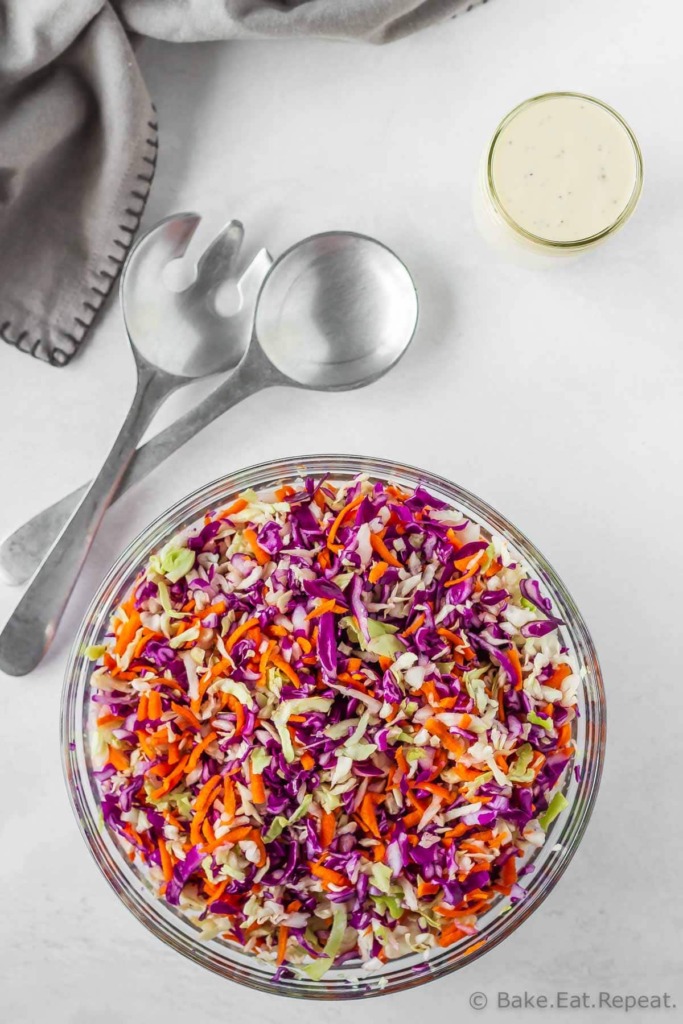 How far ahead should you make coleslaw?
You can make coleslaw several days ahead of time, but it does get watery and limp after about 24 hours. I definitely prefer to make my homemade coleslaw just a couple hours ahead instead.
That being said, I always keep any leftovers, and it's pretty rare for them to not get eaten over the next couple of days!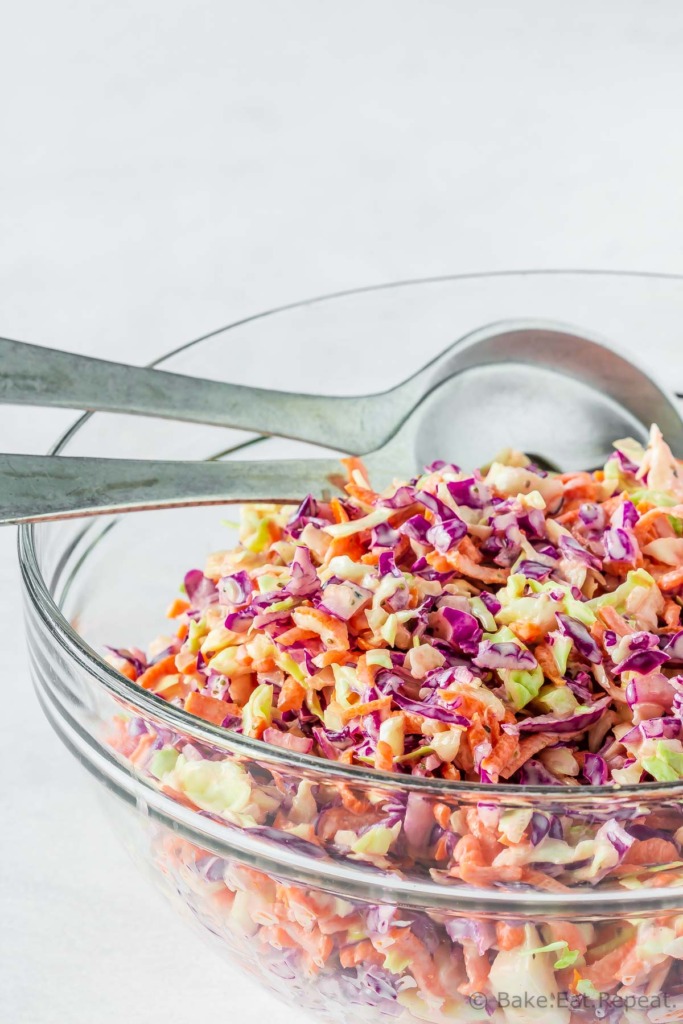 Why does coleslaw get watery?
Coleslaw gets watery because cabbage is 93% water. When you add dressing the salt in the coleslaw dressing draws out the water in the cabbage cells, making the coleslaw watery.
This is why it's always better if it's not made too far in advance.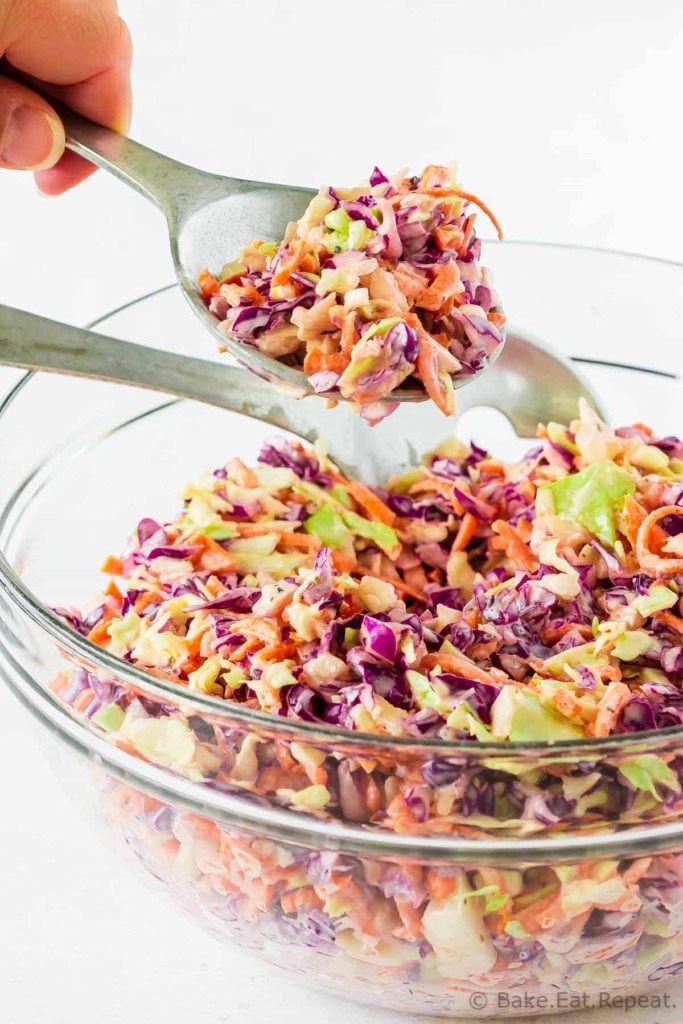 How to make Homemade Coleslaw:
This recipe includes the proportion of green and purple cabbage and carrots that I use in my completely homemade coleslaw. But, keep in mind that if you don't want to buy two whole cabbages, or you just don't want to shred a bunch of vegetables (completely understandable!), you can definitely just buy the bag of pre-shredded coleslaw mix and add this homemade coleslaw dressing. That is what I do most of the time!
If you are shredding all your veggies, this style of shredder makes it go quickly. Or a food processor with the grater attachment will also work very well.
If you make the full recipe you will have a lot of coleslaw. easily serving 8-10 people. If you're bringing it to a potluck one recipe will likely be enough (assuming there will be other salads there).
If you aren't making a whole recipe, you can still make the full recipe for the coleslaw dressing. It will keep well in the fridge for at least 2-3 weeks.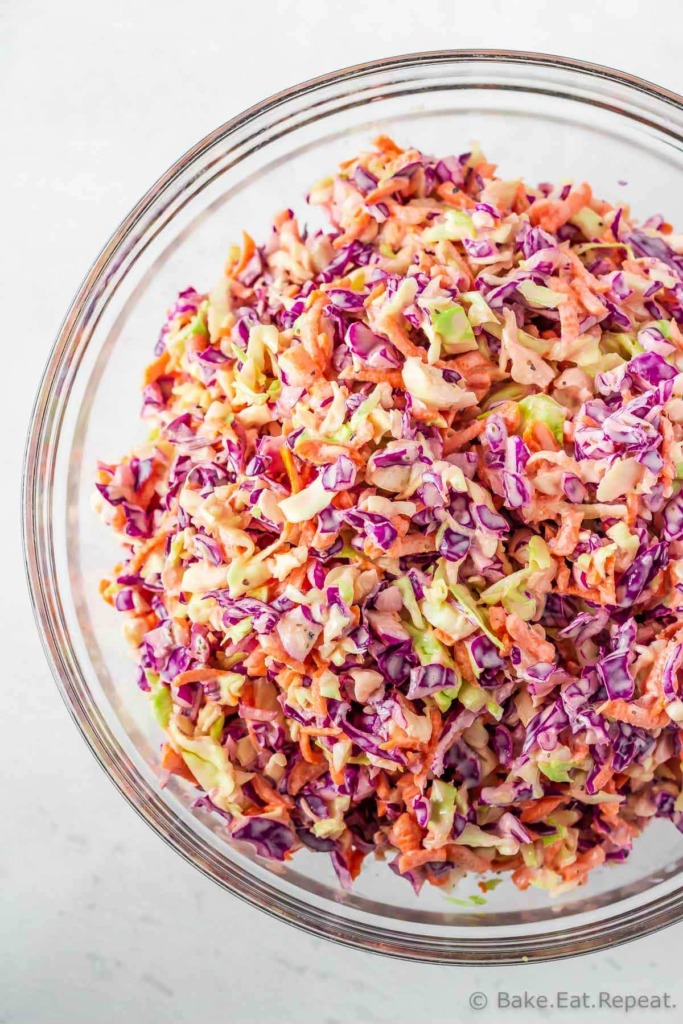 Here are some more great salad recipes for you: