This chicken Alfredo stuffed spaghetti squash is a fantastic way to have a healthier version of a favourite comfort food!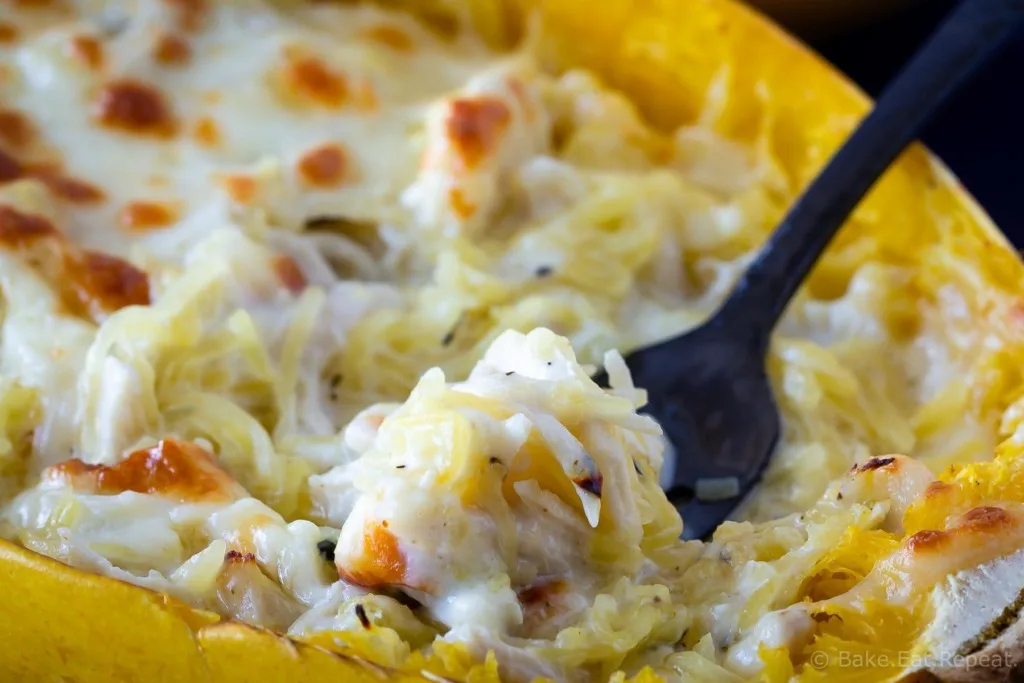 Comfort food in healthy form. That's what I have for you today. I will say that this chicken Alfredo stuffed spaghetti squash isn't for everyone.
The boys in my house think that chicken alfredo belongs on pasta and that's that.
So I will often make this skinny cajun shrimp alfredo pasta and everyone is happy.
Because yes, alfredo pasta is amazing.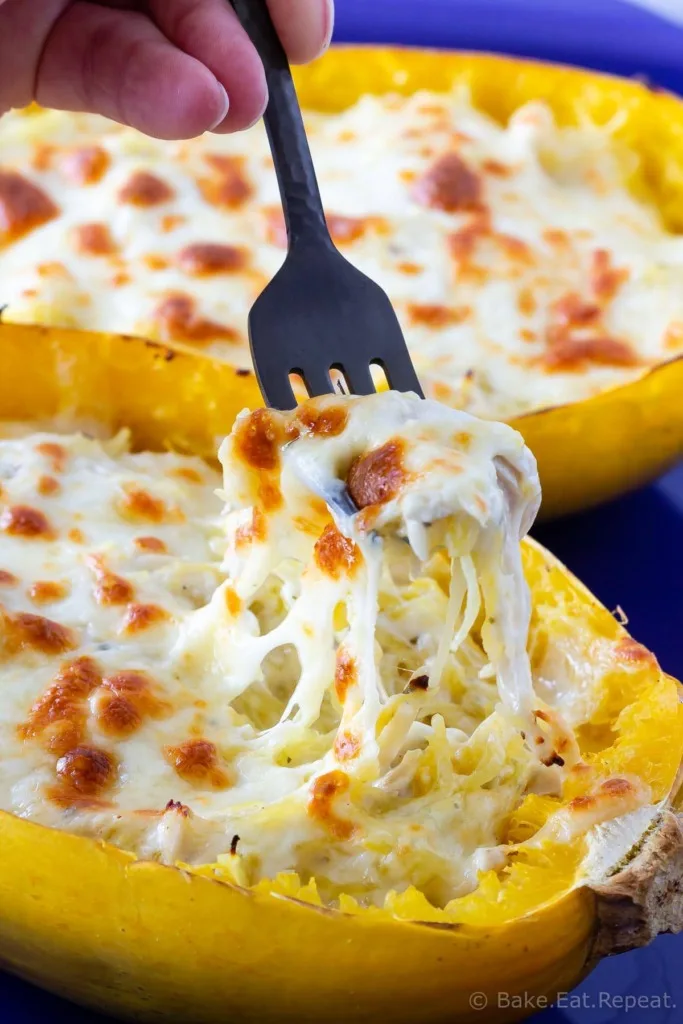 But I love spaghetti squash too, and having a healthier version of one of my favourite comfort foods is pretty amazing.
This chicken alfredo stuffed spaghetti squash is low carb, low fat, low calorie, and absolutely amazing.
If you are okay having spaghetti squash "noodles" instead of regular pasta, that is.
Like I said, the boys aren't fans, so when I make this for dinner I typically double the sauce recipe and boil some noodles for them.
Then my daughter and I happily have all the chicken Alfredo stuffed spaghetti squash to ourselves. We're okay with that.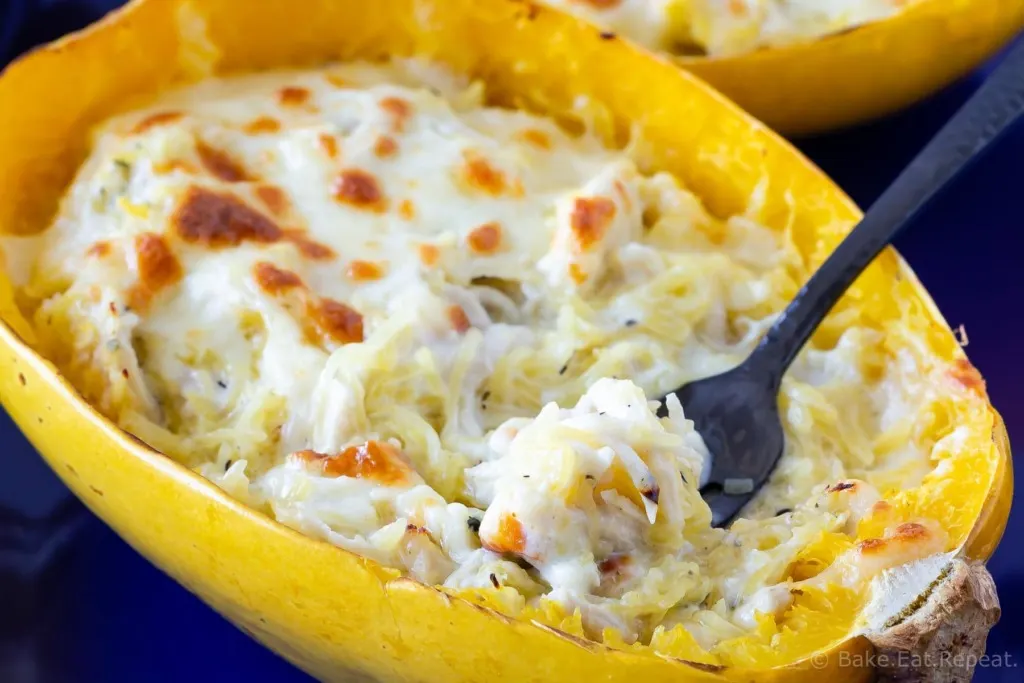 How do you cook spaghetti squash?
You can cook spaghetti squash in a few different ways.
I definitely find that the Instant Pot is the fastest and easiest way though.
Instant Pot spaghetti squash is very easy to make, if this is the way you choose to cook it.
Alternatively, you can roast your spaghetti squash in a 400 degree F oven for 45-55 minutes.
Slice the squash in half, scoop out the seeds, drizzle with olive oil and sprinkle with salt and pepper. Roast the squash cut side down on a baking sheet until tender.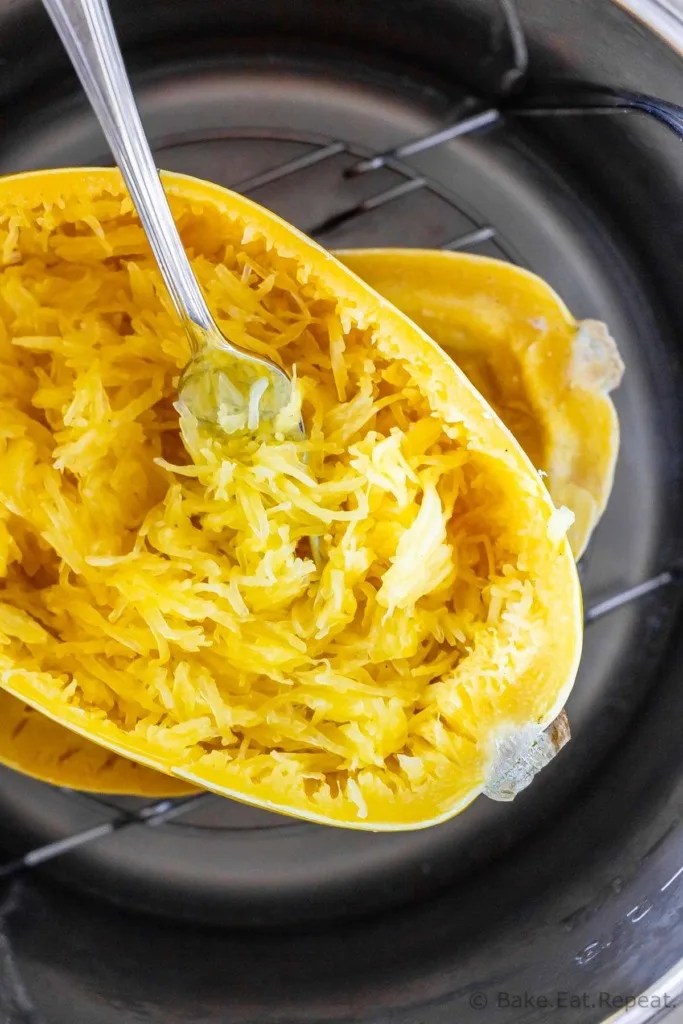 I've also cooked spaghetti squash in the microwave.
I do find that it tends to cook a little unevenly in the microwave though so this isn't my preferred method.
To cook in the microwave, scoop the seeds out of one half of the squash, put a couple tablespoons of water in the cavity, and cover it tightly with plastic wrap.
Then microwave on high power for about 10 minutes, or until the squash is tender when pierced with a fork. The time will vary depending on your microwave.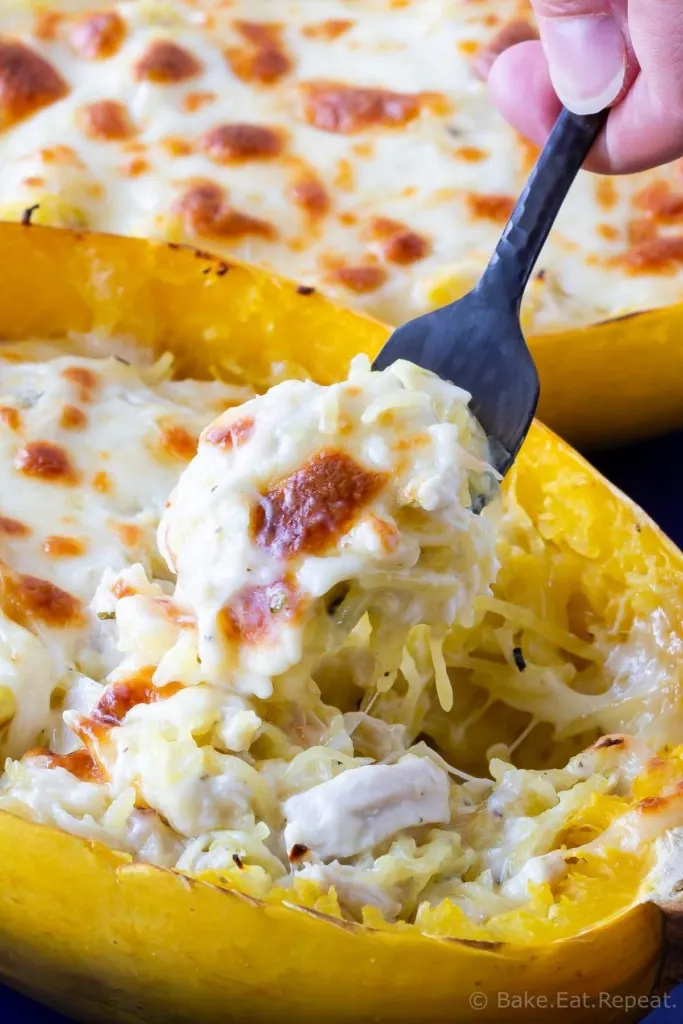 Is spaghetti squash healthy?
I love spaghetti squash, and one of the reasons is that it is very healthy.
It is high in fibre, low calorie, and rich in vitamins, minerals and antioxidants.
Plus it just tastes great!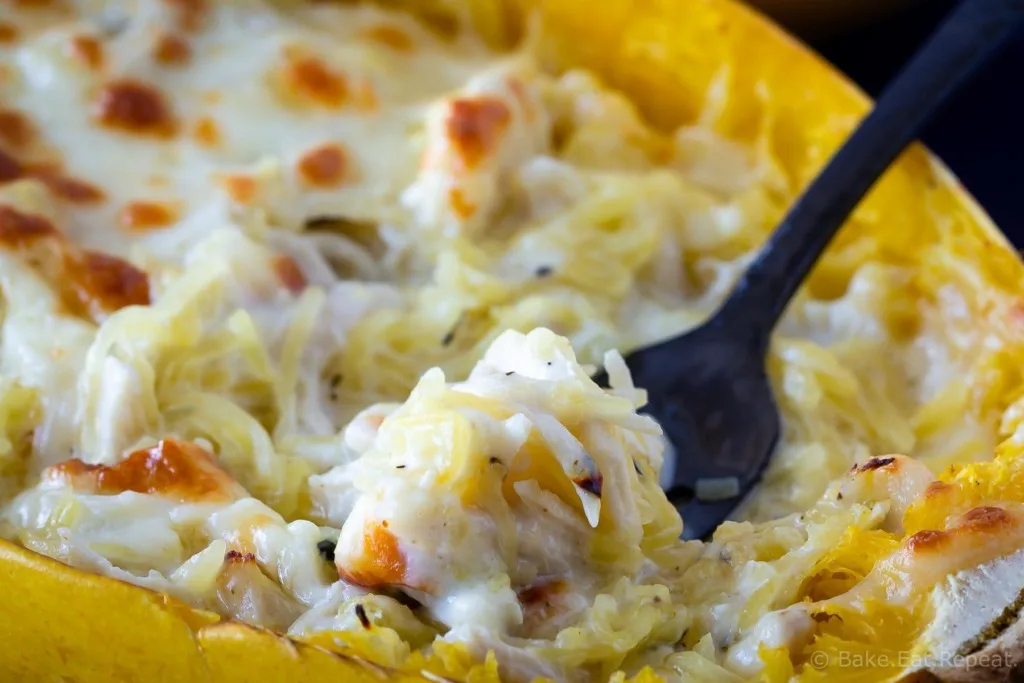 How long is spaghetti squash good for?
If you store your uncooked spaghetti squash in a cool, dry place, it should last for up to 3 months.
I buy them in the fall and they last for months stored in my pantry.
Next year I'm going to try growing some in my garden, but I haven't had a lot of luck with squash in the past.
I had to resort to begging zucchini from friends to make these chocolate zucchini muffins, so we will see if I have any luck with that!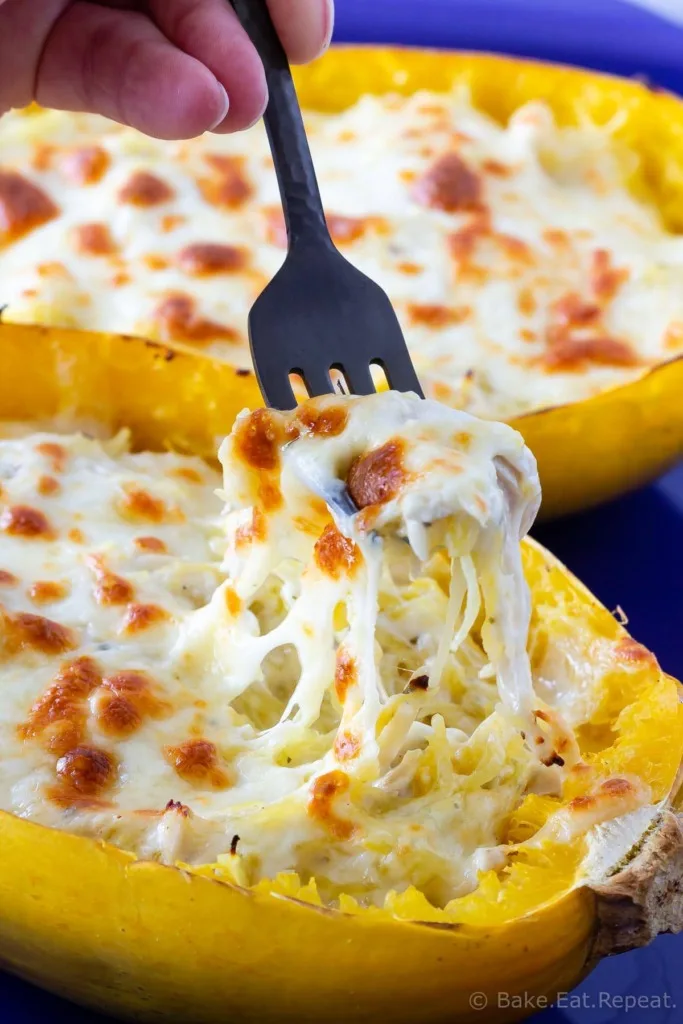 How to make Chicken Alfredo Stuffed Spaghetti Squash:
This stuffed spaghetti squash is so easy to make. While your squash is cooking (with whichever method you choose) you can make the Alfredo sauce, which only takes about 10 minutes to cook, and uses milk instead of cream to keep it healthier.
Make sure to plan ahead a bit as this recipe calls for cooked chicken. You can use leftover rotisserie chicken if you like, or make this slow cooker shredded chicken, or Instant Pot shredded chicken earlier in the day to use.
I've also made this with some steamed, chopped broccoli added and this was delicious so feel free to mix in more vegetables if you like.
This does reheat fairly well the next day if you have leftovers, but be aware that the spaghetti squash does cook a little more when reheated and the texture can get a little mushy.
Here are some more great healthy dinner recipes for you: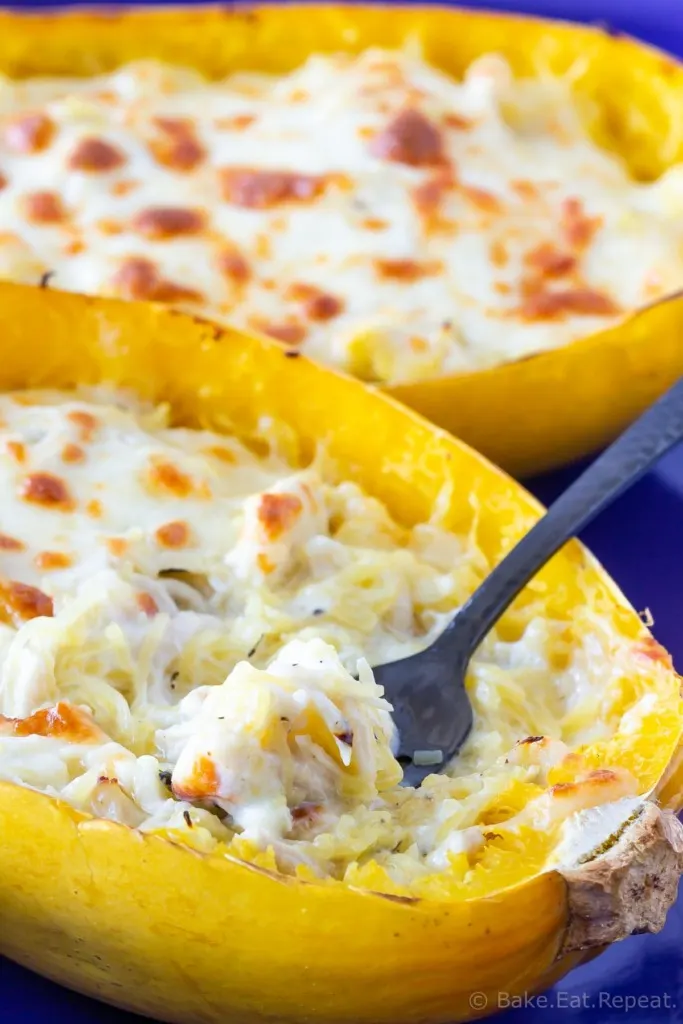 I've also shared this Chicken Alfredo Stuffed Spaghetti Squash recipe over on Food Fanatic.