These chewy, chocolate chip oatmeal peanut butter cookies are quick and easy to make, and disappear almost as quickly! Two favourite cookies rolled into one!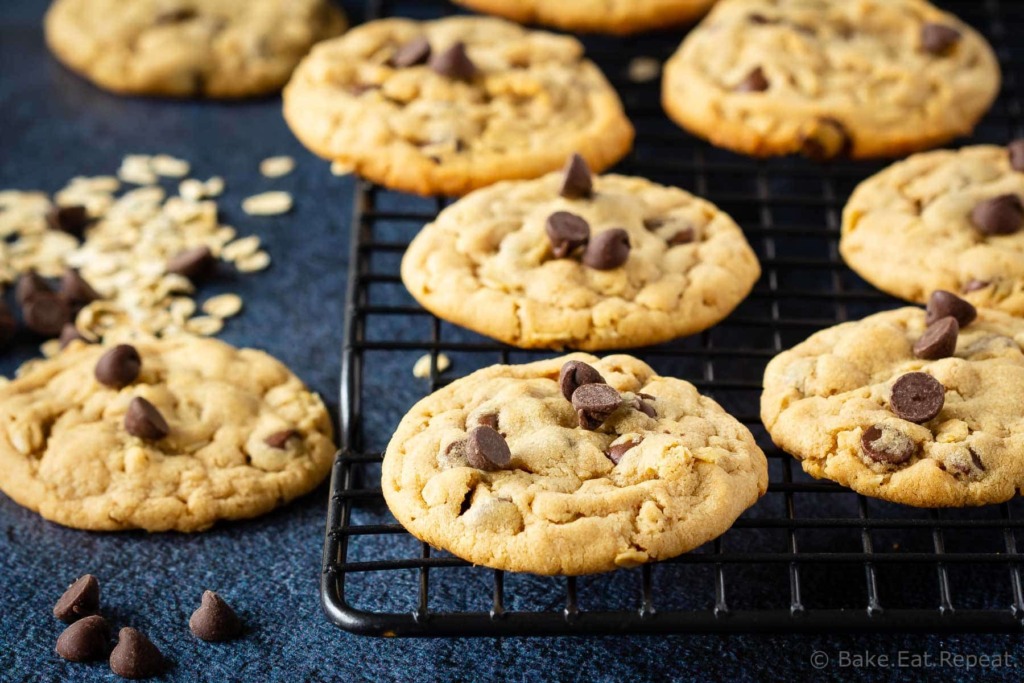 I think peanut butter cookies are one of the best cookies ever invented. Besides regular old chocolate chip cookies of course.
Can't really beat those.
Or chocolate chip oatmeal cookies…..maybe I just like cookies? I'll admit to that.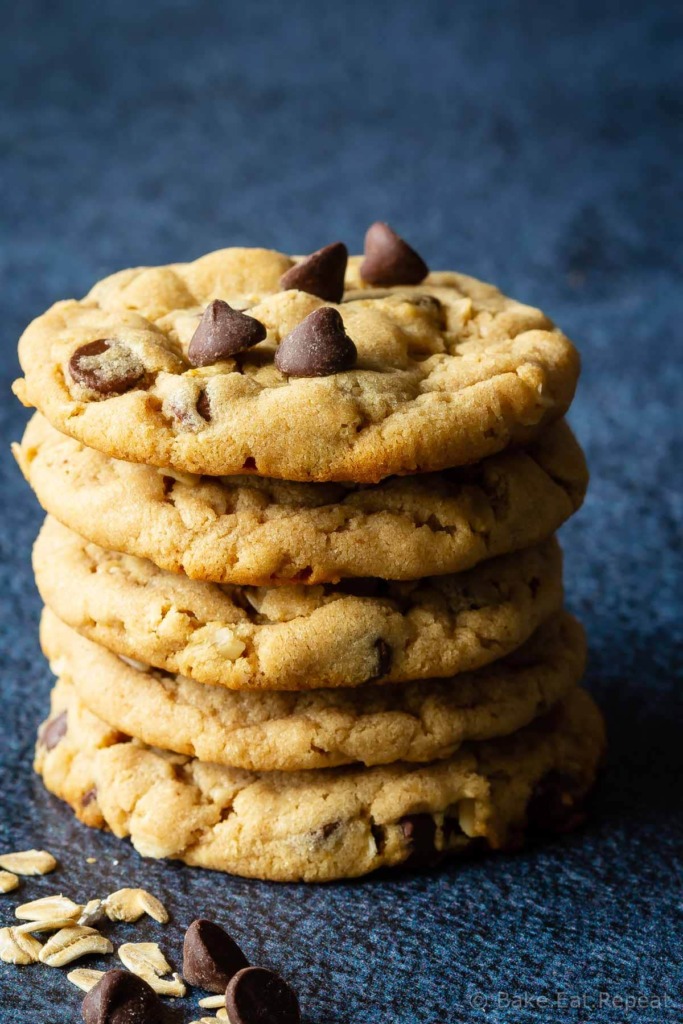 I think most people can agree that peanut butter cookies and chocolate chip oatmeal cookies are both favourites though, so mashing the two together into a chocolate chip oatmeal peanut butter cookie is a rather obvious thing to do.
My family definitely prefers plain old peanut butter cookies without the oatmeal in them, but I kind of like the change.
You can't make the same kind of cookie all the time right?
Besides, judging by how fast these chocolate chip oatmeal peanut butter cookies disappeared, they didn't really mind them.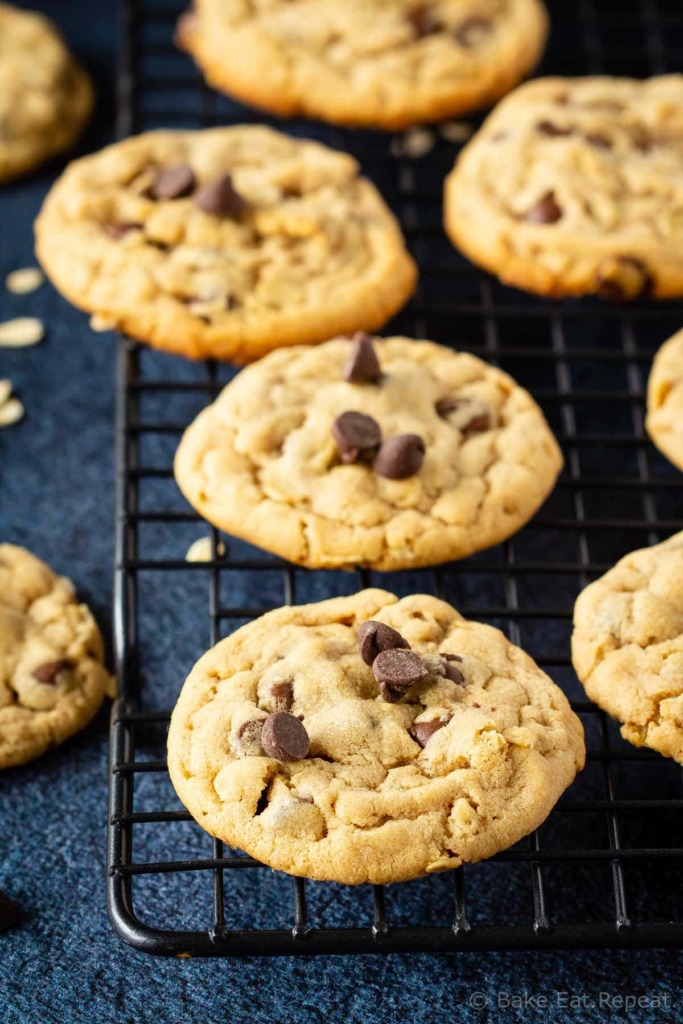 How do you know when peanut butter cookies are done?
Peanut butter cookies are done when the edges are just starting to brown. The centres will not look done yet when you pull them out of the oven, but that's okay, they set up as they cool.
If you leave them in the oven until they look fully baked, you will end up with overdone, crispy cookies.
Pull them out when the edges are lightly browned and the centres look really soft, and you will have perfectly chewy, oatmeal peanut butter cookies when they cool.
Can you freeze fresh baked cookies?
I freeze fresh baked cookies all the time. Let the cookies cool on the baking sheet for about 5 minutes to set up, then move them to a wire rack to cool completely.
Once the cookies are completely cool, you can freeze them in a large ziplock bag or an airtight container for up to 3 months.
If the cookies are on the softer side, you will want to put wax paper in between the layers of cookies in the container so they don't stick together.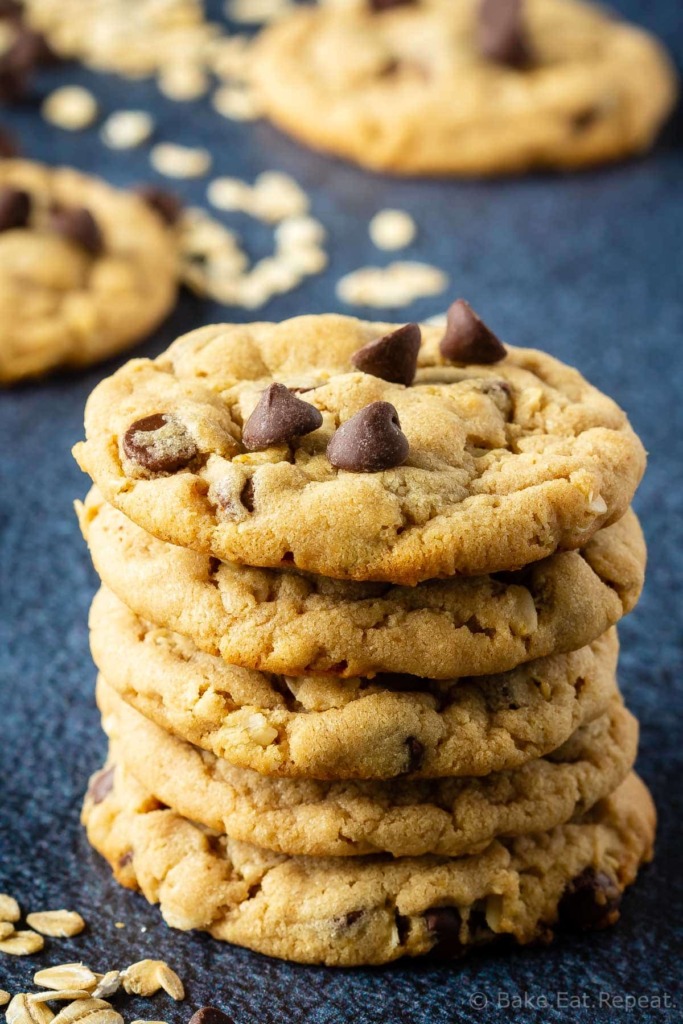 What is the best way to store cookies?
Store your oatmeal peanut butter cookies in an airtight container after they cool completely.
Although if your family is anything like mine, you won't need to store too many of these cookies. I made a batch last night and 80% of them were gone by the time I went to move them from the wire rack to a storage container.
Which is slightly insane…but these are really good cookies!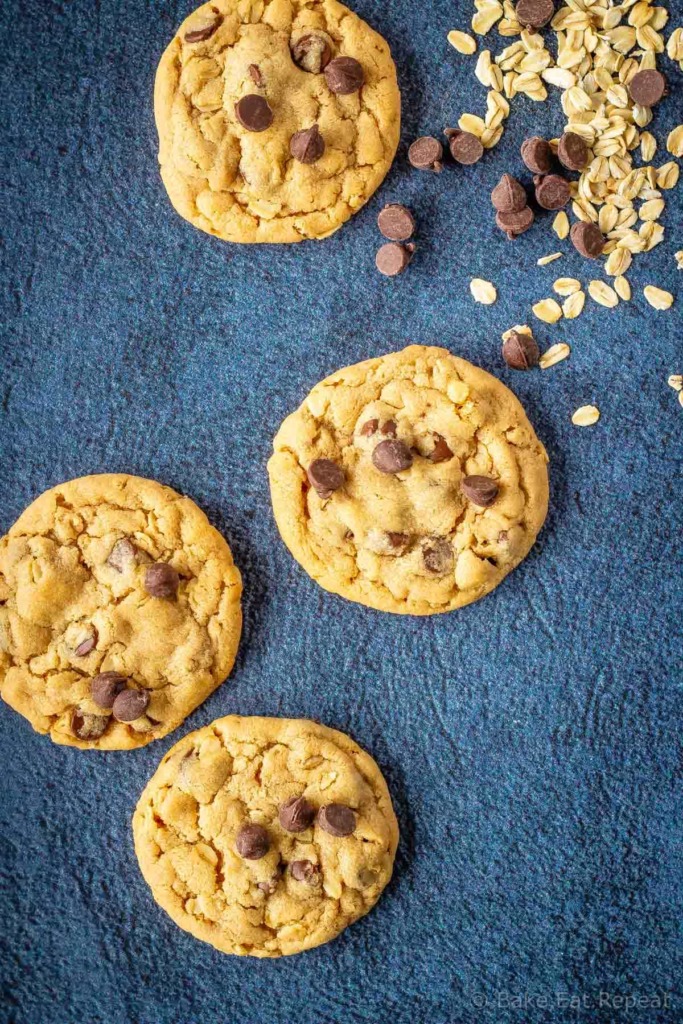 How to make Chocolate Chip Oatmeal Peanut Butter Cookies:
These peanut butter cookies call for quick cooking oats in them. If you only have old fashioned rolled oats, you can use them, but I would recommend giving them a spin in a food processor or blender to break them down a bit first. Otherwise your cookies may be a bit crumbly.
I use smooth peanut butter in these cookies, but you can definitely use crunchy instead if you prefer. I haven't tried these with natural peanut butter though.
We like semi-sweet chocolate chips in these cookies, but any other kind would be great, so use your preference.
Here are some more great peanut butter cookie recipes for you: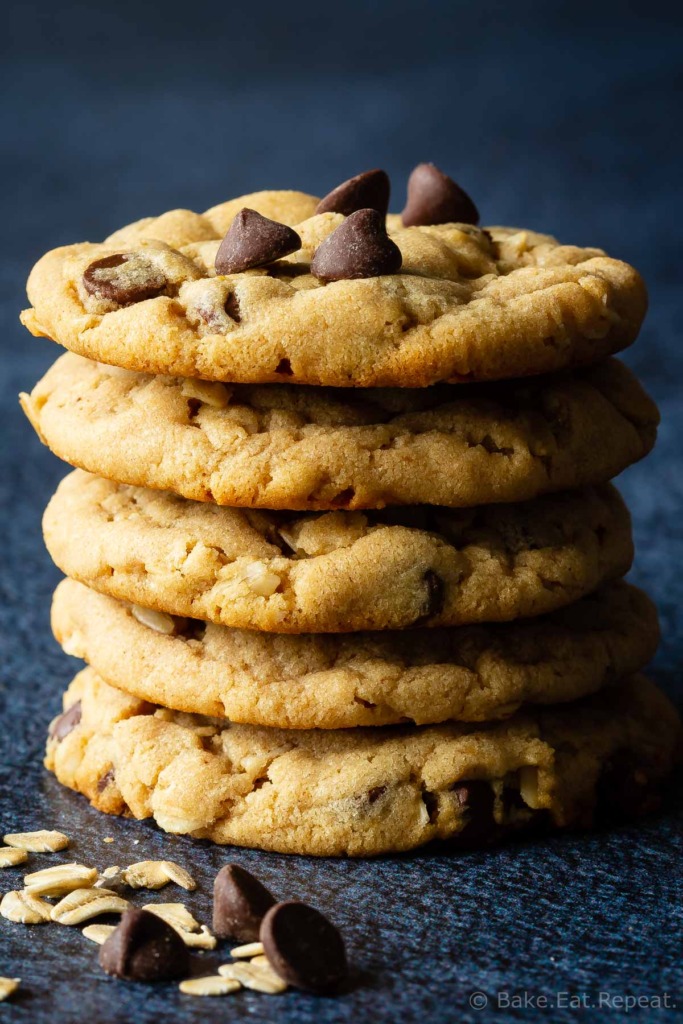 I've also shared this Chocolate Chip Oatmeal Peanut Butter Cookies recipe over on Food Fanatic.