Slow cooker chicken taco soup – the easiest soup to toss in the slow cooker in the morning, and so full of flavour. The whole family will love it!
Mmmm, soup. Because by the time February rolls around, it kind of feels like winter is never going to end. Right?
And I even got to escape it last week and head to beautiful, sunny, warm Mexico. So I can't really complain. And it's not even super cold here. We've actually had a pretty mild winter, not insanely cold or snowy. But still. Come mid-February I always start to long for green grass and flowers. And the endless colds and coughs to be over for a few months.
Isn't that the worst part of winter? I don't even really mind the snow and cold all that much, but the endless stream of sick children does get a little tiresome. There is always someone sick from September until April. Ugh. Why do I live here again? Does that happen in warmer parts of the world too? Or do you lucky people get one cold a year and that's it? Or do you still have a cold and flu season and it doesn't even matter where you live? Just curious.
Soup is the antidote to cold winter days. Something about a big bowl of slow cooker chicken taco soup when it's snowing and cold out – just makes everything better.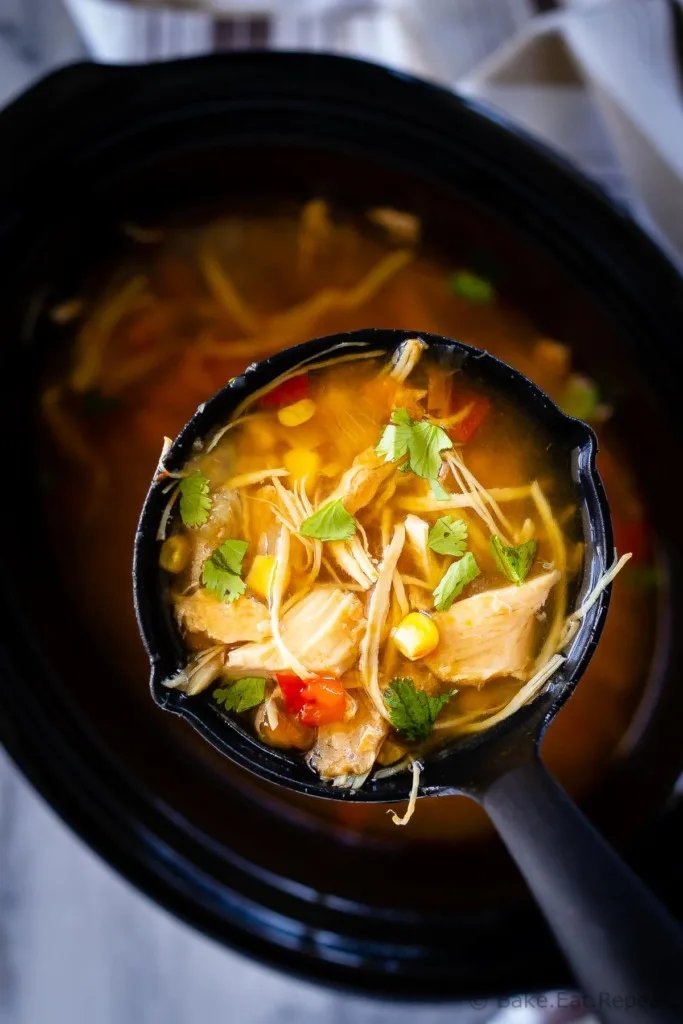 The last time I made this slow cooker chicken taco soup was actually on a very blizzard-y day. Cold and snowy and just plain nasty out. The exact kind of day that you want to curl up under a big blanket and eat some hot soup. Not that we did that. I have kids, soup and blankets with kids don't mix. That would be a disaster waiting to happen. We ate at the table.
But, I like the thought of curling under a big blanket with a bowl of this soup! Maybe with a fire. Comfort in a bowl, that's what this is.
We absolutely love this slow cooker chicken taco soup. So fast, so easy, and so tasty. It takes less than 15 minutes to toss everything into the slow cooker and hit go.
And you have the most amazing soup waiting for you when you're ready for supper.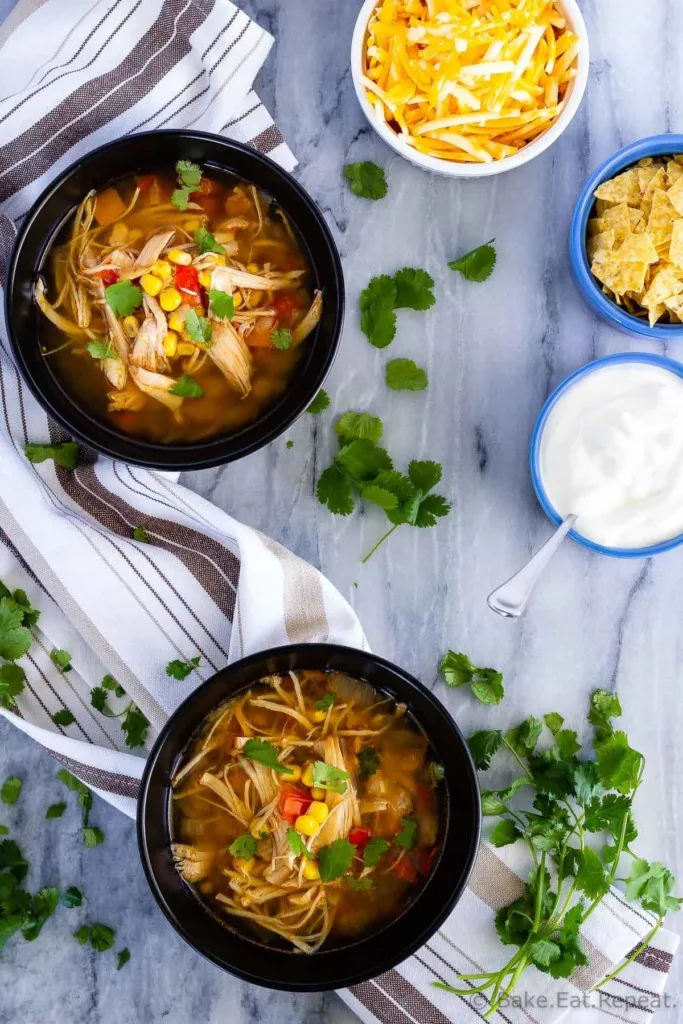 How to make Slow Cooker Chicken Taco Soup:
I recommend using thawed chicken breast for this recipe, not frozen, as it is safer to cook thawed meat in the slow cooker.
You can also make this soup in the Instant Pot if you like, and frozen chicken can be used in that version if you haven't planned ahead! Find the Instant Pot version here: Instant Pot Chicken Taco Soup
Don't skip the toppings! Serving this soup with sour cream, grated cheese, cilantro and crumbled tortilla chips just makes it even better.
The jalapeno is optional – it doesn't add any heat to the soup if you remove the seeds and membrane, just flavour – although my kids still prefer this soup without it.
This soup freezes well to reheat later – I like to freeze it flat in a doubled ziplock bag as it defrosts easier that way and just reheat it in the slow cooker the day we have it.

Here are a few more great soup recipes for you:
This post contains affiliate links, meaning that if you make a purchase through these links, I may receive a small commission. I am a participant in the Amazon Services LLC Associates Program, an affiliate advertising program designed to provide a means for us to earn fees by linking to Amazon.com and affiliated sites.