These raspberry lemonade cookies are just like the ones from Subway! Soft, chewy, and filled with raspberry and lemon flavours – everyone loves them!
I think raspberry and lemon together might just be one of my favourite flavours of all time. Besides chocolate of course.
It's clear that I'm a fan though. Lots of raspberry lemon recipes happen around here.
These raspberry lemon blondies are definitely a favourite for my whole family. And these lemon raspberry sweet rolls are a little too good. Can't let myself make those too often. They're dangerous.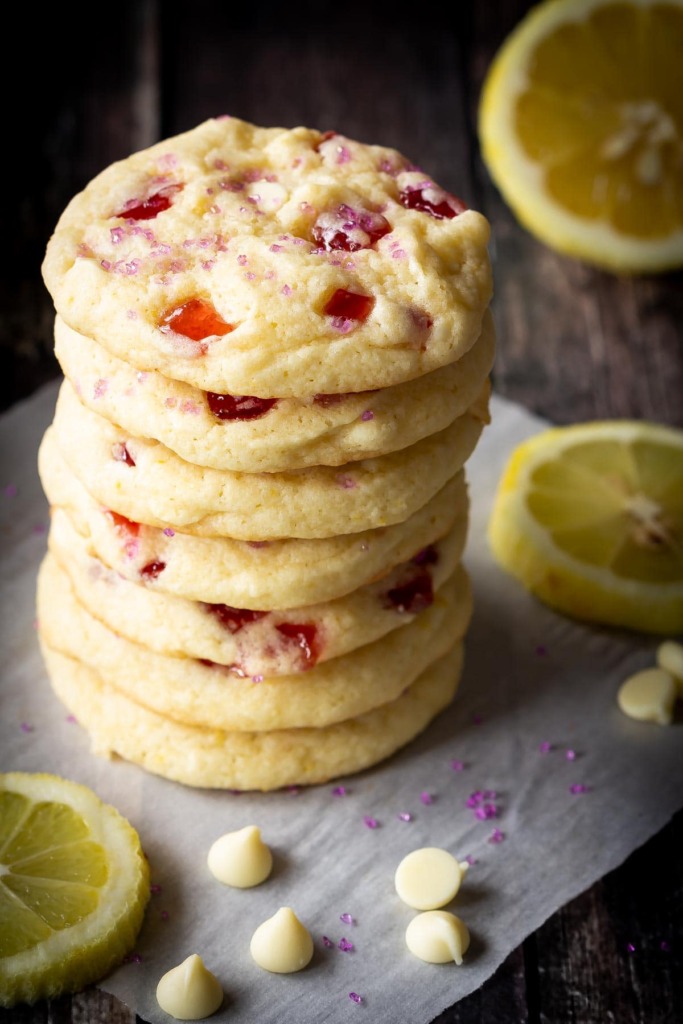 Today I'm sharing a copycat recipe for Subway's raspberry lemonade cookies. I tried these cookies a few weeks ago, and loved them. So of course, I needed to recreate them.
It was a little tougher then I expected, to be honest.
I figured out the cookie part fairly quickly. I started from the recipe for these Raspberry Lemon Cookies, which have long been a popular recipe on my site. The Subway cookie is a bit softer though, and has white chocolate chips and raspberry jam bits in it.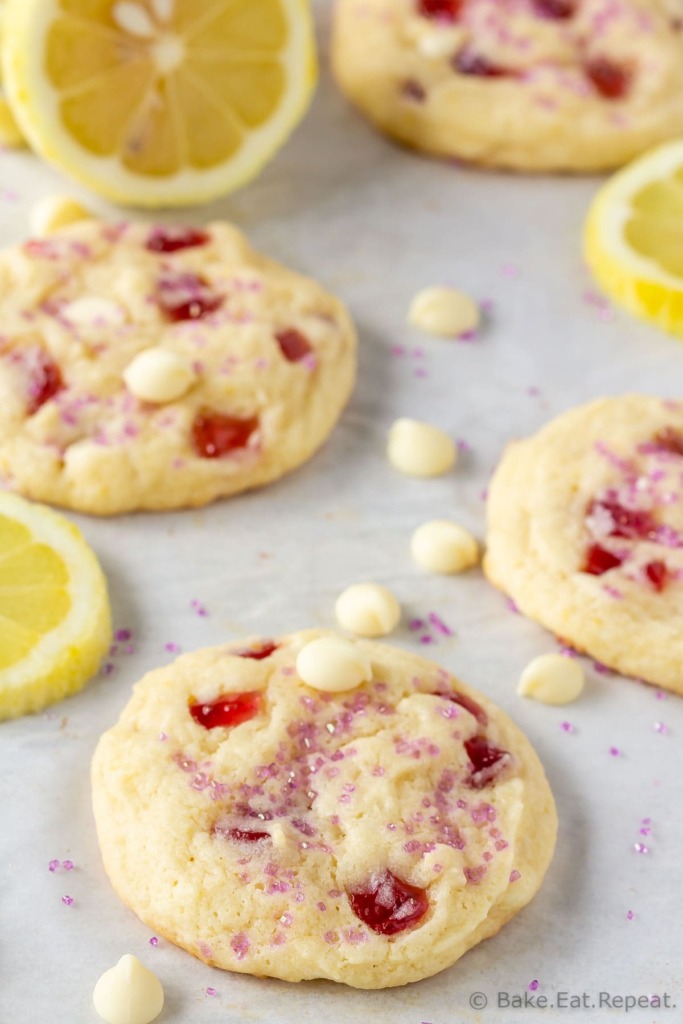 Making the cookie a bit softer was easy, I just needed to add some cream cheese to the dough. Throw in some white chocolate chips and it's all good.
But the raspberry part was tough. I tried quite a few different options – raspberries, raspberry jam, thickened raspberry jam, raspberry fruit leather – none of those was quite right. They were all tasty, but the flavour and the look were different then the Subway raspberry lemonade cookie.
I finally thought of trying raspberry flavoured candy in the cookies. That was the winner.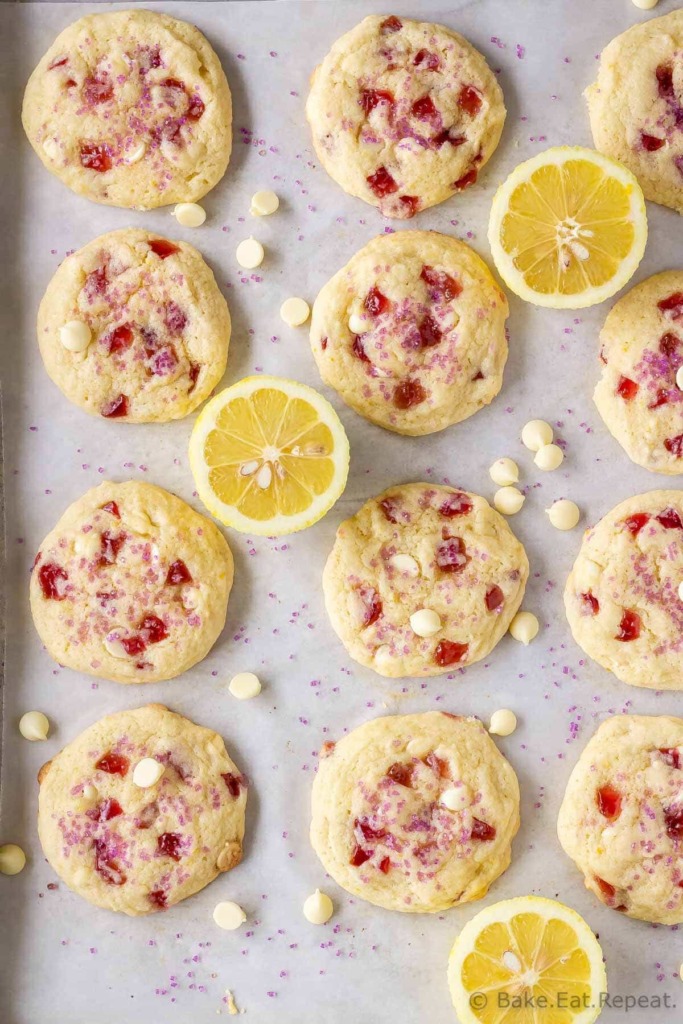 The candy that worked the best was these Real Fruit Gummies. I also tried Swedish Berries, and they worked fairly well too, but the Real Fruit Gummies were closer to the Subway cookies.
I only used the raspberry gummies, and cut them up really small. They melted a bit in the oven which replicated the flavour and texture of the Subway cookies quite well. They're not identical, but pretty close.
I think that these raspberry jammy bits from King Arthur Flour would probably work really well, but they don't ship to Canada, so I haven't tried them.
So, one more tasty raspberry lemon treat to add to the list of favourites! If you love those flavours, you need to try these raspberry lemonade cookies. They're so good!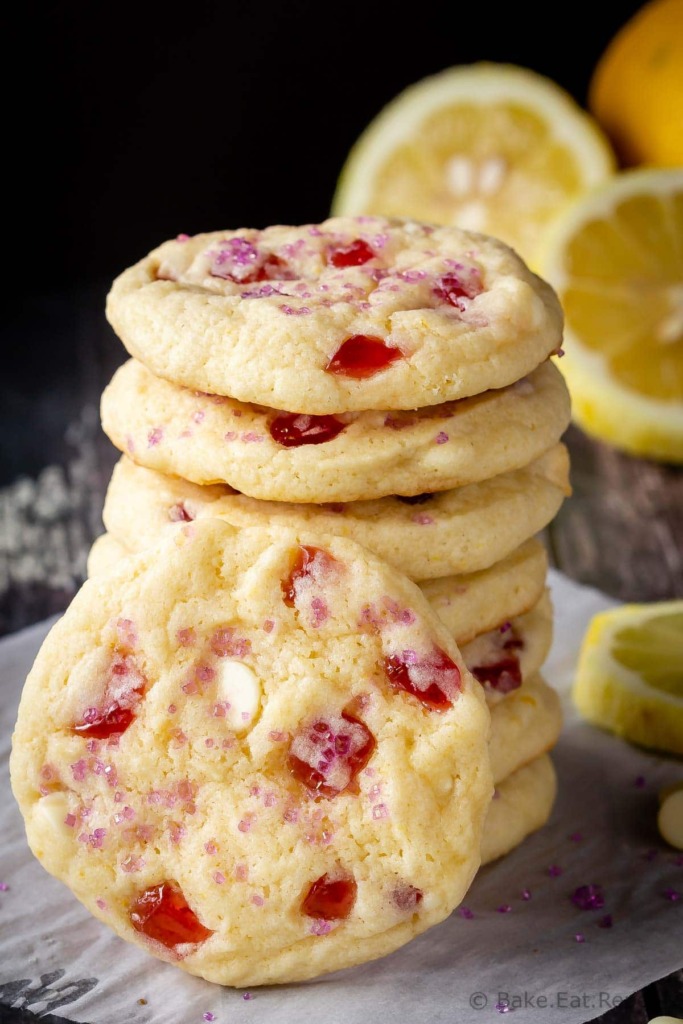 How to make Raspberry Lemonade Cookies (Subway copycat):
This cookie dough is extremely soft, so don't try to roll it into balls to bake it, it's a simple drop cookie. I use a 1.5 tablespoon sized cookie scoop for these cookies, which is the best way to have uniform sized cookies.
With the raspberry Real Fruit Gummies, I cut each one into about 16 pieces with kitchen shears and then stirred the pieces into the dough. I measured out the 1/3 cup of candies before cutting them. Don't measure them after cutting because the little pieces would all stick together and be difficult to stir into the dough. Instead, add them to the bowl of cookie dough as you cut, and stir them in once or twice while you're cutting up the candies so they don't all stick together.
The flavour with using Swedish Berries instead wasn't quite as close to the Subway version, but the candies didn't melt in the oven so they were easier to work with. The Real Fruit Gummies had the best flavour, but they do melt in the oven. This is fine, but you will want to make sure that the candies aren't on the bottom of the cookies when they're baking. I just looked at the bottom of the cookie every time I scooped up some dough, pulled off the candies that were visible, then stuck them onto the top of the cookie after placing it on the cookie sheet. If the candies are on the bottom of the cookie they will melt and spread out from the cookie while baking.
You definitely want to use parchment paper on your cookie sheets for these cookies so clean up of any candy that does melt onto the cookie sheet will be easier!
It looks like the Dare Real Fruit Gummies are actually a Canadian thing. So if you can't find them where you are, the texture of these candies is similar to Welch's fruit snacks, so I think the raspberry Welch's fruit snacks would work just as well, although I haven't tried them. The Dare candies are 2-3 times bigger then the Welch's fruit snacks though, so you don't need to try and cut those into 16 pieces – that would be really small! Any raspberry candy with a similar texture that's made from real fruit should work out well though.
Here are some more great lemon recipes for you: