These lemon poppyseed muffins are quick and easy and make the perfect breakfast or snack. They also freeze well for easy to grab snacks on the go!
I have been on the hunt for a good lemon poppyseed muffin recipe forever.
I've probably tried at least 12 different recipes for them over the last year or two and haven't been super happy with any of them.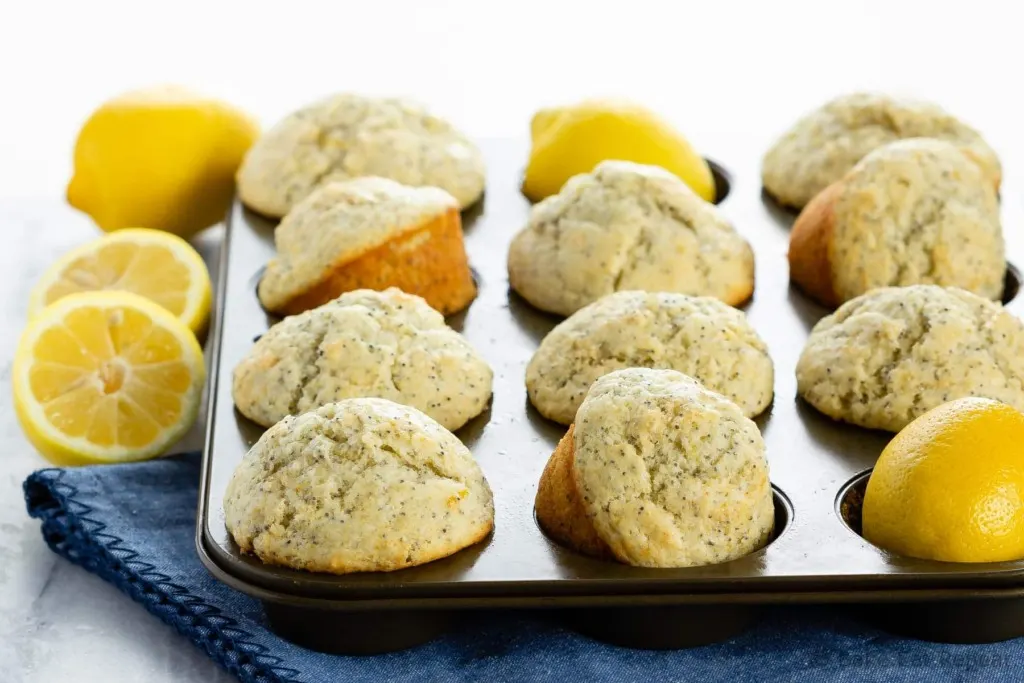 We still ate all of them. Obviously. We go through muffins at a ridiculous rate around here. Even the ones that I deem inedible, the kids devour and tell me they're fantastic.
They're wrong, all the muffins are not fantastic. But hey, they're kids, what do they know?
These lemon poppyseed muffins are fantastic though. I'm finally happy with the recipe.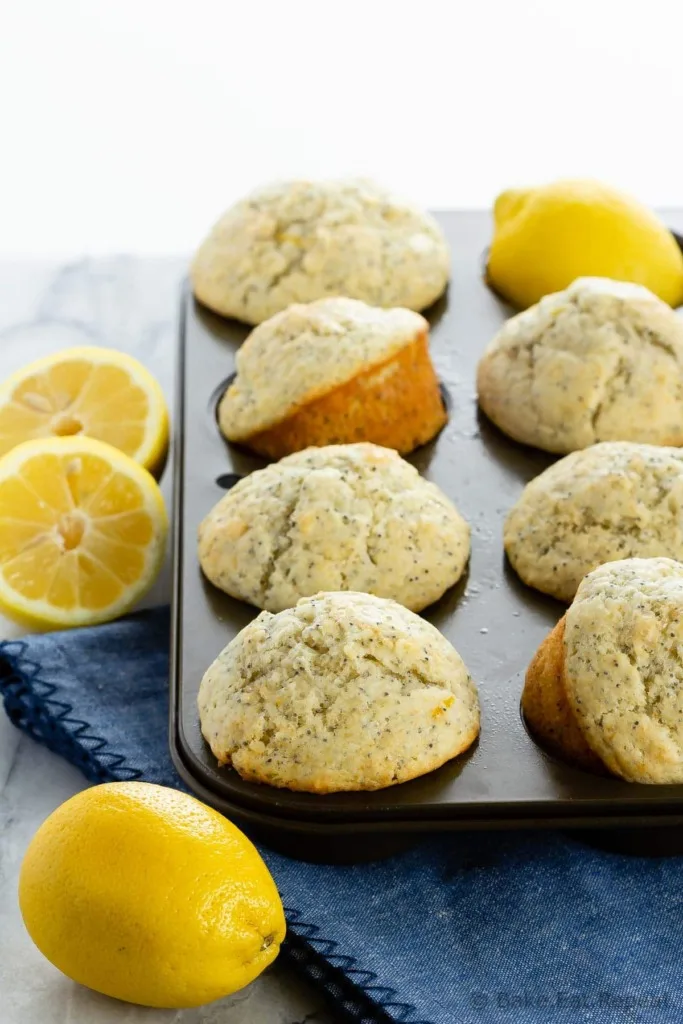 Annoyingly enough, after trying so many different recipes, I finally decided to just start with my recipe for glazed lemon cranberry muffins, and that was the winner.
I don't know why I didn't try that before. I've been making those muffins for years, and have always loved them.
At any rate, at least I know now that I've tried lots of alternatives. Time to stop changing things and just make this recipe incessantly.
Easy and delicious and perfect for breakfast. We love these lemon poppyseed muffins!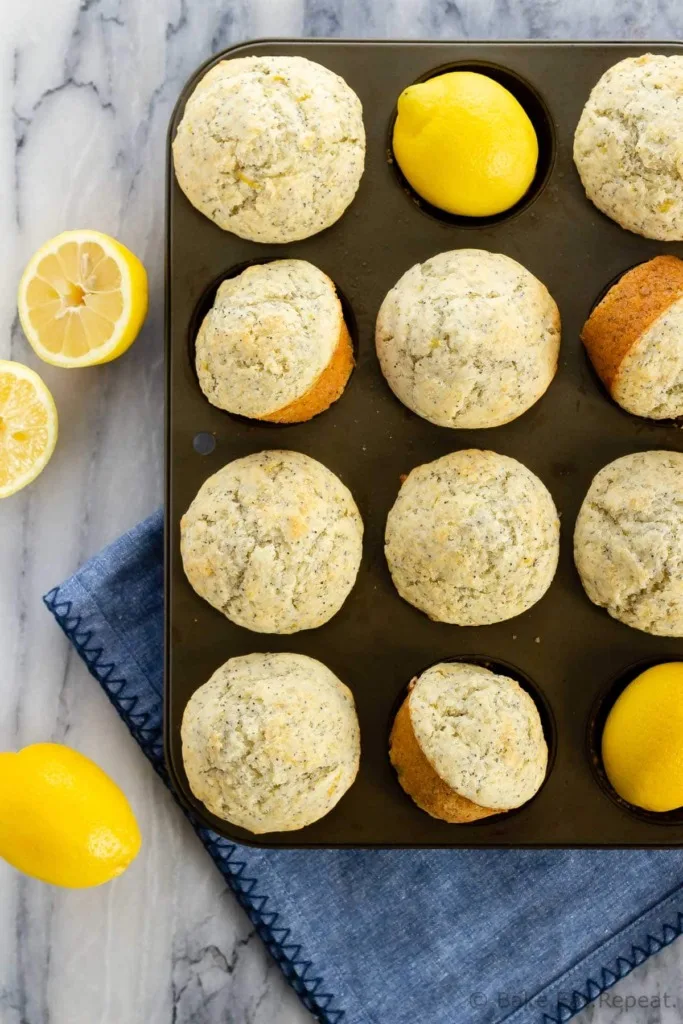 Do you let muffins cool in the pan?
You should let muffins cool in the pan for 5-10 minutes after coming out of the oven. Then move them to a wire rack to cool completely.
If you try to take them out immediately after baking they tend to stick to the pan more. They also stick a bit more when left to cool completely in the pan.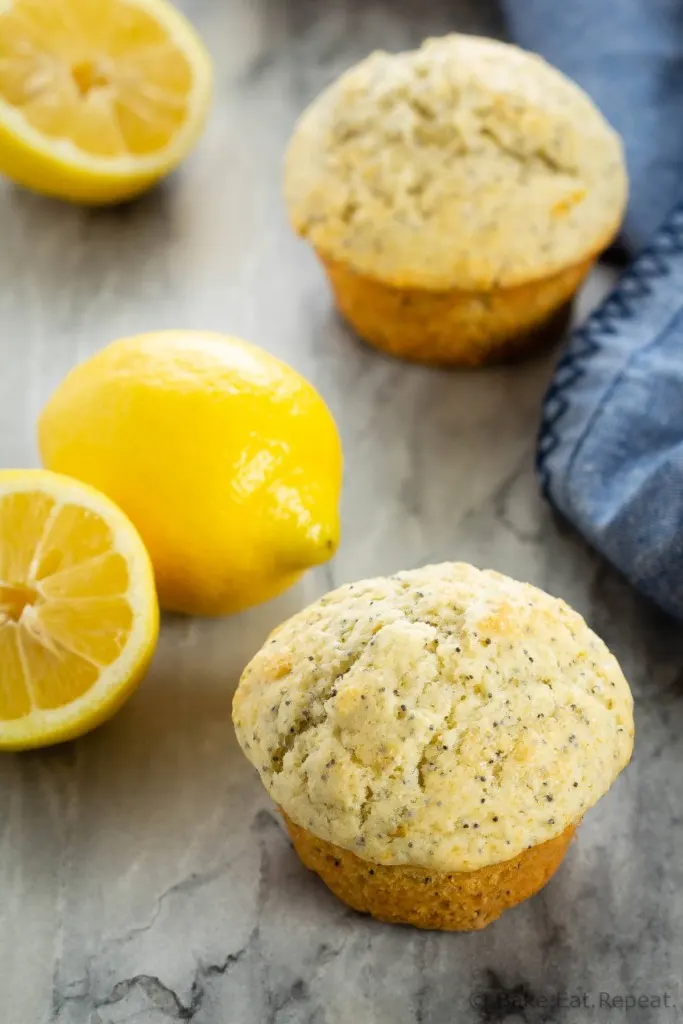 Can I freeze muffins?
You can definitely freeze muffins. I do it all the time.
The best way to freeze muffins is to let them cool completely. Then freeze them in an airtight container or large ziplock bag.
They can thaw at room temperature in a lunch kit and be great for lunch, microwave them for a minute or so, or reheat them in the oven at 350F for 5-10 minutes.
If you have time to reheat them in the oven that gives them the best "fresh from the oven" taste.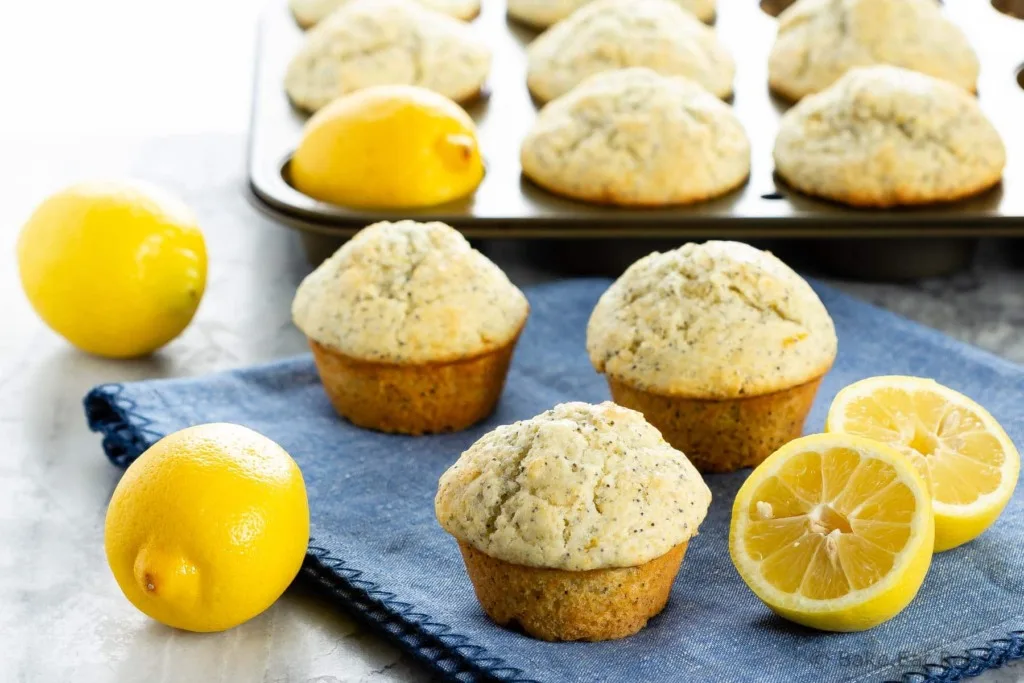 What's the best way to store muffins?
I like to store my muffins at room temperature in a large container, but with the lid unsealed.
Letting some air at the muffins keeps them from getting soggy, as muffins tend to do when they are in a completely airtight container.
If you think you will have the muffins for more then 2-3 days, you will want to keep them in an airtight container so they don't dry out.
I would also recommend placing some paper towel on the bottom of the container and some more on top of the muffins to help absorb some of the moisture.
You can reheat them in the oven (350F for 5-10 minutes) to crisp up the top a bit before serving them.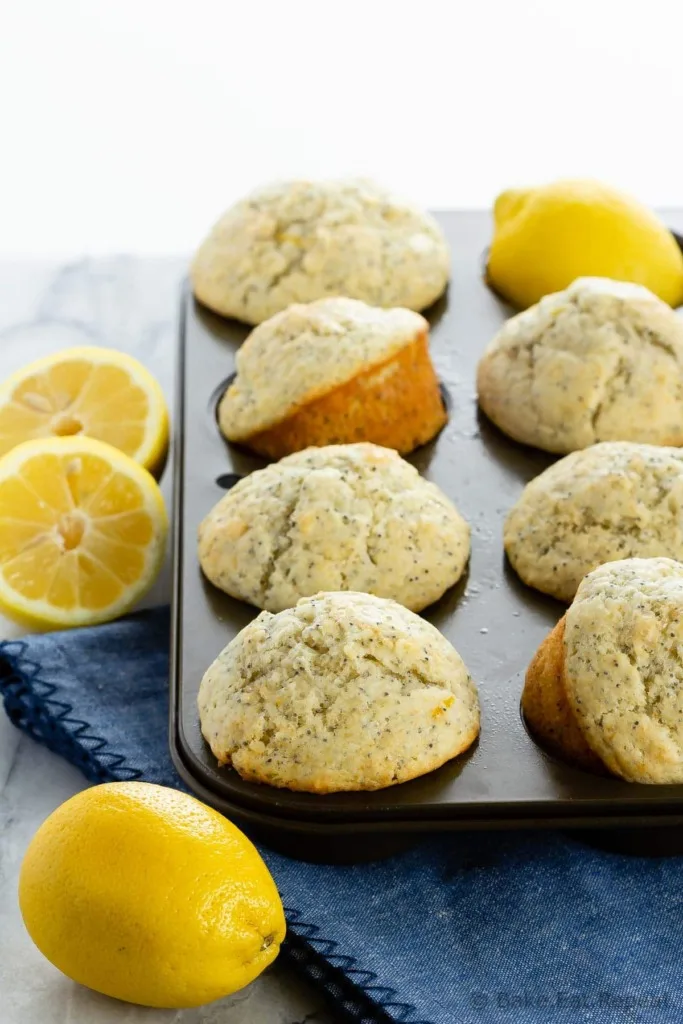 How to make Lemon Poppyseed Muffins:
I liked these lemon poppyseed muffins best with just a sprinkling of coarse sugar on top before baking. You could also put a lemon glaze on top if you want an extra kick of lemon flavour. The lemon glaze on these glazed lemon cranberry muffins would work well. Or you can make a lemon syrup by bringing 1/4 cup of lemon juice with 1/4 cup of granulated sugar to a boil in a saucepan over medium heat. Lower the heat and simmer for 2-3 minutes until it thickens slightly. Brush the syrup on top of the cooled muffins.
I love making muffins in this stoneware muffin pan, they tend to rise a little bit better in it then they do in a regular muffin tin. But if you have one, keep in mind that muffins typically take a little longer to bake in this kind of pan, so plan on an extra 5 minutes or so on your bake time.
Using a trigger style ice cream scoop to portion your muffin batter into the muffin pan will help give you evenly sized muffins with nice rounded tops.
I like to use a food processor for mixing the wet ingredients for these muffins as it combines the sugar and lemon zest well and helps give the muffins a better lemon flavour. You can just stir everything together in a bowl instead if you like, but the lemon flavour won't be quite as obvious.
Here are some more great muffin recipes for you: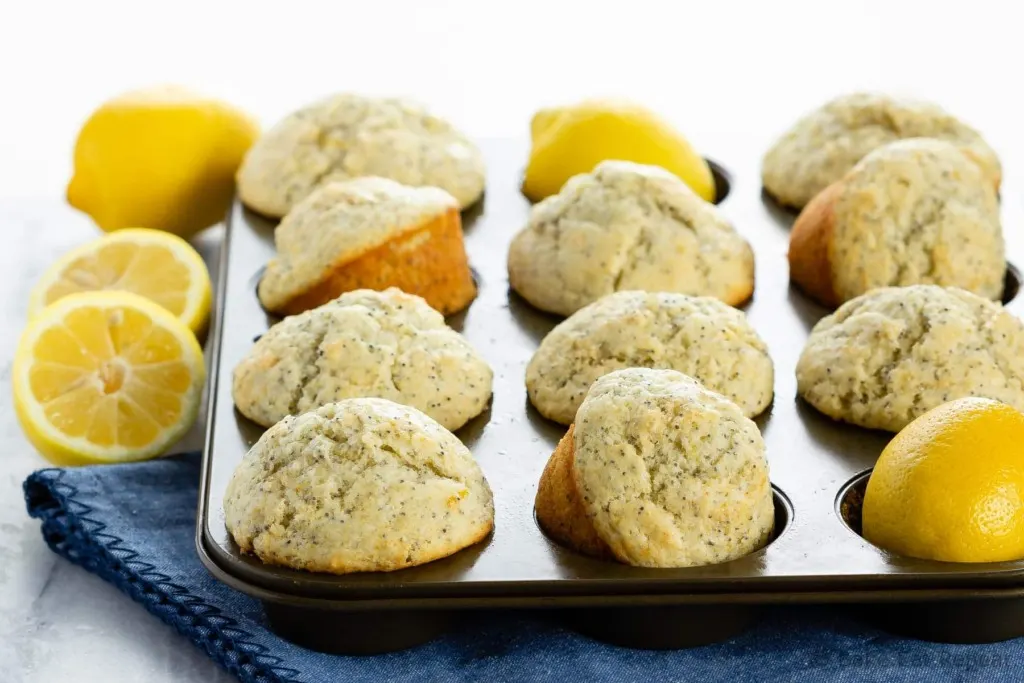 I've also shared this Lemon Poppyseed Muffins recipe over on Food Fanatic.