Fast and easy to make, these chewy raspberry lemon blondies are just the right mix of tart and sweet – and will disappear way too quickly!
Watch how to make these tasty raspberry lemon blondies here: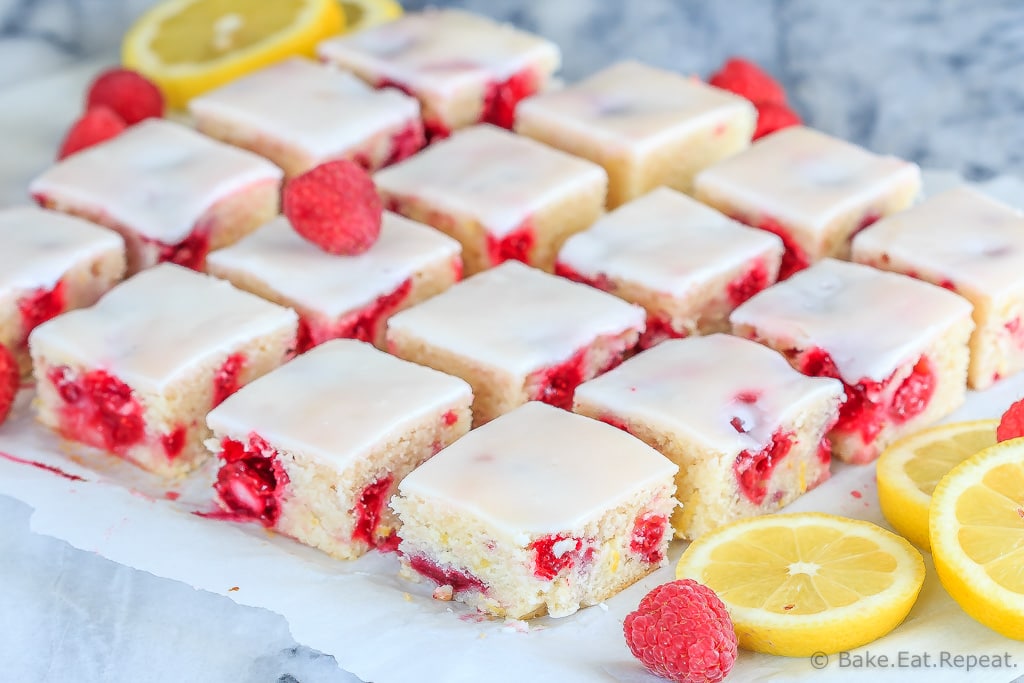 Brownies or blondies? Which do you go for if given a choice?
I have always been solidly in the brownie camp, considering blondies kind of a waste of time (and calories!) since they don't even have chocolate. And no, I don't count white chocolate which I suppose they often have. It's not really chocolate.
But I have to tell you, these raspberry lemon blondies may just be changing my vote. They are pretty stinking hard to say no to.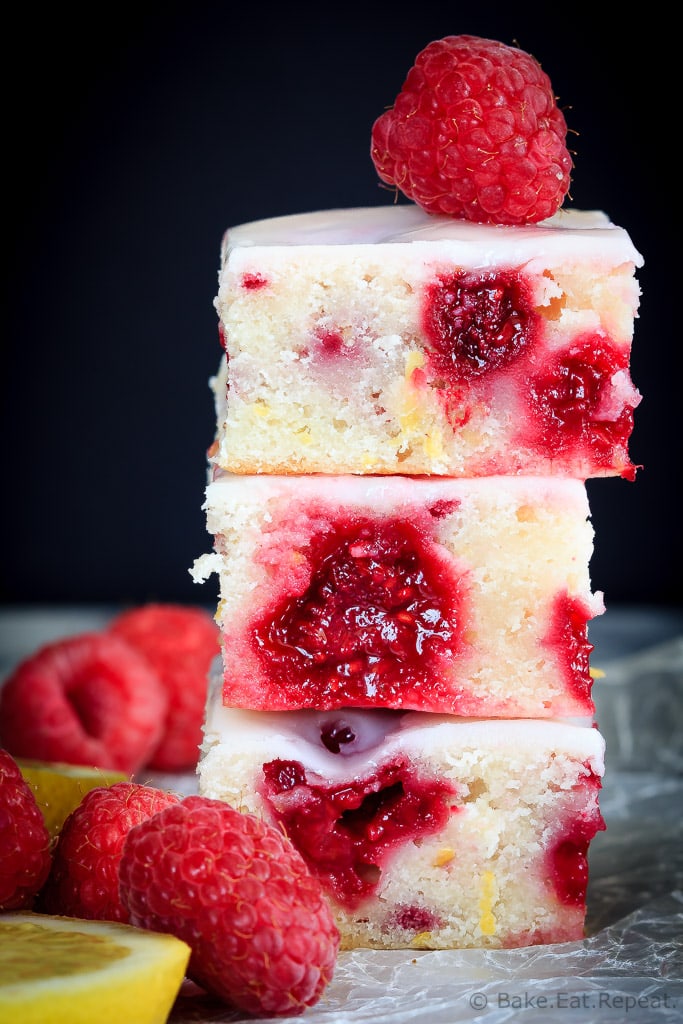 Raspberry and lemon together in a chewy little bar with a tangy sweet lemon glaze – I don't know too many people who would say no to that.
Plus they're so easy to make. If you have some lemons and some frozen raspberries (I would think fresh would work fine too, but I have to say I never waste fresh raspberries in baking – they get eaten way too quickly for that) you can have these bars coming out of the oven in no time at all.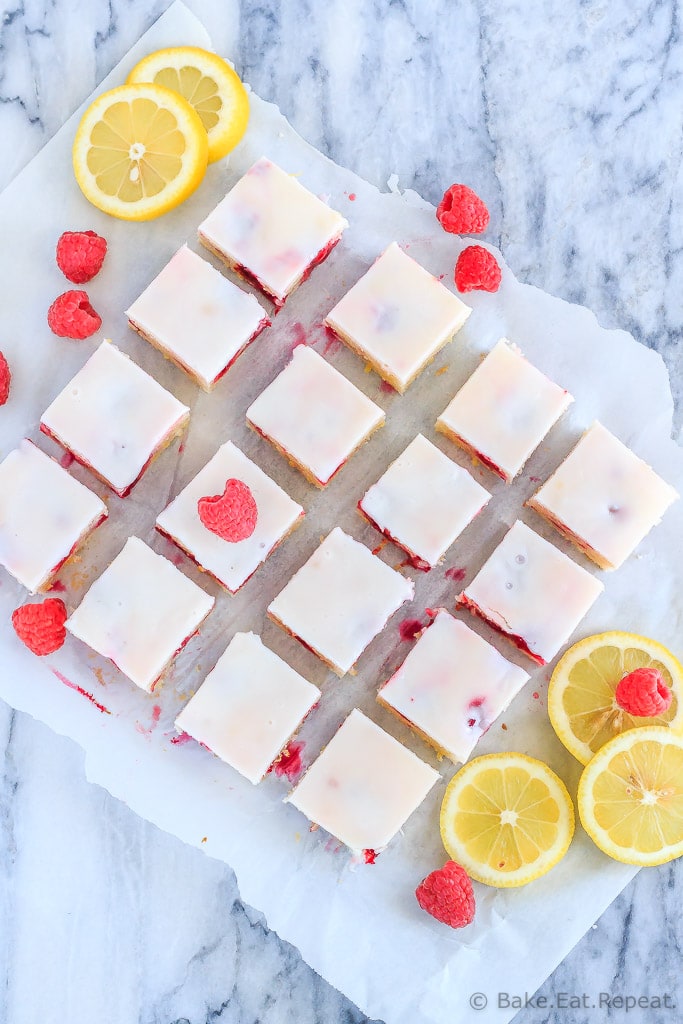 They mix up easily with just a whisk, so no fancy equipment needed for these raspberry lemon blondies at all. And they're great both with and without the glaze, although we did prefer them with it. It's a very, very thin layer of glaze though, so if you like a thicker glaze on your bars you will want to double it.
Also – store these in the fridge. It's totally not necessary, you can keep them at room temperature, but then you'll be missing out on the beauty that is these raspberry lemon blondies cold from the fridge on a hot summer day. Amazing.
Yeah, I can skip the chocolate this time – totally worth it!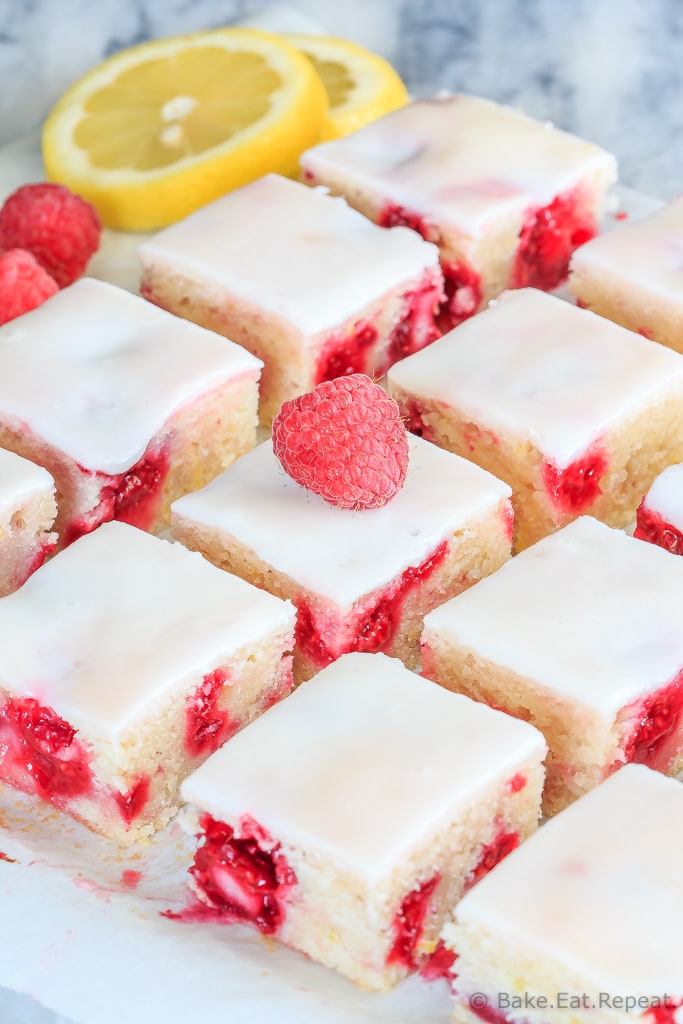 Tips for perfect Raspberry Lemon Blondies:
it's not totally necessary to chop the frozen raspberries before adding them, but I liked these bars better with smaller pieces of raspberry in them instead of whole ones as they get spread throughout the bars a bit better
the glaze recipe makes for a very thin layer of glaze, if you like a little more you can double the glaze recipe
you can skip lining the pan with parchment paper if you don't want to lift them out to slice them, just spray the pan with non-stick spray and slice them in the pan – I love this little tool for lifting bars out of pans easily
here are a few more amazing raspberry lemon things: Glazed Raspberry Lemon Bread, Raspberry Lemon Cookies, and Lemon Raspberry Sweet Rolls
I've also shared this Raspberry Lemon Blondies Recipe over on Food Fanatic.
This post contains affiliate links, meaning that if you make a purchase through these links, I may receive a small commission.