Fast and easy to make, these chewy raspberry lemon blondies are just the right mix of tart and sweet – and will disappear way too quickly!
These raspberry lemon blondies are the perfect combination of tart and sweet. They are super simple to make, mixing up very quickly and easily, and taste fantastic.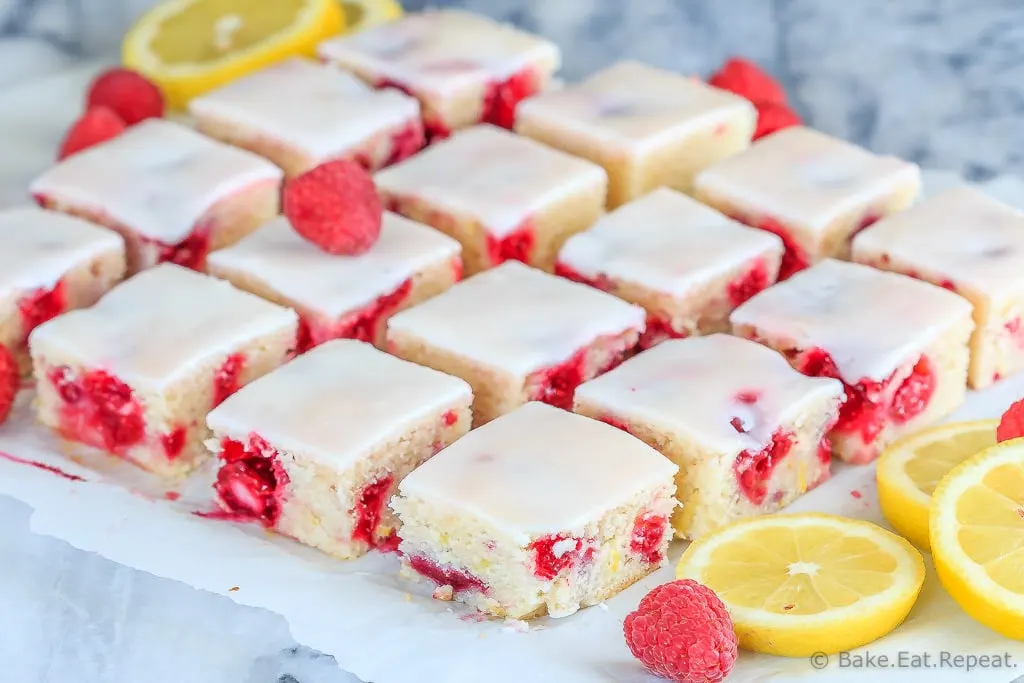 They make the perfect quick and easy summer dessert. Lots of lemon flavour, and bursting with raspberries.
To be honest, you shouldn't even limit these little raspberry lemon blondies just to the summer. They can be made with frozen raspberries (in fact, I prefer to use frozen berries for these) so there's no reason you can't make them in the winter.
A little taste of summer at the coldest time of the year!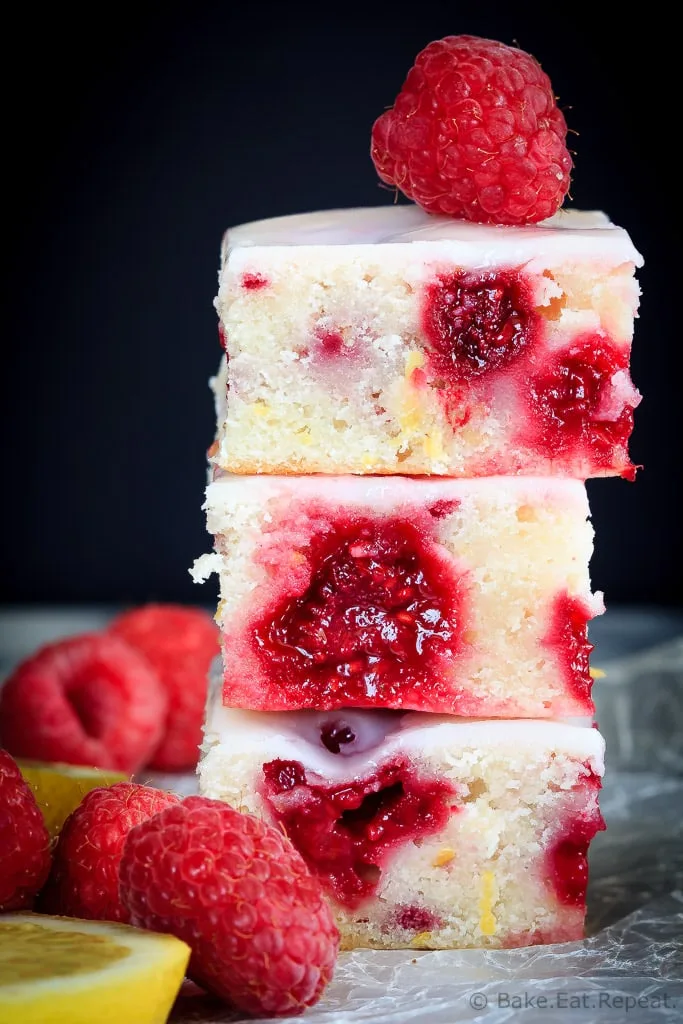 What's the difference between blondies and brownies?
Brownies and blondies are both dessert bars with a dense, chewy texture. The difference is blondies do not have cocoa powder in them. They sometimes have white chocolate, but these ones do not.
The flavour in these raspberry lemon blondies comes from lemons and blueberries, instead of chocolate and cocoa powder.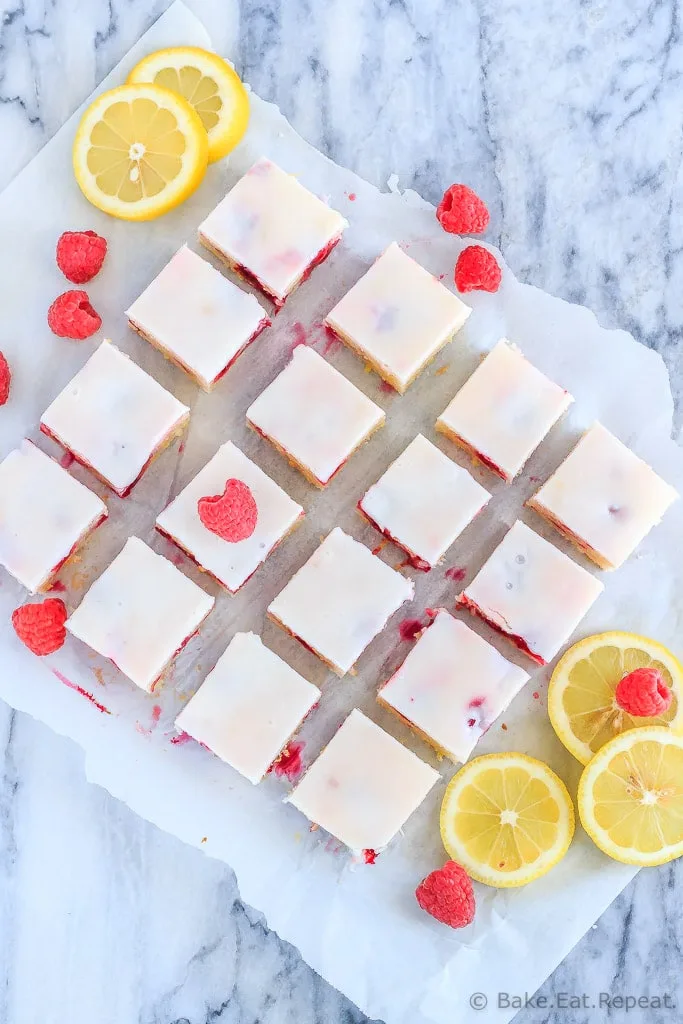 How do you know when a blondie is done?
The best way to tell when a blondie is finished baking, is to test it with a toothpick, inserted in the middle of the pan of blondies.
The toothpick shouldn't come out completely dry, it's best if it comes out with a few moist crumbs on it, but no wet batter.
If the toothpick is totally dry, your blondies may be a bit dry tasting. They will be soft and chewy if you don't over bake them.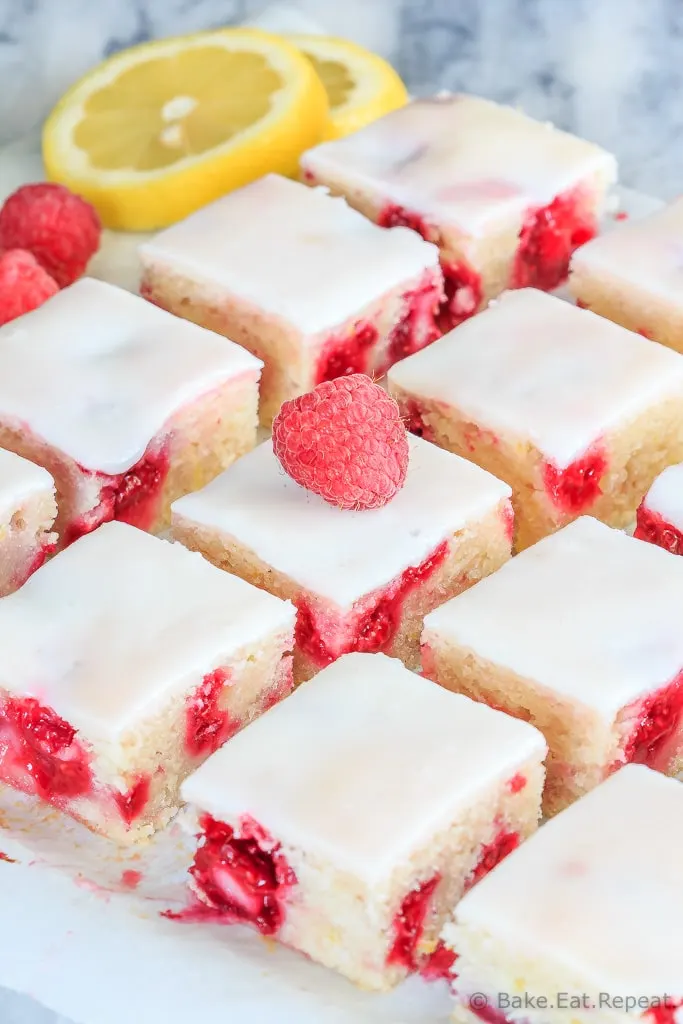 How to make Raspberry Lemon Blondies:
It's not totally necessary to chop the frozen raspberries before adding them, but I liked these bars better with smaller pieces of raspberry in them instead of whole ones as they get spread throughout the bars a bit better.
The glaze recipe makes quite a thin layer of glaze, if you like a little more you can double the glaze recipe.
You can skip lining the pan with parchment paper if you don't want to lift them out to slice them, just spray the pan with non-stick spray and slice them in the pan. I love this little tool for lifting bars out of pans easily.
Here are some more great lemon recipes for you: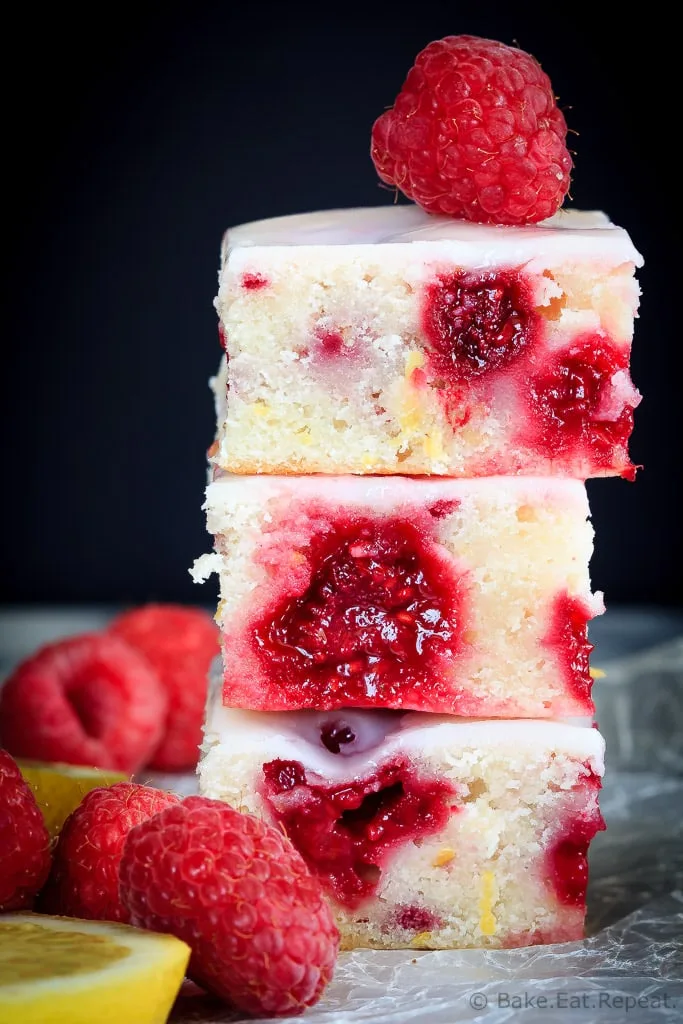 I've also shared this Raspberry Lemon Blondies Recipe over on Food Fanatic.