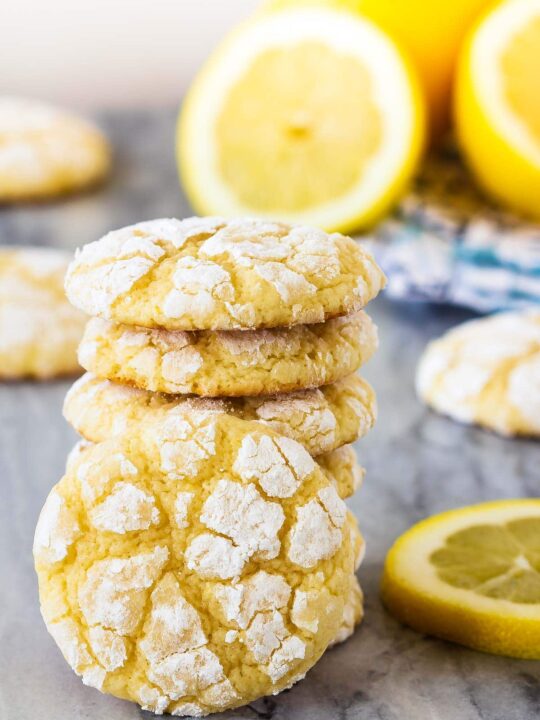 This easy recipe makes soft lemon cookies that are perfectly chewy. Coat them in powdered sugar before baking for lemon crinkle cookies everyone will love!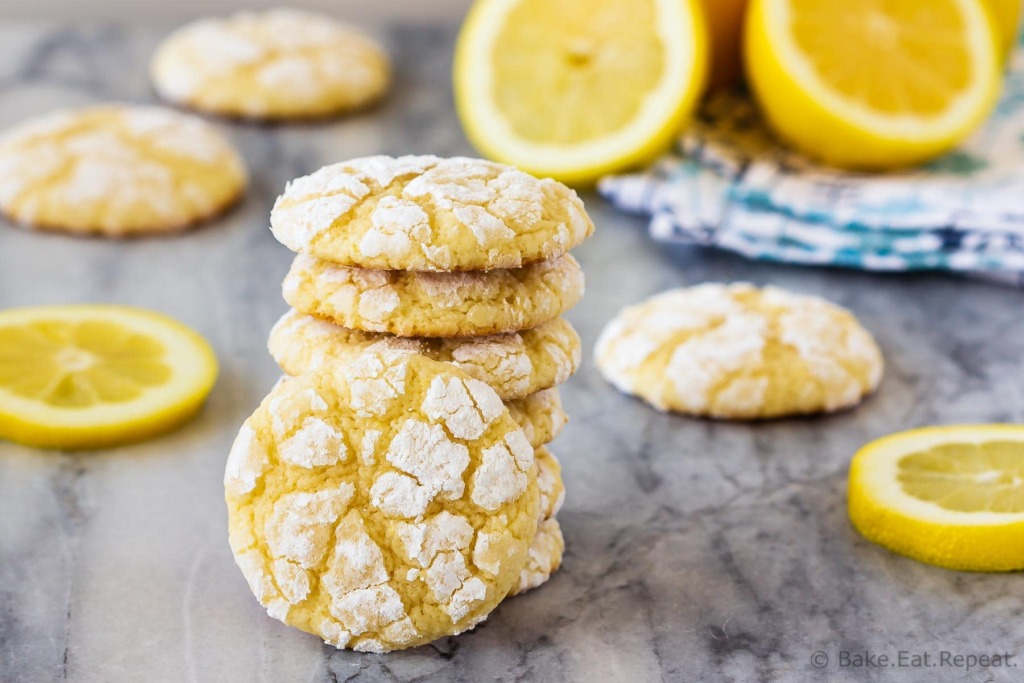 One of the most popular recipes on my website is this one for these soft raspberry lemon cookies.
It's been the most popular recipe almost from the day I posted it and it hasn't slowed down. Everyone that makes those cookies loves them. Everyone I've made them for loves them. I'm not even exaggerating when I say that they seem to be popular with everyone that tries them.
Which, let's be honest, is a little odd. With most recipes, some people love them, some hate them, some think they're just okay….you don't usually have the same response from everybody that tries it. And that's totally fine, we can't all like the same things.
But everyone likes those raspberry lemon cookies.
So it was really only logical to post a recipe for plain and simple, easy lemon cookies as well. Since clearly we all enjoy soft lemon cookies.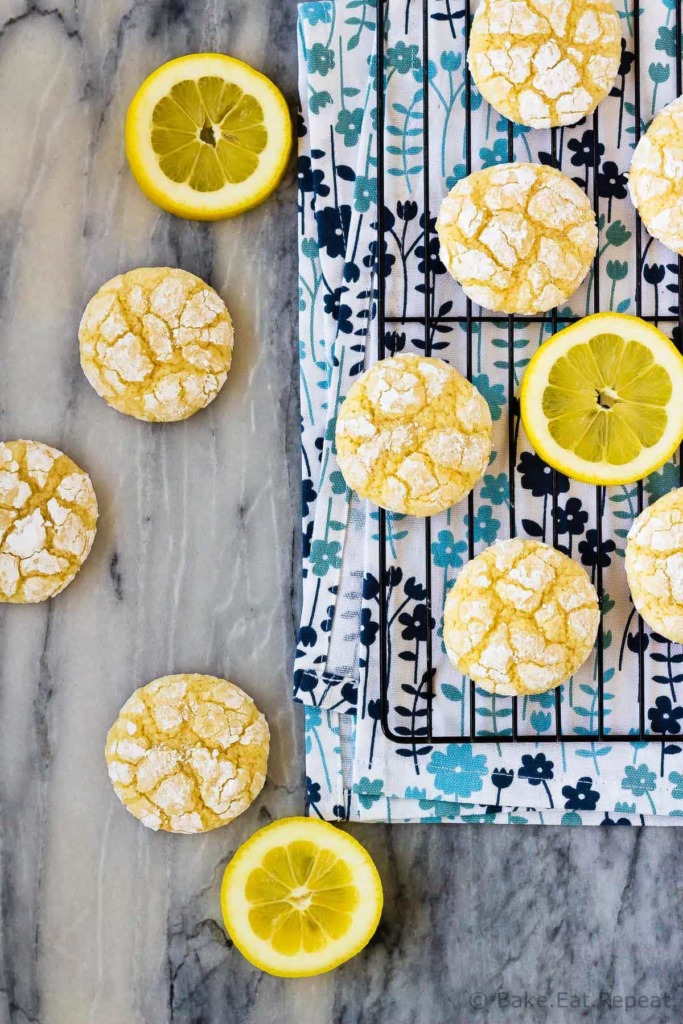 But really, what's not to like?
They're easy to make, filled with sweet and tangy lemon flavour from fresh lemon juice and lemon zest, and mix up easily in just a few minutes.
You do need to chill this dough, it's way too sticky to roll into balls and coat in powdered sugar right after mixing it, but after chilling it for an hour it's doable.
They bake up soft and chewy with that crackly, crinkly texture from the powdered sugar, and they stay soft and chewy for days.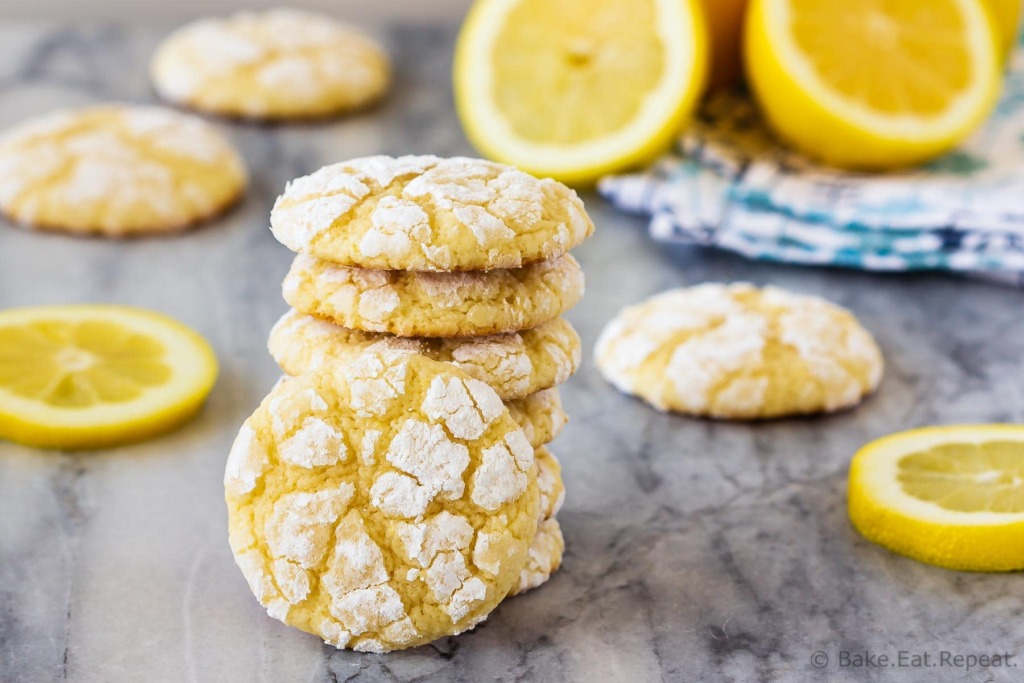 They freeze well too, so you can make them ahead of time, although I would put wax paper between layers of cookies so they don't stick together, as they are quite soft.
I think these soft lemon cookies disappeared in two days. There's only five of us, that's kind of ridiculous.
It really shouldn't have surprised me though. Like I said, everyone loves lemon cookies!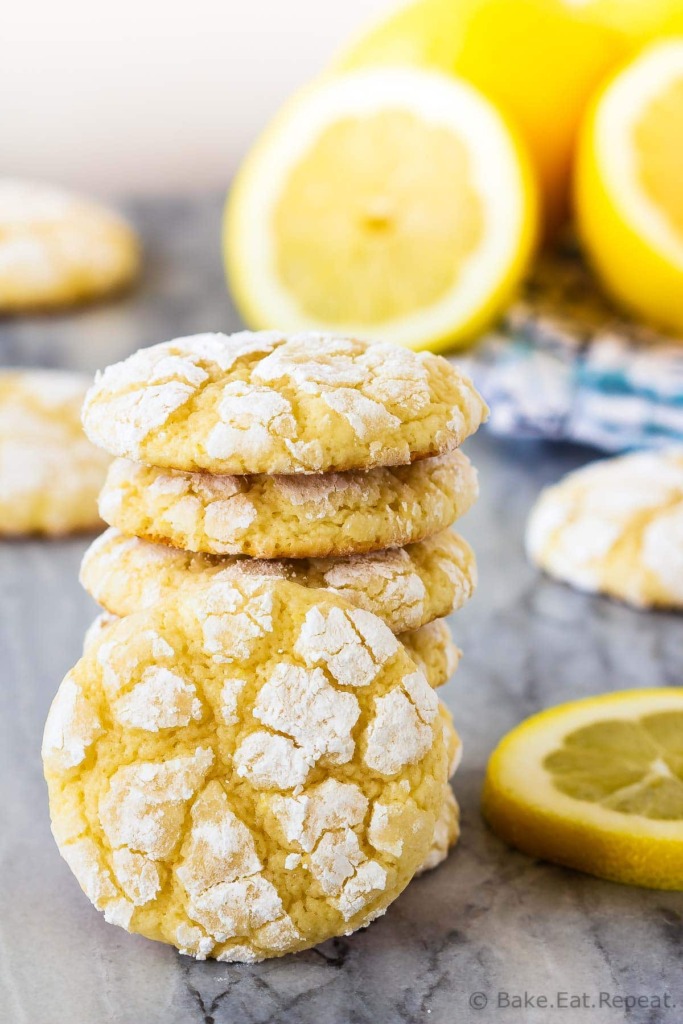 How to make Lemon Cookies:
When you store these cookies, you will want to place wax paper or parchment paper between layers of cookies as they tend to stick together sometimes, especially if it's a bit humid (you can also freeze the baked cookies this way)
Make sure you chill the dough before trying to shape the cookies as it will be far too sticky to roll in powdered sugar easily when it's first mixed up. I actually find these cookies work best if you portion the cookie dough out into balls before chilling it (I use a cookie scoop). Then the dough stays nice and cold while rolling them in icing sugar so they bake a bit nicer.
It's best to coat the cookies excessively in powdered sugar before baking as the sugar tends to melt into the cookies. If you want the crackly look you need to coat them excessively so it doesn't all melt away!
Here are some more great lemon recipes for you:
Yield: 24 cookies
Lemon Cookies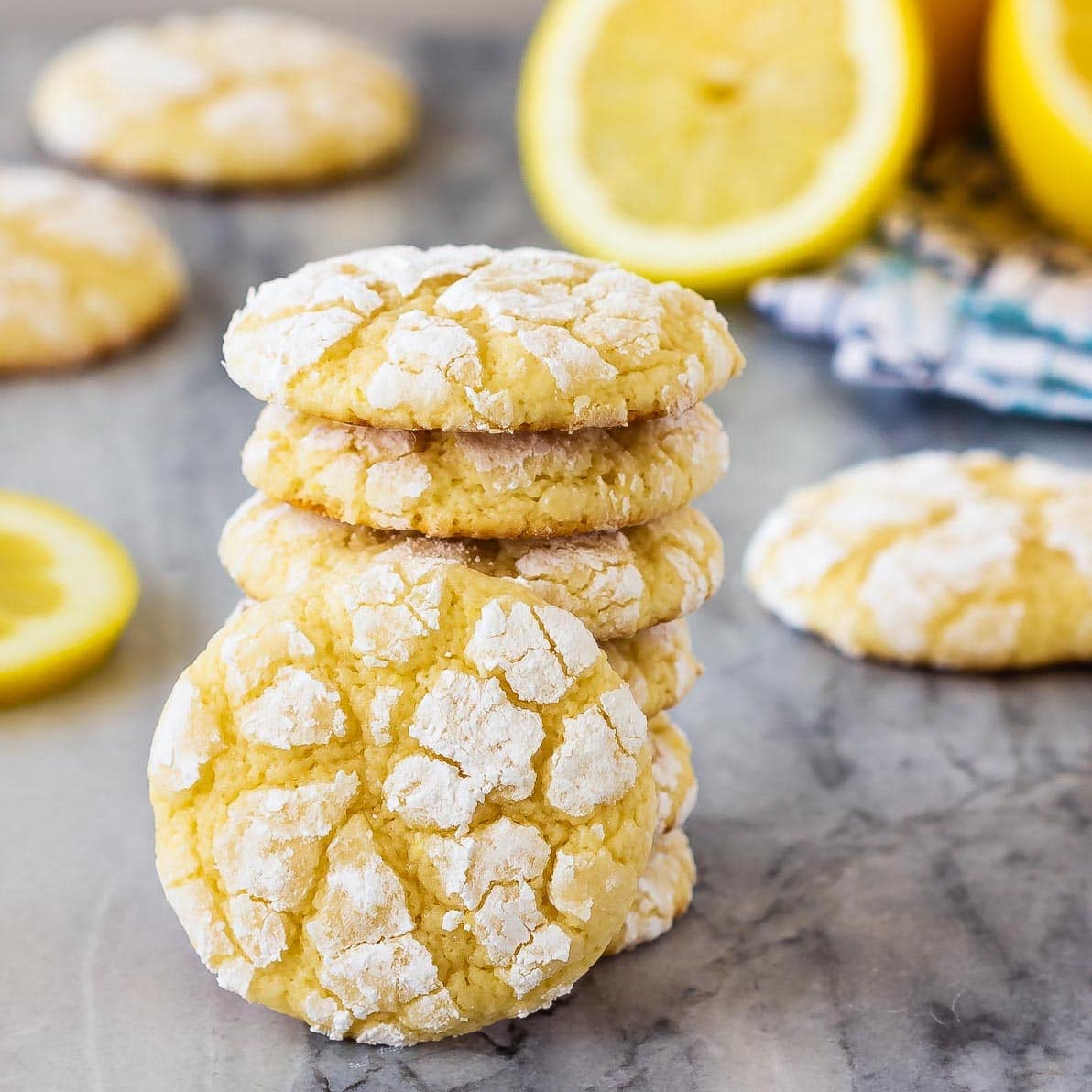 These lemon cookies are soft and chewy and absolutely delicious. Coat them in powdered sugar before baking for amazing crinkle cookies everyone will love!
Total Time
1 hour
25 minutes
Ingredients
2 teaspoons Lemon Zest, 1 lemon
1 cup Granulated Sugar
1/2 cup Unsalted Butter, softened
1/2 teaspoon Pure Vanilla Extract
1 large Egg
1/4 cup Lemon Juice, from 1 to 2 lemons
1/4 teaspoon Salt
1/4 teaspoon Baking Powder
1/8 teaspoon Baking Soda
1 1/2 cups All-Purpose Flour
1/2 cup Powdered Sugar
Instructions
In a food processor, or the bowl of a stand mixer, mix together the sugar and lemon zest until well combined and the sugar is lightly yellow and fragrant.
Add the softened butter to the sugar and mix until light and fluffy.
Add the vanilla, egg, and lemon juice and mix well, scraping down the sides of the bowl as needed.
Add the salt, baking powder, baking soda and flour and mix until combined.
Chill the dough for one hour. If your butter was really warm to start, chill for 2 hours. The butter should be soft enough to cream, but not so soft that if you pressed your finger against the side, it slides right through.
Preheat the oven to 350°F.
Line 2 cookie sheets with parchment paper or silicone baking mats. Set aside.
Roll the cookie dough into tablespoon sized balls, roll them in powdered sugar and place them 2 inches apart on the baking sheet.
Bake for 10-11 minutes or until they are just starting to brown on the edges and are no longer shiny. Do not over bake the cookies.
Allow the cookies to cool on the baking sheet for 5-10 minutes before moving to a wire rack to cool completely.
Store in an airtight container at room temperature for 5-7 days, or freeze for up to 3 months.
Notes
Some of the powdered sugar will melt into the cookies as they're baking. Coating them excessively in powdered sugar will help with getting the crackly look to the cookies.
It also helps if the cookie dough is quite cold. I like to scoop it into balls (with a cookie scoop) and chill it on a cookie sheet already portioned so that rolling it into tight balls and coating it in powdered sugar can be done quickly and it's going into the oven still cold.
If you prefer to weigh your flour, I get 5 ounces of flour per cup when I weigh it.
Recommended Products
This post contains affiliate links. As an Amazon Associate, I may receive a small commission from qualifying purchases.
Nutrition Information:
Yield:
24
Serving Size:
1 cookie
Amount Per Serving:
Calories:

110
Total Fat:

4g
Saturated Fat:

2g
Trans Fat:

0g
Unsaturated Fat:

1g
Cholesterol:

18mg
Sodium:

38mg
Carbohydrates:

18g
Fiber:

1g
Sugar:

11g
Protein:

1g
Nutrition Information is estimated based on ingredients used and may not be exact.
I've also shared this Lemon Cookies recipes over on Food Fanatic.